There are a series of questions that I tend to get regularly. A frequent question is "I'm visiting soon, what can I wear or what do women wear in Morocco?" It can be difficult to know what is and isn't appropriate to wear in Morocco and how to best utilize the limited luggage space you may have.
Most airlines only allow one suitcase when going to Morocco, which is fine for a short trip but if you're the type of person who wants a totally new outfit daily or are planning to spend more time in the country it can be restricting.
What to wear in Morocco really varies depending on where you'll be, what you'll be doing, and the time of year. How to dress in Marrakech compared to how to dress for the Sahara are two different things. I've been in Morocco year-round and in places across the country so these tips are good no matter when or where you go.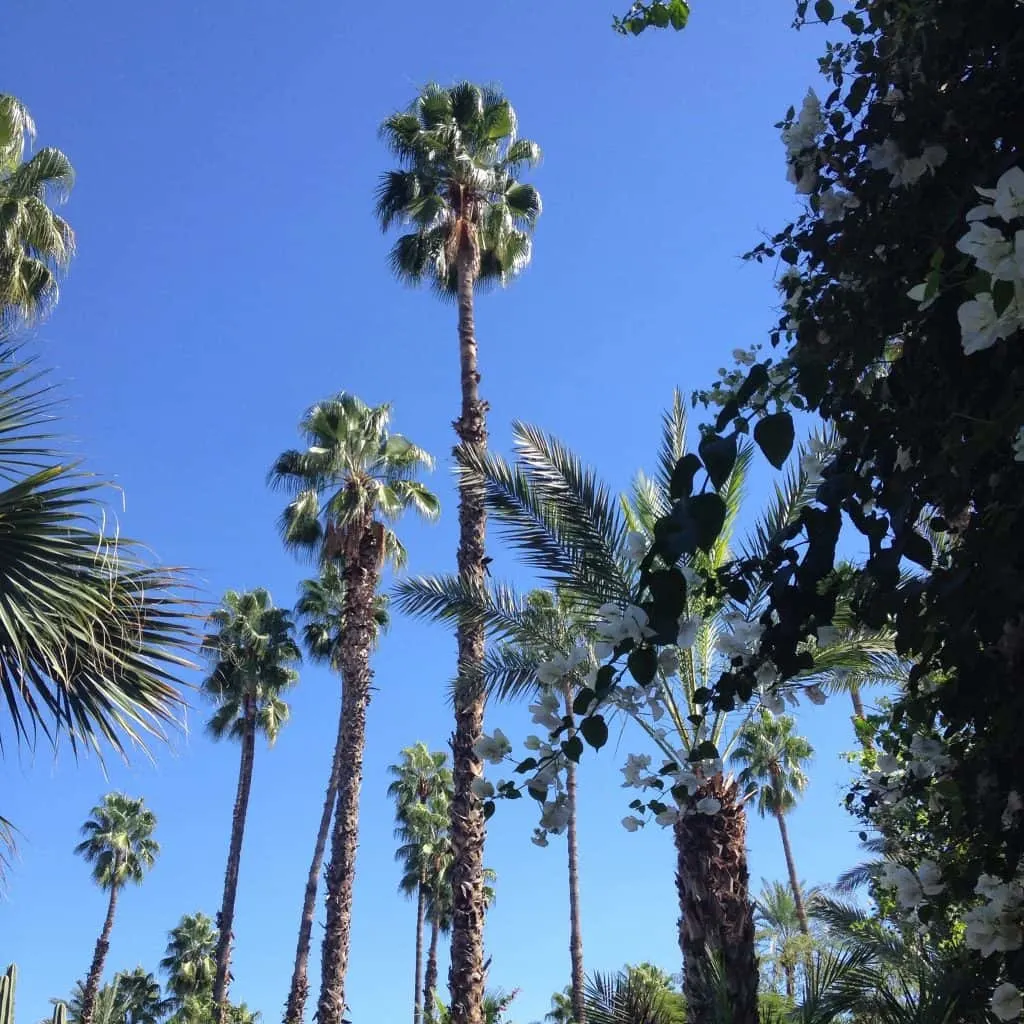 Do you have to cover up in Morocco?
Morocco is a Muslim country and modesty is respected. While you will see women (and men for that matter) wearing a range of clothing it's best to err on the side of modesty. Leave your short shorts and strappy tank tops at home or reserve them for the pool and beach. (Here's a guide for the beach if you're planning to visit there)
If you do want to pack a scarf to cover up if you'll be in more modest areas Ovcio has gorgeous pashmina's in multiple weights depending on the time of year you'll be traveling.
Is there a "Morocco dress code?"
The answer to this is yes and no. How to dress in Morocco as a woman is a question that plagues a lot of female visitors. You do not need to dress the same as local women. Morocco has no laws, or dress codes on what women must wear. Socially, society is conservative and it's better to dress a bit more modestly
In large cities like Marrakech or Casablanca local women dress in a wide variety of styles. You'll see short shorts and tank tops. You'll also see full-body veils. In rural communities, it is highly advisable to cover up more. Wear longer shorts or pants and skip the tank tops, or at least drape a large scarf over your chest and shoulders when you are in the local communities.
There is a strong likelihood that you will experience verbal sexual harassment at some point in Morocco. This is true whether you dress modestly or not. But, the truth is the more exposed you are, the more likely you will face comments and advances.
Can I wear leggings in Morocco? Can I wear ripped jeans in Morocco?
Yes, you can wear leggings. However, and especially in rural areas, pair leggings with a longer tunic length top that covers your butt.
Yes, you also can wear ripped jeans. If you have jeans that are ripped in more non-discreet places they might not be the best choice.
Can women wear shorts in Morocco?
Yes you can wear shorts, as mentioned there's no dress code for Morocco specifically. You're more likely to find shorts being worn in coastal areas. Really short shorts are not advisable and to be honest, wearing loose fitting, longer pants is often much cooler than wearing shorts where a lot of skin is exposed.
Can I wear workout wear or go for a run in Morocco?
You can, but again use a bit of discretion. In the old parts of the city you probably shouldn't go running wearing short shorts and a sports bra (actually that's not really advisable anywhere). If you're at a hotel gym or in your riad it's fine but on the street you will get a LOT of unwanted attention. Instead you might consider a pair of running leggings like these with a top skirt for extra coverage.
Do I (or should I) cover my head with a scarf in Morocco?
My general answer for this is no. There are very few times or situations where covering your head is needed. You may be asked to wear a scarf if you enter the Hassan II Mosque in Casablanca – the only mosque open to non-Muslims however I have heard this is no longer being asked of guests.
I often see women who wear a scarf on their heads but are wearing a short dress, a t-shirt, or shorts. Wearing a scarf on your head out of "respect" does not work if you have the rest of your body exposed. If you truly wish to wear a scarf (and you're really not required to or expected to) then you also should dress modestly; long a sleeve shirt, long pants, or skirt, with no cleavage showing.
If you plan to go to the desert and wear a scarf as a means of protecting your face from the sun and sand this is not an issue.
My best advice is to consider your intentions and in most cases, it is not needed that you would wear a scarf. I especially advise you against using a scarf to take "sexy" or "exotic" pictures while in Morocco. This truly shows a lack of respect for the women who wear it for the purposes of modesty.
What is the weather like in Morocco?
Morocco is an arid climate, much like California. The day times are warm and the evenings can get quite cool, especially in the winter. Homes and buildings are built in such a way that they keep cool in summer and (kind of) stay warm in winter. So while it may be 100F outside, if you're inside a home or building it can be quite cool. Depending on which part of the country you are visiting and the time of year, the weather can vary dramatically.
Want a month-by-month breakdown of Morocco's weather and activities? Visit this section that does just that.
The Forecast Month-by-Month Morocco Weather
If I'm visiting during Ramadan is there anything different I should know about how to dress?
Ramadan happens once a year for 30 days. Every year it changes (you can read more about Ramadan in Morocco in this post). During this time Muslims fast from sunrise to sunset from food, water, smoking, and impure thoughts and deeds. You will see that many people dress much more conservatively during the month as not to be a distraction to those that are fasting. It's a good idea if your visit happens to be during Ramadan to follow suit and cover up a bit more.
But really, how hot is it in Morocco?
In summer months temperatures can go up to 50C (120+F). Air conditioning exists but is rarely used. During the hottest hours of the day, people stay inside – or head to cooler parts of the country.
While you might be tempted to wear as little as possible outside, you may be surprised to discover covering up with a light short sleeved top or loose pants is really cooler than having your skin exposed to the sun and heat.
What to Pack for Morocco?
Your Morocco packing list will vary depending on where you plan to go and what you plan to do but here are a few suggestions of appropriate clothing for Morocco. If you're wondering how you'll ever get everything into your bag it's well worth it to invest in some good packing cubes for your luggage as well.
Tunics are a great option as they can be dressed up or down, are light weight and have good coverage.
Jeans are a good choice as they're easy to keep clean, multi-functional and sturdy.
A pair of pants that are any other color. Comfortable, light weight and easy to wash are all keys.
A few longer tank tops that can be worn underneath other clothing such as;
a cardigan – either light weight or heavier depending on the time of year
a cotton jacket or rain coat (winter months) and depending on where you'll be.
Maxi dress(es) I love these for traveling. They are great for any location and the addition of a jacket or sweater makes it a new outfit!
a few scarves, to dress up outfits, and cover shoulders/head when and if needed.
1 pair of sturdy walking shoes
1 pair of sandals (may not be needed in winter months)
1 pair of casual shoes such as TOM's
Feminine products – you can find these in Morocco but with very limited variety
a travel size blow dryer and curling iron
travel size toilet paper or bathroom wipes
facial moisturizer and cleaner – this is really important especially in the summer
sunscreen – you can find it here but you may want to have your favorite brand especially if you have allergies or sensitivities.
a small cross shoulder purse/bag
Capsule Wardrobe for Morocco
If you're a minimalist packer like I am here's a basic capsule wardrobe that is great for Morocco. Pack it all up in my favorite carry-on bag that fits the requirements for US and European carriers.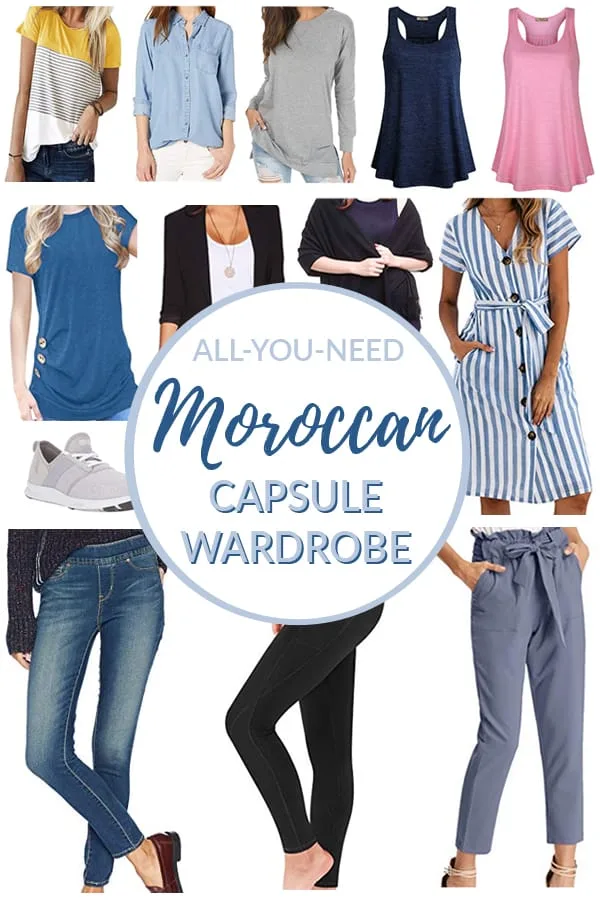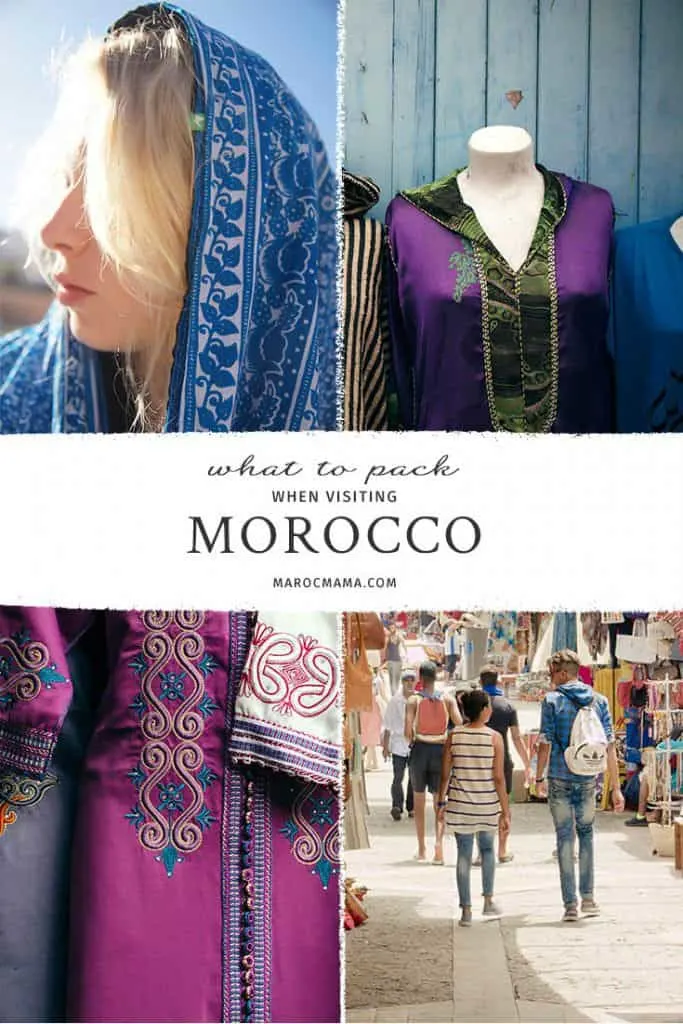 Reconsider Packing/What Not to Wear in Morocco
strapless or thin strapped tank tops to wear alone
shirts that show your stomach
see through shirts
short shorts, or really any shorts that come very high
high heels – if you've got space and know you'll be partying pack them but you won't want to walk around in these
short dresses – the exception would be if you're putting leggings underneath
a lot of makeup and hair products, they take up a lot of space and may just melt off in the heat
excessive jewelry, a few pieces should be enough
anything you wouldn't want to get ruined or stolen
I've also put together some outfit ideas and packing suggestions for a variety of situations and experiences you may have. Check them out!
What to Wear in Morocco in Spring
What to Wear in Morocco: Summer
What to Pack for Fall in Morocco