Packing for a trip can be very stressful, knowing what to pack for the temperature or about the local customs while trying to fit it all into your carry-on case can be even more stressful. For that reason, I've created the perfect basic women's capsule wardrobe for Morocco to help with your trip.
With these 12 pieces, you won't have to question what to pack for Morocco. You'll be able to mix and match to create new combinations to last you from a weekend trip to a longer stay.
With most travelers heading to Morocco in autumn, winter, or spring; daily temperatures range from around 13 degrees Celsius (55 Fahrenheit) in the evening to highs of 28 (82 Fahrenheit) degrees on hot days. This means your basic capsule wardrobe needs to be filled with lots of light fabrics which can easily be layered.
Here are some things to keep in mind when choosing which items to pack in your capsule for your Morocco trip!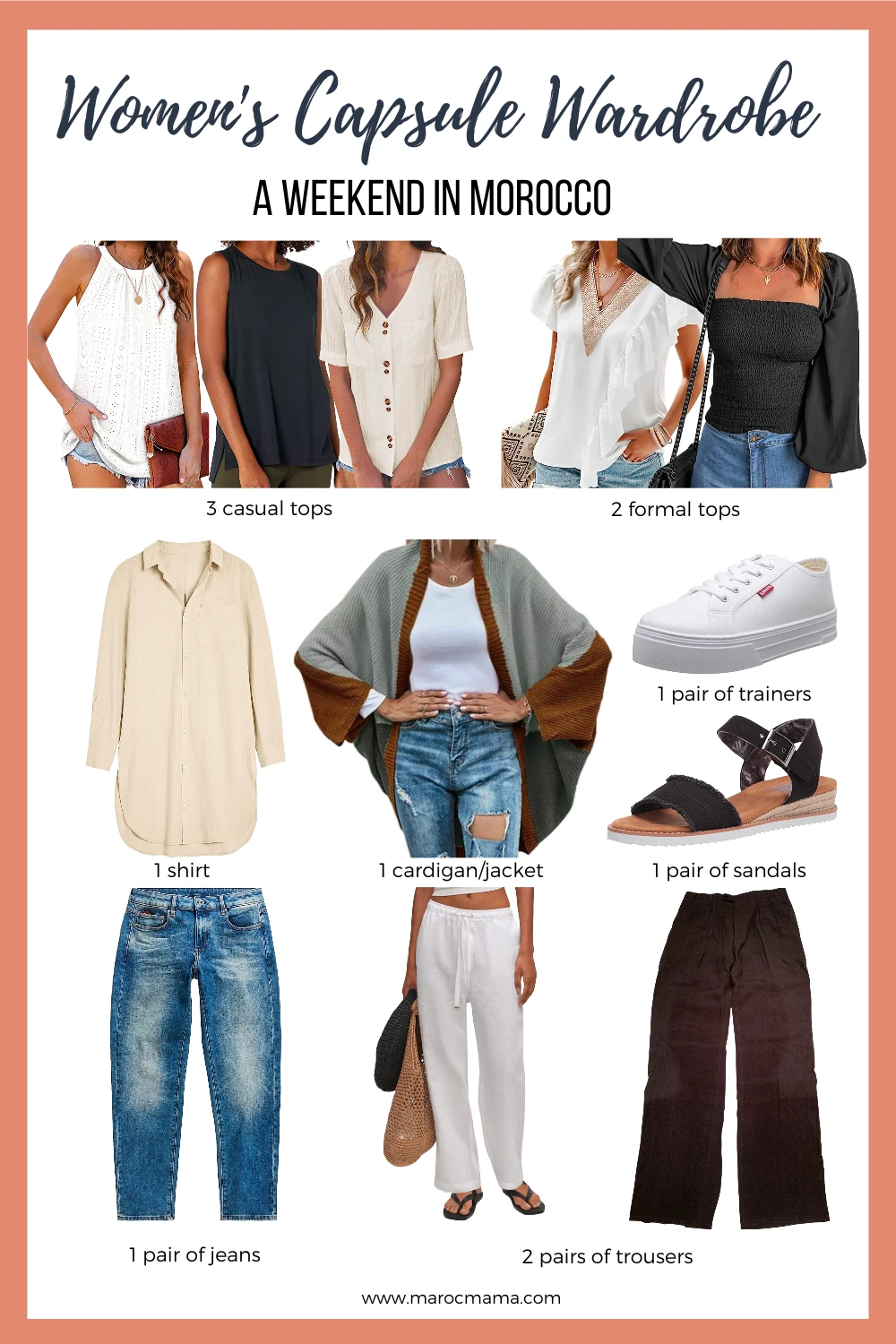 How to Pack a Basic Travel Capsule Wardrobe For Your Trip to Morocco
Neutral colors
Make sure all the items you choose fit the same color scheme. Having neutral tones will make it much easier for you to be able to pair the items together and give you a lot more options when creating outfits.
Light layers
Light layers are perfect to be able to layer up, for example, linen is a great fabric for warmer climates as it keeps cool but is easy to layer. Here I've included two pairs of linen trousers, and a linen shirt. A pair of white linen trousers are a staple for trips to warmer countries as they go well with lots of options while not being too hot.
Wear your bulkiest items on the plane
As a rule of thumb, always wear your bulkiest items on the plane. This means your jacket, trainers, jeans and anything else which takes up a lot of valuable packing space. Only taking a carry-on suitcase means space is precious, so this will allow you to fit much more in. Also, this will save you from being cold with the freezing plane air-con.
Pack a cover-up
While there is no official dress code on what people should and shouldn't wear, it's always ideal to be mindful of local customs so having something you can throw over your shoulders and arms is good to keep with you. Something like a linen shirt is perfect as it's lightweight and will still keep you cool. Especially in a neutral color that you can throw over any look.
Likewise, it's good to have another layer like a cardigan or jacket as it can get cold in the evenings.
Shoe selection
You're going to want to make sure whatever shoes you pack you are comfortable wearing. I'd recommend a pair of trainers and a pair of sandals, both of which are comfy but can be dressed up or down depending on what you style them with. Trainers will mean you can walk around cities comfortably and may be better for cooler evenings, while sandals can be dressed up and better for warmer areas of Morocco.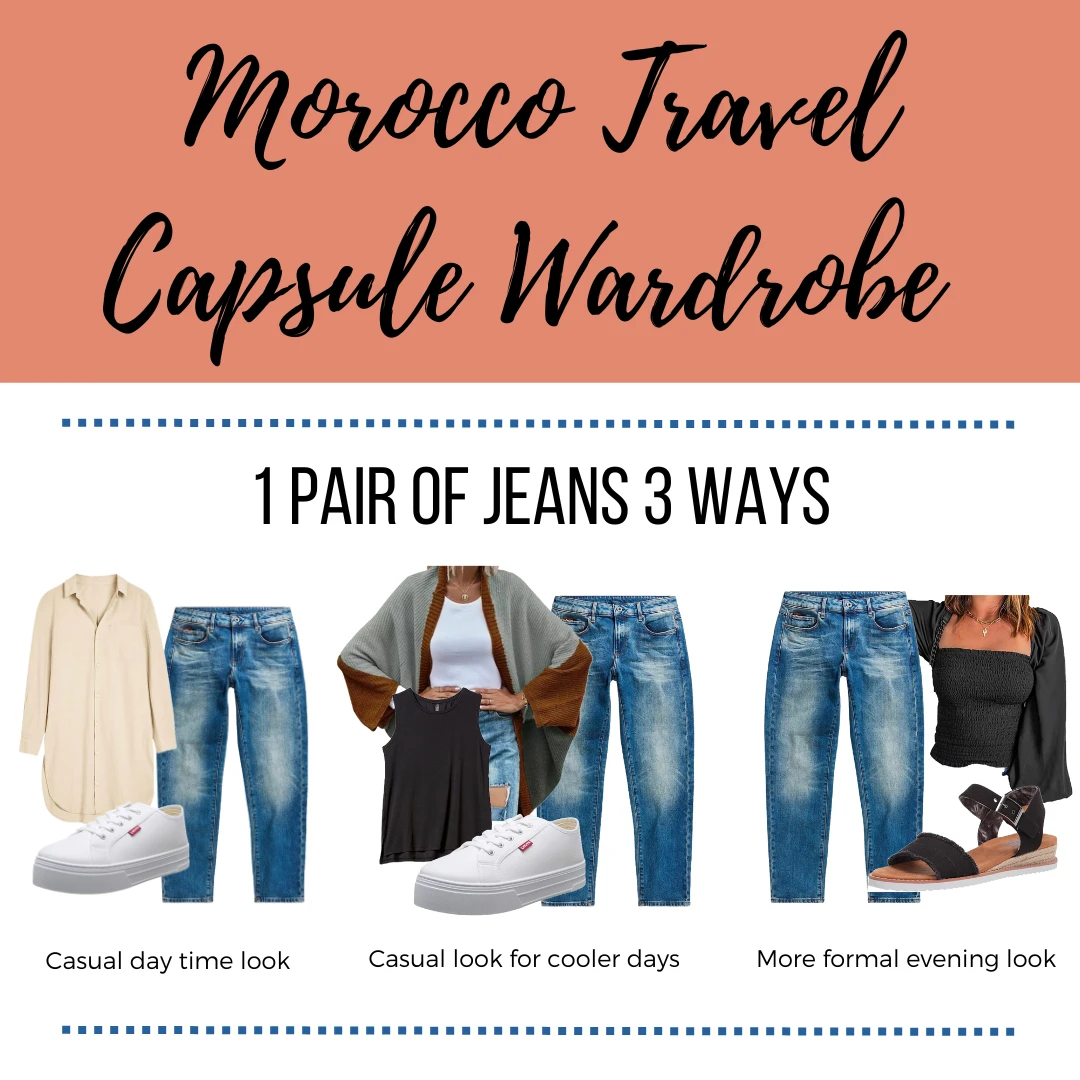 The Basic Morocco Travel Capsule includes:
If you're packing your capsule wardrobe for Morocco here are the basic pieces we recommend including. You don't have to buy everything new and it's worth looking at items that are already in your closet.
3 casual tops
2 formal tops
1 shirt
1 cardigan/jacket
1 pair of trainers
1 pair of sandals
1 pair of jeans
2 pairs of trousers
This is a great basic wardrobe that you can use not just for Morocco but many destinations. I also suggest adding a few of your favorite accessories to your bag as it can really change up an outfit that you may have grown a little tired of.
More Morocco Advice For Your Trip
Tips for Women Visiting Morocco