Packing for a trip can often be overwhelming. Taking into account the lack of luggage, the weather, local customs and more. For that reason, I've created a basic men's capsule wardrobe for Morocco for your next trip to Morocco which should give you an idea of what you might need during your stay. With these few pieces, you will be able to mix and match to create new combinations to last you from a weekend trip to a longer stay.
Most tourists visit Morocco between Autumn to Spring and daily temperatures range from around 13 degrees celsius in the evening to highs of 28 degrees on hot days. This means your basic capsule wardrobe needs to be filled with lots of light fabrics which can easily be layered.
Here are some things to keep in mind when choosing what to pack in your capsule for your Morocco trip!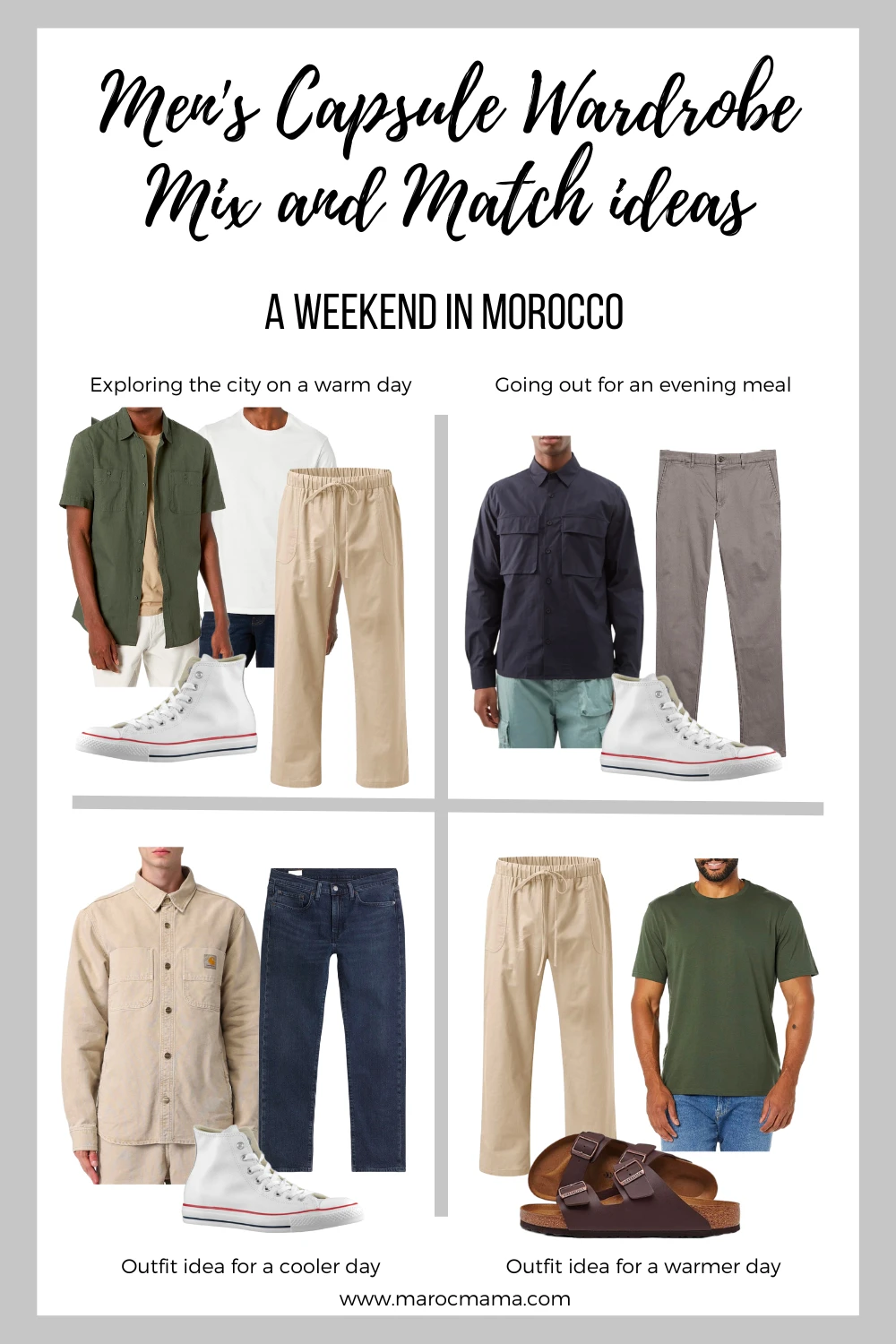 Choosing Pieces for Your Morocco Capsule
Neutral colors
Make sure that when packing, you choose all your items from the same color palette. Here, I've used earthy neutral tones but you don't need to do exactly the same. However, making sure that all of your items will match well is important when you only have 12 pieces to choose from. This will allow you to mix and match multiple combinations and make the most out of your capsule wardrobe.
Light layers
Light layers are perfect for Morocco as it can reach high temperatures during the day but plummet during the night. In the men's capsule travel wardrobe, I've recommended lots of t-shirts, shirts, and jumpers so you will be able to layer up if you need to. On the other hand, linen shirts and trousers will keep you cool if it is hot during the day.
Wear your bulkiest items on the plane
It's important to always wear your largest items on the plane so you don't lose valuable packing space, especially if you're only taking a carry-on case. This means you need to wear your jacket, jumper, trainers and jeans on your flight. This tactic will allow you to make the most of your travel capsule wardrobe and save you from being cold with the plane air-con. An all round win!
Shoe selection
The most important thing when packing shoes for a trip away is that they are comfortable to walk in. I'd recommend taking a pair of trainers and a pair of sandals, both which can be dressed up or down depending on what you wear them with. Trainers will be good for exploring cities while sandals are better if you're going to a beach area or during a warmer season.
Style up or down
It's good to consider taking items which can be styled up or down, depending on what you're doing. For example, a pair of jeans can be casual during the day or be more formal if you're going out for something to eat in the evening.
The basic men's travel travel capsule includes:
3 casual tops – including one long sleeve
2 formal shirts
1 jacket
1 jumper
1 pair of trainers
1 pair of sandals
1 pair of jeans
2 pairs of trousers
Men's Capsule Wardrobe for Morocco
The basic men's travel capsule for your trip to Morocco includes versatile clothing items that can be easily styled up or down. This allows you to seamlessly transition from casual daytime explorations to more formal evening outings. By opting for this approach, you can make the most of your travel capsule wardrobe and be well-prepared for any adventure that awaits you.
More Related Posts To Help You Pack
Best Carry-on Luggage for Your Trip to Morocco
Packing Cubes to Make the Most of Your Space