The German city of Mainz sits on the Rhine River and is a popular stop for Rhine river cruises. But, it's also a really good city to visit with kids! M and I spent a day here in June as a part of my heritage hunter adventure. I have German heritage (and quite a lot of it) on both my maternal and paternal family lines. Mainz is one of the cities I was able to trace my mother's family lineage.
This part of Germany is the heart of its wine region and many attribute the more laid back attitude here to this. Not that the wine makes people relax but the history of the settlers of the region leads to a more laid back attitude. As our guide told us, people have a more Mediterranean way of thinking about time. It was the Romans that brought grapes – and wine – to the area and over time that Mediterranean mindset seems to have worn off. Mainz is a university town, with a diverse demographic and is a place where old and new mix together.
We only had a short stay in the city, and I really wish that it would have been longer. Our brief introduction let me know this was somewhere to come back and spend more time.
What to Do in Mainz, Germany
These suggestions are for children that are a little bit older. I'm afraid I don't have little ones anymore so our travels revolve around what to do with older kids. Mainz with teens is a little different than Mainz with toddlers!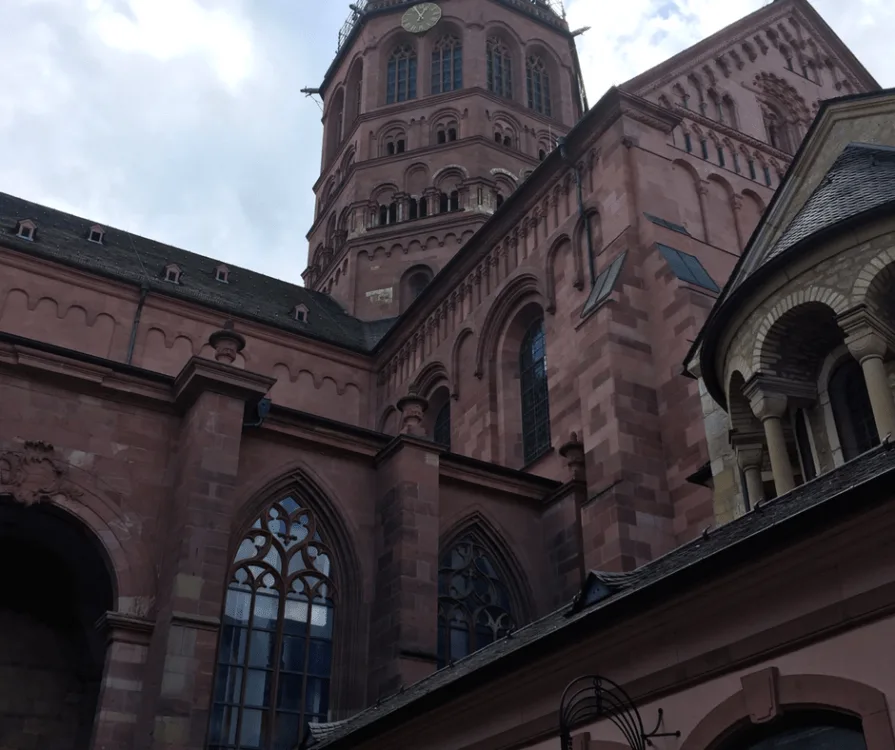 Mainz Cathedral
This towering, impressive gothic cathedral is one of the iconic landmarks of the city. At over 1,000 years old it is truly one of the most recognized sites of the city. There have been many additions and adjustments over the ages but visitors are rewarded with an impressive display of wealth and the historical power of the church inside. Over the ages fires and natural aging led to many restorations. During WWII the cathedral roof burned but the building remained largely in tact.
St. Stephens Church
Located off a small street and somewhat discreet is St. Stephens Church. What makes this church special are the stained glass windows which were designed and created by Marc Chagall. Chagall, a famed Jewish artist, escaped Europe to the United States when he and his wife were added to a list of prominent European Jewish artists offered forged visas out of Europe. His daughter and her husband were also able to escape along with a crate of Chagall's work.
The church itself was largely destroyed during WWII and rebuilt afterwards. Mainz was occupied by French forces. Across the river the Americans occupied. With the need for supplies to rebuild the church, and a lack of supplies in the French zone, a bartering relationship was started; the Americans traded steel for wine, all of which was smuggled across the river to rebuild the church.
Long after the war ended Chagall, due to his friendship with the monsignor of the church gifted the windows to the church. They depict the threads between Judaism and Christianity and were meant to be a sign of German-Jewish reconciliation.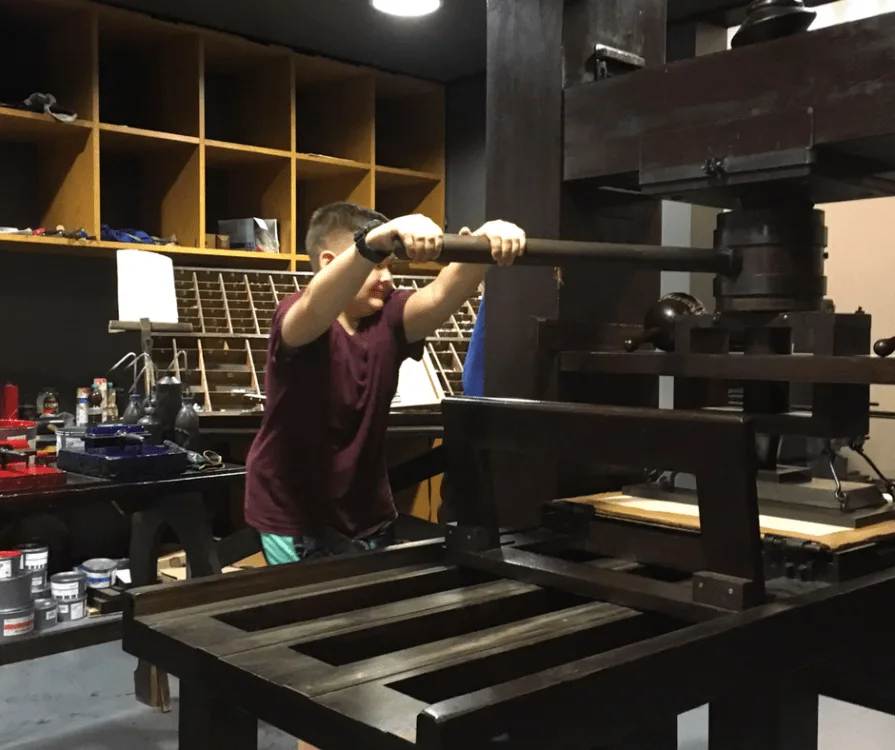 Gutenburg Museum
Ever wonder where the terms "upper case" and "lower case" letters came from? You'll find out here! Arguably Johannes Gutenberg is one of the people who changed the course of history in the western world. Born and raised in Mainz he is credited as the first European to use moveable type technology to bring learning to the masses. In Mainz you can visit the Gutenberg Museum in Mainz to see a reproduction of the original type machine. Two of the original Gutenberg Bibles are on display as well as several other exhibits bringing to life this period of history.
Mainz Christmas Market
If your travels have you in Mainz in late November and December than a visit to the Mainz Christmas Market is a must! Along with the stalls selling local specialities there is a full schedule of concerts, plays and and workshops. The market is held around the Mainz Cathedral and a short walk to the historical district features lit up homes and shops all in the Christmas spirit. If you visit the Gutenberg Musuem during the market you also can handprint individual Christmas cards!
Mainzer Johannisnacht
Also known as the Johannes Festival, this summer event has been happening since 1968 on the anniversary of Gutenberg's passing 500 years previously. The original idea was to celebrate the history of printing in the city and the man that made it possible. Today the event is full of food, concerts, and carnival rides making it a bit more about having fun than print celebration. You will still find sellers offering antique books and printed material for sale. Fireworks cap off the celebration.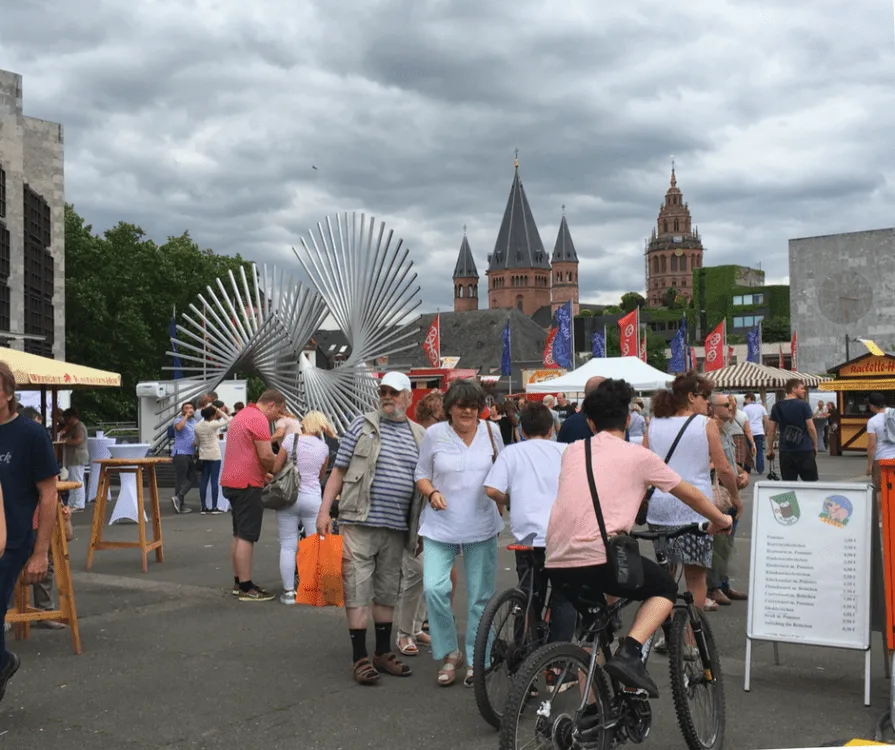 Rhine River Day Cruise
Locals and tourists have been using the Rhine River to get around for centuries. Today it's no different! Rhine River cruises are very popular. If you'd like to book a day cruise it's very simple and affordable. Stay on board and take the river from Mainz to Cologne with several stops along the way. Get off or stay on, the choice is yours!
KD Rhine Pass from Mainz – $36.80

An easy way to start your romantic day on the Rhine: Present your KD ticket onboard any KD ship and enjoy all scheduled day cruises on the Rhine and Moselle rivers for one whole day. The extensive and reliable timetable enables you to disembark as often as you like at the many interesting stops, and spend as much or as little time as you would like.
What to Eat in Mainz
Thanks in part to the university atmosphere there are lots of interesting restaurants and cafes in Mainz, with new ones continually popping up.
MAINZ CAFES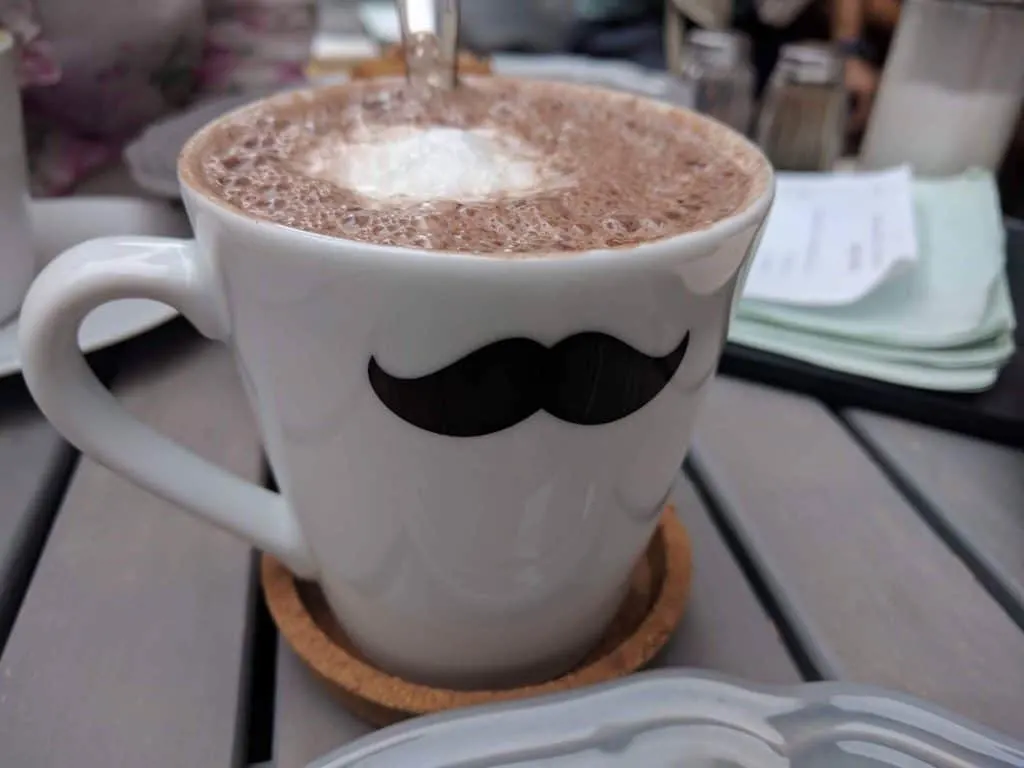 Kaffeekommune – This little cafe is for truly coffee lovers. They have a wide variety of coffee available but the caveat is it's only to drink in its pure form – no sugar! But, don't worry you won't need it. Order the pour over brew and sip away. The taste is very smooth and not bitter at all. While M ordered something else, he had a sip and liked it. If it passes the approval of a non-coffee drinking 13 year old it's good in my book!
Annabatterie – Not an early morning person? Annabatterie has you covered; they serve breakfast until 15:00! Homemade, local, and bio food are what is important to them. Just a look at some of the bakery items they have will make you forget about your lunch plans and stick to cake instead. They also have vegan options available if you're seeking this.
Dicke Lilli and Dicke Lilli Gutes N'eis – This adorable cafe is a great spot to stop and have a coffee and cake (you have to get the cake!) They also offer other food options if you'd like something a bit more filling. It's located just a stone's throw from St. Stephen's Church making a good stop off point from your sightseeing. You'll instantly feel like you're back in your German grandma's kitchen. Next door you'll find their ice cream shop where many of the flavors are made using ingredients from the day previous. For example the cheesecake from yesterday becomes today's cheesecake ice cream. I love the low waste philosophy and the flavors are excellent. A win-win!
Lomo – If you love books, like I do then stop into this book cafe. Each open seat in this 1960's retro space has a book placed in front of it, who knows you could find your next great read! Their daily breakfast buffet is popular (the deluxe buffet is under €8); they also serve food and drinks all day long. Check their website and Facebook page for updates on the regular cultural programs they also host.
Lille Hus – Scandinavia meets Mainz at this cafe, (home of the mustache cups in the picture!) that also doubles as a wine bar. Every day you'll find homemade pastries and cakes being offered. We tried the cinnamon roll that was excellent!
RESTAURANTS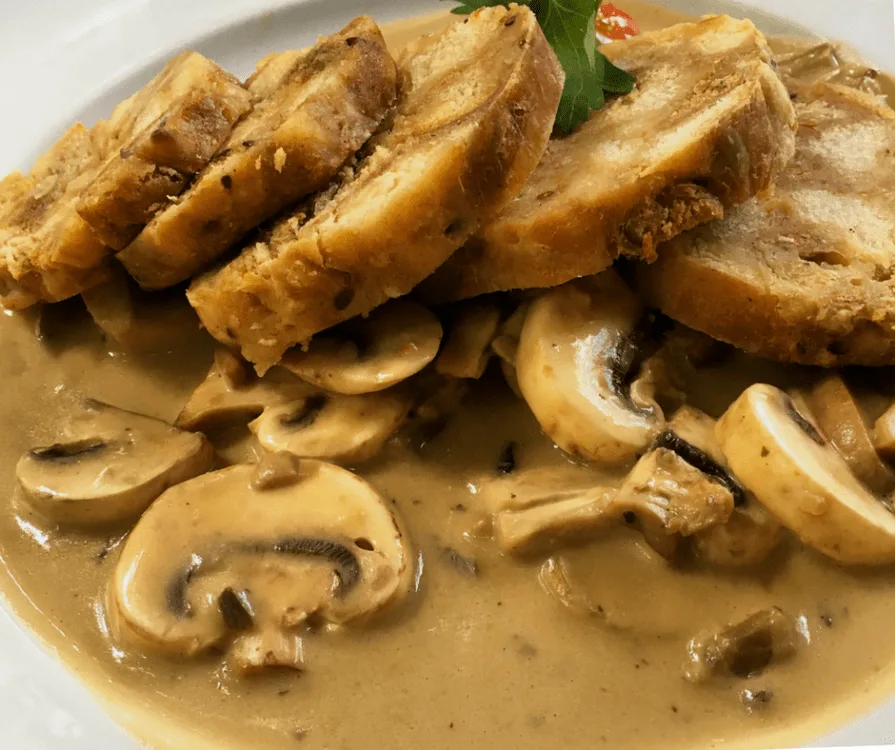 RESTAURANTSHintz & Kunst – Located on the plaza right in front of the Mainz cathedral this restaurant is great for summer lunches. Their menu is German with an international flair – German tapas anyone? Why not! The food was fresh and while maybe not the place to go if you're after a quick lunch, it's ideal if you want to sit, share a drink and a meal while soaking up beautiful downtown Mainz.
Wilma Wunder – This restaurant gets points right off the bat for a cute name. With a focus on providing great tasting food (like your grandma would make), that is local and sustainable. Great breakfast options like melt in your mouth pancakes start the day right. Chicken soup, truffle potatoes, and salads are a few lunch or dinner options. Of course there's homemade cakes and desserts too!
Weinstube to Bacchus – If it's authentic Mainzer cuisine you seek than stop here. When we popped in it was full of locals and a few visitors. The menu is authentically German and of this region and the interior design certainly feels like a step back in time. There are seasonal specials as well as a full wine card of local options.
Heiliggeist – You wouldn't guess it's storied origins on walking in but this restaurant was one of the earliest hospitals in Mainz dating from 1194. Over time it traded hands based on ruling powers and was renovated and restored based on damages and needs. In 1999 it went through it's final renovation to the current state with a Romanesque feel and now is under protected status. They serve breakfast, lunch and dinner and while the restaurant is very large, reservations are suggested especially for high demand times.
Where to Stay in Mainz, Germany

Depending on how long you'll stay and what you want to do and see might help you decide which hotels in Mainz to consider. Our stay was very short and we were both beginning and ending our stay at the central railroad station.
Intercity Hotel Mainz (click for rates)
We stayed in this hotel during our time in Mainz and found it excellent. The rooms were very clean and comfortable and have air conditioning – something important in mid-summer! They also have a large buffet breakfast that is included with the rate. It's a 3 minute walk to the train station but the rooms were very quiet. It is about a 15-20 minute walk to the city center. But thanks to the train station there's also plenty of public transportation nearby.
Advena Europa Hotel (click for rates)
Stay in the Mainz city center when you book here. Breakfast is included and you're right in the middle of the action. Enjoy a short walk to most of the major sites in the downtown area. It also lists itself as a family friendly hotel, a good option for those traveling with kids. WIFI is available throughout the property. If traveling with a car they also offer parking for a small, additional fee each night.
Hilton Mainz City (click for rates)
For those who prefer to stick with a brand they know, the Hilton Mainz City is a good choice. In the city center you're a short walk from all the action. There are additional fees for in room WIFI and breakfast, something worth keeping in mind.
AC Hotel Mainz (click for rates)
Not quite a boutique hotel but AC Hotel has just 58 rooms on the property. Free WIFI in the rooms is an added plus and if you love a good hot shower like I do each of their bathrooms has a rainfall shower! It's located close to the train station but also very close to downtown.
Atrium Hotel Mainz (click for rates)
If you're traveling with a car and would rather a stay a bit outside the city center consider this hotel. It was recently renovated and has several on-site amenities like a spa and three on-site restaurants. Rooms are smartly furnished and have central heat and air conditioning.
Getting to Mainz Germany
I hope that you're read to take off and visit Mainz! Getting to Mainz is very easy and possible to visit even on a long layover to the city.
Frankfurt to Mainz
Germany has great public transportation. From Frankfurt there are a few different ways to reach Mainz.
Train
Directly from the airport: ICE 1594 towards Wiesbaden Hbf departs regularly (double check for early mornings, late evenings and weekends). Additional routes; ICE 510 towards Wiesbaden Hbf, ICE 22 towards Dortmud Hbf, IC 2020 towards Hamburg-Altona, and more – double check on arrival for the next train.
This train takes between 16 minutes and 20 minutes depending on the route to reach Mainz! It's very possible to do on a long layover or as a day trip.
From Frankfurt Central Station:
There are also multiple options from central station. RE 4266, S8, RE 4254, RE 4258 are just a few of the routes that depart on a very regular schedule. This train takes about 35 minutes to reach Mainz.
Wiesbaden to Mainz
There is a large US military base in Wiesbaden and Mainz makes a great day trip for families stationed nearby or visiting family stationed nearby.
Line 6 bus goes directly from Wiesbaden to Mainz in about 20 minutes.
Train: S 83151 departs Wiesbaden Hbf every 15 minutes for Mainz Hbf and takes just 15 minutes.
I think Mainz is one of the really beautiful cities in Germany that is not well known and worth a visit. I'm really happy to know my family roots are tied back here and I can't wait to share our family stories with you in another post.