Have you ever heard of Darmstadt, Germany? If you're like me a few months ago, chances are you haven't. As I was doing family tree research this city name came up a few times. My initial research told me that it was a city, not too far from Frankfurt. I assumed it was a smaller city, having never heard of it but that was all I knew. So it was with a completely open mind that M and I set off on our adventure to learn more about our roots, beginning with Darmstadt.
Where is Darmstadt?
To reach Darmstadt is just over a 30 minute train ride south from Frankfurt. There are multiple trains that run throughout the day making it very easy to reach. It would be very easy to visit Darmstadt as a day trip from Frankfurt or even on a long layover in Frankfurt.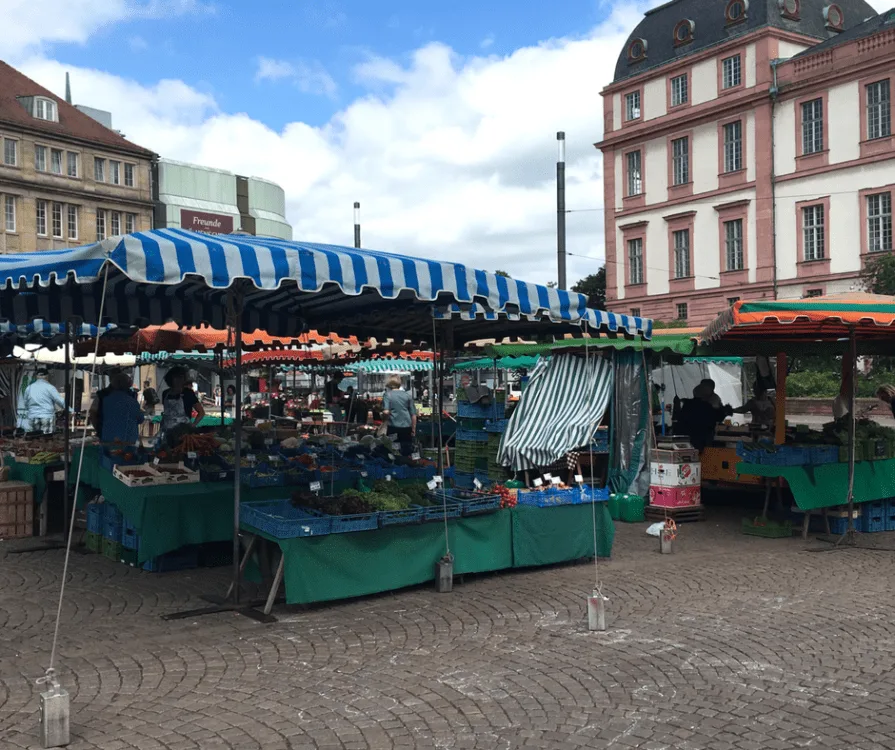 The city is located in the state of Hesse and was once the capital of the Grand Duchy of Hesse. The city is very old and today is well known as a center for scientific learning and industry. During the 19th century it grew very rapidly from 10,000 people to over 72,000 people (today the population is around 150,000). It was during the late 19th century that my family left this area. I soon discovered that my family may have lived here but the records with their information listed here was only because Darmstadt was the government seat.
It's worth noting that almost all of the buildings have been rebuilt from their original structures. The VAST (over 80%) majority of the city was completely destroyed in World War II and over 13,000 people were killed and the entire Jewish population deported or murdered.
Things to do in Darmstadt
We had two full days to spend in Darmstadt so we spread out our plan. If you're interested in getting an overview of the city, I would suggest hiring a guide to give you a tour. Most last just an hour or two and will give you a good background of this place.
The Wedding Tower – Mathildenhöhe
The most iconic symbol of the city might be this tower. It was built in the early 20th century and looks like a hand. It was built as a gift to the Grand Duke and his wife on their marriage from the people of the city. You can take an elevator (or stairs) to the top to a viewing platform that looks out over the city. Nearby is the Russian church that the Grand Duke built for his Russian wife. This part of Germany is very Catholic and so there are few Russian churches to be found!
Jugendstill Houses
Just a short walk from the tower are the remnants of the Jugendstill movement. This was Germany's art nouveau movement that happened from the turn of the 20th century through WWI. There was an artist colony established here and 4 exhibitions were put on from 1901, 1904, 1908, and 1914. There are a few sculptures on the hill overlooking the colony. You also can visit the Museum Künstlerkolonie that is a museum of displays from this period.
Hessisches Landesmuseum (Natural History Museum)
When we had listed a visit to this museum I wasn't sure what to expect. But, we learned Darmstadt is home to European Space Operations Center. The museum had an exhibit on the Rosetta, a spacecraft that preformed a detailed study of a comet and completed a Mars fly by and was controlled in Darmstadt. One of our favorite finds here was the great art gallery they have. It's very easy to view and spend time here and incredibly well curated. Plus it's climate controlled so on a hot summer day was fantastic!
Frankenstein Castle
We had an amazing city guide (Hey Georg!) who took us around and told us all kinds of great stories about the area. On the southern outskirts of Darmstadt sits a hilltop castle that is believed to be Mary Shelley's inspiration for her novel Frankenstein. There are a few stories about the castle that might contribute to it's place but none are verified. The castle was just your regular German castle until after World War II when American soldiers stationed nearby decided the castle made for a great place to throw a Halloween party. Today, it's one of the largest Halloween celebrations in Europe.
Grosser Woog (Darmstadt Lake)
This man-made lake is in the middle of the city. It's a great recreation area and the city keeps it clean for swimming. There's a family and children's play area on the far side and many adults and older children use the walkway to sun bathe. It's really affordable to use (€3.50 for adults and €1.70 for kids) and there's a cafe right on the water to get something to eat before or after your swim.
Herrengarten
M and I spent a good hour at this park just hanging out. It's a gorgeous, open park that has loads of grass and space to spread out. We wish we would have brought a picnic to share but just ran out of time. If you're visiting with little kids, head here for a walk and to let them run off some steam!
Darmstadt City Centre
The city centre of Darmstadt is pedestrian which is fantastic for anyone that wants to walk around without having to dodge traffic. There are lots of small shops, restaurants and coffee shops all over. The Luisenplatz was once the political center of the city and still is important, especially as a transportation interchange. The Ludwigsmuseum is the tower that stands in the middle. During World War II allied bombers used this as a visual marker for their attack on the city – more than 80% of Darmstadt was completely destroyed by incendiary bombs that burned most of the city.
Eating in Darmstadt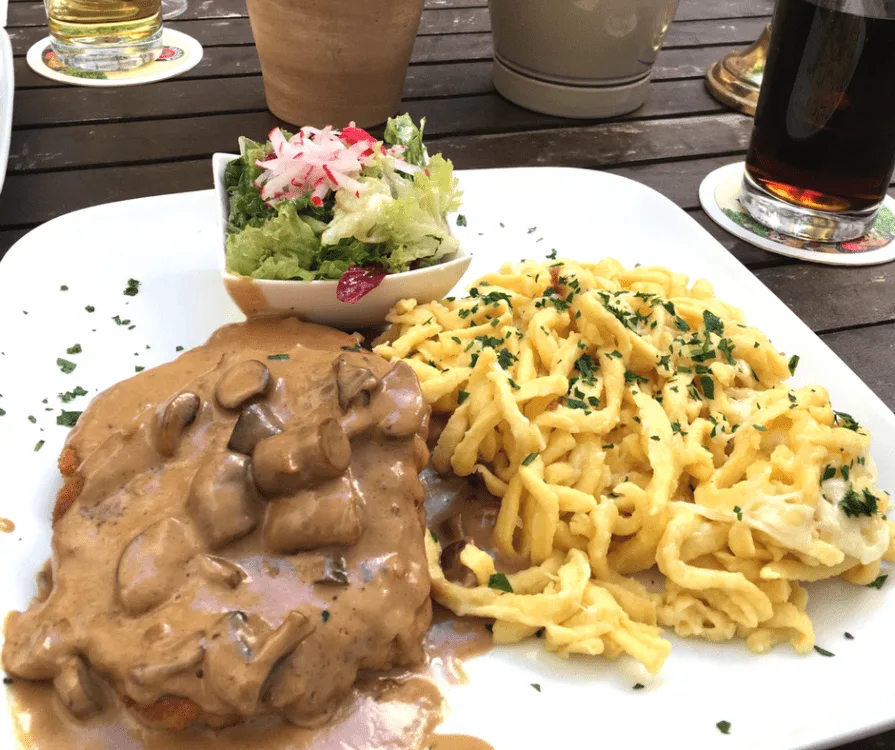 I have a post planned that will be all about Hessen food but some of our favorite foods in Darmstadt were a complete variety of things.
Hotel Restaurant Bockshaut
This hotel and restaurant looks like something that came out of the 19th century. But, the food was really excellent. The portions are HUGE so be prepared to eat a lot and plan accordingly! M and I both ordered chicken dishes but there is a wide variety of traditional, local foods on the menu. I have to say this was my very favorite meal in Germany and I still think about it!
Ratskeller
This restaurant and beer garden was very close to where we were staying and in the evenings was constantly busy. It's very traditional, with traditional food and its own brewery. We didn't eat here simply because beer isn't our thing but I was told time and time again (by locals) that it was certainly worth a visit. If you want authentic German food and are seeking great beer – this is the place to go.
Coccola
Love ice cream? Then you have to stop here. They offer really unique flavors and can cater to just about every diet imaginable. You'll see a line going out the door most of the day but don't let it stop you – they're quick to move the line. Plus, it's worth the wait!
Best Worscht in Town
I'm a bit remiss to call this a restaurant because it's more like a food stall but you should go. Germany is famous for currywurst and there's sausages everywhere. We loved this place because they had sausages that aren't pork – something that is hard to find. Grab a sausage with the sauce of your choice, some bread on the side and a glass bottle of Coke. What could be better?
Elisabeth
With a little searching and a trip up a somewhat hidden staircase you'll find this little soup and salad restaurant. We weren't able to go because it was closed when we went in to eat but it comes highly recommended from Georg (our guide) and another friend of mine. It's perfect to balance out heavy German meals!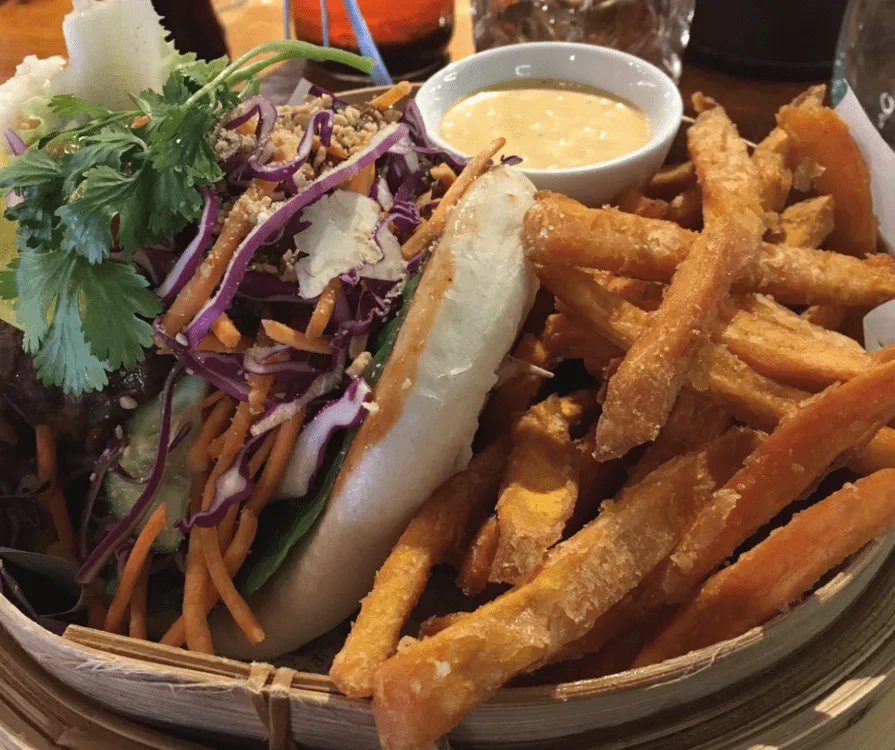 Coa
This was another international food choice. Call it Thai/Asian fusion if you like – it was certainly interesting. I ordered the bao Korean BBQ beef sandwich, and it was gigantic! This doesn't mean it was bad I was just expecting a small handheld sandwich. M got a bowl of tofu soup with vegetables and chicken satay skewers while we split a spring roll. The food was really fresh and tasty – not super authentic but when it's good food, I don't care so much! If you don't speak German take heed the menu is in German but the staff were helpful with the few things we weren't sure about.
Harouns
One of the reasons I really love Germany is that there is a LOT of Turkish food. When we were in Berlin a few years ago we ate almost all Turkish food because it was one of the only things we found that didn't have pork. After our time at the park we walked past Harouns (which is Turkish/Middle Eastern) and decided we'd make it our dinner. Not only was the food really authentic (get the mezze platter) we had a great conversation with the owner after I returned their post-dinner complimentary shot of Schnapp's I think he was a little caught off guard when two European looking people showed up and had a conversation with him in Arabic. He then insisted we stay and have coffee and tea on the house. I swear there is nothing like Arabic hospitality.
Backerei Schwardt
So this isn't a restaurant but it's worth a mention! This little bakery is some of hidden in a residential neighborhood. It's really unassuming. The story behind it however is really great. The bakery had operated with the same family for many years but eventually went out of business as the owners felt they couldn't compete with larger bakeries so they decided to close down. But, the people in the neighborhood really missed the bakery and someone put a post-it on the window asking them to come back. More and more people started doing the same. The owners discovered this and decided they would give it another try. All of the items they make are traditional recipes and everything is done small scale. When they sell out (and they do!) it's gone for the day.
Darmstadt cafes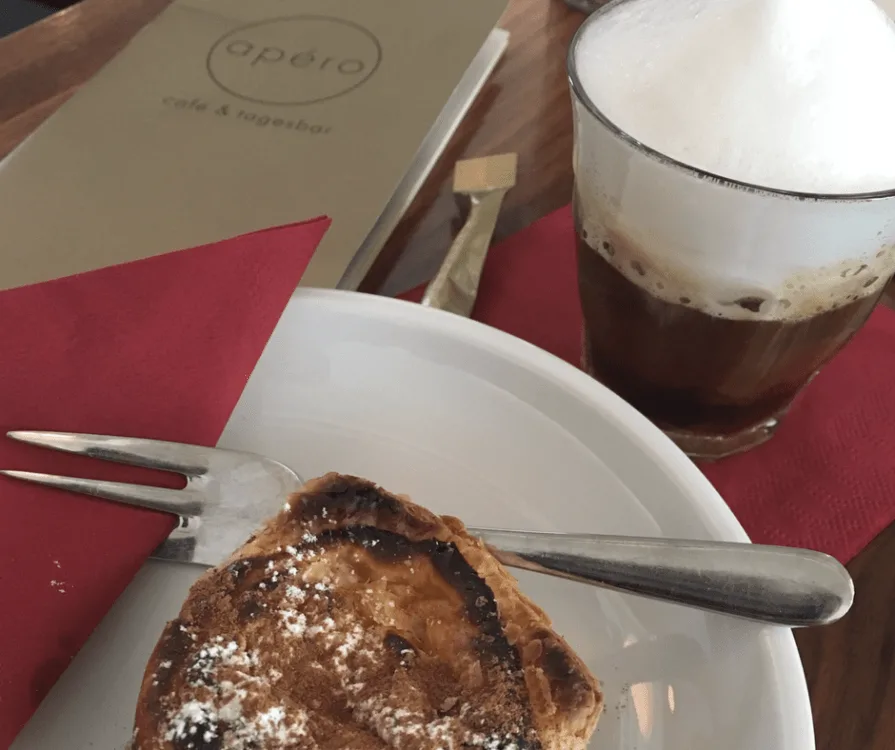 Darmstadt is a university town so it has some unique cafes worth visiting. These are really just a few that we tried out – there were MANY others we passed and wish we had more time and space to visit!
3Klaag
On our walk to the Wedding Tower we stopped here to get something to drink. The restaurant was busy and we found out on Sunday's they serve a very popular brunch. So popular that you need to make reservations 4 WEEKS in advance! That's right no showing up and expecting a spot the day of! The coffee and hot chocolate were good too!
Woog
I mentioned this cafe near the lake. It's perched right on the main street over looking the water with waterfront seating both in and outside. The menu offers a little of everything.
Wellnitz Cafe
This cafe was once the bookstore of one of the universities in town. But, thanks to the advent of digital books and a decline in sales, it was shuttered. Now it's a cafe! It's French inspired and I'd say a bit of French colonial decoration as well – there were several Moroccan "artifacts" I noticed. They have homemade cakes that are worth a pop in and sit down with a cup of coffee!
Apero
Apero is a cafe and a wine bar and I couldn't help but think it would be the perfect spot for friends who are mixed in their drinking choices to meet. They have a very large drink menu and several menu options as well. I tried the pastries and watched them prepare some gigantic salads – next time!
Hotels in Darmstadt
With three universities in town, there's no shortage of hotels! If you decide to spend the night consider one of these options.
IntercityHotel Darmstadt – You'll find this hotel right next to the train station making it a good place to stay if you're arriving late or leaving early. The tram and bus for the city both come to the train station so you'll have no problem getting around if you stay here.
Bockshaut – This is the hotel connected to the restaurant we ate at. It's a good central location and the rooms are clean if a little dated. The internet worked well but in warmer months, ask for a room off the courtyard or the noise might be too much to handle.
Hotel Jungstil – Located in the Mitte district this hotel is good if you'll be driving and are enticed by free parking. It's a bit of a distance from the city center but completely walkable.
AirBnB – Saving money or just prefer an apartment? Airbnb is always an option. When I checked there were several rooms for under $50 a night, and even more for under $75. (Never used AirBnB? Book with this link and you'll get $25 off your first rental!)
We really enjoyed our time in Darmstadt and think it's a fun place to explore. M even mentioned he might like to consider going to university here one day. You never know we may be back soon!