Morocco isn't the first place that pops into mind when the idea of a Christmas destination comes up. When we moved here, I really mourned the loss of the holiday as it held strong memories and sentiments. Growing up it was a religious holiday in our home, but as I got older became more secular.
Still today after being a Muslim for over ten years, I still smile when I remember candlelight Christmas Eve church services, the scent of pine, and of course delicious food.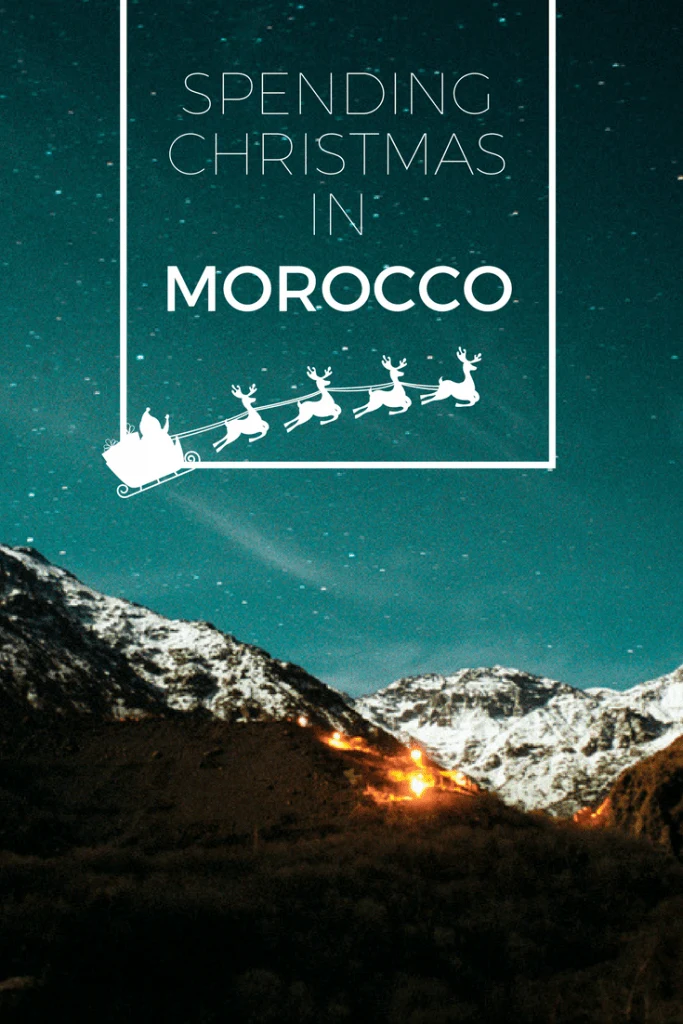 Even though I thought Christmas hadn't made it's way to Morocco I was wrong.
We found Christmas in Marrakech!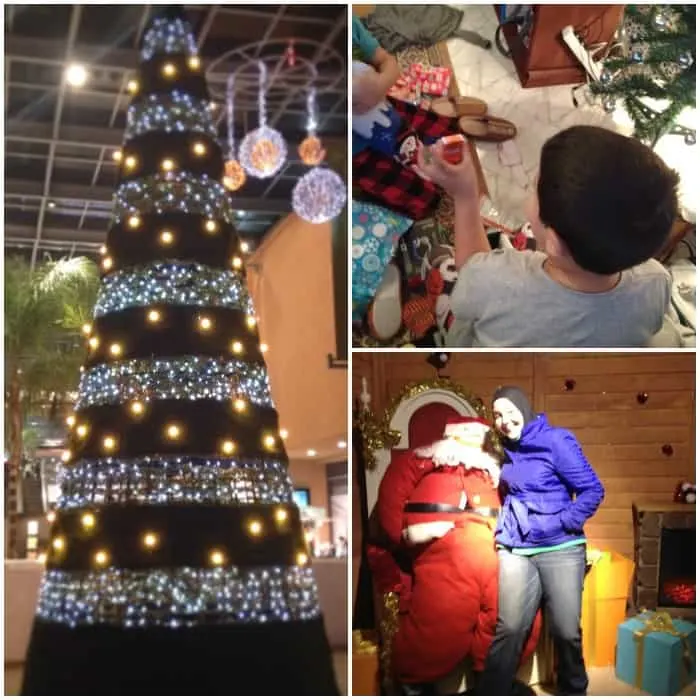 Walking into one of the malls in Marrakech last December and losing it when I saw that Christmas tree. I'm sure people thought I was nuts but it was something familiar and eased some of the sadness I felt being away from my family at that time. If you're thinking to visit during this time you'll find a mix of the holiday and no trace at all. It really depends what experience you want to have.
Planning to Spend Christmas in Morocco
Wait, does Morocco celebrate Christmas?
The answer is no – and yes. Outside of the big cities you won't find any notion of Christmas. Children go to school as normal, most people have no idea that it's Christmas. Morocco is a majority Muslim country and Christmas is not a Muslim holiday so Morocco at Christmas is not a holiday.
However, there is a large (and growing) foreign population in Morocco and yes, there are Moroccan Christians so Christmas DOES exist. If you're in a large city like Marrakech, Casablanca or Rabat you'll certainly find glimpses of the holiday.
Keep in mind in many cities like Marrakech, Christmas through New Year's is the HIGH tourism season. This means hotels and riads are booked well in advance, it can be more costly and there are many more people around than other times of the year.
If you're looking for Morocco Christmas tours, you want to book and sign up as soon as possible. Companies offer private tours but you can also join a group tour through places like Intrepid or G Adventures who run regular tours throughout Morocco.
Looking to stay in Marrakech at Christmas? These 15 Beautiful riads will make your holiday special!
You can have two different experiences when you spend Christmas in Morocco.

Yes! Give me that Christmas Spirit!
If you want to have a traditional Christmas experience stay in a bigger city like Marrakech, Agadir, Fez, or Rabat. Of all these places Rabat is where you'll find the most sense of the holiday due in large part to the number of foreign people who live and work there.
What is Christmas like in Morocco?
First, expect that most of the Christmas decorations and celebrations will have a European feel – which makes sense as the vast majority of expats that celebrate are from Europe.
It's very common to find Christmas goodies like the buche de Nôel (a French Christmas cake) in regular Moroccan bakeries – festooned with Christmas wrapping, Santa's and other Christmas-like decoration.
Hotels and restaurants in bigger cities also will typically offer Christmas menus and sometimes special events related to the holidays. This is most typical with larger, luxury and chain hotels though smaller riads are also joining in.
There are no large Christmas markets in Marrakech or any other Moroccan cities. You may find small events hosted by churches or different expat groups.
If you are religious, don't think you'll be out of luck in Morocco. There are churches throughout the country. Owing to the Spanish and French influence the majority of churches are Catholic. There is a listing of some on the Weekday Masses website, however there are likely to be other smaller congregations in less organized churches. Ask at your hotel or riad and they may be able to help. But, don't be too surprised if there aren't any congregations, especially in small cities.
If you want to see Christmas decorations, you'll need to get out of the medinas and head to the new neighborhoods and shopping malls. Here you might be surprised to find Christmas window dressings, holiday lights, Christmas trees and even Santa.
No Thanks I Want to Get Away!
If you would rather escape Christmas, you can do that here too. Head for smaller towns and cities where the holiday barely makes a blip on the radar of locals. For a warm and inviting holiday go south to Agadir, Mirleft or way south to Dakhla.
Temperatures here will still be warm enough to possibly take a swim in the ocean (if you're tough or have a wetsuit), or at least do some sun bathing. There are regular flights from Casablanca, Marrakech and Agadir to Dakhla while the other two destinations are more easily reached via car.
The mountain villages are also a great location to consider. Imlil is just 90 minutes from Marrakech and is a quaint but beautiful spot. Oukaimden in the south and Ifrane in the north have facilities that will allow you to ski in the mountains, provided there's been enough snowfall at this time of year.
Finally, a camel trek in the Sahara is always a great way to spend a holiday. Temperatures at night can get quite chilly but if you go prepared it's one of the best times of year to experience the desert – plus you run much less risk of encountering scorpions and other less friendly desert wildlife.
In other cities around the country the situation may not be quite as busy, but again planning ahead is key. It wouldn't be advisable to show up anywhere in the country this time of year with no reservations and hope to find something that meets your standards.
Want to Bring Morocco Home This Christmas?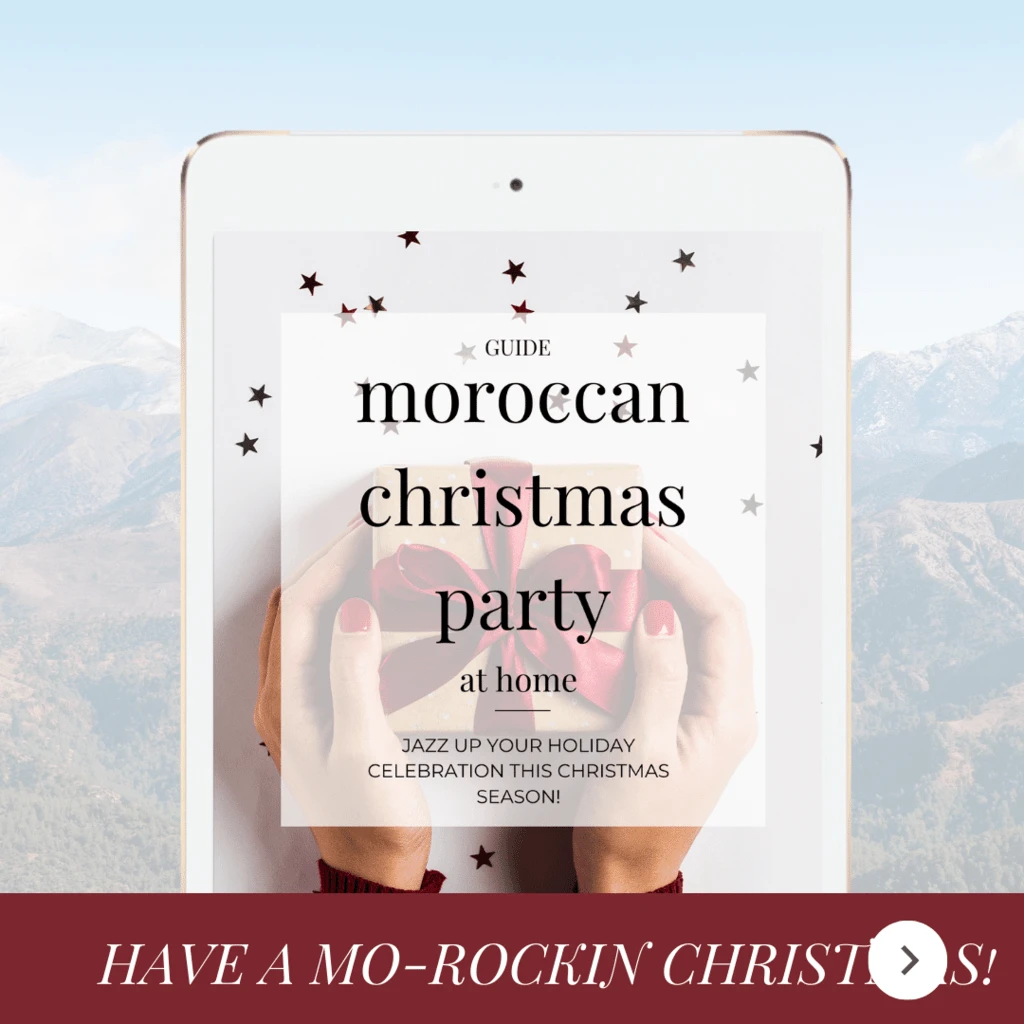 Get everything you need in this downloadable PDF guide to throw a Moroccan Christmas party. Recipes, printables and party games – you'll get everything for your celebration when you grab this Moroccan Christmas party guide!