The city of Dakhla is located in a contentious part of the world known most widely as the Western Sahara. There is a long-standing disagreement as to whether it belongs to Morocco or should be an independent country.
When I travel my goal is to support local populations' economy and infrastructure. I do not have a political agenda. Our visit to Dakhla was paid out of pocket and was not in any way sponsored by any company, government or organization. I recognize that there are people on both sides of this debate and I kindly ask that you refrain from sharing your political opinions in the comments of this post.
Dakhla is a medium-sized city of just over 100,000 people located 400 kilometers north of the Mauritanian border. The city is built on a peninsula that runs down from the mainland creating a lagoon area that is popular for kite surfing and wildlife. Unlike most of Morocco, this part of the Sahara was controlled by Spain for hundreds of years and has close ties to the Canary Islands. Dakhla was made the capital of the Spanish Sahara.
The recent history and background of the region are complex. In the 1960s and '70s things started to get a little more tumultuous with pressure being laid on Spain to give up the territory by both Mauritania and Morocco.
From 1975 it was considered jointly administered by the two countries however neither recognized each other leading to the Western Sahara War that lasted from 1975 – 1991 when an UN-sponsored cease-fire went into effect. Much of the area now is under Moroccan control however there is an inland portion controlled by the Sahrawi Arab Democratic Republic, managed by the Polisario Front, a controversial third-party actor.
I realize that this might all sound a bit scary but if you're visiting the city of Dakhla it's quite safe and a great beach destination. There are not a lot of foreign visitors that come, aside from kite surfers, instead, most tourism is Moroccans.
Dakhla has a temperate year-round climate so you won't experience the extreme heat you will in other areas of the Sahara. One thing to keep in mind however is that it can be quite windy. If you have young children it might not be the best choice for a beach vacation however if you have active teens they'll be thrilled with all the options.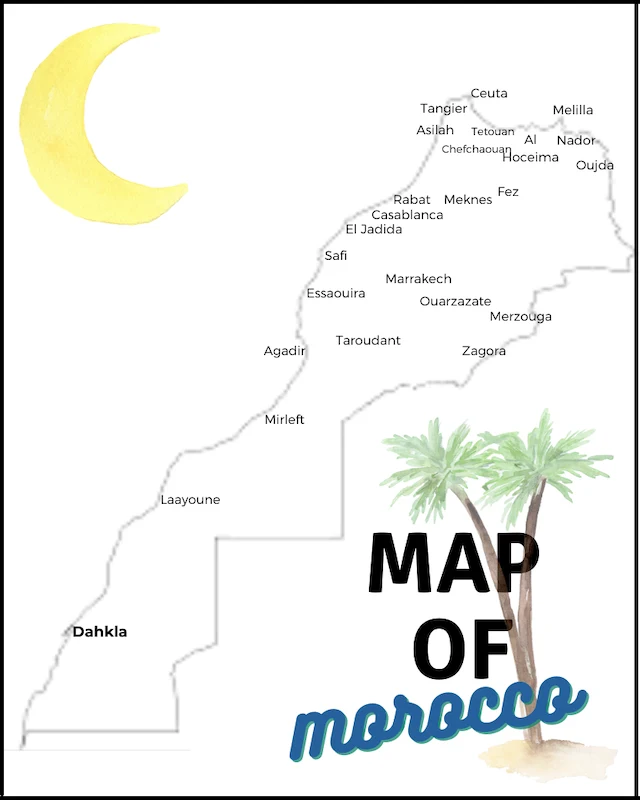 IS DAKHLA SAFE?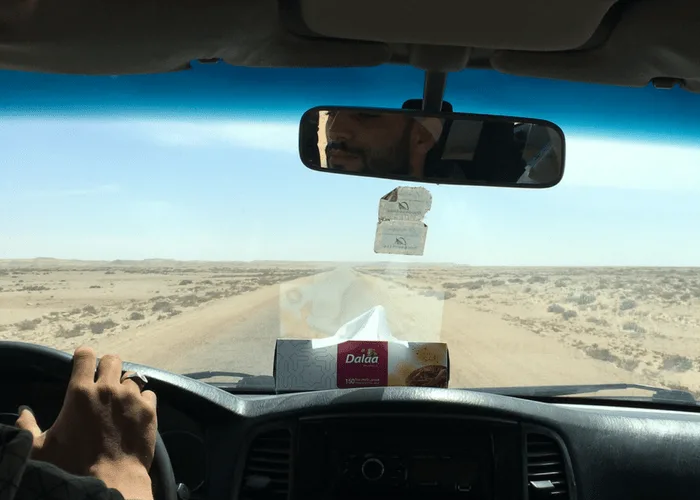 The number one question I was and have been asked since planning our trip was "is Dakhla safe?" There is a lot of information floating around about this. I can only speak from my own experience and in speaking with people who live in Dakhla.
I NEVER felt unsafe or threatened.
Many visitors choose to stick to the beach resorts which are small, isolated, self-contained communities. If you do go into the city of Dakhla you will find the people there to be incredibly kind and friendly. For women who are traveling and find other areas of Morocco to be a pain when it comes to street harassment Dakhla is a breath of fresh air. Never once was an inappropriate comment made to me, even when I was sitting alone outside. This is something I can say was truly different.
Just like with all destinations, there are some areas that you should avoid. The inland areas controlled by the SADR are not advisable. Also, if you plan to travel to Mauritania you should be aware that travel in convoys is advised (and I've read accounts that it's required) from points south of Dakhla to the border.
If you plan to rent a car in Dakhla there is very limited GPS coverage – this is the Sahara and there are limited paved roads. Many routes are on dirt and are barely marked. More than once I shook my head wondering how anyone found their way. It is not a good idea to go driving off-road when you do not know your way as some areas in the territory are still mined.
HOW TO GET TO DAKHLA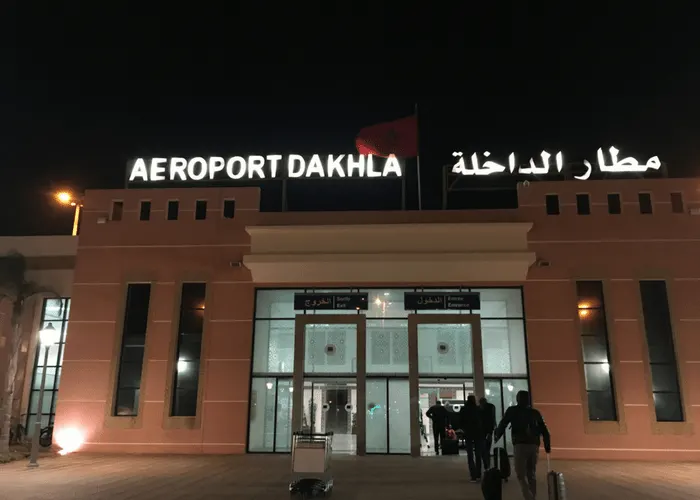 Reaching Dakhla there are limited options, given it is such a far distance. It also is one of the more expensive destinations to reach.
By Plane
There are both domestic and international flights to Dakhla. Direct flights exist from Agadir and Casablanca and you can connect to these cities from other points in Morocco via Royal Air Maroc. These domestic flights are quite expensive, averaging around $200 a person roundtrip.
Air Arabia also now offers flights from Marrakech to Dakhla at a much lower rate. This is a really helpful option if you're planning to make the trip.
International flights arrive from France and Germany and seasonally from the Canary Islands. The Dakhla airport is VERY small. It is one runway and one small terminal so you need not worry too much about getting lost or arriving too early for your flight.
By Bus
Bus service is available from major Moroccan cities to Dakhla via Supratours, CTM as well as cheaper option SATAS. Tickets are around 500 dirham and can not be purchased in advance. Keep in mind this is a very long journey. From Marrakech to Dakhla is about 1,400 kilometers and the bus journey takes 24+ hours.
By Car
If you're up for a road trip, this would be an epic one. It will take a minimum of two days for you to make the drive with a stop in the middle of the trip. It should also be expected that you'll run into many police checks along the way so stick to the rules of the road and be prepared for this. You also should avoid driving at night as there are no lights and you may find yourself face to face with a camel crossing the road.
WHAT TO DO IN DAKHLA
At first glance, there didn't seem to be a lot to do in Dakhla but in the end, we ran out of time to see all that we wanted!
KITE SURFING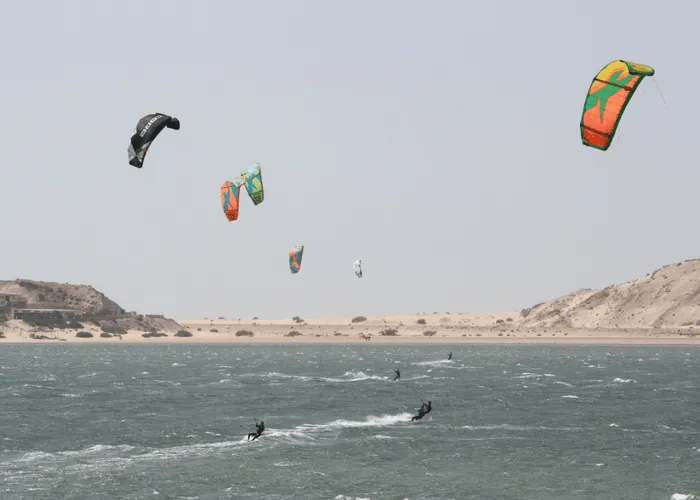 This is the number one activity that people come to Dakhla for. There are dozens of hotels and resorts in the area that specialize in kite surf camps. There are also many other outfitters that just offer equipment and transportation to kite surfing spots.
Whether you're a beginner or advanced there really is something for everyone. If you plan to kite surf look into package deals that combine room, board, and your equipment to save a little bit of money. For example, an option we had was to do 8 hours of kite surfing lessons for 300€ or pay about 80€ an hour if we didn't want the package.
Worried about what to wear on the beach? I've got you covered with these suggestions for great swimsuits and coverups.
LA DUNE BLANCHE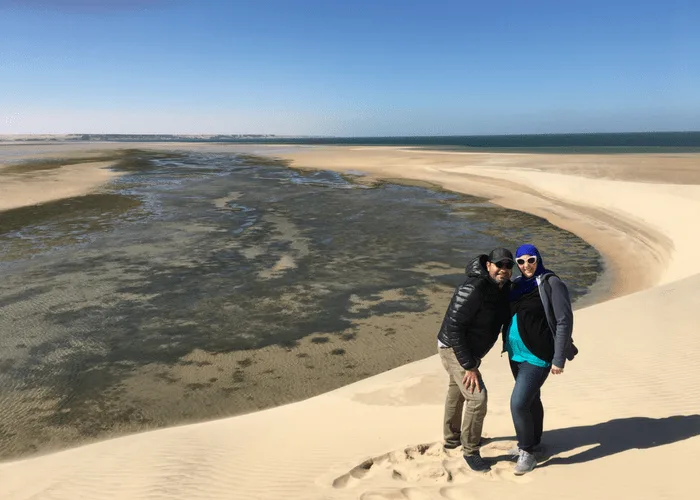 So I wasn't sure about this but we were told we HAD to go see it. Essentially it's a giant sand dune that is in the middle of a lagoon. When the tide goes out the water pulls back and there's a giant open space of land. When the tide comes in it surrounds this dune but only goes up so far.
A little strange, and pretty cool! This is a great spot to see migratory birds and when the tide is up we were told kite surfers use it as a jumping-off point into the water. I could see how it would be fun to use it as a natural slide if the water were high enough!
IMLILI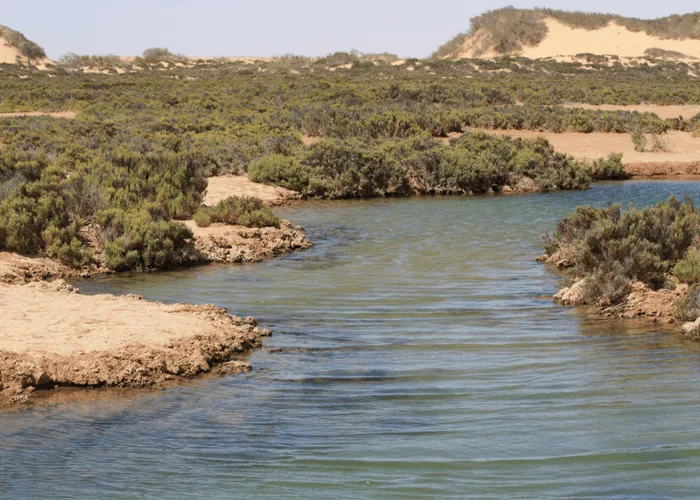 This might be one of the strangest things I've seen. About 100 km south of Dakhla is the Imlili Desert. Called sebkha's there are 160 natural saltwater pools that exist in the middle of this desert area. Not only that but there are small saltwater fish that live in these water holes.
Nearby there are also freshwater wells that attract herders and wild animals. It's honestly very peculiar but incredibly interesting to see. The ocean is not too far away (perhaps 20km) and there are several very nice beaches if you want to visit before heading back to the city.
SAHARAWI TEA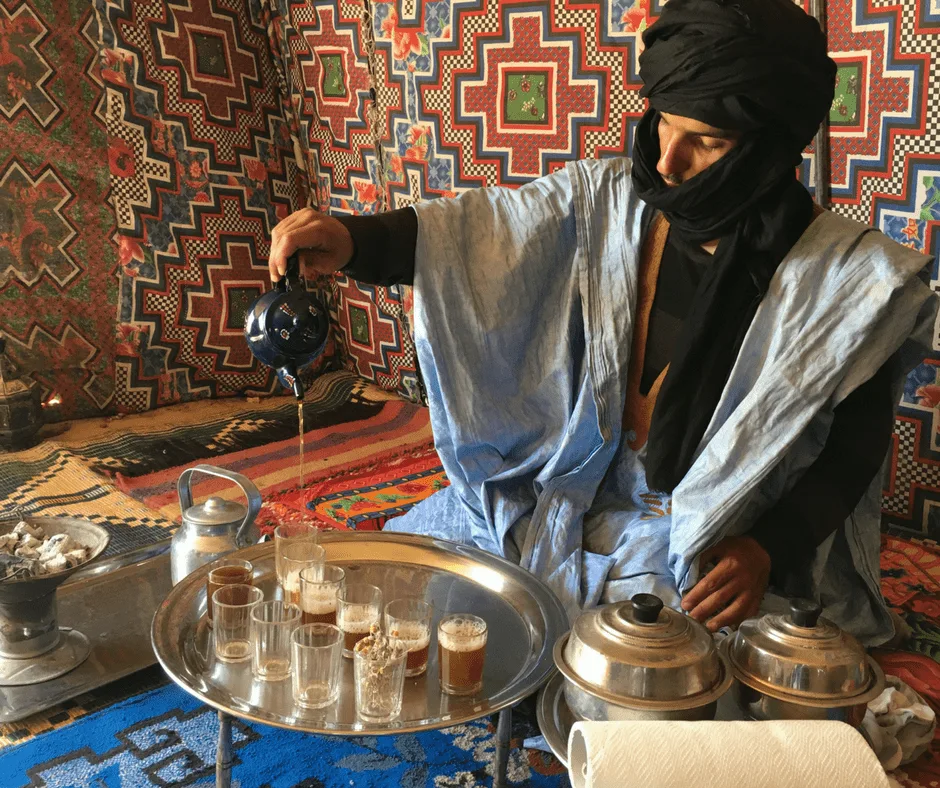 If you can make it happen, this is an experience every visitor to the region should have. There is a very special way that Saharawi tea is made and drank. It includes a LOT of pouring and the drinking of 3-4 glasses of tea, each of which tastes differently. This was one of my favorite things we did because it truly is a cultural experience. Be prepared, this is a really long procedure; I estimate it took over an hour!
DAKHLA SOUK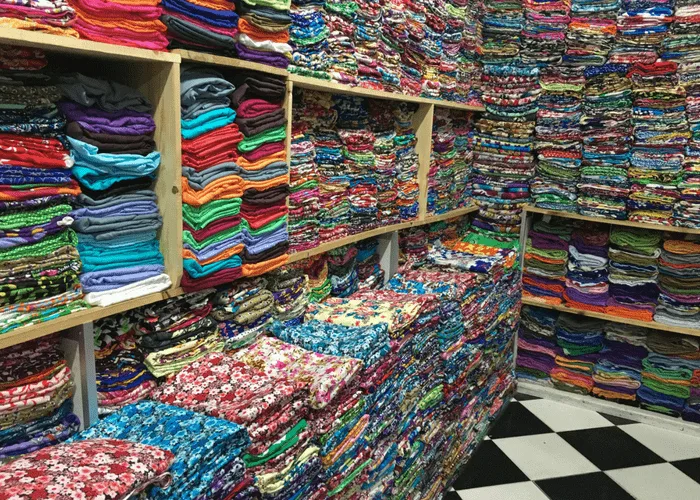 In Dakhla city, there is a small souk (in comparison to Marrakech) that you should visit. There are a lot of different things available for purchase here than you'll find in other cities. A few of the things that I made sure to get were melhfa fabric (the lightweight wraps that women from the Sahara wear), Saharawi loose tea, acacia sap for sweetening tea, and el aych a type of grain/cereal commonly eaten here. I wish that we could have spent a lot longer!
DAKHLA OYSTER FARMS
One of the biggest exports of the region are oysters headed mainly for Europe though local farmers are trying to get the Moroccan population more interested in this dish. The area makes good sense, the lagoon is a protected space making the water and the environment surrounding the oysters very clean.
All of the harvestings happen by hand and a lot of care is taken to keep the oysters safe. We visited in the morning and afternoon; in the morning we could see workers harvesting and checking on the oysters but by afternoon the tide had come up and they were completely submerged.
THE OSTRICH FARM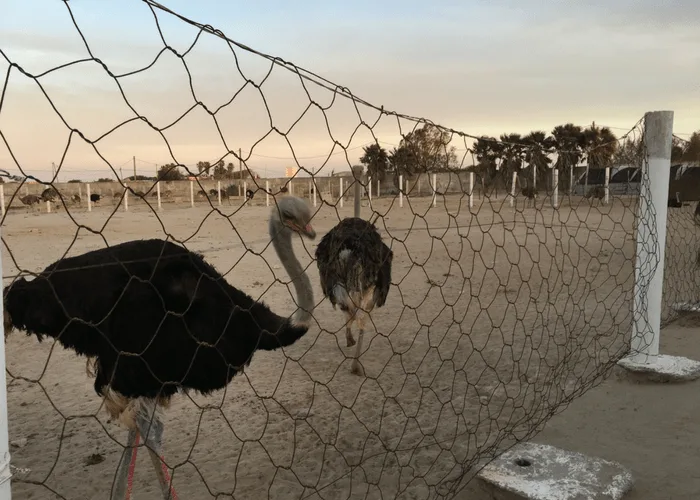 While I'm sure this farm has a name, I'm not sure what it is! We visited briefly just to see these odd birds who are raised and either sent abroad alive or used for meat in high-end restaurants. I wouldn't say this makes for a long visit but at 10dh a person, and if you can catch it when it's open (like many things it seems schedules are loosely held here) it's worth a stop on your way into Dakhla.
What about the Dakhla beach you're asking. Well, here's the thing. Yes, Dakhla does have plenty of beautiful beaches. It also has a LOT of wind. So I don't think I would plan to visit here if my only mission was to lay on the beach and get a tan – because you're going to be coated in sand. Sorry!
WHERE TO EAT IN DAKHLA
If you're staying in one of the kitesurf hotels chances are your stay will be all-inclusive. This is a good thing if you don't have transportation in and out of town as it is quite the distance and there's not really anything around most of the resorts. That being said, sometimes the food can get a little boring. In those cases here are a few suggestions for places we liked!
BEWok Asian at Dakhla Westpoint
This restaurant is open to outside guests if you make a reservation. It serves Asian food which might be a welcome sight if you're getting tired of the same fare and the sushi is really good!
Ntifi
This is a little restaurant in the city of Dakhla proper. Our driver brought us here for Friday couscous and it's a local place to be sure. Everyone eating here was local! The owner and his wife were extremely active and it's his Fassi wife that heads up the kitchen. Fridays are couscous days and other days they have specialties like r'fissa or b'stila! If we put in an order the day ahead they could have made us camel couscous but alas. Instead, our driver headed down the street and got us a few skewers of grilled camel to have on the side. Very good, very real Moroccan food.
Talhamar
This is the restaurant at the oyster farm.. You can choose from oysters either fresh or grilled as well as a variety of other seafood. Honestly, our favorite thing was the octopus tajine that was cooked well and not chewy at all. What's available depends on the season – I just missed out on lobster. Raw oysters are just 4dh each and the tajine? 40dh. Very reasonable prices! Word of caution, however, there's no bathroom so be prepared!
Misconceptions you may have about dining in this area is that they eat a lot of camel meat. Turns out they don't. We found it quite hard to actually find camel anywhere even when we asked about it. Seems like down here the same is true as further up north, camels are worth a lot more alive than they are dead.
WHERE TO STAY IN DAKHLA
[**When I started looking at places to book in Dakhla one thing that I noticed is very few have the option for you to pay online, or are listed with booking aggregators. In a few instances, pre-payment was also requested via bank transfer before the stay. This is something you may want to keep in mind before booking.**]
Dakhla Attitude
This is one of the most popular kite surfing hotels in the area. While we considered staying here, we knew we probably wouldn't be kitesurfing and it's pretty heavy on the activity. There are two camps with three different types of accommodations and various budget levels making it a good choice to consider. Your stay is all-inclusive.
Ocean Vagabond
This hotel has properties in Essaouira and Dakhla and is a really great spot to get away from it all. We tried to book this hotel first but they have a minimum 5 night stay and we were only staying for 4 nights. There is onsite massage, yoga, kitesurfing, and plenty of space to relax. The property is an ecolodge so they do their best to be as eco-friendly as possible.
Hotel Dakhla Club
This is the hotel we chose to stay at. It is a newer hotel, opened for about one year. It has kite surfing as an option though this isn't something we ended up doing. Overall we enjoyed our stay here. The price was ok (it is all inclusive) and we found the staff to be very outgoing, warm and welcoming. The food was also good though by day 4 I was getting a little tired of the same/similar things and could have used a bit more variety. Overall a good choice!
TRIPS, TOURS, AND ACTIVITIES
| | |
| --- | --- |
| | Sahara Catamaran Sailing – $43.43 Sail in the Sahara: Enjoy a taste of sailing on a 38ft Catamaran, experience the adventure of getting out on the waters of the beautiful Dakhla bay, feel the power of the wind. Learn some sailing basics, raise the sails, take the helm, or just relax and let the world go by. |
Dakhla Rovers
Check out this company if you're looking for single day and multi-day tours in the region. They are committed to ecological stability in the area and offer a lot of really interesting tours for anyone visiting.
Dakhla Rovers
RELATED DESTINATION GUIDES
Asilah, Morocco
This northern Moroccan beach city is a favorite in summer months. If you can't make it to Dakhla then consider Asilah instead. Reaching it is easy thanks to the Moroccan national train service and you'll love all the colorful street art!
Essaouira, Morocco
Can't make it to Dakhla to kite surf? Then Essaouira might be your next best option. The winds don't blow quite as hard but it's a popular spot for wind surfing. There's also a lot to do in this small, Moroccan city.