Although Madrid is the capital of Spain it is often overlooked for more popular tourist destinations like Barcelona and Seville. And indeed, Madrid doesn't have the fairytale architecture of Barcelona or the magical atmosphere of Seville. But that doesn't mean that Madrid has nothing to offer an international tourist, in fact, there are plenty of amazing things to do in Madrid. Here are some examples of things to do in Madrid.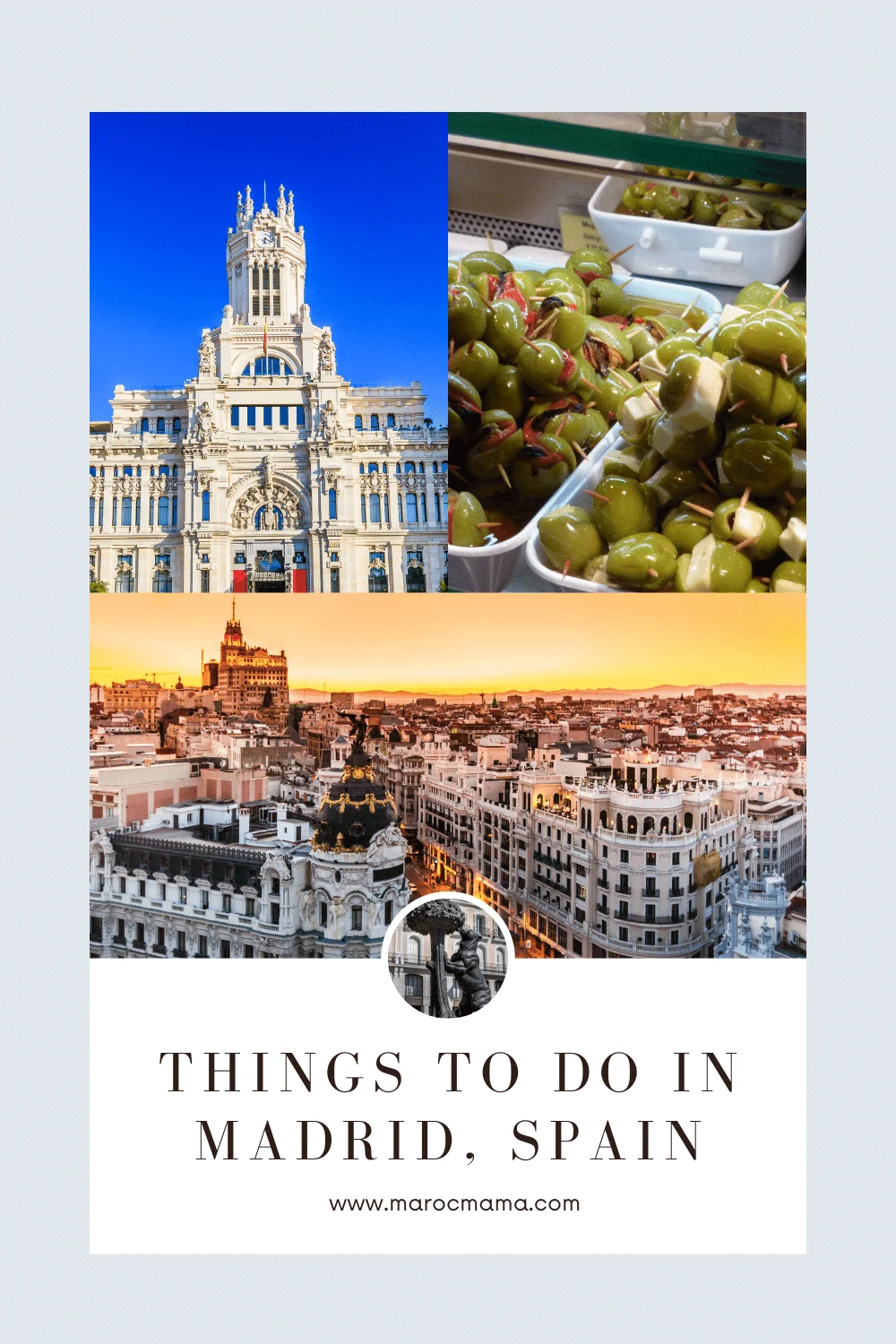 Plaza Mayor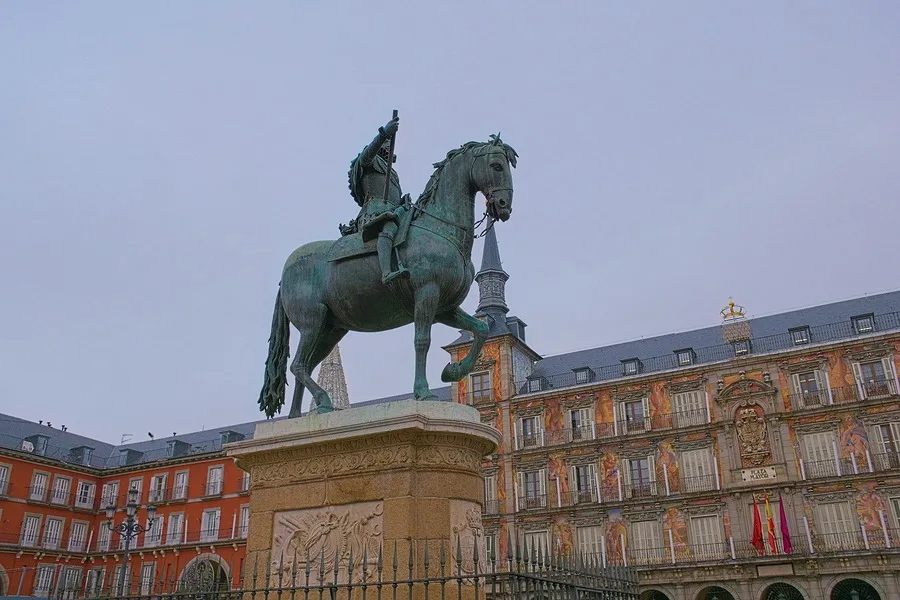 As the name suggests, the Plaza Mayor is the main square of Madrid. It is extremely centrally located so you will definitely walk by here during your time in the Spanish capital.
What sets it apart from many other squares is that it's entirely surrounded by apartment buildings with their balconies facing the square.
The rectangular Plaza Mayor has nine entrances so you can enter and leave the square from different sides. One of these entrances is the Arco de Cuchilleros which is named after the profession of knife sharpeners. The oldest and most famous building of the Plaza Mayor is the Casa de la Panadería ("bakery house") which is where Madrid's main bakery was located. Nowadays, you can find a tourist information center in the building. Across from it, you will find the Casa de la Carnicería ("butcher's house") which was built entirely to serve its purpose as a butcher shop.
Because the square is so popular with locals and tourists, there are various cafés, bars, and restaurants to be found in the archways surrounding it. In fact, right outside the square, you can find the oldest restaurant in the world still in operation, Sobrino de Botín. Though you may want to skip this place if you're looking for vegan options in Madrid instead of traditional Spanish food which is heavy on animal products. You can also find several shops on Plaza Mayor. It's a really lively square with plenty of things to do. Although in the past it hosted horrible events such as executions and bullfights, it is now more peaceful and home to ac picturesque Christmas market. Definitely, something much more enjoyable to visit.
In the center of the square, you will see a big statue of Philip III. He was King of Spain until his death in 1621, but the statue was only moved to the square in 1848.
Although the name Plaza Mayor seems so fitting for this place, it was actually only named that in 1939. Previous names of the square include "Plaza del Arrabal," "Plaza de la Constitución," "Plaza Real," and "Plaza de la República." Some of these names were even switched back and forth several times.
The Plaza Mayor is a great place for taking photos because of the beautiful architecture. Since there's no traffic in the square it's also the perfect place for a comfortable stroll. Make sure you dedicate some time to your visit there.
Museo del Prado
Commonly considered one of the best museums in the world, the Prado cannot be missing from anyone's list of places to visit in Madrid. The enormous collection of European (mainly Spanish, Dutch, and Italian) art features masterpieces by Goya, Rubens, El Greco, Velázquez, Titian, and many others. Due to the enormous number of works displayed in the Prado, you can easily spend several hours here, and the visit can be overwhelming. The best idea is to get a general idea of which pieces you are most interested in seeing and organizing your visit accordingly.
The Prado is one of the most-visited museums in the world, and as such can get very busy. Going as soon as it opens (at 10 am) will make it easier for you to see the really popular paintings like Las Meninas by Velázquez up close. On the other hand, keep in mind that tickets for the museum come with a hefty price tag of €15. To avoid paying that much money you can take advantage of the free access times (6-8 pm from Monday to Saturday and 5-7 pm on Sundays and holidays), but be aware that the lines during these times are exceptionally long.
If you'd rather visit with a guide to get the most of the experience, book a guided tour in advance. Small group tours and private tours are both options depending on your style.
El Retiro Park
One of Spain's newest UNESCO World Heritage sites (along with the Paseo del Prado), the Retiro Park is one of the largest parks in the city. Its official name is Parque del Buen Retiro, and it used to be owned by the Spanish royal family until 1868. It is now owned by the City of Madrid and is a popular public park.
A small park was initially built for the nearby Saint Jerome the Royal Church under Queen Isabela I. Subsequent monarchs enlarged and changed the park.
Nowadays, the park is home to an impressive monument to Alfonso XII, several statues and fountains, as well as an artificial lake. There's even a fountain dedicated to the devil, the Fuente del Ángel Caído.
Perhaps the most fascinating building in the park, however, is the Palacio de Cristal which now hosts art exhibitions. Its delicate architecture adds a dreamy atmosphere to the area.
El Retiro Park is a popular spot for running and walking, but you can even rent a boat to enjoy a sunny day on the artificial lake. There are so many ways to enjoy Retiro Park that you won't get bored. It's as beautiful in the colder season as in the summer, although you would probably want to avoid going there on a rainy day. And the fact that it's a free public park also helps balance out the expensive entry tickets to some of the other amazing things to do in Madrid.
If the hustle and bustle ever gets too much for you El Retiro Park is the best place to relax.
Royal Palace of Madrid
Given that Spain is a monarchy, it's not surprising that a trip to the royal palace is one of the top things to do in Madrid.
Built between 1738 and 1755 the palace was mainly built in Baroque style but subsequent renovations and additions were done in Classicist style. The Royal Palace of Madrid is almost twice as big as Buckingham Palace and Versailles.
The palace's exterior is very impressive and lends itself to lots of photo taking. But although the palace is the official residence of the Spanish royal family they don't actually live there which means you can also enter the palace and marvel at the interior. With paintings by Caravaggio, Goya, and Velázquez, it's like an extension of your visit to the Prado.
Entry to the palace costs €12, but you can get in for free between Monday and Thursday from 5 pm to 7 pm. As the palace is still used for official functions you cannot visit it on such dates, so make sure you check ahead of time if there are any state visits scheduled. Make sure to also stop by the impressive gardens.
Skip the crowds and get an early access pass to the royal palace. This ticket includes early entry as well as an Englsh speaking guide for your visit. Get your ticket here.
Market of San Miguel
This covered market is very centrally located and can easily be incorporated into your Madrid itinerary. Located just a few hundred steps from the Plaza Mayor, it is spread out on two floors. The different stalls offer gastronomical delights from the various different regions of Spain.
As is to be expected from such a high-class market, the prices are on the expensive side. Luckily, you are free to simply browse everything that is on offer. But the market is also a good place to try local specialties to make sure buying them would be worth it.
The Market of San Miguel was first opened in 1916 as a wholesale market. Since 2009 the market has become a gastronomical market instead.
Although there have been renovations, the main iron structure from the beginning of the 20th century has been preserved giving the market an interesting historical look. Because of the iron and glass exterior, there's always a pleasant amount of natural light in the building. At night it is beautifully lit up from the inside which is particularly nice to see in the cold winter season.
Although tourists do visit the market it is extremely popular with locals as well. You will find that most of the chairs and tables are occupied, a testimony to how good the offered delicacies are. Even if you don't want to try any of the food here the Market of San Miguel is well worth a visit.
Madrid Atocha Railway Station
Normally, railway stations are something that we travelers maybe travel in to and out from. But Atocha station is not like most other train stations you have seen before. The cast-iron and glass roof makes quite an impression when you walk past the station. The beautiful Art Nouveau-style building is now home to a tropical garden where people can meet. The main station is now located in a different hall.
Museo Nacional Centro de Arte Reina Sofía
Although the Prado Museum is more famous the Reina Sofía Museum is no less impressive in its collection. The two museums along with the Thyssen-Bornemisza Museum are all located within walking distance from one another and form what is called the Golden Triangle of Art. As opposed to the Prado, the Reina Sofía Museum focuses on 20th-century and contemporary art, including Picasso's world-famous painting Guernica as well as work by Dalí and Miró.
There are also several works by international artists such as Kandinsky and Klee, but the focus is on artists from Spain. Some of the exhibitions are held at the Crystal Palace and the Velázquez Palace located in El Retiro Park. For the permanent exhibition, it's enough to visit the main building, however.
If you're at all interested in modern or contemporary art a visit to the museum must be part of your Madrid trip. But although it's located close to the Prado Museum it would be best to visit the two on separate days to not be overwhelmed by all the art.
Like the Prado, the Reina Sofía Museum has certain dates and times when admission is free: Mondays and Wednesdays to Saturdays from 6 pm to 8 pm, Sundays from 1:30 pm to 2:15 pm, as well as April 18th and December 6th.
Don't want to wait? Get a Skip the Line ticket with audio self-gudied tour in advance. Get tickets here.
Puerta del Sol
Another one of Madrid's impressive squares, the Puerta del Sol is where all road networks in Spain begin. On New Year's Eve, this is where the bells ring in the New Year as people eat twelve grapes. Also to be found on the Puerta del Sol is the Statue of the Bear and the Strawberry Tree, the main symbol of Madrid.
Gran Vía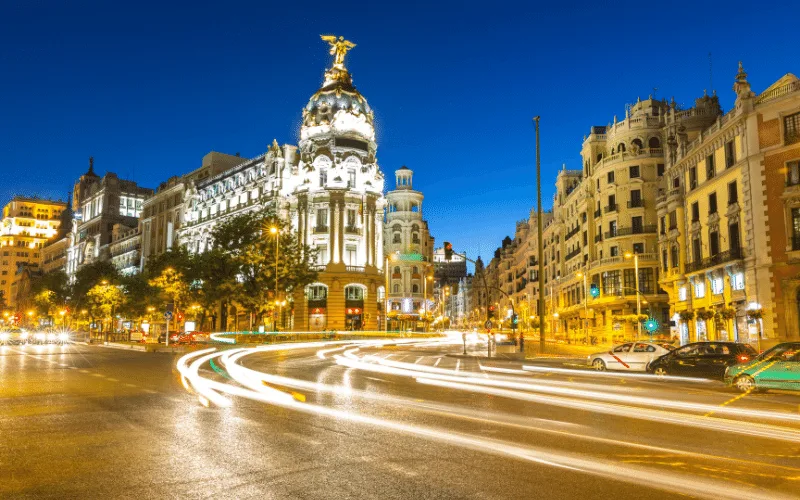 The Gran Vía is Madrid's most important promenade as well as an important shopping street. But what is more interesting about the street is the fabulous architecture that lines it. A walk along the Gran Vía will take you past various impressive buildings, particularly from the 1910s and 1920s.
The name of the street changed many times during its existence, but since the 1980s it has officially been known as Gran Vía which had already been used for it informally.
Architecture fans will find lots of photo opportunities here.
Churros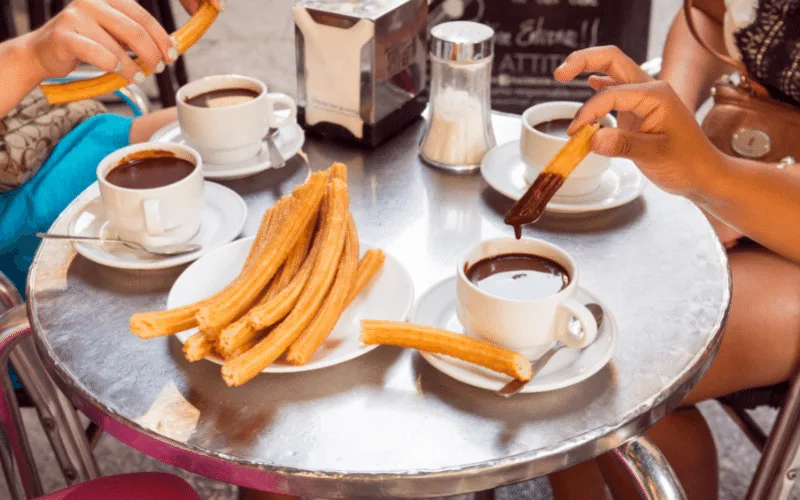 You can't travel to Spain and not eat churros. These pieces of fried dough make up a traditional Spanish breakfast, and although the ingredients are simple (water, flour, oil, and salt) they are incredibly tasty. They are traditionally eaten with thick hot chocolate.
If food is your thing, then I highly recommend booking this amazing food tour. It will let you experience Madrid at a totally different level plus you'll eat amazing local foods! Book a Madrid Food Tour when you visit!
Thyssen-Bornemisza Museum
The third museum in the Golden Triangle of Art can't be missing from any list of things to do in Madrid. The museum was named after its founder Baron Thyssen-Bornemisza de Kászon who started his private art collection in the 1920s. It is currently owned by his son's widow who loans it to the Ministry of Culture.
Tickets to the Thyssen Museum usually cost €13, but on Mondays, you can enter for free. The museum itself suggests you set aside about 2.5 hours for a visit.
You can reserve your tickets and self-guided audio in advance to skip any lines and for contactless payment. Get your ticket here.
Cybele Palace
Even though the Cybele Palace isn't an important sight and often gets overlooked, it's such a beautiful building that it definitely needs to be on this list. Many people don't know that it now houses the city hall. In the past, it used to serve as the post office, making it perhaps the prettiest former post office in the world. Make sure to take a photo or two of this beautiful piece of architecture.
Read More about Madrid
5 Awesome Things to do in Granada, Spain
3 Different Ways to Spend One Day in Malaga
How to Have A Foodie Weekend in Barcelona
About the Author
Nina is a travel content creator who has traveled to more than 20 countries on three continents. Born and raised in Germany but currently living in Greece, she loves exploring the world through vegan food. She is the voice behind Lemons and Luggage, a travel blog dedicated to vegan and responsible travel.
Be a part of the MarocMama family!
Do you want access to all things MarocMama? Join our community of readers to get updates on new posts, inside information that won't go on the blog and so much more!
Sound good? Pop your email below and you're in!