With Morocco perfectly situated so close to southern Europe and Spain in particular, it's only natural that people want to easily travel between the two countries. Luckily, there are several options to get between the two continents using the Spain to Morocco ferry system.
There's also something cool to be said about taking the ferry. The Straight of Gibraltar is a sight to see. It's also pretty cool to think that you are seeing where the Atlantic Ocean meets the Mediterranean Sea. The ferries back and forth are frequent and popular with locals and tourists alike. Here's the low-down on all of them.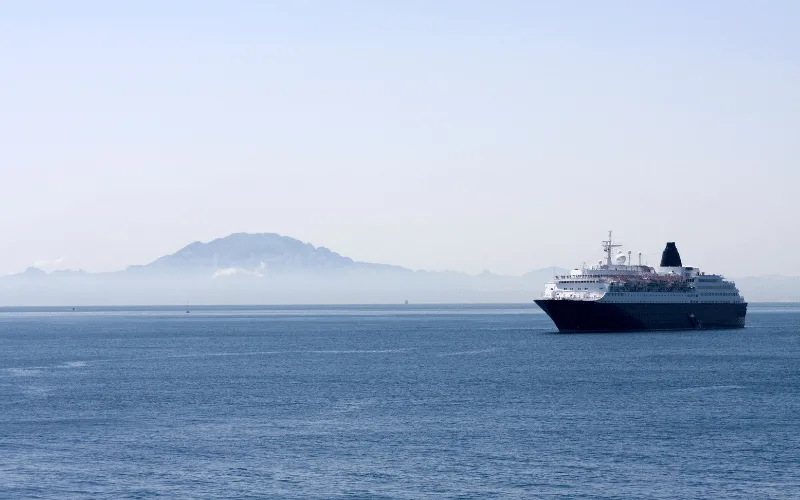 Can you Drive from Spain to Morocco?
Are you thinking about taking a trip to Morocco? If this is the case, you may be wondering whether it is possible to drive from Spain to Morocco.
Yes, the answer is yes! You can travel by car or bus from Spain to Morocco. Numerous road trips begin in Spain and conclude in Morocco. The route from Barcelona to Tangier, which passes through the beautiful Spanish countryside and then through Andalusia before arriving on the Moroccan coast, is one of the most popular road trips. However, there are numerous other ways to travel to Morocco from Spain, such as by bus or car.
If you intend to drive yourself, ensure that your vehicle has all the necessary documents to allow you to enter both countries without difficulty since Morocco to Spain distance is 1312 KM and 382 meters or 815.5 miles. A valid driver's license from your home country is also required, as is an international driving permit if it is not written in English.
Ferry Routes to Spain
Morocco to Spain by sea through ferries is an excellent way to reach your destination, with numerous options available.
Several companies operate Mediterranean sea ferries between Morocco and Spain, including Acciona Trasmediterranea, FRS International, Grimaldi Lines, and others. Some routes are only a few hours long, while others can take up to three days, depending on your direction.
The ferries connect Morocco's major ports, including Casablanca and Tangier Med Port on the Atlantic coast, Algeciras on Spain's southern coast, and Tarifa on the country's southernmost tip. They also stop at other major Spanish ports such as Malaga and Valencia and smaller ports such as Cadiz or even Cádiz if you're looking for something more remote.
Tarifa to Tangier Ferry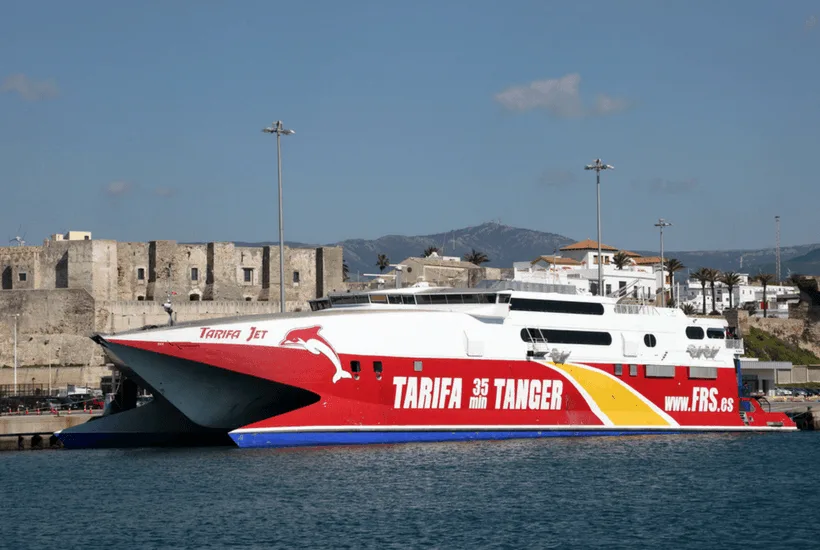 Arguably the most popular of ferries connections to the southern-most tip of Spain, the Tarifa to Tangier ferry runs several ferries a day running back and forth from Morocco to Spain. The trip lasts about an hour. Tickets average about $80 per person round trip.
Pre-booking will save you the hassle of finding that your desired ferry is already booked! If you decide to chance your luck, you can buy tickets at the ferry offices or terminal in Tangier for the Tangier Tarifa ferry. Mid-afternoon gets busy so if you are going hoping to get a last-minute ticket, earlier is better.
Even if you do have re-booked tickets, you will still need to obtain your boarding pass from the terminal or ticket office in town. There are two ferry companies that use the Tangier Ville to Tarifa and return route; FRS Service runs up to eight times a day and Inter Shipping is six times a day. This can also change, though, depending on weather, high season, etc.
The consensus from our experts is that the Tangier Ville/Tarifa ferry is, although a bit more expensive than the Tangier Med to Algeciras option, the ferry is smaller, more efficient, and quicker. We have also heard that the staff is a little more helpful on the Tangier Ville to Tarifa ferries.
Tangier Med to Algeciras Ferry
If your destination is Algeciras, Spain, you will be taking the Tangier Med ferry across to mainland Europe. Last time we looked, the Algeciras Tangier Med ferry companies provide a free ferry shuttle from the ferry offices to the ferry if you are a foot passenger. Do double-check, however, just in case.
Algeciras is mostly known as an industrial town and a transport hub; given their large port, but it is also considered a transit destination for further travel into southern Spain or beyond. For example, Cadiz is just over an hour's drive northwest from Algeciras.
Gibraltar is just about 30 minutes up and then down again on the southeastern coast of Spain. Continuing on, Marbella is another 30 minutes or so along the coast and Malaga is just under another hour, driving north from Gibraltar.
Barcelona to Tangier Ferry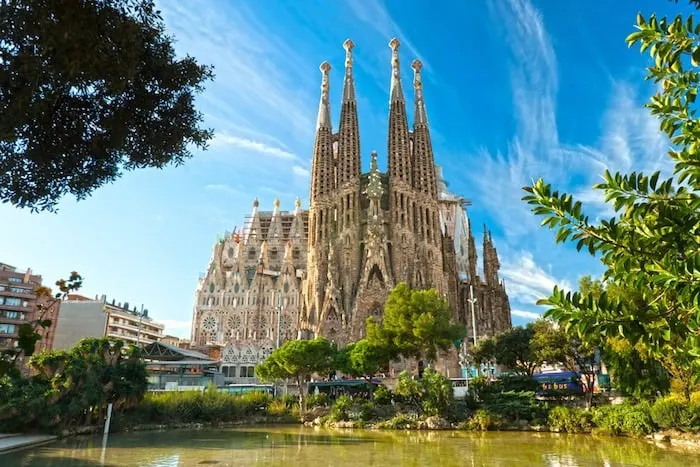 There are two companies that run this ferry line. The Grandi Navi Veloci operates 5 times a week while the Grimaldi Line runs once a week. But you may want to reconsider given the travel time of nearly 30 hours.
This ferry docks in Tangier Med located approximately 40km from Tangier proper. It might be an ideal route for someone traveling with a car or camper van and looking for a way to cross without a lot of additional driving.
Algeciras to Ceuta Ferry
There are three different ferries that run multiple routes daily between Ceuta and Algeciras (about 20 slots daily); FRS, Balearia, and Transmediterranea. The travel time is approximately 1 hour. Do keep in mind that this route is crossing from Spain to Spain so you will need to access Ceuta either with a passport that has Schengen entry or with a valid visa.
The ferries are both foot passenger and vehicle passenger accessible. You may also want to keep in mind that crossing border from Morocco into Ceuta can be a long process, especially with a vehicle so plan accordingly.
Malaga to Melilla Ferry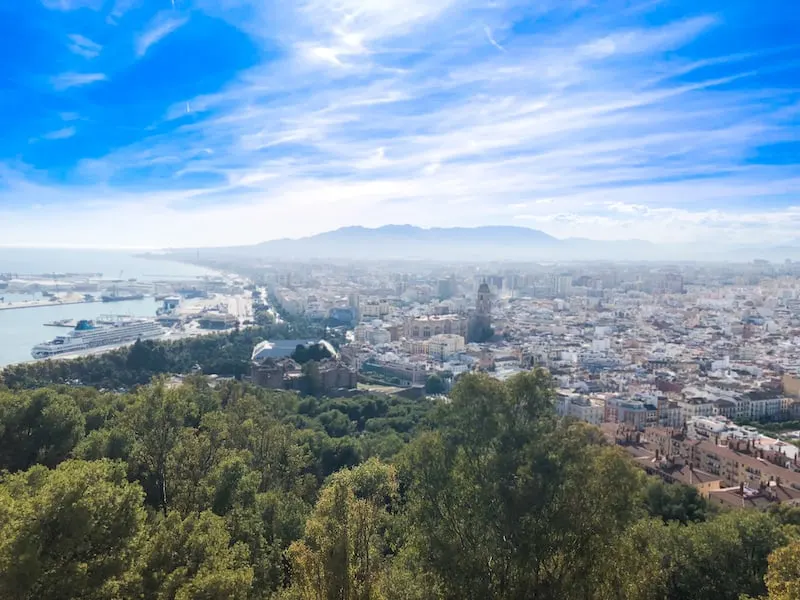 This crossing is available daily via Balearia and Transmediterranea ferries. The crossing time is approximately 6 hours. While Melilla is on mainland Morocco it is a Spanish territory and just like with Ceuta you will need permission to enter.
Also as with Ceuta do keep in mind crossing from Morocco to Melilla can take quite a bit of time. The border does sometimes close as well if there are issues with too much activity on the border.
Ferry to Gibraltar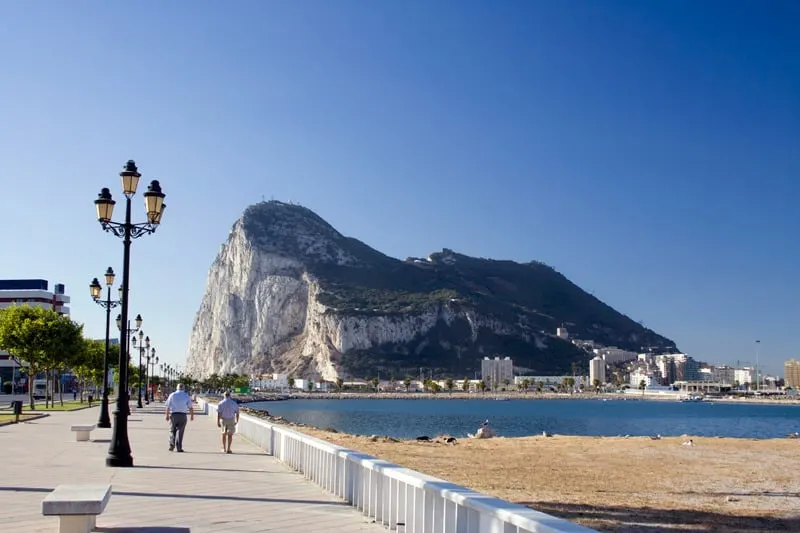 Gibraltar is not a Spanish territory but part of the United Kingdom. I'm sharing it here as it's often asked about as well and it has bridge access to mainland Spain. There is a weekly departure on FRS ferries from Tangier Med to Gibraltar. There is room for both foot passengers and car traffic.
As it's once a week you'll want to plan your trip carefully!
Tips For Traveling These Routes
Tickets costs start around 400dh per person each way, both for foot and car passengers. They increase based on vehicles as well as high seasons. Do be advised to double-check all prices
If you are headed to Tarifa, it can be windy so pack a light jacket (there is a reason it's called the European capital of wind sports!)
Snacks can be expensive on the ferry-we advise to bring your own. Also, if you do grab a coffee or something to eat, be advised that you can only pay with a credit card or Euros-no Moroccan dirhams.
Don't rely on the ferry's free wifi-it sometimes works but can be spotty.
When considering your arrival time at the port, leave at least an hour for arriving at the ferry in case you have to wait in line.
No luggage restrictions in terms of size for either car or foot passengers) so carry away! Our advice, if you are bringing alcohol, is to perhaps carry it in different bags so that your beer and wine are not all together.
Don't forget the time difference-Morocco follows the UTC + 1 time zone, during Daylight Savings Time, Morocco is one hour behind Spain. In general you will want to double-check the times on both sides!
The ferry from Spain to Morocco (and vice versa) can change or be delayed due to bad weather and/or winds; it is always a good idea to reconfirm your reservation.
Immigration and passport control-Returning to Morocco from Spain, you will need to go through immigration. Try to get in line sooner than later or you might end up having to wait. It's a good idea to take care of this right away as sometimes the line is still going strong as the ferry is pulling into port.
Spanish supermarkets are known for their cheeses and deli choices-our suggestion is to bring grocery bags as well as a cooler and ice packs and then fill away.
If you plan on just spending the day in Spain, we suggest leaving your car in Tangier and go as a foot passenger. However, if you are traveling on from Tarifa via car, Tarifa is a nice, charming town to stop for a fresh seafood lunch and there is public parking within walking distance to the main cafe/restaurant area. Don't miss delving into the quaint cobblestone streets of this quiet little town. During the summer months, Tarifa gets lost in a wave of visitors. Fall and spring are the nicest times to go.
Check Ferry Options and Rates
You can check the options and rates for these ferries online below as well as purchasing tickets. It's highly advised that you do purchase tickets in advance during high seasons to ensure the best prices and that there is availability.
Related Posts You Might Like
Spain to Morocco Day Trip | Traveling to Morocco for a Day
Spain and Morocco Itinerary – 10 Days of Tours, Trips & Tips
3 One-Day Itineraries for Tarifa, Spain