Morocco is one of the best travel destinations to add to your bucket list. This intriguing North African country is a melting pot of cultures and religions, culminating in one of the world's richest cultural landscapes. You can be into history, architecture, adventure travel – you name it. Morocco caters to a range of different tastes, and you're bound to fall in love with it.
Despite being an overall affordable place for travelers, Morocco is brimming with luxurious tourist destinations. If you're a first-timer in Morocco, you're in for a real treat. The Moroccan landscape is uniquely varied, boasting rolling desert dunes as well as vibrant modern cities. The country is also home to expansive mountainous regions and a fantastic climate in spring and fall.
If you want to see Morocco in style, you're in the right place. This post will cover some extravagant Moroccan luxury travel ideas to give you all the vacation inspiration you might need.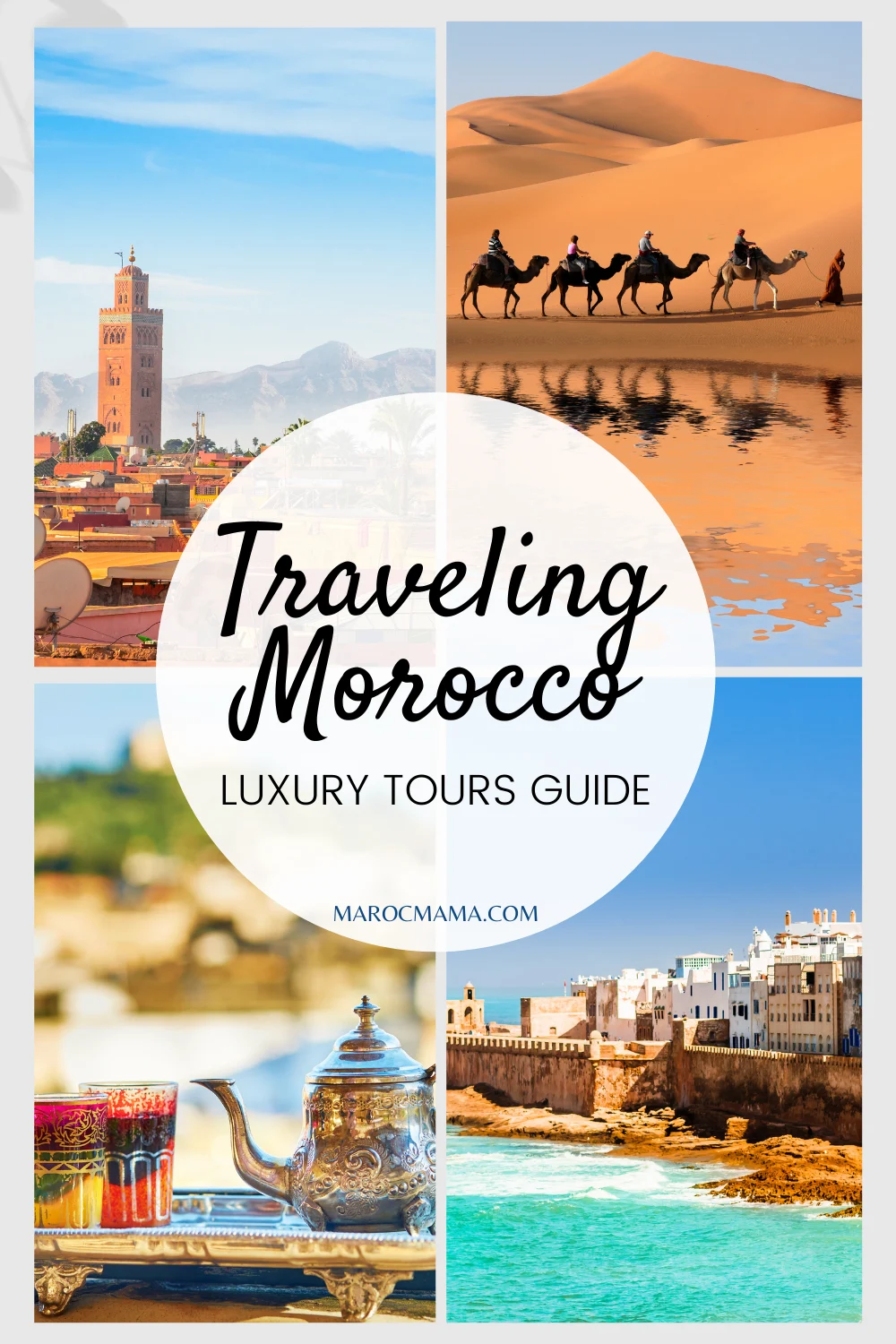 Travel in Luxury | Morocco's Best Riad Accommodations
Riads in Morocco are essentially traditional Moroccan houses, usually built around a courtyard or garden. It's a design style you'll see again and again, as it's a hallmark of the country's enchanting architectural heritage.
There are riads all over the country, but you'll find some of the oldest and most authentic ones in Marrakech. Wherever you end up, riads are generally inviting and lovely places to be. These houses are designed with privacy in mind, so you won't have any trouble settling in.
Top it off with the unique stylings of Moroccan decor and architecture, and you've got the riad; a tranquil home away from home any tourist would enjoy.
La Maison Arabe Hotel
An opulent oasis in the Medina district of Marrakech, La Maison Arabe exudes high-class Moroccan luxury. If you're willing to splurge a little, this decadent riad offers a Moroccan experience you will never forget. With five massage rooms and two traditional hammams (bathhouses), you'll be able to relax during your stay. Take a dip in the heated hotel pool or lounge in the lush garden at this gorgeous exotic riad.
All bookings include a bottle of wine with the room – and who doesn't love a complimentary glass of vino? You'll also be able to enjoy an afternoon tea or your dinner on the terrace, boasting a delightful menu filled with African, French, and Moroccan cuisine.
The staff here are incredibly hospitable and friendly, and you're sure to get plenty of bang for your buck in terms of the hotel's scenery. La Maison is flawlessly designed with beautiful textures and a luxurious grandeur down to the moldings. The high ceilings, archways, and textured designs will take your breath away. This is a wonderful place to discover how lavish Moroccan interior design can be.
Selman Marrakech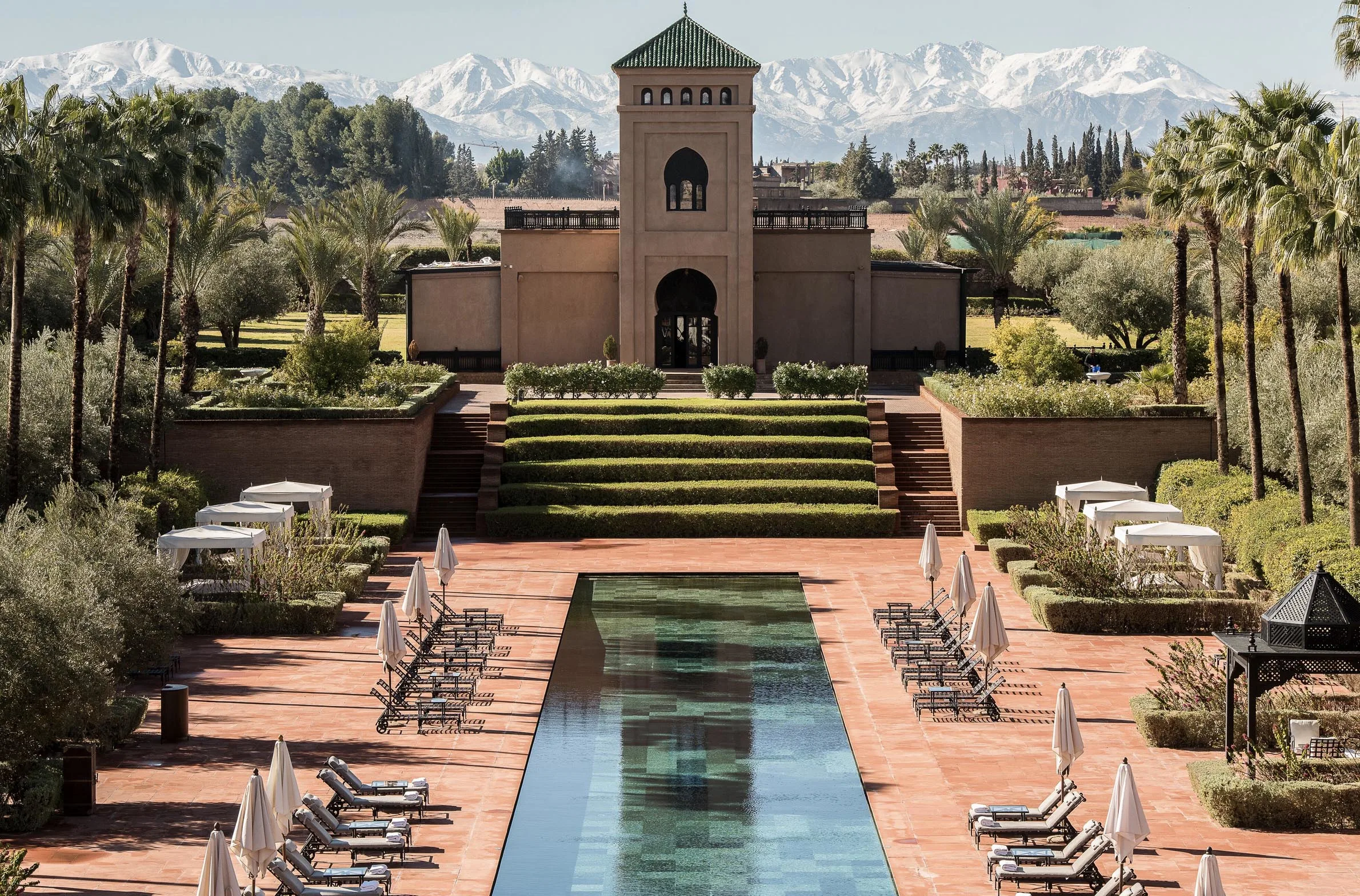 Selman Marrakech boasts three spectacular swimming pools, a hotel spa, and horse stables that are home to purebred Arabian horses! Kick back and relax in your Andalusian-style hotel room or sip on your morning coffee on the terrace. Selman offers top-tier service and hospitality.
The hotel is situated in the medina district of Marrakech, which puts you right in the cultural center of Morocco. For those who don't know, a medina in Islam means the old, typically walled part of North African cities, usually lined with long, narrow streets and high stone walls. Marrakech's medina is a vibrant place to explore and one of Morocco's first citadels.
Within its memorable pink walls lies the medina's epicenter, the Jemaa el-Fnaa. This is a hopping square where you'll find incredible food markets (or souks), as well as handcrafted souvenirs, enticing crafts, and local spices. If you're staying at Selman, you won't want to miss this fantastic Moroccon hotspot.
La Villa des Orangers – Relais & Châteaux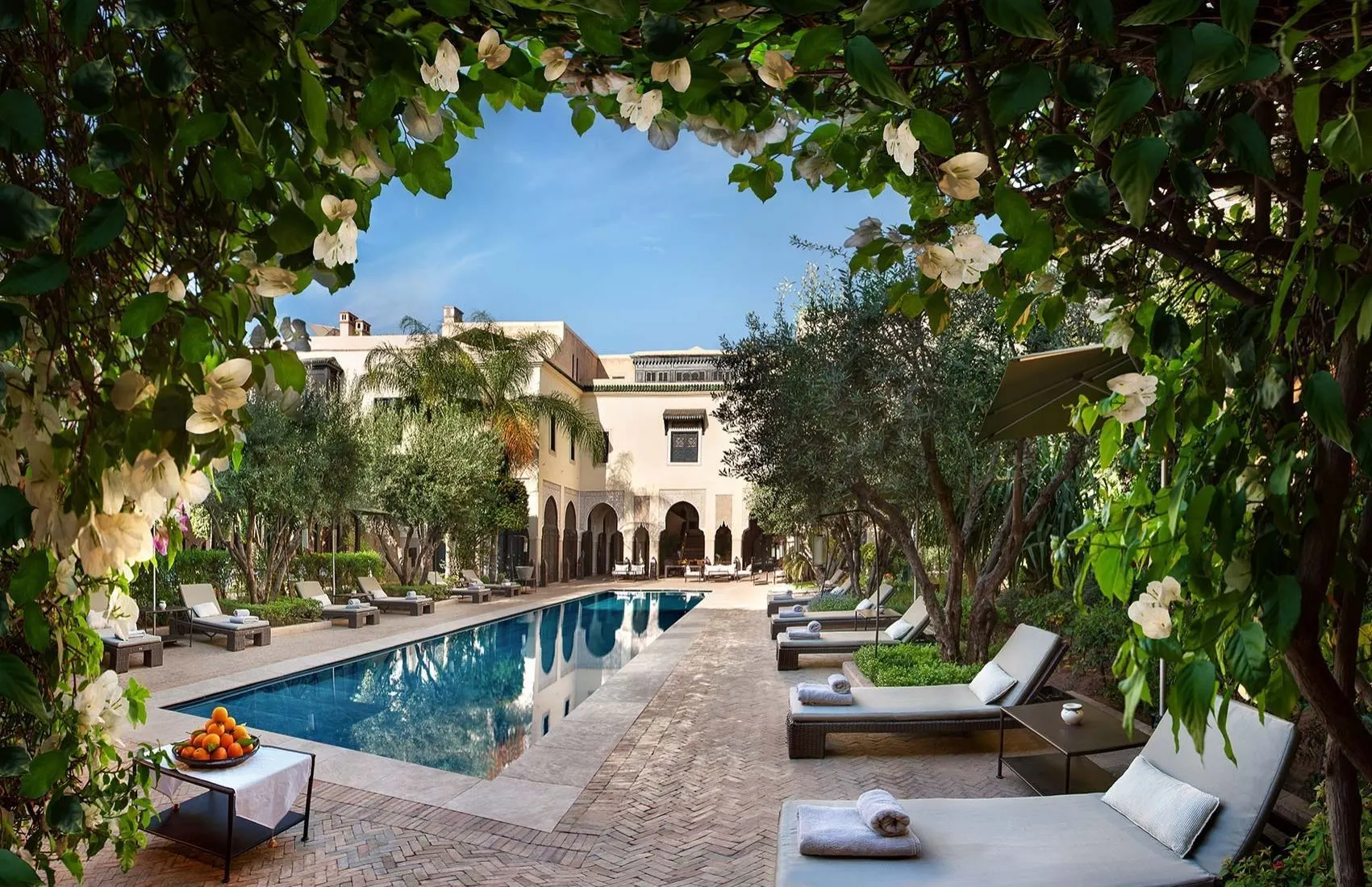 La Villa des Orangers is a peaceful gem tucked away off the main street in Marrakech. You can expect to find the ornate interiors Morocco is known for at this hotel, not to mention the magnificent courtyard adorned with lush greenery.
When you're not tanning by the big outdoor pool, you can pop into the spa for a traditional massage treatment. Once a friendly masseuse has worked out all your knots, head over to the hotel restaurant for delicious Meditteranean cuisine on the exquisite terrace and around its shaded patios.
You can spot the Moulay El Yazid Mosque from the pool, and this is a must-see if you're staying at the Relais. Also known as the Kasbah Mosque, the Moulay El Yazid is one of the most important and historical mosques in Marrakech. Only Muslims may enter but worry not. The grand tower looks magnificent even from afar. So, while you're here, snap some incredible travel photos of the tower from the Relais' pool area.
If you want to take a closer look, the entrance to the mosque is a mere six-minute walk from the hotel. While you're there, check out the abundance of restaurants, cafes, and stalls in the area. Stop by the Koutoubia, it's another important Moroccan mosque and architectural marvel.
Many tourists know Koutoubia as the Mosque of the Booksellers. The 12th-century mosque entrance was once the meeting place of hundreds of stall owners trading books and small trinkets. The mosque's minaret stands over 200 feet high and is painted a dusty pink, providing one of the most alluring focal points in the country. The structure is an excellent example of Moorish architecture, boasting gorgeous stonework and keystone arches.
Kasbah Beldi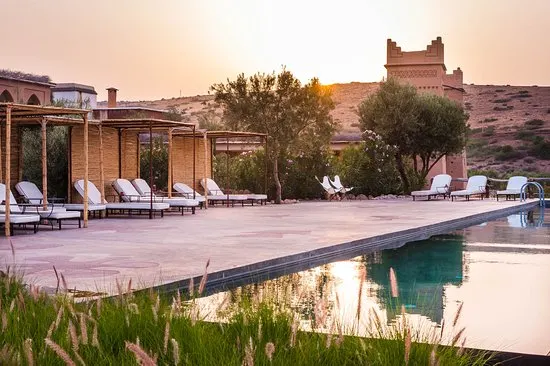 Located in Lalla Takerkoust, a town 30 minutes outside of Marrakech, Kasbah Beldi combines rustic charm with luxurious elegance. The views here are impeccable, with outstanding sweeping vistas of Lake Lalla Takerkoust set on the Atlas Mountains' backdrop. With stunning lake and mountain views, a quiet location away from the city, and cozy bungalow rooms, this hotel is a Moroccan sanctuary you will never forget.
Guests love to head out to the lake to get in touch with nature. This man-made watering hole was built in the 1930s to provide irrigation to the surrounding agricultural fields. Today, it's a popular spot for outdoorsy activities like biking, hiking, and horse riding. There are also gorgeous private and public beaches where you can picnic near the lakeside and take in the impressive natural surroundings.
Riad Mayfez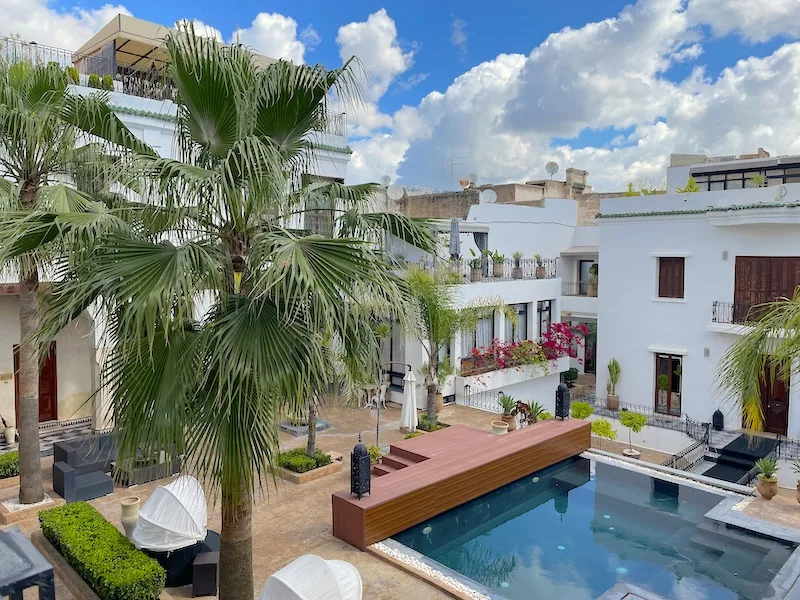 Once you've explored Marrakech, you may want to check out the wonderful city of Fez in Morocco. Riad Mayfez is one of the most stunning hotels in Fez and is located in the heart of the city's medina.
This specialty boutique riad has only 5 rooms and a gorgeous central courtyard for relaxing. While there are loads to do in Fez, you may not want to leave this beautiful location. You will find typical Moroccan architecture, beautiful medina views, and some of the most gorgeous interiors on this list. Traditional style merges with modern to create an elegant riad.
Luxury Tours | Morocco Spots You Shouldn't Miss
Morocco is famous for its awe-inspiring Sahara Desert, breathtaking architecture, and unique cultural landscape. And when you're ready, you can explore it all in style with some of the most luxurious tourist attractions in the country.
So, without further ado, here are some unmissable luxury travel Morocco spots.
Luxury Camping in the Sahara Desert
Glamping in the desert is a surefire way to vacation like a celebrity with a bit of quirk thrown into the mix. Luxury camping is all the rage these days, combining the fun and adventure of the outdoors with the comfort of hotel life.
Try the Desert Heart Luxury Camp if you're looking for a lavish desert experience. This swanky establishment in Merzouga takes camping to the next level with a bar, restaurant, garden, and sun terrace on-site. So, don't expect to rough it like you did camping as a kid.
Desert Heart's tents come in king-size suites with warm lighting, beautiful furnishings, private bathrooms, and stunning decor. You won't believe you're camped out in the desert once you've entered your designer accommodations for the evening.
Wake up to the tranquil desert atmosphere as you enjoy a continental breakfast served by the hospitable Desert Heart staff. And for entertainment, why not take a guided camel ride through the resplendent desert dunes. Desert Heart has got it all.
Hot Air Balloon Over Marrakech
What could be more luxurious than a sky-high view of the Moroccan countryside? This hot air balloon ride will take you soaring over the Palm Grove of Marrakech in a relaxing hour-long trip you'll never forget. See picturesque views from above as you travel 9-15 miles over a Marrakech village.
After you land, your tour guide will take you to a local Berber household for home-baked bread and mint tea. After which, you can take a fun camel ride before being dropped off at your hotel. This intriguing tour is a fantastic way to experience Morocco in luxury while getting new insights into the local Berber culture.
Ouzoud Waterfalls Full-Day Trip with a Boat Ride
The second tallest waterfall in Africa, the Ouzoud Waterfalls, is the collective name for several falls that spill into the El-Abid River gorge. This attractive tourist destination is one of the most visually beautiful spots in Morocco and a must-see if you're a newcomer in the country.
Take an Ouzoud Waterfalls boat ride to see scenic Berber countryside views, tranquil olive groves, and, of course, the magnificent cascading waterfalls. The boat ride will take you along the breathtaking lake at the bottom of the falls, where you can marvel at the water spilling over from over 300 feet in the air.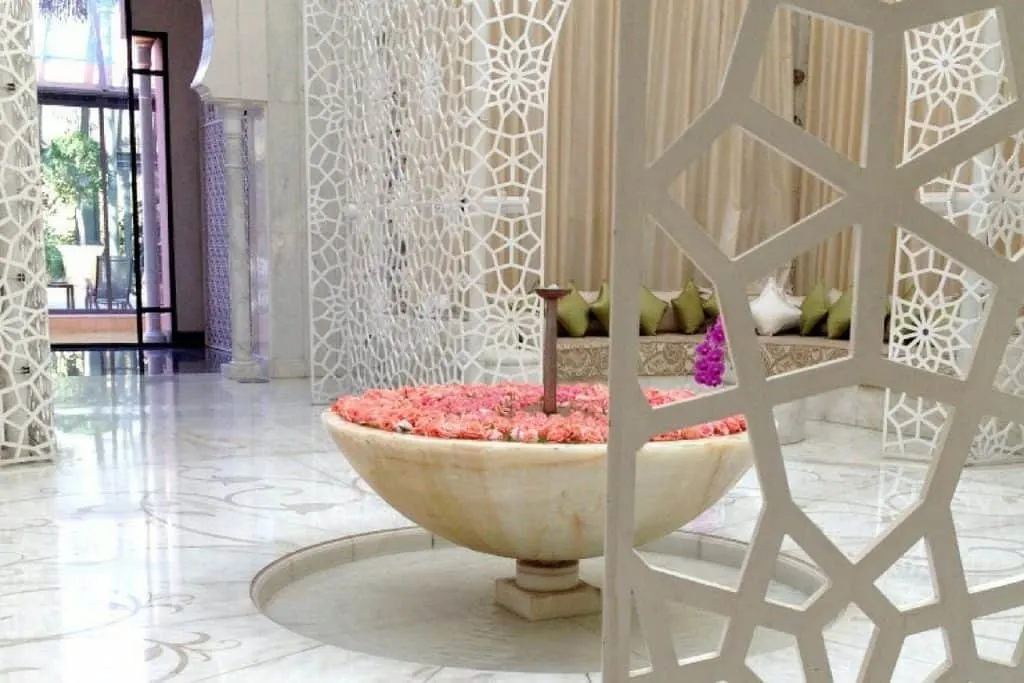 Visiting the Royal Mansour
The Royal Mansour is an exceptional palace in Marrakech that sees tourists in their droves year on year. Luckily, you don't have to be a guest to visit the superb grounds. You can simply read this guide on how non-visitors can tour the Royal Mansour. When it comes to luxury Morocco tours, the Royal Mansour should top your list.
Morocco's Finest Beaches
Morocco is abundant with terrific beaches that are sure to put you in the luxurious vacation spirit. Sure, you're not getting waited on hand and foot, but when the weather is right, the beaches in Morocco will make you feel like you're living your best life. Lounge on the sparkling sand, take a dip in the water, and enjoy a Moroccan sunset like never before.
Go Swimming in Marrakech
There are some excellent places to go swimming in Marrakech, including waterparks, hotels with swimming pools, and much, much more. Nothing feels quite so decadent as lounging around the poolside with a drink in hand. Marrakech provides ample opportunity for tourists to live out this fantasy.
Relax and Unwind at a Moroccan Hammam
Spa treatments are quintessentially luxurious, and traditional Moroccan hammams are no exception. Hammams (or bathhouses) usually offer a range of decadent treatments, including mud wraps, massages, facials, body scrubs, and sauna treatments.
The Royal Mansour offers a variety of treatments, and that's not the only hammam where you can indulge your most luxurious fantasies. You can also try La Sultana or Les Jardins De Mouassine.
More on Morocco Tours for Luxury Travel
A blog post on Morocco would be incomplete without mention of the country's divine cuisine. So, here's a detailed 10-day Moroccan food adventure tour to keep your taste buds happy on your next trip to this amazing country.
If you're still at a loss on what to do in Morocco, you can take a look at this 2-week Central Morocco itinerary for a complete guide to touring the beautiful African country.
Final Thoughts on Luxury Travel to Morocco
When it comes to luxurious travel destinations, Morroco's riad hotels have so much to offer. Between the noteworthy architecture, unique interior design, and exceptional service at high-end riads, you'll want to plan your next visit before your current one is even over. Morocco is a beautiful country, and each of its riad hotels offers a unique entryway into Moroccan culture.
Morocco is brimming with cultural heritage that you'll have a blast exploring, and every street is loaded with attractions and points of interest that tourists keep coming back for. Hopefully, you'll get to explore some of these spectacular hotels and incredible attractions on this list and see the best of the best Moroccan travel spots.