Córdoba is one of the classic Moorish cities of Spain and well worth a visit if you plan to be in Andalusia. It's much smaller and more navigable than cities like Seville however all of the cities in this region are really quite small and easy to get around. There is a central area, historical area and newer residential areas and you can walk most everywhere.
Is Córdoba safe?
A regularly asked question especially from female travelers. My answer is yes, its as safe as anywhere else. Take normal precautions as you would traveling anywhere. I went out in the early mornings by myself and never thought twice. As with all destinations that have quite a bit of tourism pick pocketing may be an issue, just be aware.
I found most people here to be very friendly. I had several conversations just out of the blue; an old man who sat next to me on a bench and started chatting, the waitress in a local coffee shop, the taxi driver who gave an impromptu rundown of Córdoba in a neighborhood well outside the center. No need to have your guard up!
I don't speak Spanish, will I be ok?
Yes, you will be. Many people who work in the tourism industry do speak English so in general you'll be fine. I suggest learning a few words of Spanish just in case and for politeness. Please (por favor), thank you (gracias), bathroom (banno/toilette), yes/no (si/no), is always a good idea.
I spent 6 years of school grumbling about learning Spanish and I'm so grateful to have it now. I love being able to have basic conversations and be understood when English isn't an option. (I also may like holding this over my entire families head as I'm the only one that knows any Spanish!)
Things to do in Córdoba
Mosque Cathedral Córdoba/ The Mezquita
Yes, this is the main attraction in Córdoba and for good reason, it's stunning. The mosque was built by Muslims in the 900's, however the building was a church prior to this. This was the golden age of Islamic civilization and it's amazing to see the craftsmanship in this building. It was retaken after the Christian conquest in the 1200's and converted to a cathedral.
There are many mosques across Andalusia that were converted to churches but this one is particularly unique. I cant say exactly what it is but I found the inside to be beautiful and weird at the same time.
Many of the original architecture and design elements of the mosque remain and many have been adapted or had pieces put over them to make them more Christian. The mosque was expanded to add the naive area and the prayer areas of the church with the side chapels. Many elements were left such as the geometric tiling that then had Christian relief paintings added side by side.
Having seen the Hagia Sophia in Istanbul which is another example of mosque/church mash up I found this one to be even more unique. It also made me smile a bit seeing sooo many people learning about and admiring the Islamic portions.
Cordoba mosque tickets can be bought online or in person the day that you visit. If you'll be visiting during peak season it's advisable to get tickets in advance.
The building is open daily and is FREE from 8:30-9:30am every day. A general ticket is 10€ and you can also climb the tower for 2€ (check) or do the night visit. We didn't get the audio guide or hire a tour guide which are both options but read the pamphlets instead. I think if you're not familiar with the region, history or religions it would be helpful.
If you're considering booking a guided tour this one gets great reviews;
Mosque-Cathedral of Cordoba Guided Tour with Tower Access
Castle of the Christian Kings (Alcazar Reyes Cristianos)
Very nearby the mosque is this castle which was where the kings lived after retaking Spain. The building itself is fun to visit because it feels a bit like you're in a movie. Though the inside is pretty sparse. There's some great Roman mosaics in the garden grounds and on the walls in some of the rooms. Climbing up the towers gives you some really nice views of the city and gardens.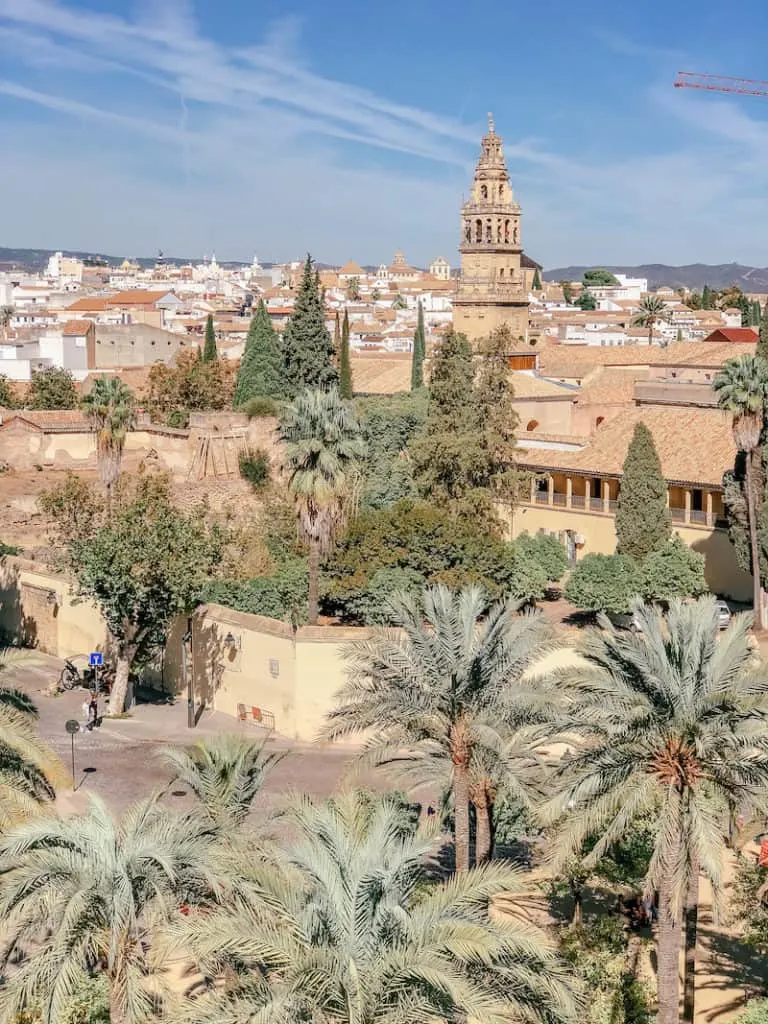 For me the gardens are the loveliest thing about this area. Even though it was mid-fall when we visited there was still plenty of flowers in bloom and pomegranate trees heavy with fruits. They are really well kept and nice for just enjoying a walk and admiring.
You can see the watering troughs which are in the style of Islamic gardens, and it would be really fun to see them with water flowing. I'm not sure when or if they open the gates but it's a very interesting feature. If you're traveling with kids, make sure to point them out and see if they can follow the maze of where the water would go!
Admission is 5€ for adults, they also have a night time light show at a different price. Tickets can also be bought online.
Roman Bridge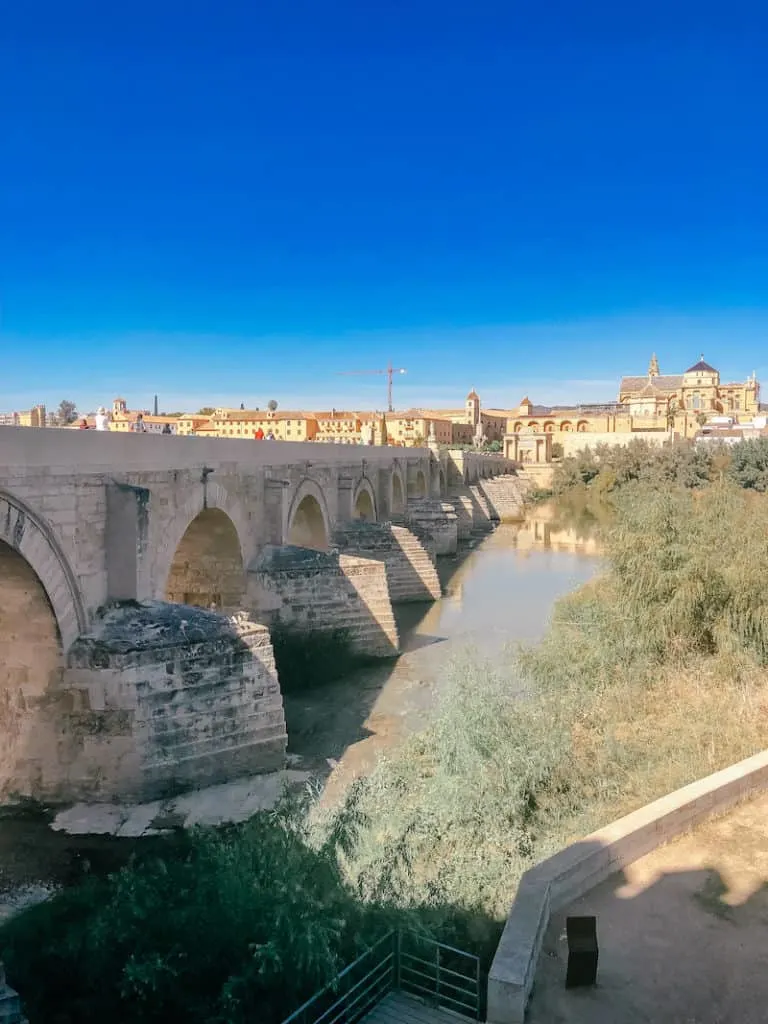 You can't miss this bridge from the mosque as it's directly in front. Yes, it's just a bridge but it's pretty impressive! A walk across is a nice way to see the river and admire the buildings from the opposite side. I think at sunset it would be particularly beautiful.
Flower Patios/Flower Streets
I'll be honest we didn't seek these out but they're there. As mentioned we visited in md-October so not the ideal time for flowers in the area. Many people really love these streets so if that's your thing – go for it! They're very near the mosque and I'll admit this entire area in general is very touristy so be prepared.
Roman Temple of Córdoba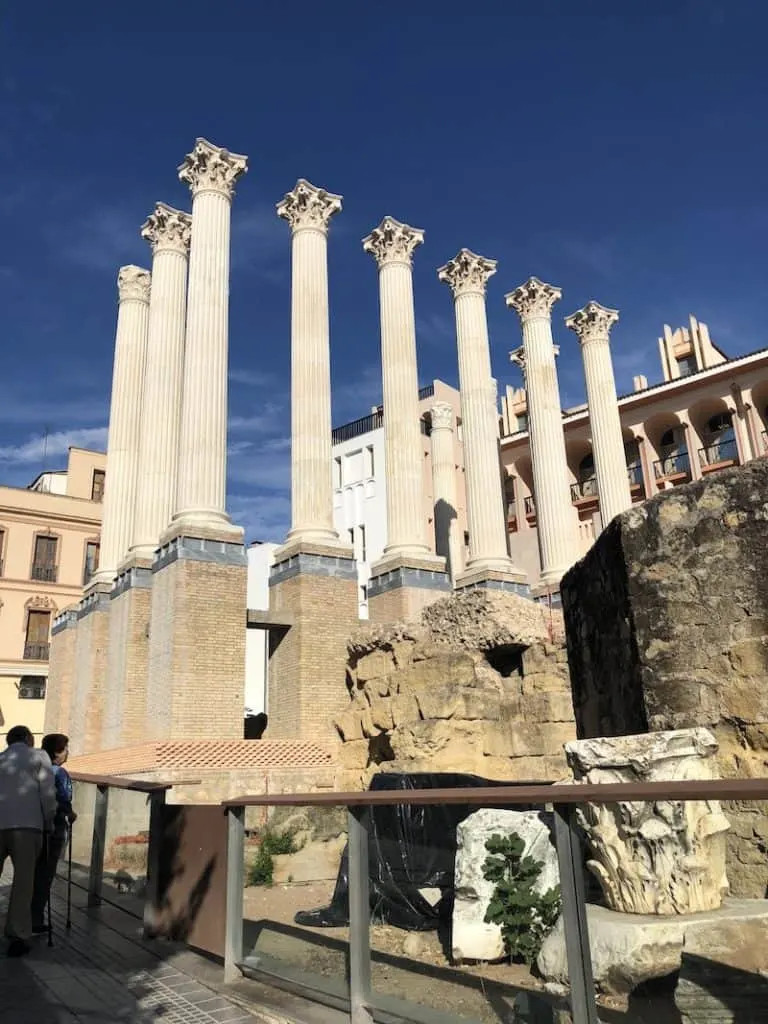 This was sort of a surprise find one morning. I had not heard of this before I literally walked into it. The columns are near the city center and are preserved. It isn't a surprise that there was a Roman settlement here, I was just surprised to find it. You truly can walk through multiple time periods in this small city!
Central Córdoba Streets
In contrast there are lots of streets that you can just wander were very few tourists will be. I loved the unique architecture and stumbling into random mosque/churches and churches. The Andalusian style is really unique to experience. Once you see the major sites move away for the tourist areas and try out the central city area.
Where to Eat in Córdoba
We ate in a variety of places from really cheap to very expensive to get a sense of what was here and available. If you're interested in food specifically read my post about all the food!
Where to Eat in Córdoba (+ Gluten Free Córdoba suggestions)
Where to stay in Córdoba
There's a lot of options from chain hotels to Airbnbs and hostels so no matter you're budget you're covered.
H10 Palacio Hotel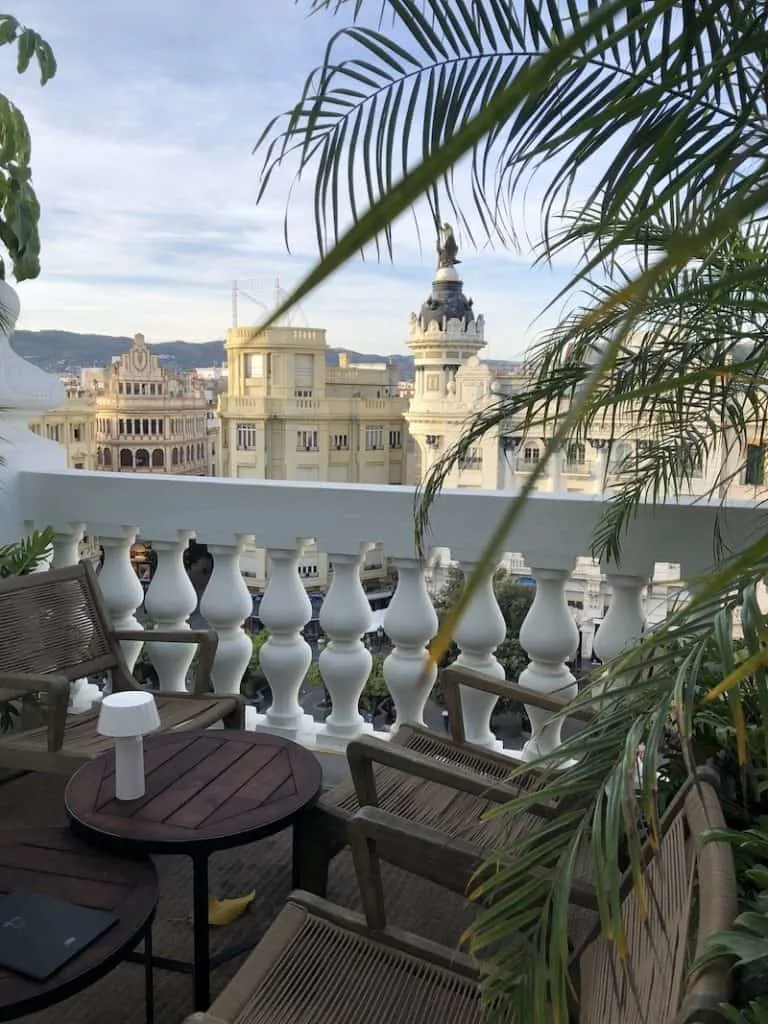 After doing a lot of research this is where we decided to stay. The price was right for our midweek stay and it's the type of place we like. We were happy with this choice. The room was very comfortable for us and it had great amenities. Pro tip: don't get a courtyard room, it can be loud in the morning.
We opted not to have breakfast as MarocBaba is never up for breakfast and I knew there were lots of places nearby I could go to. The rooftop area has a gorgeous view and it is in a great location to access everything. It also has a pool!
Airbnb's
A friend of mine visited a month before us and stayed in this great apartment but there are several here that are affordable and well appointed. We didn't choose this only because I didn't want the hassle when we would only be here two nights.
Getting to and around Córdoba
Car – We contemplated renting a car for this trip however driving in the city centers is not my idea of fun so it was not an option. If you're self-driving in southern Spain do pie prepared for a lack of parking and navigating small streets that often are one way with little recourse to turn around if you get lost.
Train – We flew into Seville because it has direct flights from Marrakech and is then just a 40 minute train ride to Córdoba. There are numerous train connections, with the largest being from Madrid Atocha (90 minutes). I find the trains to be easy, fast and a realizable way to get around Spain.
Bus – Spain has a vast bus network (ALSA) that goes to large and small cities. It's quite cheap but the routes may be irregular depending on where you're coming from. Córdoba is a larger city so depending on your starting point you can likely count on regular departures. Cordoba's interior bus routes are also very easy to use, if you need to.
Plane – There is an airport here however like most small airports it will be a premium to fly direct. Given that Seville and Madrid are really not so far by train connection you can likely save a lot of money going with one of those options instead.
I would say you don't NEED to have a guide or guided tour here however it can be an asset depending on how you like to travel..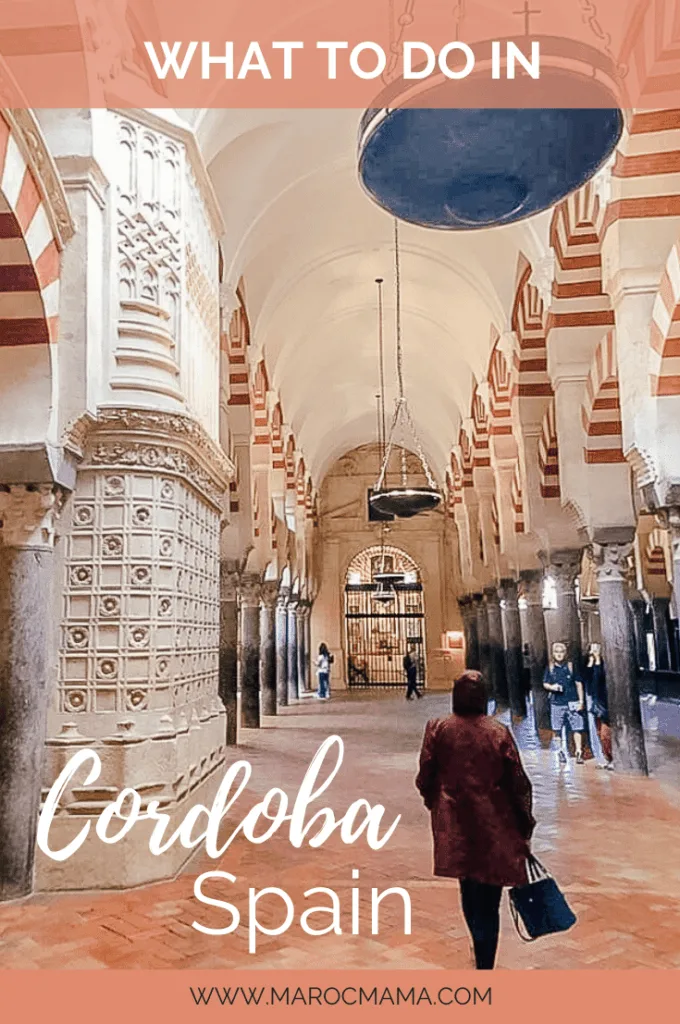 What to see in Cordoba in 1 day
Sleep in if you're staying in town.
If you're someone that wants to be out seeing the sites at 8am, you may want to slow down. Spain rarely operates this way. Take your breakfast around 8 and then head out. Conversely, I did find walking the streets at this time of day is quite nice as they're mostly empty allowing you to enjoy them alone.
Pop into a cafe or one of my breakfast selections to start your morning.
By 10am things will start to happen, expect the tourist sites to be filling up right away. You may want to walk the streets if you're not a fam of crowds during this time.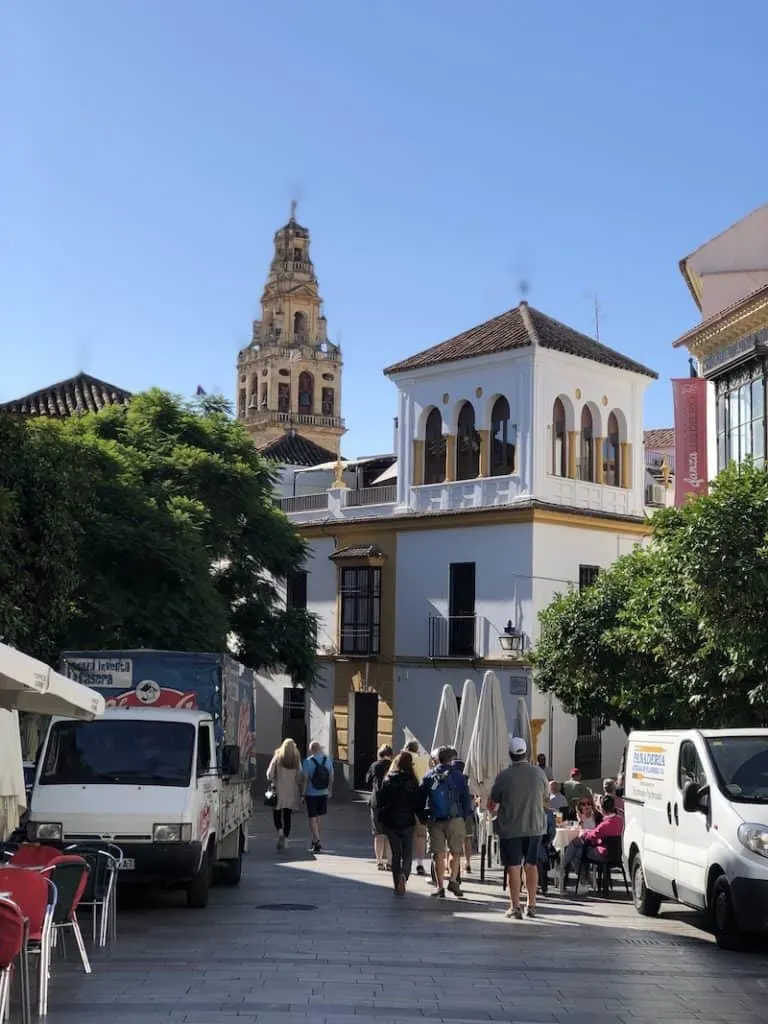 The mosque is the most popular attraction so there will be crowds no matter what time you go. I would suggest either going at lunch time or later afternoon for the smallest crowds. People that come on day trips or short stays will be there first thing in the morning. But around 1-3pm is when people will be eating and after 5pm day trippers will have left.
We visited the mosque first than the castle but the order you do it doesn't make much difference, I would just suggest leaving it to later afternoon/evening for the fewest people.
Some of the smaller sites to visit in the morning are the archeological museum or take a walk around the Roman ruins.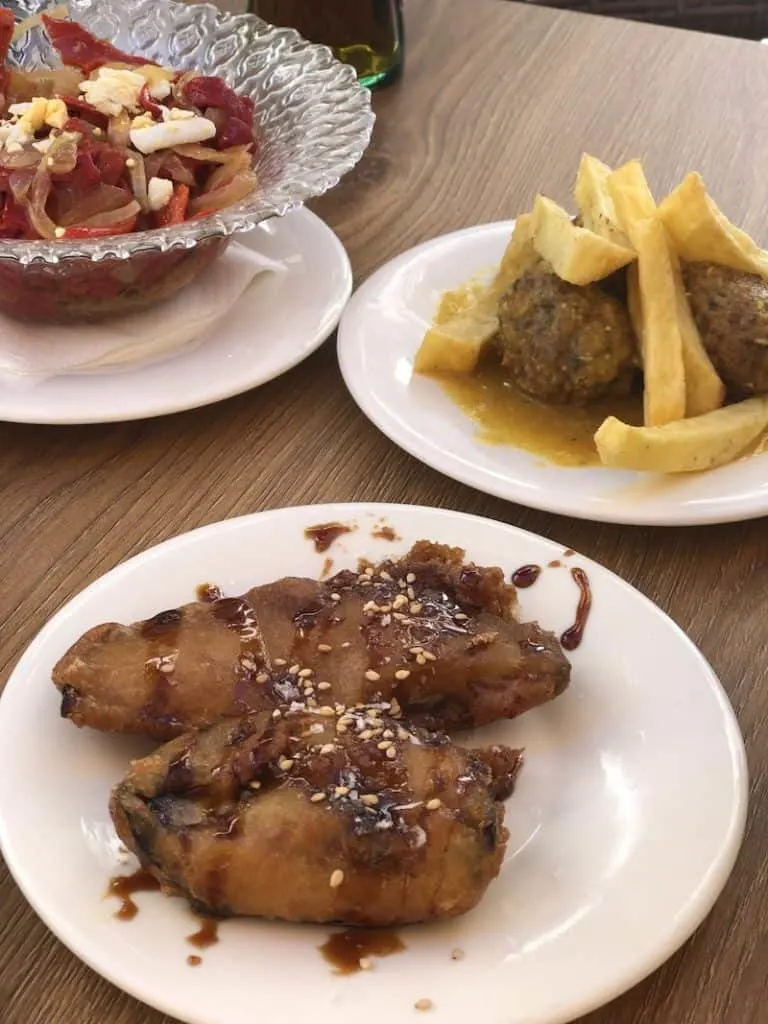 Have a late lunch around 1:30 – 2pm before things close down for the afternoon siesta time. While shops and things close, visit the mosque and castle.
Dinner in Spain is late, many restaurants don't open until 8pm, so from 6 onwards take a. Break. Head back to your hotel, rest or read a book in a patio or rooftop. This is a vacation after all! I am also known to pop into a bakery for a snack and a coffee or have a beer and tapas snack if that's more your style.
8:30 is usually the earliest dinner time so make your reservation ahead or pop into one of the many restaurants in Córdoba for your evening meal. Take your time, enjoy it and sit outside if you can, it's a great place to people watch. (See my dinner suggestions here).
Enjoy Cordoba!