Making Ramadan cookies doesn't have to be difficult and complicated. While some traditional Moroccan cookies are labor-intensive and complicated to make, these are not those!
Personally, I love sugar cookies. After a chocolate chip cookie, I'll choose this kind every day! These cookies require just the sugar cookie and the frosting but you can dress them up any way that you'd like.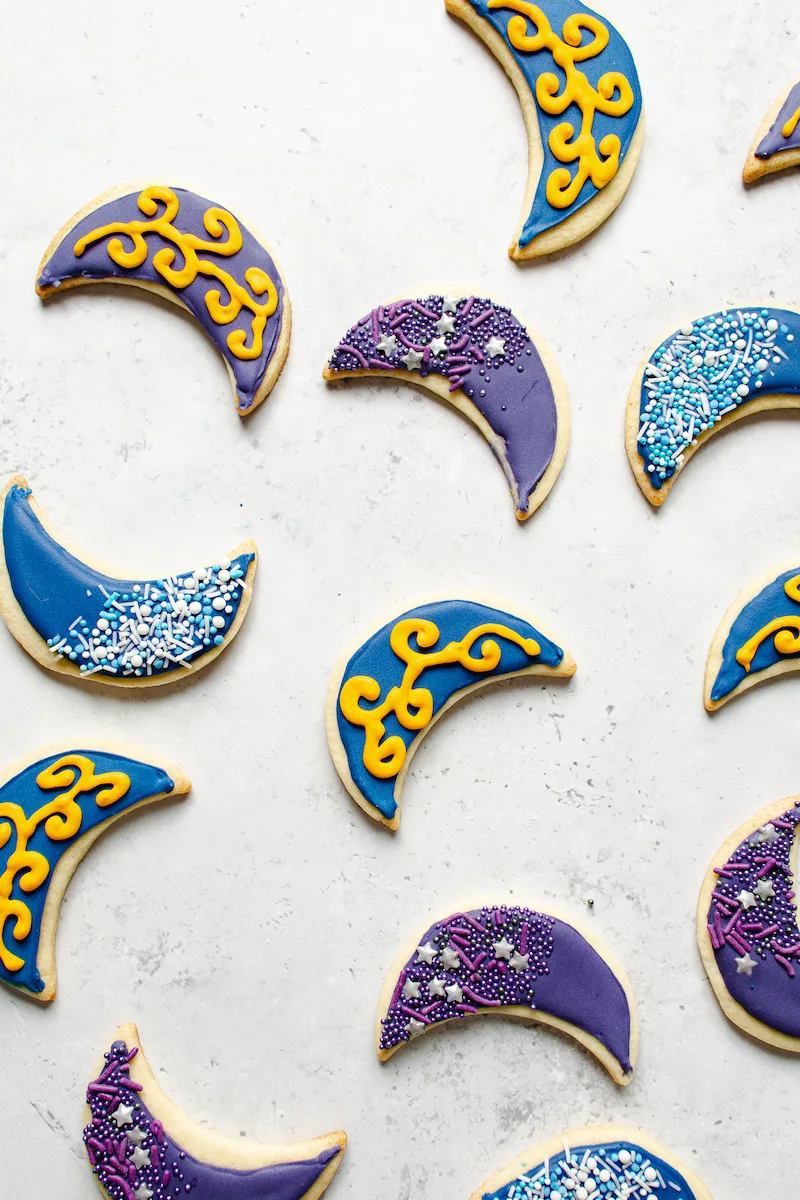 Sugar cookies used for decorating are different than the classic round sugar cookies that are soft and chewy. Because one of the goals of decorated sugar cookies is to keep the shape of the cookie cutter you used, they have to have a different texture. They'll be a little bit firmer but still have that classic sugar cookie flavor.
How to Stop Cookies from Spreading
Because these are firmer sugar cookies for frosting you need to make sure they keep their shape. You can buy cookies that are premade to frost. If you don't see them in your bakery section, ask the bakers! They're usually happy to sell them unfrosted.
If you're making them yourself, to prevent them from spreading too much, I like to put the cookies in the freezer until firm, about 15 minutes after I've cut them out and put them on the baking sheet. From the freezer, I put them straight into the oven. They'll be easiest to decorate if the surface is flat.
One trick to achieve this is to flatten them by running the bottom of a flat glass over the cookie and pressing down lightly as soon as they get out of the oven. Cookies are generally a little bit malleable when they have just come out of the oven, so make sure they are laying flat as they cool.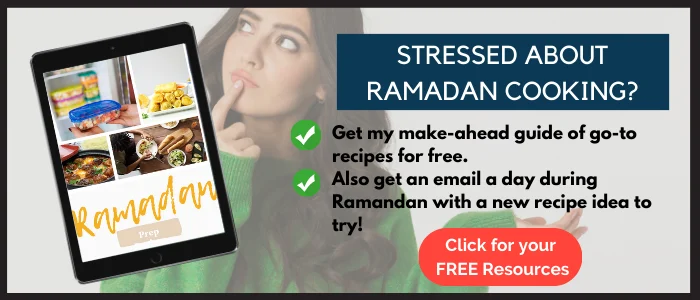 Helpful Supplies for Making These Ramadan Cookies
While you don't have to have anything special to make these cookies, here are a few suggestions for items that might help make the process easier.
For coloring your cookies you can use any food coloring however the best type to use for frosting with royal icing is a gel-based food color. This Wilton pack of colors would be a great place to start. It's best to start using a little bit and add more as you go vs. adding a lot to begin with.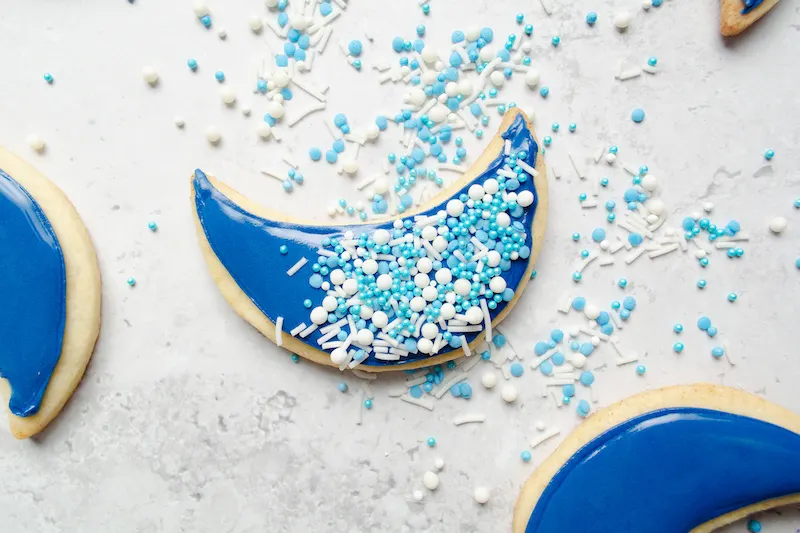 How to Use a Piping Bag for These Ramadan Cookies
One reason that people decide not to try frosting cookies this way is that it's intimidating to pipe the frosting. However, it's really not as hard as it looks. With a few tools and a little bit of practice, you'll soon discover that it really is easier than you thought. Take your time and the results will speak for themselves.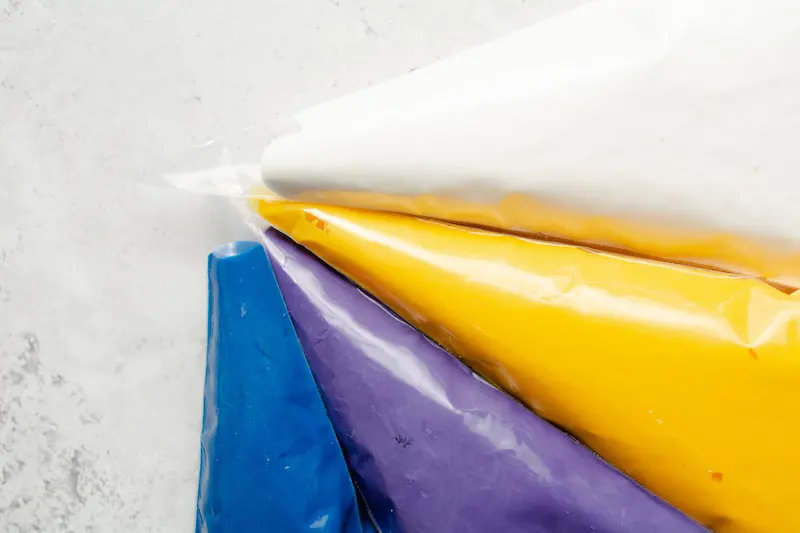 There are disposable and reusable piping bags available. The reusable piping bags have to be fitted with a piping tip, so if you are not planning to buy piping tips of different sizes, then it would be best to use a disposable piping bag. A disposable piping bag can be fitted with a piping tip or the tip of the bag can be cut to create the desired size opening.
To fill the piping bag, fold over the top of the bag to keep it clean while filling. You can hold the bag with one hand, but I find it easier to place it over the top of a glass. This leaves both hands for scooping in the icing. Only fill the piping bag about half to two-thirds full.
This makes it easier to hold the piping bag and prevents the icing from coming out the top. Remove the piping bag from the glass and squeeze the icing to the tip to get rid of any air bubbles. Twist the top of the piping bag to close it off.
To use the piping bag, place your dominant hand around the point where it is twisted, so you are cupping the icing. Put your other hand at the base of the piping bag a little bit above the opening. Your dominant hand will apply pressure to the icing to ensure it comes out of the bag.
The other hand will guide the piping bag and keep it steady. Do not touch the tip of the piping bag to the cookie you are piping on. You want the tip to be slightly off the cookie and the icing to drop onto the cookie as you move the piping bag along.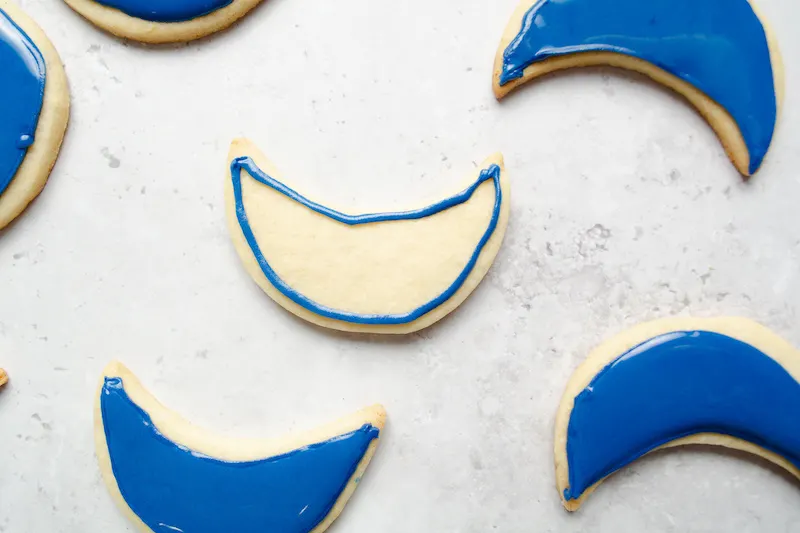 Tips for Making Royal Icing for Your Cookies
There are three main consistencies that are typically used for icing sugar cookies. They are called piping, outlining, and flooding. The piping consistency is used for any details that need to hold their shape, especially anything 3D. It is the stiffest of the three consistencies.
The next of these consistencies is outlining, sometimes also called medium consistency. It should be about the texture of toothpaste. It is used to outline the cookie and pipe on other details that don't need the stiffness of piping icing.
Flooding consistency is used to fill in the areas previously outlined. It is the thinnest of the three. It will be close to the texture of honey and drip slowly off a spatula. For these tutorials and most cookie decorating, you will most likely use outlining and flooding consistencies.
Make sure to make more frosting of any color than you think you'll need. It is really difficult to achieve the same color again if you run out, so you will end up with two-toned cookies when you don't mean to. Colored royal icing, like most colored frostings, will darken as it sits.
If you can't get as dark of a color as you want, try letting the frosting sit for a little while. Another way to get deep colors is to use gel food coloring instead of liquid food coloring. It is more concentrated, so you will not need to add as much.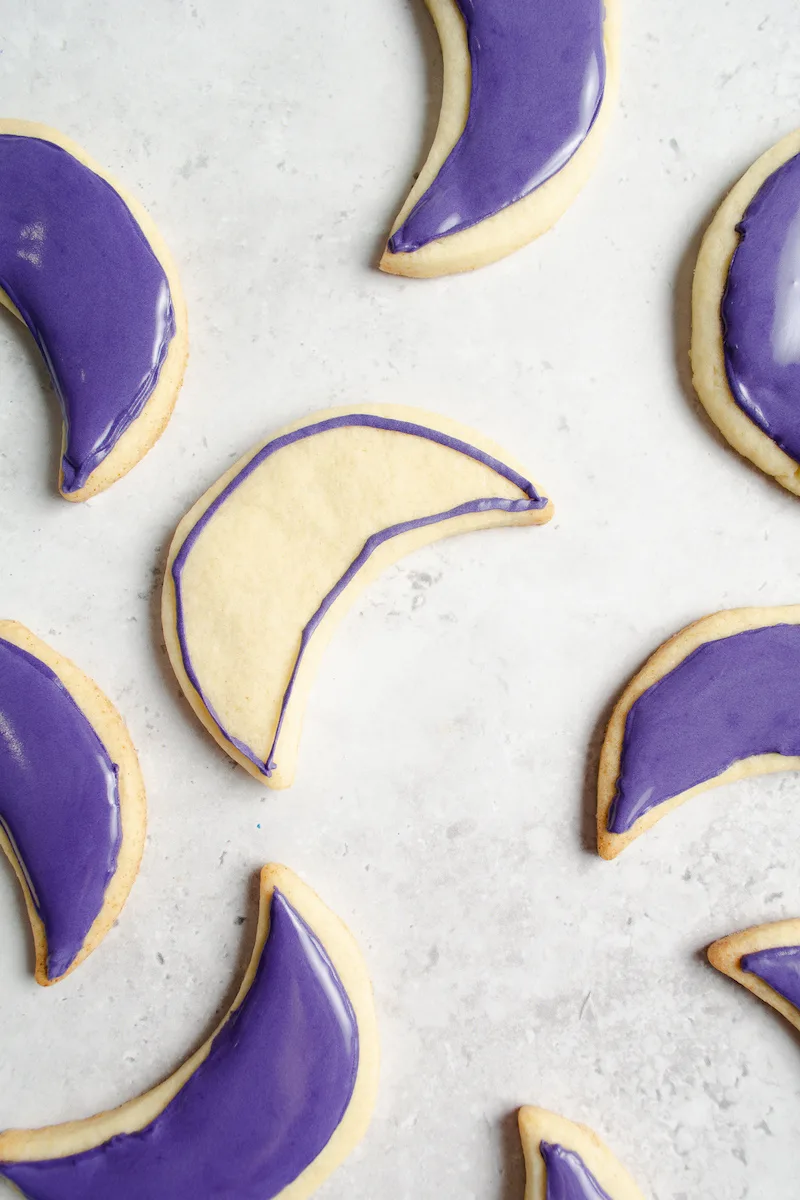 More Cookies for Ramadan to Make This Year
While these Ramadan cookies are sure to make everyone happy, if you want some more cookie recipes look no further. Try some of these options!
Of course, if you're feeling like all of this is a little too much to take on this year, buy some cookies! Seriously, give yourself some grace and order them!
Which Sugar Cookie to Use?
As mentioned you can use any sugar cookie recipe you like. Maybe you have a favorite or you're going with the bakery option.
If you want to make your own cookies you can find my Ramadan sugar cookie recipe by visiting the link.
These crescent cookies are a cute treat to make for Ramadan. There are two different styles to try.
Ingredients
Royal Icing Recipe
3 egg whites
1 lb (450 g, 4 cups) powdered sugar
¾ tsp rose water or orange blossom water
food coloring for icing
Instructions
How to Make Royal Icing
Whisk the egg whites until foamy in the bowl of a stand mixer with a whisk attachment or in a large bowl with a hand mixer.
Reduce the mixer to low speed and slowly add in the powdered sugar. Scrape down the bowl and mix at low speed until all of the sugar is incorporated. Add the rosewater or orange blossom water.
Beat the sugar and egg white mixture on high speed until it forms stiff peaks. The mixture will be shiny and when you flip over the whisk attachment, the peak at the tip will not fall to one side. It will continue to stand straight up.
Separate the frosting into smaller bowls and dye them various colors. This icing will be about outline consistency. If you want it to be thinner, add a small amount of water at a time until it reaches the desired consistency.
If you want it to be thicker, add a small amount of powdered sugar at a time until it reaches the desired consistency. Royal icing will harden quickly, so make sure to cover anything not being used right away.
Simple Moon Design

Color the royal icing a dark blue or purple (whichever color you prefer). Leave some of the icing as outline consistency and thin more of it to flooding consistency. Fill two piping bags with the icing and cut a small hole in each tip of the piping bag tips.
Outline the cookie with the outline icing and fill in that outline with the flooding icing.
While the frosting is still wet, sprinkle on your choices of sprinkles.

Patterned Crescent Cookies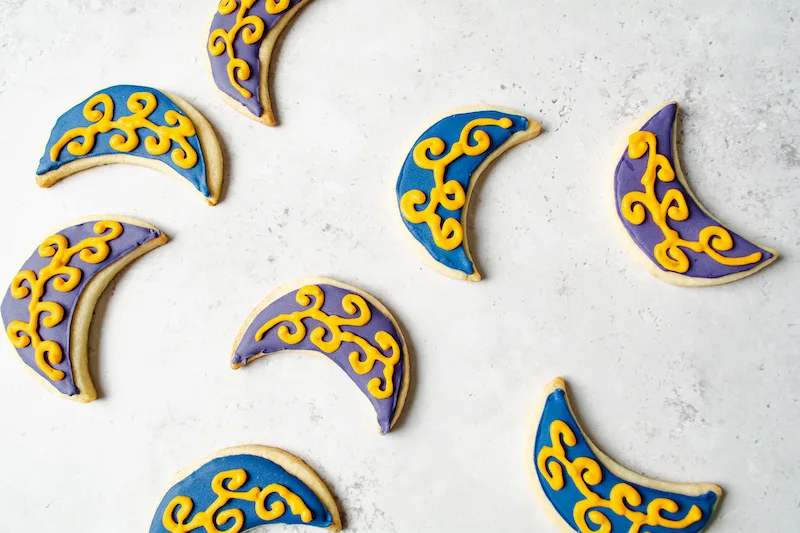 Color some of the royal icing a dark blue or purple (whichever color you prefer) and thin it to flooding consistency. Color some more icing white or yellow and leave it as outline consistency. Fill two piping bags with the icing and cut a small hole in each tip of the piping bag tips.
Outline the cookie with the outline icing and fill in that outline with the flooding icing.
Pipe the swirls on the cookies. If you want the swirls to stand out above the background, wait until the icing has completely dried. If you want them to be at the same height as the background, pipe the swirls on while the background is still wet. Using the outline icing, pipe a swirled line at the end of the moon. Build off of this line with more swirls moving up the cookie until it is covered.