Why wait until Eid to give loved ones presents? For me, part of celebrating Ramadan comes with showing love and appreciation to my children, especially with a little gift-giving. I like to find things that will keep them entertained at different moments during the month. But I also prefer to give them beautiful, relevant gifts. With kids that range from 2 years old to 17 years old, I've got ideas for all ages!
If you're looking for more traditional Ramadan gifts, you probably won't find them here. These gifts are fun and interesting ideas that go beyond the normal suggestions.
Here are my 20 best Ramadan gift ideas for kids of all ages.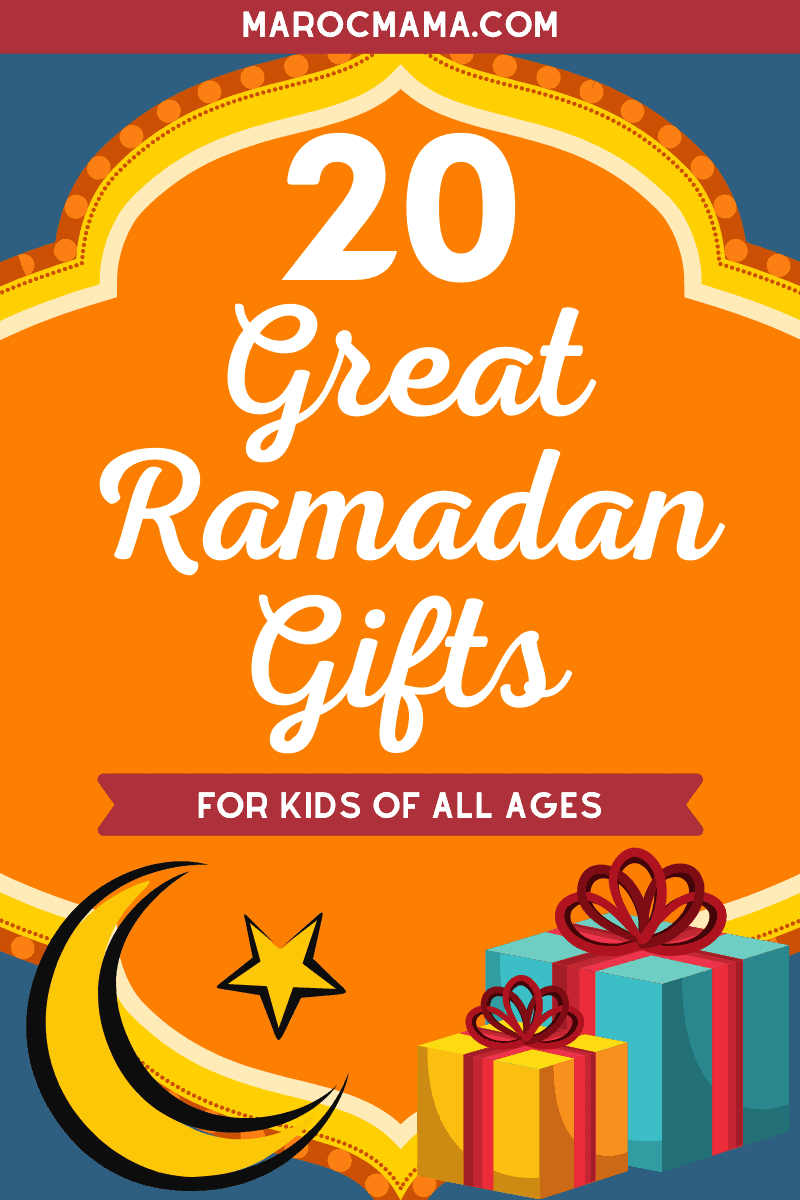 Ramadan Countdown Calendar
A countdown until Eid is a great way to start Ramadan and also keeps you from being asked "When is Eid" roughly 29 times. Iftar Treat Box Shop has two pretty variations, both with chocolates and halal treats behind each door.
These pre-filled cones are nice to have on hand for visiting children. This Ramadan present is affordable and easy to buy or create in large quantities if you have many children to give gifts to.
Lanterns are a traditional Ramadan decoration, likely going back to pre-electric days and having to illuminate the dinner table. This lunar-themed ceramic lantern embraces modernity with solar charging. And it's so cute.
"Sadaqah can take me to Jannah, insha Allah" is printed on one side of this money saver and the child's name is on the other. An adorable way to encourage children to be generous during the holy month and beyond.
Suhoor Attire
Comfy new jammies are a pleasure to wear while stumbling to the early morning breakfast table.
Hatley Kids Rainbow Hearts Raglan PJ Set (Toddler/Little Kids/Big Kids) (Pink) Girl's Pajama Sets
crewcuts by J.Crew Long Sleeve Tie-Dye Stripe Sleep Set (Toddler/Little Kids/Big Kids) (Blue/Navy) Boy's Pajama Sets
Cool rainbows for her or tie-dye for him.
Actually, jammies may be more for you since you'll be looking at them. For those early mornings wrap the kids up in one of these fleece robes too!
Finish it off with fuzzy slippers that are sturdy enough to wear outside.
Craft Kits
You need craft kits for the kids for Ramadan. Maybe pull them out during well-timed moments of exhaustion and/or loss of patience. These sets are doubly great as the kids can make Eid gifts with them. Make sure they do one for you too.
The classics are better than ever. This set comes with bits to make jewelry and other fun stuff.
Another all-time favorite of young kids and teens of all generations, this simple set is a great starter and easy to replenish to make infinite friendship bracelets all Ramadan long.
This DIY art kit comes with everything you need to make 12 cute little paint-your-own magnets.
Book Presents for Ramadan
New books are a favorite Ramadan gift to give and there are so many to choose from. Here are some titles I would appreciate on my shelves, so they must be good for yours too.
This book needs to be in everyone's home. It's really cutely done and truly inspiring. A perfect addition to the library of a young adult reader.
No time like the present to sit in wonder of God's amazing and vast creation. This is a beautiful book and may keep your children entertained for longer than 15 minutes.
An especially nice book for children who enjoy journaling. It has a few activities and some age-appropriate educational bits in it. There are different covers to choose from and a teen's version.
Well, of course, you need this! Get your kids in on the cooking during Ramadan. You'll get to spend some great time together while teaching life skills and get everyone fed when the time rolls around.
Ramadan Gifts for a Teen
A fun reminder of what they have to look forward to in the coming years. This might not be applicable for all families so make sure you review it closely before purchasing.
Gift Cards
Pajamas, crafts, books… no idea what will delight them from day to day? Just get a gift card and they will (probably) be happy.
Grab a gift card for Amazon, Zappos, Etsy, Apple, Ulta, or your teens' favorite stores.
Ramadan Gift Giving for All Ages
Beautifully made and mildly brain-hurting. These are quite cool for anyone really.
A fun question game where you take turns asking questions to find out what animal the other person has. It can be adapted for all ages making it a fun family game.
Looking for More Ramadan Gift Ideas?
Here are some more gift-giving ideas for Ramadan for different situations and ages.
Ramadan Gifts to Bring to an Iftar
Ramadan Gift Box Ideas for Teenagers