Oranges and Morocco go hand in hand. One of the easiest and most surprising desserts served is a simple orange with cinnamon plate. It's shockingly delicious for how simple it is.
However, me being me I require my desserts to have a little more cake quality to them.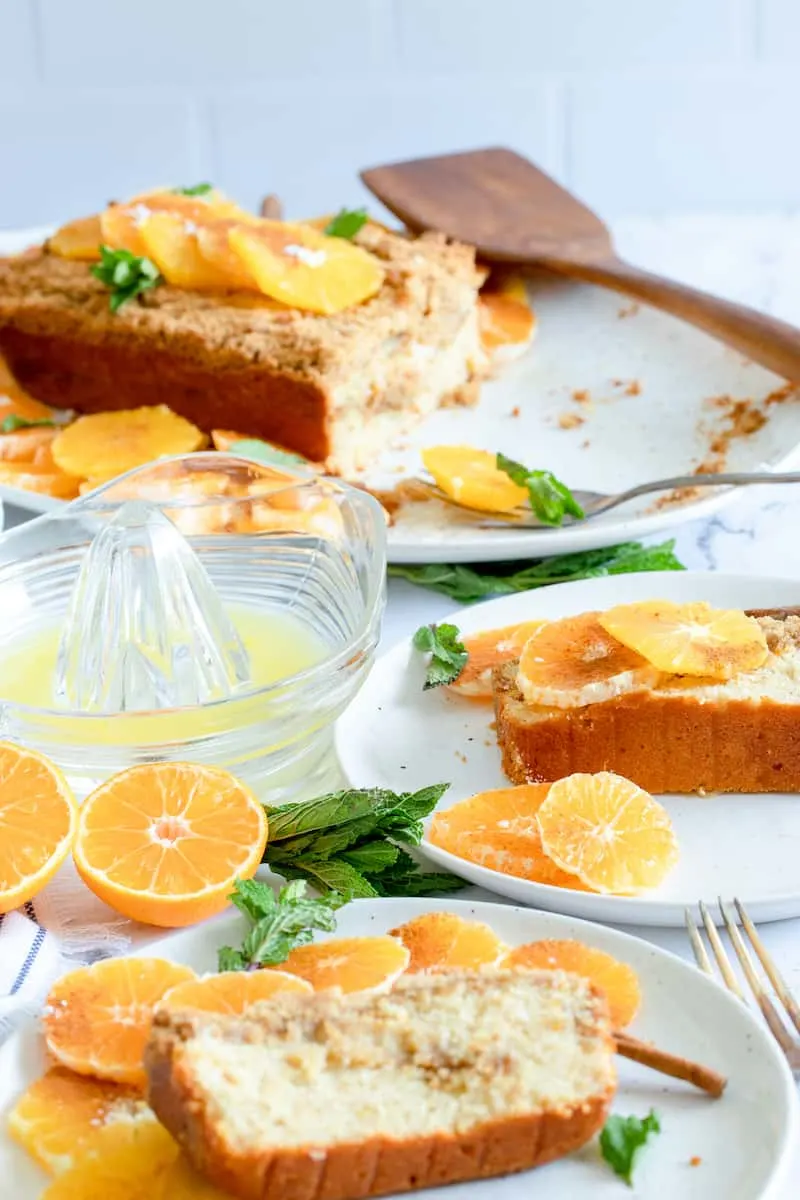 My childhood took place far from the flavors of Morocco; in the Midwest of the US. The coffee cake was an ubiquitous part of life. Simple cakes like this were regularly on the table when my mom had friends that came to visit or when we went to my grandma's house.
When I moved to Morocco this pattern continued through the afternoon coffee/tea time where there is always something served for a late afternoon snack. It wasn't quite the same but the same idea.
This cake is a combination of those traditions with the flavors of Morocco in every bite.
Just look at that beauty! It's laced with delicious crumb topping, juicy fresh oranges and spicy cinnamon to jazz it up. Plus, it's super versatile.
Serve it warm paired with an orange sorbet. Make a delicious citrus salad to serve along side of it for breakfast or brunch. It's amazing with strong coffee and chat with a friend. Or, go all Moroccan and make some mint tea for your breakfast.
Really you can't go wrong – but can you ever when cake is involved?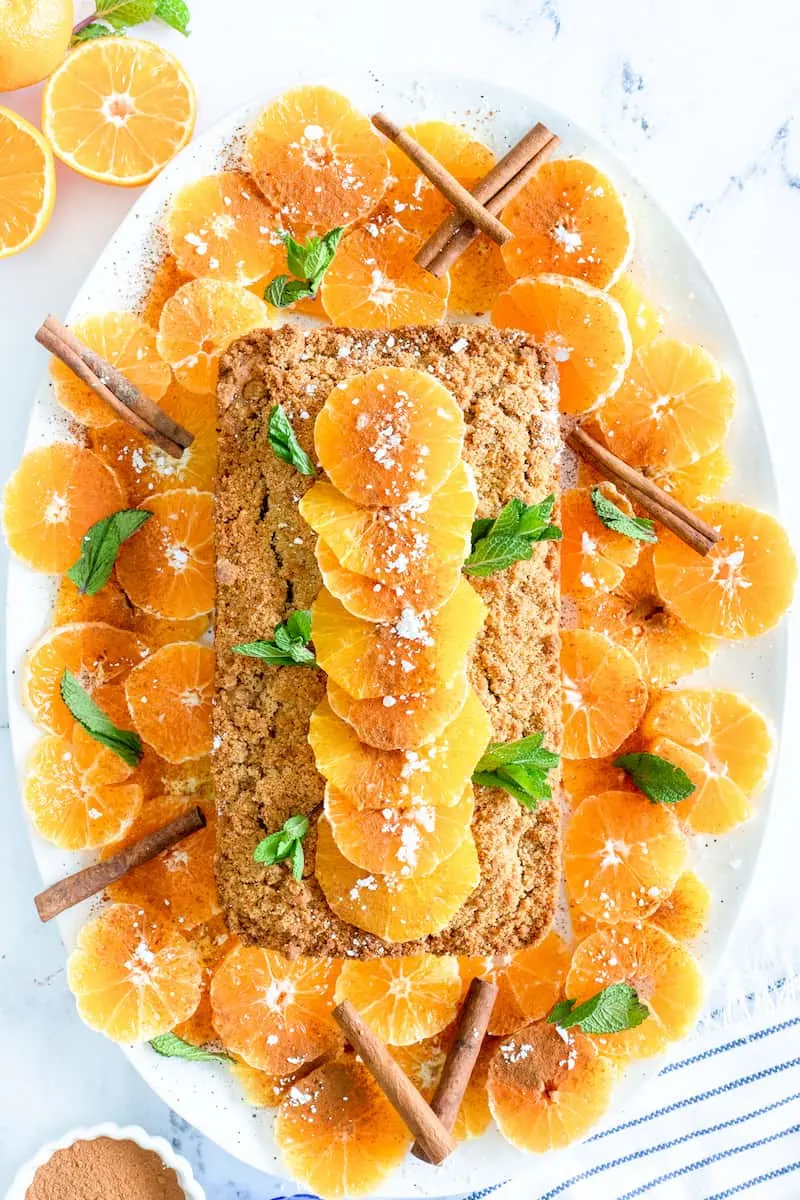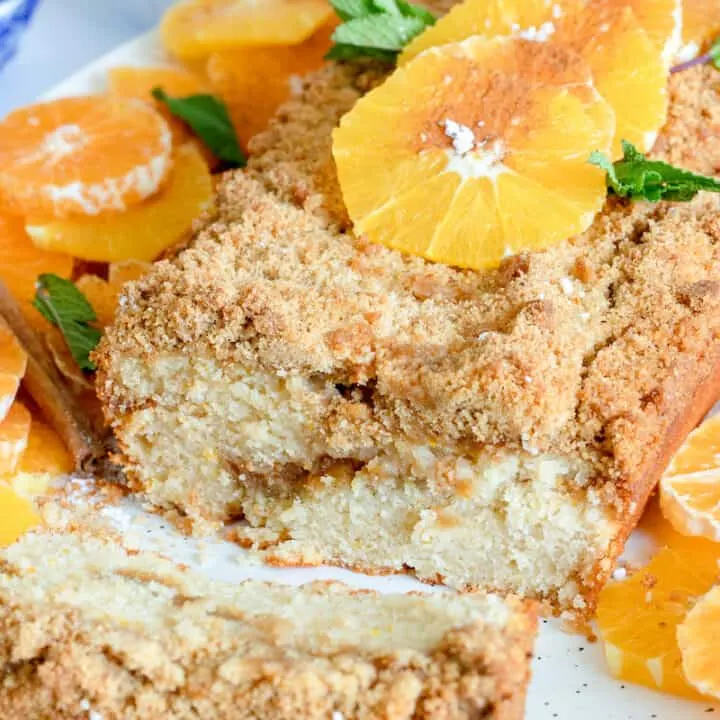 Yield:

12 servings
Moroccan Orange and Cinnamon Crumb Cake
Total Time:
1 hour
15 minutes
The popular Moroccan fresh orange and cinnamon dessert takes a twist with this cake perfect for any event.
Ingredients
Cake Ingredients
8 tablespoons unsalted butter, melted and cooled
1/2 cup plain yogurt
1 cup granulated sugar
1 egg, lightly beaten
1 tablespoon orange zest
1 tablespoon orange juice, fresh squeezed
1 teaspoon vanilla extract
1½ cup all purpose flour
¾ teaspoon baking powder
3/4 teaspoon salt
½ teaspoon ground cinnamon
Crumb Topping
1 cup light brown sugar, packed
1 cup all purpose flour
1 teaspoon ground cinnamon
1 tablespoon orange zest
4 ounces unsalted butter, small dice
Garnishes
1 orange with skin removed and cut into slices
1 tsp cinnamon for dusting
fresh mint leaves
Instructions
How to Prepare the Crumb Topping
In a large bowl add the brown sugar, flour, cinnamon and orange zest, mix to combine. Add the butter and using your fingers, press and roll the cold butter with the other ingredients until the mixture resembles wet sand with some slightly bigger pieces of butter throughout. This may take a while, but it will come together!
Instructions for the Cake
Preheat the oven to 350°F. Generously grease a 9-inch loaf pan with baking spray, set aside.
In a large bowl whisk together the butter, yogurt, sugar, egg, orange zest, orange juice, and vanilla. Set aside.
In an additional large bowl whisk together the flour, baking powder, salt, and cinnamon.
Pour the wet ingredients into the dry and stir together until just combined and there are no dry spots.
Pour half of the batter into the pan. Top with ⅓ of the crumb, add the remaining batter and smooth the top.
Pour the remaining crumb on top.
Bake for 50-60 minutes, until golden brown and a toothpick inserted into the center comes out clean.
Let cool in the pan for 20 minutes, invert the pan and place on a wire rack to cool completely. Serve with oranges dusted with cinnamon on top and mint garnish.