Beets are a tricky vegetable. You typically fall in one of two camps; you love them or you hate them. Rarely is there any in between. In most cases I fall into the later camp. However, every now and then I do enjoy this Moroccan salad.
I've gotten pretty good at roasting beets but I had never undertaken making this salad. So I asked my sister in law who is one of the best Moroccan cooks I know to show me how it's done.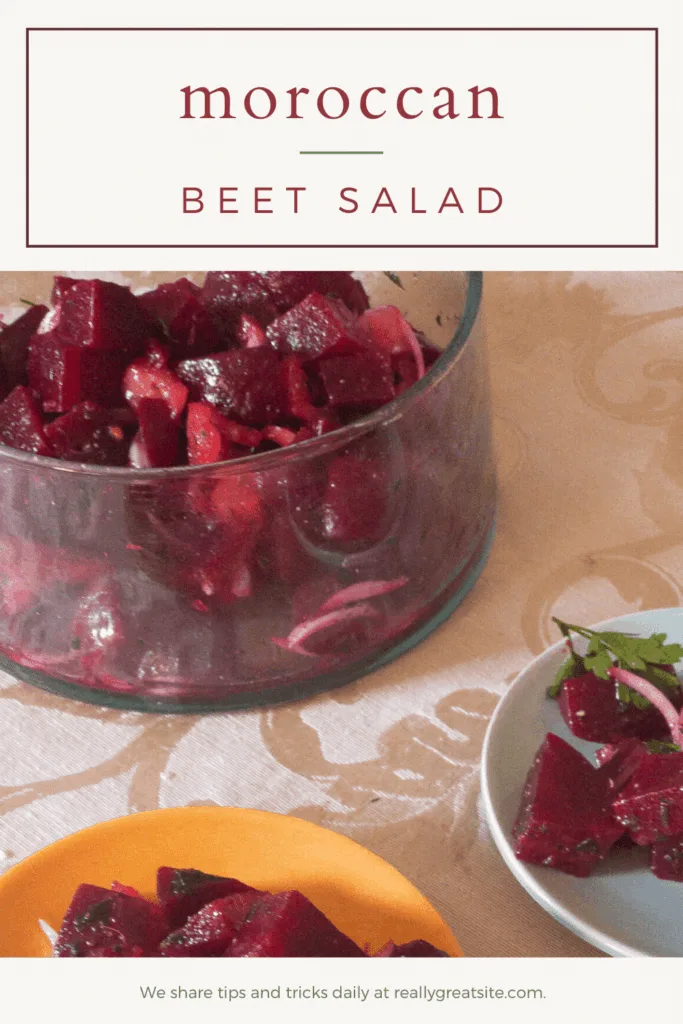 How do you cook beets?
There are many different ways that beets can be prepared for this dish but the first and most important thing is that the beets are very clean. If not they most certainly will taste like dirt! I use a fresh piece of steel wool to really make sure all the dirt comes off but use whatever scrubbing method works for you.
To prepare the beets for the salad you can peel, dice and steam, peel and boil or roast. There's really no right or wrong way. The way that I prepared them for the salad is by cooking a pressure cooker to ensure the beets are tender. I've included the full instructions in the recipe instructions.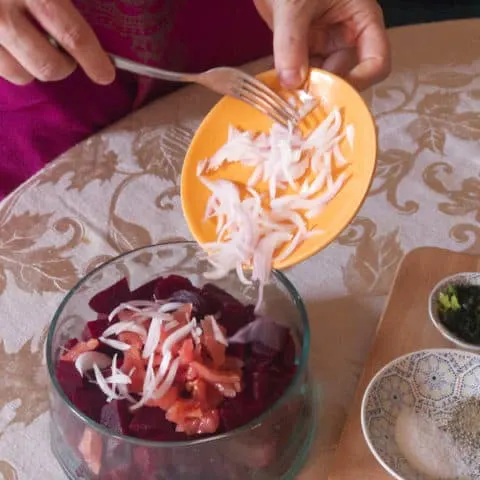 Yield:

4-6 serving
Moroccan Beet Salad
Ingredients
4 beets
palmful cilantro and parsley
1/4 red onion thinly sliced
1 tomato
2 Tbsp olive oil
1 Tbsp vinegar
salt and pepper
Instructions
Cook the beets in the method you prefer. In this case I scrubbed and peeled the beets first. I then placed them in a pressure cooker with enough water to cover the beets. I then allowed them to cook for 20 minutes.
You may need to adjust the cooking time depending on the size of your beets. When tender, allow to cool to the touch and dice into pieces roughly the same size.
Peel your tomato, remove the seeds and slice the tomato into small slivers, about the same size as your onions.
In a bowl whisk together the oil, vinegar, salt and pepper.
Mix together the beets, tomatoes, and onions and drizzle the dressing over the top. You can use as much or as little dressing as you prefer.
Lastly, top with chopped parsley and cilantro for added color and flavor.
Notes
This salad can be stored covered in the refrigerator for three days.