Do your kids cringe at the sight of cooked carrots? This Moroccan carrot salad is one of the easiest and most delicious Moroccan salads. It's very simple; cooked carrots that are served at room temperature and dressed with a simple vinaigrette.
When I was growing up I, like many other kids, wasn't too fond of cooked vegetables. But, fresh vegetables well that was another story. Every summer my grandpa grew a huge backyard garden. He left one corner for my sister and me to plant our own garden. He grew row after row of carrots, beans, tomatoes, rutabaga (which I didn't even realize was a turnip until recently), sweet corn, and peppers.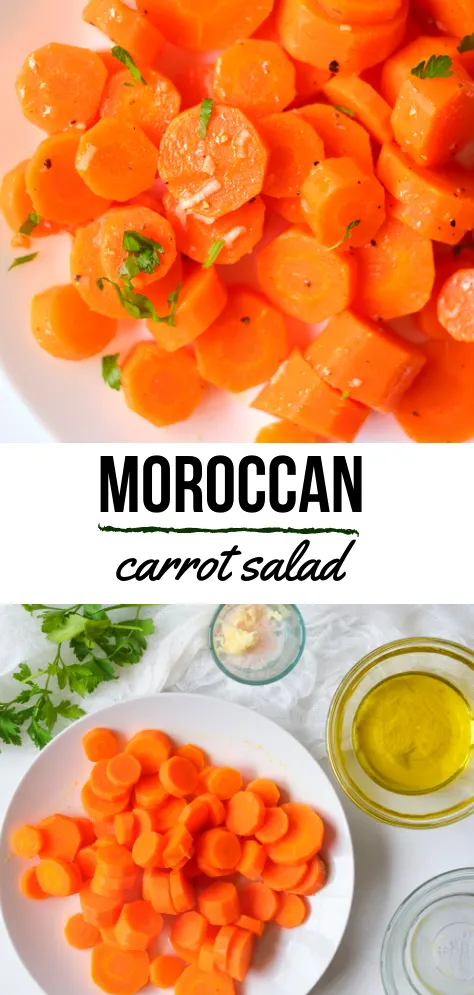 He had a good friend who had a much larger farm and planted even more produce. My grandparents happened to live on the major highway that went through our small town. So, every summer grandpa had tables set up on the front lawn to sell whatever was ready to pick. He also went out and picked wild fruit, raspberries, blueberries, blackberries all summer long.
In the backyard, apple and pear trees were picked and the fruit sold, as well as stalks of rhubarb. I used to love spending the morning sitting with grandpa and selling produce. My sister and I got to eat whatever we wanted, just pulling it off the table. Grandpa would wipe it off on his shirt and peel or cut it with his jack-knife on the spot.
When we were ready to go home, grandpa walked us across the highway and we peddled our bikes the few blocks to our house. We had so much space to roam, and to think this was only 15-20 years ago!
What is in Moroccan Carrot Salad?
The specific kinds of carrot you use don't really matter for this recipe. You also can cut them any way that you'd like. However, it's best to have them all be of a somewhat similar shape and size so that they can cook evenly.
My recipe uses very basic herbs but there's no reason you can't play with it. Some other herbs that would taste lovely with this salad are;
rosemary
tarragon
chives
dill
cilantro
You can make it as herby as you'd like! No rules!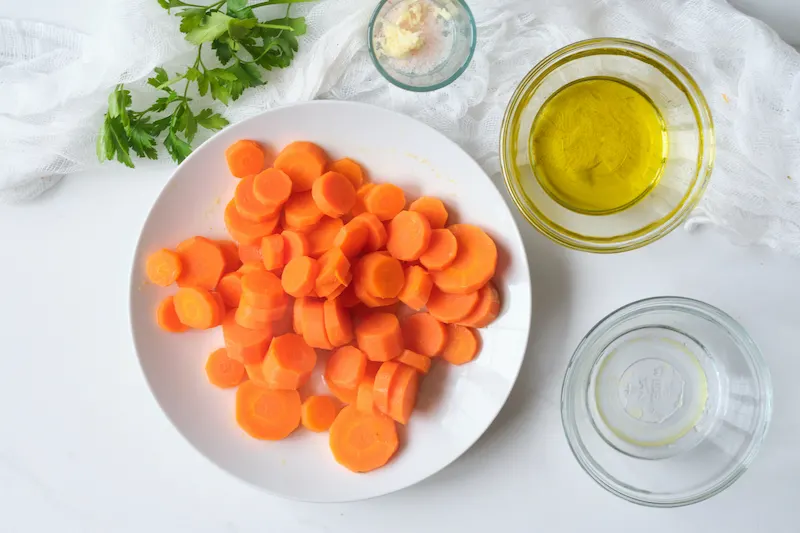 When I began shopping in Moroccan markets for produce it immediately brought back these memories of summer with my grandpa. Carrots stuck with me. I used to grab a carrot from the table, dip it into the water "wash" bucket and wipe it off to eat.
Raw of course.
I make this carrot salad by always undercooking the carrots. MarocBaba always asks for them to be cooked softer but I like them to have a bite, to bring back those childhood memories. Again, you decide what you like.
How to Cook the Carrots for this Moroccan Salad
There are several different ways to cook carrots and personally I don't think any are wrong. My favorite way to prepare them is by steaming them. This lets me easily check how far along they have been cooked. I do this by adding the carrots to the top of a saucepan with steamer and covering. Usually, it only takes 6-8 minutes for them to be the tenderness I like.
Another option is to boil the carrots though pay attention as I find cooking this way can cause the carrots to go from firm to falling apart very quickly.
The third option is to microwave them. A good Pyrex bowl with a lid (yes they're microwave safe) is all you need. Add 1 Tbsp water for every 1 cup of carrots and cook. Start with 3 minute and add more time as needed.
Want Some Other Carrot Ideas?
If you're anything like me you buy too many carrots. But how else to use them? Try some of these options.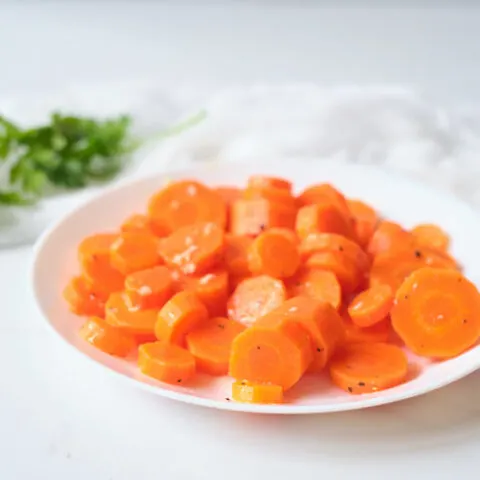 Yield:

4 small servings
Moroccan Carrot Salad
This is a very simple Moroccan carrot salad often served with several other salads before the main meal.
Ingredients
1/2 lb carrots, peeled
1/4 cup vinegar (any kind will work)
1/2 cup olive oil
1/2 tsp salt
1/2 tsp pepper
1/2 tsp crushed garlic
Instructions
Peel the carrots and remove the ends.
Boil a pot of water and add the carrots. Cook for 12-15 minutes until carrots are soft to bite through but not mushy.
Drain the hot water and immediately put carrots into a bowl of cold, ice water.
In a bowl whisk together the vinegar, olive oil, salt, pepper, and garlic.
Cut the carrots into rounds of similar size.
Dress the salad with the dressing. They should not be swimming in liquid, only add enough to lightly coat the carrots.
Serve cold or at room temperature.