I have made a lot of different salads since my culinary experience has taken off. Most of them I liked. This salad recipe came from my husband. There are very few recipes that he actually can put together from start to finish (though I admit this one is pretty easy!) I was skeptical but pleasantly surprised with how this turned out.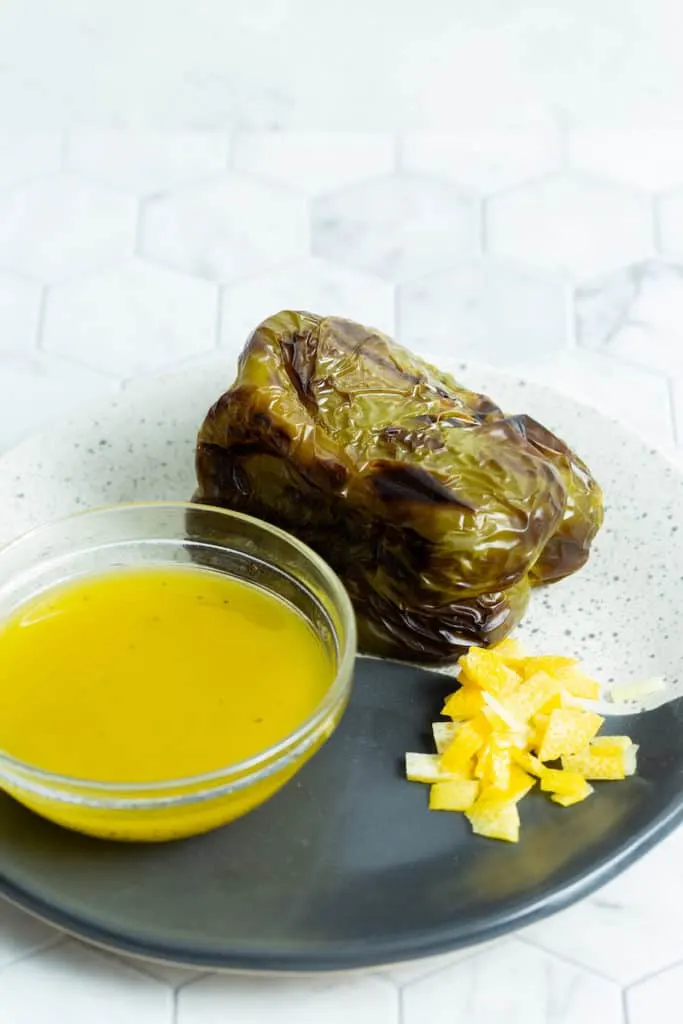 While this is considered a Moroccan salad it can easily just be used as a side dish or even a condiment. It pairs really well with fish dishes (like this Casablanca inspired fish tajine).
The key of this dish is really that you need to char the peppers (and yes you can use any type of pepper you'd like). There are several ways to do this and I've shared a couple of techniques in the recipe notes.
Charred Green Pepper and Preserved Lemon Salad
Ingredients
1 green pepper roasted and skin removed
1/4 preserved lemon
Moroccan salad vinaigrette
Instructions
1. Roast green pepper and remove as much skin as possible. Traditionally these are roasted over an open gas flame until the outside is completely black. My mother in law then tosses them into a plastic bag that is sealed until the steam inside loosens the skins and it can easily be pulled away from the flesh.

On gas stoves in the US this works great. and this is how I generally roast these peppers. You could also do them under the broiler of an oven on a cookie sheet but make sure to watch carefully and turn them often so that they do not catch on fire.

2. Wash off the quarter piece of preserved lemon and remove any of the pulpy flesh inside and keep only the rind. Cut into very small pieces.

3) Cut the green pepper and remove the seeds and the top of the pepper. Cut into strips and then into small squares.

4) Mix pepper and lemons together.

Vinaigrette
Using 2 parts olive oil and 1 part vinegar mix to combine, add 1/2 tsp each of salt and pepper. You can also add some garlic powder or crushed garlic to the dressing. Use just enough to coat the vegetables.
Recommended Products
As an Amazon Associate and member of other affiliate programs, I earn from qualifying purchases.
Looking for more Moroccan salad recipes? Try one of these;
Za'alook – Eggplant Salad
Taktouka – Green Pepper and Tomato Salad