Over the weekend we spent a lot of much needed time with family, enjoying each other and being outside. I even took a technology break. I rarely checked my phone, wasn't emailing or checking in anywhere. It really was a great vacation.
One of the things that we did was to visit my dad at his campsite. MarocBaba is not a camper. I've tried and tried to talk him into tenting but he refuses. My dad doesn't camp with a tent but a pretty nice camper, that includes beds, a kitchen and air conditioning. Even with this he was pretty sure he wouldn't spend the night. So a day trip was as good as it got.
Is there anything better than cooking over a real fire? I don't think so. We made an easy dinner, the kids had fun and no one freaked out about germs, bugs, dirt, dust and all else that is outside. My piece de resistance was a blueberry cheese pudgy pie. If you're not of the camping set, a pudgy pie is a sandwich — made in a contraption that looks like something from the middle ages.
As I was creating my dessert pie everyone told me it was going to be disgusting. It was awesome and I made everyone eat some just so they too would know how awesome it was!!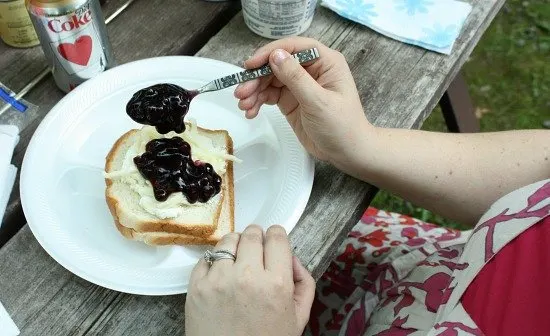 Ingredients
2 pieces of bread
spoonful of blueberry pie filling
1-2 tbsp cream cheese
handful of mozzerella cheese
Put everything together like a sandwich, spray the pudgy pie maker with cooking spray and place sandwich inside. Place on top of the coals of the fire and cook a few minutes on each side. The bread should toast up insides melt.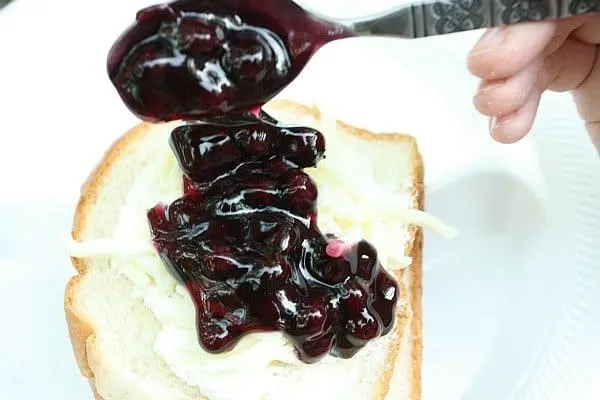 What's your favorite combination for camping?