Planning an unforgettable honeymoon?
Looking for a fantastic couples escape in Morocco?
You've come to the right place. Morocco has some really amazing destinations to consider when you want to get away with your sweetheart. I chose five of them to share with you as you plan. But first, let's get some of your big questions answered.
Is it safe to visit Morocco?
In simple terms, yes. Morocco is the most stable country in North Africa. The country has gone to extreme lengths to protect their tourism infrastructure and has not had the instability that other countries in the region have had. There were no calls to overthrow the government and the people of the country reject terrorism outright. Morocco has a long history of tolerance and mixing of populations that carries through today. As with visiting any new place it's always a good idea to follow the same basic precautions as you would anywhere else.
What are Moroccan laws for tourists?
Tourists to Morocco are expected to follow the same basic laws as the rest of the population. There are no special stipulations for tourists and in many cases local Moroccans are subject to more legal oversight than visitors.
What are Moroccan laws on public displays of affection?
In general it is frowned on to display too much affection in public. It is completely fine to hold hands and steal a kiss here and there but it is frowned on to go beyond this. There are no laws regarding this if you are a foreigner but you should be aware that it is a very big cultural faux pas.
Which laws apply if one partner is Moroccan and the other isn't?
In this case you are going to face a few more challenges. Moroccan citizens are subject to more laws that tourists. It is illegal for someone to rent a room to a couple that are not married when one partner is Moroccan. (This is not the case if neither partner is Moroccan) If you plan to stay together you will need to rent two rooms. You may also face more scrutiny and possibly questioning by the police if you are too affectionate in public. It is also possible that the Moroccan partner is approached by the police to ask about the relationship to verify if the Moroccan person is acting as a fake city guide to the other partner.
So are you ready to plan your Morocco travel itinerary? As promised, here are five great spots for couples!
Dakhla
Why not head to where the Sahara meets the Atlantic for a fantastic couples escape?
Did you know there even was a place where the sand met the sea? There is! Dakhla is at the southern edge of Morocco (sometimes also know as the Western Sahara) not far from the border of Mauritania. It's a small city of about 100,000 people and has become really popular with those looking for kitesurfing in Morocco.
You'll find some small hotels and places to stay in the city itself however most people opt to stay outside in one of the many resorts that are found up and down the Dakhla lagoon. These resorts act like self-contained smaller villages so you won't even need to leave, unless you want to.
How to Get to Dakhla
There are flights on Moroccan carrier Royal Air Maroc and a select number of flights from other countries also arrive on a scheduled basis. It is also possible to drive here though it is nearly 1000 kilometers of driving through the desert – only advisable if you've got plenty of time on your hands and are up for an adventure.
Where to Stay
This really depends on the kind of experience you want to have as there is a wide variety of choices.
Best for a Secluded Honeymoon or Getaway in Dakhla
This resort is an ecolodge and surf camp however they have a limited number of private bungalows and full board stay. That means you don't have to leave if you don't want! Book a massage or learn how to surf to spend your free time. Of course just holding hands and looking at the water can be equally enjoyable!
Best for an Active Honeymoon or Getaway in Dakhla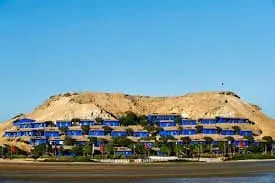 This is an ideal place for couples that are looking for an active honeymoon or getaway. It's the largest kitesurfing center in the area. It also has a spa with a wide range of services so you can relax too. Book into one of their VIP rooms with beautiful private rooms overlooking the lagoon. Full board is included with the room but they also have a'la carte options and bars if you would like something a little more.
Best for Amazing Views and a Mix of Relaxation and Activity in Dakhla

When it comes to Morocco resorts this one may be a top contender for the best views. The 4o private bungalows are all eco-friendly and include solar panels to power much of the resort. Two onsite restaurants (one for the public and one just for guests) provide delicious daily meals that offer international and Moroccan cuisine. There's also a large, natural swimming pool on-site if you'd prefer to take a dip in somewhere a little calmer than the ocean.
If Dakhla is someplace you want to head, be sure to also read my complete guide for more on what to do, where to stay and practical advice for visiting.
Before You Go: What You Should Know about Dakhla
3 Experiences Not to Miss in Dakhla
3-Hour Sailing Adventure on Dakhla Lagoon
Love the water but don't want to be in it? Then book a sailing adventure! Not to mention it's romantic!
Kitesurfing
This is the reason that most people come to Dahkla. Most resorts offer classes and packages from their resorts but there are also operators in town if you want to book privately.
Medina of Dakhla
This medina is a mixture of Africa and Morocco. You'll find some really unique things here and it's worth a visit!
Essaouira
One of the most popular honeymoon destinations in Morocco (and where I took mine!) is Essaouira. There is a fantastic mix of options for couples that are seeking relaxation, action or something in between. There are several Essaouira hotels that make for a romantic getaway but I think the better option is to choose a smaller boutique hotel or riad.
Essaouira's beaches are also well known for their wide expanses and wind. But don't worry the wind usually blows but not so much so that it's uncomfortable – and if you're a kitesurfer you won't be disappointed!
How to Get to Essaouira
There are several options to reach Essaouira. There are limited flights available from international and domestic (Casablanca) points. Though this will likely be the most expensive option. You can take a bus from Casablanca or Marrakech to the city as well.
From Marrakech it's just over a two hour drive to the coast. Your third option is a private driver or shared taxi. These are available from a wide range of cities. A private driver may be more desirable as it will give you space and your own time table. A shared taxi will be an inexpensive option but will be crowded and likely not very comfortable.
Where to Stay in Essaouira
Best for a Secluded Honeymoon or Getaway in Essaouira
This is a beautiful hidden site outside of Essaouira. You'll need a car or driver to get here but once you arrive you may not want to leave. Each of the spaces is tastefully decorated and your needs will be taken care of no matter what they are. There is both an indoor and outdoor pool area to enjoy and you can make arrangements for anything you might like to do.
Best for an Active Honeymoon or Getaway in Essaouira
Situated in the nearby village of Sidi Kaouki this is a great option for an active holiday – especially if you love surfing. It's located just 50 meters from the beach so you have easy access to the water. The space is small with just 6 rooms and 3 suites so that you can have privacy.
Best for a Mix of Relaxation and Activity in Essaouira
Staying here allows you to stay in the medina of Essaouira while also having a relaxed atmosphere. With just a few rooms you will have the boutique feel but multiple amenities to make your stay enjoyable. Head to the nearby beach to go kitesurfing or horseback riding or stay back and enjoy an onsite hammam or massage.
More Information on Essaouira: Everything You Need to Know about Essaouira
3 Experiences Not to Miss in Essaouira
Book a ride and enjoy the gentle coast of Essaouira. You can also find camels on the beach to ride but book a ride for the best experience.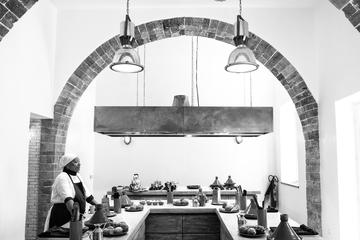 L'Atelier Madada Moroccan Cooking Workshop
What's more romantic than cooking with your sweetheart? When your meal is complete enjoy eating together too!
Val d'Argan Winery
Just outside Essaouira is this lovely winery. Enjoy a tasting, tour the vineyard and enjoy a meal in their restaurant. Well worth it!
Marrakech
Marrakech is a hotspot for just about every couple these days. From celebrities to music moguls and royalty all come to the red city for their couples escapes. You should do! For a city of 1 million people you'll discover that Marrakech is safe and has something for everyone.
There is more than enough to do in the city for several days but if you're looking for day trips from Marrakech you'll find dozens of more options. Even though it is a city of over 1 million people you can be in the villages of the High Atlas mountains or the Agafay Desert in about 45 minutes. Whether you're coming for a Marrakech honeymoon or a romantic getaway you won't be disappointed.
How to get to Marrakech
Dozens of international airlines fly into Marrakech – it's the second busiest airport in Morocco. If however you're coming from elsewhere in the country you can choose from the national train service – Marrakech is the last stop. CTM and Supratour bus lines also arrive in Marrakech from across Morocco. Finally shared cabs and private drivers are always an option.
Where to Stay in Marrakech
Best for a Secluded Honeymoon or Getaway in Marrakech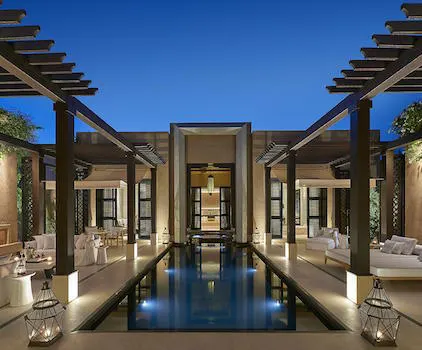 An under ten minute ride from the medina of Marrakech will bring you to the gated gardens of the Mandarin Oriental. Choose from one of the suites or villas for your stay. Both rooms are a balanced combination of the oriental style the brand is known for and Moroccan infused elements. For the most secluded option choose one of the villas; each with a private pool, bedrooms, and more. The food onsite and spa amenities are also spectacular.
Best for an Active Honeymoon or Getaway in Marrakech
Les Jardins de la Koutoubia or The Selman Marrakech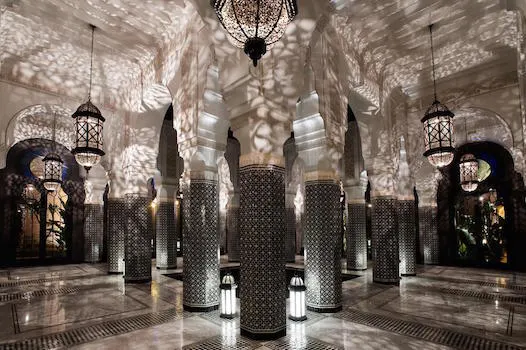 The riads and hotels of Marrakech offer visitors two very different options – so I am too! If you want to stay in the city, Les Jardins de la Koutoubia is a good choice. This is a hotel that is steps from Jemma el Fna and all of the action of the souks of Marrakech. It also has easy vehicle access so when you want to go elsewhere you can easily get a taxi. The hotel features both an indoor (heated) pool and outdoor pool.
The Selman on the other hand is on the edge of the city. Their signature is the stable of Arabian horses that call the resort home. The hotel features multiple offers that involve or include the stallions. The hotel also has an experiences manager who will work with you to create the active holiday you desire!
Best for a Mix of Relaxation and Activity in Marrakech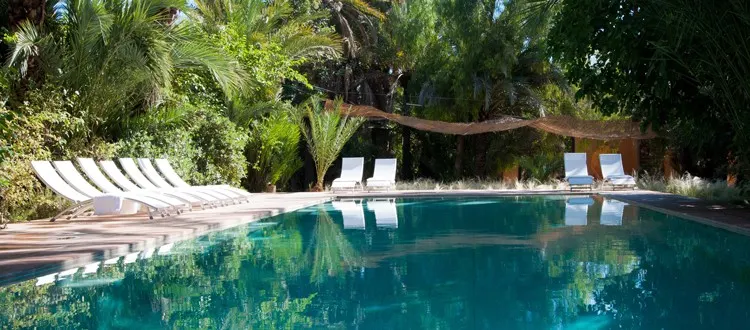 This gorgeous hotel in the oasis of the Palmeraie of Marrakech is great if you want a mixture of experiences. They offer multiple activities onsite; swimming, tennis courts, cooking classes, camel riding, or just an amble through their curated gardens. Or let them assist you in arranging activities elsewhere in and around Marrakech. But if you just want to relax, curl up in your room, enjoy their pool or spa and take in the secluded environment while enjoying a delicious homemade meal.
Read More: Marrakech
3 Experiences Not to Miss in Marrakech
We're partial but think that joining a food tour is a fun activity and a great way to learn about a city.
Explore Marrakech in a vintage sidecar – this is such a fun experience! Mention MarocMama when you book and you'll get a special gift too.[
Enjoy a Hammam
There are loads of options in Marrakech. Go with a private or couple experience and then choose budget, luxury spa, or something in between.
Oualidia
Oualidia is located between the cities of El Jadida and Safi on the Atlantic Coast of Morocco. It gained a reputation as a favorite vacation spot of the late King Hassan II of Morocco as well as the current king and several other famous royals from around the world.
People are drawn to the sweeping beaches and small town feel. There isn't a lot "to do" here but if you want to getaway then Oualidia is for you. The lagoon breaks up the rough Atlantic waters and protects the beach areas from large waves. It's also a stop for birds migrating between Europe and further south in Africa making it a prime location to witness this phenomenon.
The fisherman of the city supply other areas of Morocco with some of the best seafood products so you'll want to make sure to indulge while you're here!
Getting to Oualidia
The closest large city to Oualidia is Casablanca to the north. There is limited bus service to this village. The best option to reach the city is to rent a car or hire a driver. You may want to have a car if you plan to visit any of the nearby destinations such as Safi or El Jadida. The drive is relatively easy to make, on the coast and if leaving from the Casablanca airport you won't need to drive through Casablanca proper.
More Information on Oualidia: Planning a Trip to Oualidia Morocco
Where to Stay in Oualidia
Best for a Secluded Honeymoon or Getaway in Oualidia
One of the best luxury hotels in Morocco if you have the option to stay here – do it! The hotel has a spa, good restaurants and a beautiful pool that overlooks the ocean. Enjoy your dinner with beautiful views or book their picnic on the beach for a romantic meal with your loved one. Or you can easily lounge by the pool sipping champagne all day!
Best for an Active Honeymoon or Getaway in Oualidia
A small, family-run hotel in Oualidia that offers relaxation and activity at the same time. You'll be treated with direct beach access if you want to get in the water or enjoy their pool. The hotel offers excursions in Oualidia and elsewhere including the pottery workshops of Safi. Take a fishing boat ride out into the lagoon and then enjoy a seafood lunch back at the hotel or head to the oyster farm for an al fresco meal.
Experiences Not to Miss in Oualidia
Oualidia Oysters
Come for the oysters! One of the few places in the country where they're grown and harvested fresh – a must. Check out Ostrea 2 where they are farmed and served. (no oysters in summer!)
Flamingos!
In the spring and autumn migrating flamingos as well as other birds take a break in the lagoon and make for a beautiful site to see
Enjoy a Sunset
There isn't a lot "to do" in Oulidia but that's ok. Some of the best moments are doing nothing at all, like just watching the sunset.
Tetouan
Tetouan, once the capital of the Spanish protectorate of Morocco from 1913-1956, is a very unique and special place. It feels much more Spanish than just about anywhere else in Morocco.
You're far more likely to hear Spanish on the streets than French and the architecture is distinctly Spanish in style. The nearby area of Tamuda (and Tamouda Bay) is a an important historical city where Roman and Phonecian artifacts have been found. After the Spanish inquisition many Moors and Jews fled Spain and settled here and Tetouan was an important settlement for Sephardic Jews for many years.
Due to these special and unique characteristics Tetouan makes for a wonderful couples getaway. For those who plan to to travel from Spain to Morocco, Tangier is usually the city of choice, however Tetouan offers a completely different experience and is only 45 minutes further. Stay in the city or go to one of the beautiful beach destinations nearby.
Getting to Tetouan
The northern Mediterranean city of Tetouan is a largely undiscovered gem. It is a 45 minute drive from Tangier and yet is not often visited by tourists – but should be! There are buses from Tangier to Tetouan regularly but you may want to rent a car, or hire a driver to reach the city as that is the easiest. It also gives you the freedom to explore the area.
More Information on Tetouan: Tetouan, Morocco is for Art Lovers Lovers
Where to Stay in Tetouan
Best for a Secluded Honeymoon or Getaway in Tetouan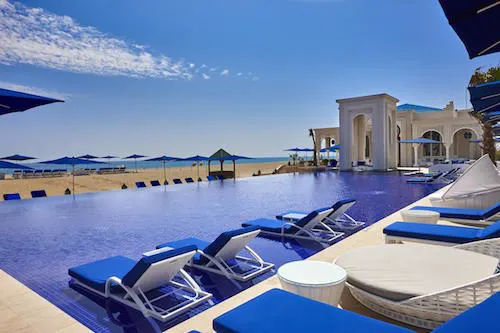 Just outside Tetouan on the Mediterranean Tamouda Bay is this beautiful and secluded hotel. Multiple villas are available based on your desires. Step into their luxurious spa to find a center for relaxation. Four different restaurants are also onsite offering a mixture of Moroccan and international dishes. The hotel is right on the beach so you can take a dip in the water or visit their pool for tamer water. The hotel also offers a variety of unique excursions to consider when you want to get away.
Best for an Active Honeymoon or Getaway in Tetouan
This riad consistently ranks as one of the best in the city. You'll feel the comfort of a home while having the amenities of a hotel and the good fortune of a staff at your disposal to help you plan activities in and around Tetouan. One of the best features is the easy location of the riad. Head towards the old Spanish quarter within a 5 minute walk or through the medina of which the riad sits just beyond one entrance. Their restaurant is also is a favorite among visitors to the city.
3 Experiences Not to Miss in Tetouan
If you love the arts there's no better tour to book than this one. Meet Moroccan artisans and see them at work in Tetouan.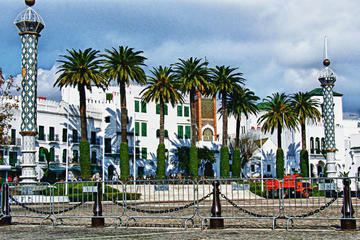 This tour starts in Tangier and includes Tetouan too, so is a good option for both cities. Ask if you would like to start in Tetouan, it may be an option.
Private Day Trip to Chefchaouan
Head to the blue city of Chefchaouan! The best way to do this is by hiring a driver or taxi for the day and exploring on your own.
Related Posts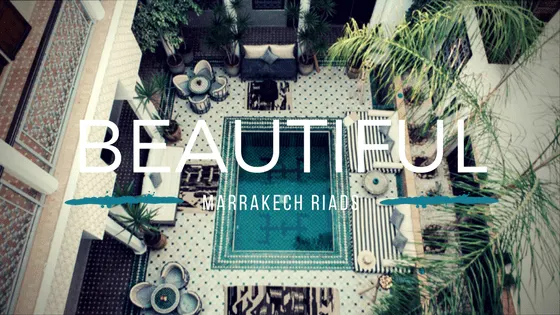 25 of the Best Riads and Hotels in Marrakech for Couples
Choose from one of these beautiful hotels and riads for your Marrakech travel needs.
Discovering the Agadir to Essaouira Coastline
One of the most romantic drives in Marrakech is this stretch on the southern coast of the country.