March is an excellent time to be planning Morocco tours. Temperatures grow warmer during the day, but are generally tolerable in most places. The evenings cool off quickly once the sun goes down, so it is important to be prepared with warmer clothes if you plan on spending much time outdoors after dark.
Spring is a beautiful time of year, and many argue the best time to visit Morocco. Tourist traffic is still pretty light in March, making it a great time to enjoy the amazing sights without the crowds. If you're worried about Morocco travel safety, visiting in lower seasons can help put you at ease with fewer people congesting areas.
You may want to be aware if Easter is early in the year there can be increased tourist traffic in late March around the holiday. Bring your sense of adventure and your camera, and make memories you will treasure for the rest of your life!in a country as amazing as Morocco, there is a feast for the eyes around every corner.
Trees and flowers are budding and greening, and nature lovers will find March to be an enjoyable time to explore the countryside. From rolling hills to majestic mountains, sandy beaches to breathtaking sand dunes – Morocco is a country of exquisite beauty!
Morocco Weather in March
March marks the beginning of springtime in Morocco. The temperature in Morocco in March grow warmer during the day, with average daytime temperatures of 20°C to 24°C, depending on the area of the country you visit. Nights are still chilly, though, with nighttime temperatures dropping to 11°C to 14°C degrees.
The weather can vary a lot from one region to another. While conditions along the coast are usually warm and pleasant, with plenty of sun and little rain, if traveling around the country it is good to be prepared for rain.Remember Marrakech in March will be different than Fez in March – temperatures across the country will vary quite a bit. March tends to be the second rainiest month of the year, with average rainfall of 1.4 inches.
If traveling in the Atlas or Rif Mountains in March, it is still possible to run into snow. A visit to the Sahara desert may surprise you with the extreme difference in daytime and nighttime temperatures. If visiting the desert overnight, be sure to bring blankets, even though days can be quite hot.

What to Wear in Morocco in March
When traveling to Morocco, it is important to remember that daytime and nighttime temperatures can vary a great deal throughout most of the year. Dressing in layers is generally recommended.
The weather begins to warm in March throughout the country, so unless you are traveling into the mountains, you can probably leave your heavy jacket at home by March. But, you will still want to be prepared with long sleeve shirts, light sweaters, and light jackets if you will be out after the sun goes down.
During the day, you are likely to be comfortable in slacks or jeans or even Capri-length pants. Short sleeve or light weight long sleeve shirts are nice to have on during the day (especially one layered over the other). Sunglasses are always a plus – to protect your eyes from the sun, and hats or scarves to protect your head can be nice, too. Keep in mind there's no dress code in Morocco but it's always thoughtful to dress more modestly.
If you plan to visit the mountains, you may still want to consider some thermals or long johns for those cold nights. And packing some warm sleepwear and a robe is always a good idea, too, since many places are not heated and nights can still get pretty cold.
Festivals, Holidays and Celebrations in Morocco in March
Mid-March (dates vary) – International Nomads Festival – Located approximately 98 kms south of Zagora is the small village of M'Hamid El Ghizlane, the home of the International Nomads Festival. The three day festival takes place in March every year, and is a great way to learn all about the nomadic culture in Morocco.
Attend conferences to learn about a variety of things from sculpture to agriculture, and enjoy various forms of art and expression from local, regional, and international artists. There are even some fun competitive sporting events, like camel racing and nomadic hockey!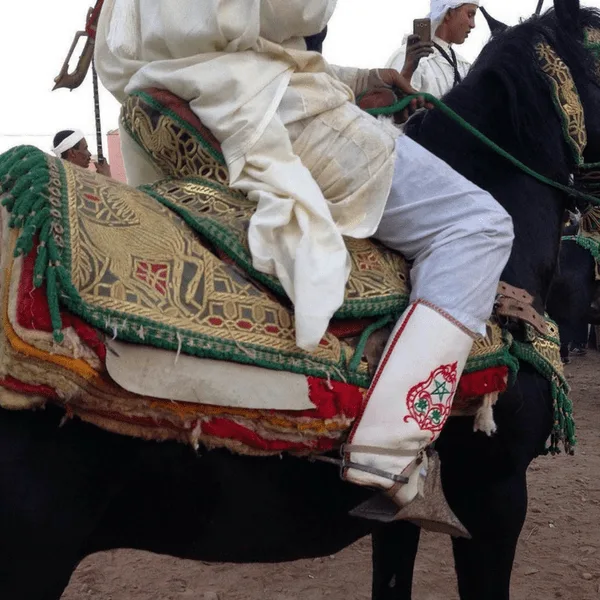 What to Do in Morocco in March
If you are planning a visit to Morocco in March, be sure to come prepared with a variety of clothing. Days can be very hot in many areas of the country, but nights will still be cold, so it is best to be prepared!
If you are looking to enjoy the beauty of the great outdoors, March is a perfect time of the year. Coastal temperatures along the Mediterranean and Atlantic are lovely, and the sun is beckoning. Head inland from the Mediterranean and spend some time hiking in the beautiful green Rif Mountains.
March is still a decent time to visit the Sahara desert, as well, although the daytime temperatures may be hard to take for people who are sensitive to heat.
Morocco is rich in history and beauty. Wherever you land, be sure to spend some time in the local medina where you can enjoy traditional foods and crafts of all varieties. Drink in ancient architecture against a backdrop of snow-capped mountains or watch surfers show off their skills riding the waves.
Take a ride from Casablanca to Marrakesh on the famous Marrakesh Express or stay on the coast and dine on some of the freshest seafood you've ever tasted.
Best Cities to Visit in Morocco in March
M'Hamid El Ghizlane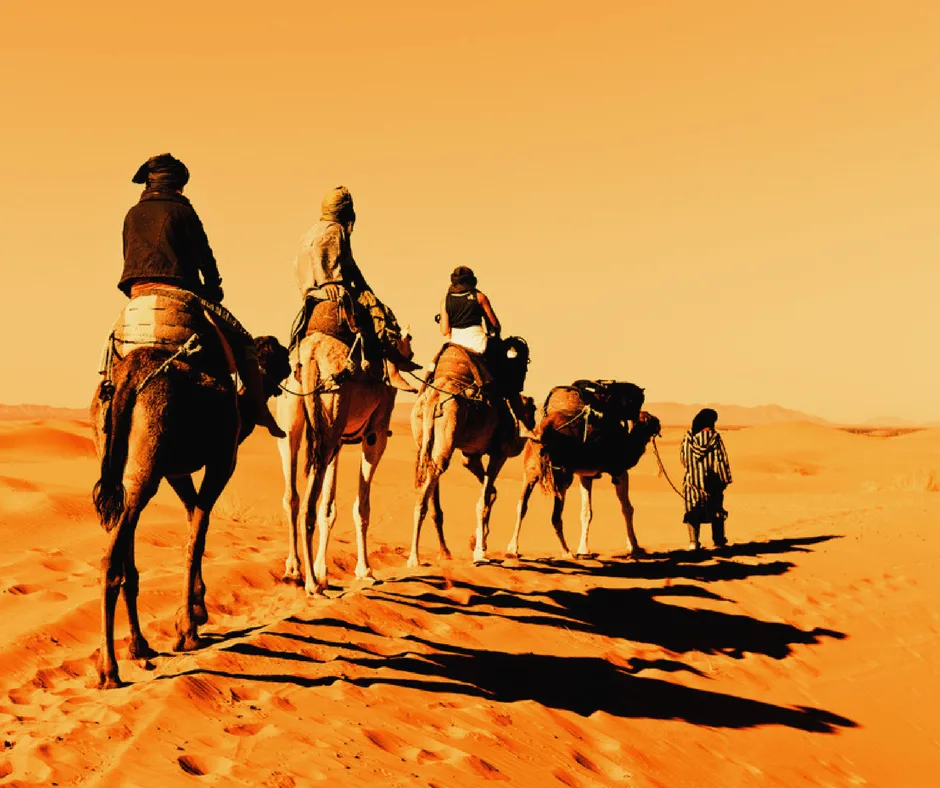 If you have dreamed of exploring the Sahara desert, the small oasis village of M'Hamid El Ghizlane is a great place to start. In Mid-March, M'Hamid is the location for the International Nomads Festival, a three day event celebrating Nomadic culture. M'Hamid is definitely a bit off the beaten path, and has been referred to as the place where civilization ends. Therefore, it is a wonderful place to explore for adventurous travelers!
No trip to M'Hamid El Ghizlane is complete without spending at least one night out in the Sahara desert. There are several tours out of M'Hamid to choose from, with travel options ranging from a three-day camel ride to Erg Ezahar to driving out in a 4×4 vehicle to Erg Chigaga, the largest sand sea in Morocco.
No matter how you get there, spending the night under a blanket of stars in the beautiful Sahara is an experience of a lifetime. Be sure to pack a variety of clothing so you are prepared for the heat of the day – and the cold of the night.
If you are in M'Hamid on a Monday morning, be sure to check out the small Monday Souq. Be sure to go early, however, because this market closes up around noon to beat the heat.
Read More: Visiting the Desert in Morocco
Fez
Located approximately 170 km from the capital city of Rabat, Fez is the oldest surviving medieval city in the world. This ancient city is often referred to as the cultural center of Morocco, so if you are looking to immerse yourself in the richness of history, be sure to consider a visit to Fez.
No visit to Fez would be complete without spending time in the oldest and largest Medina in North Africa, Fes el-Bali. This incredible market is made up of 9,400 winding paths too narrow and full of foot traffic to allow for cars. You will find everything in this market, from mosques and Islamic schools to areas filled with spices and fresh meat.
There is one whole square dedicated to making and selling Smen, a fermented butter used in Moroccan cooking, especially couscous. And the oldest university in the world – University of Al-Karaouine can be found there, too, if you know where to look. It is currently a working Mosque, so you won't be able to see much if you're not a Muslim, but even a brief view of the courtyard is worth the visit.
If you love museums and art, be sure to check out the Dar Batha Museum to see their wonderful collection of iron work, rugs, embroidery, wood carvings and more. The museum itself is also a work of art, as the collection is located in a summer palace from the 19th century!
Read my in-depth guide to visiting Fez!
Tetouan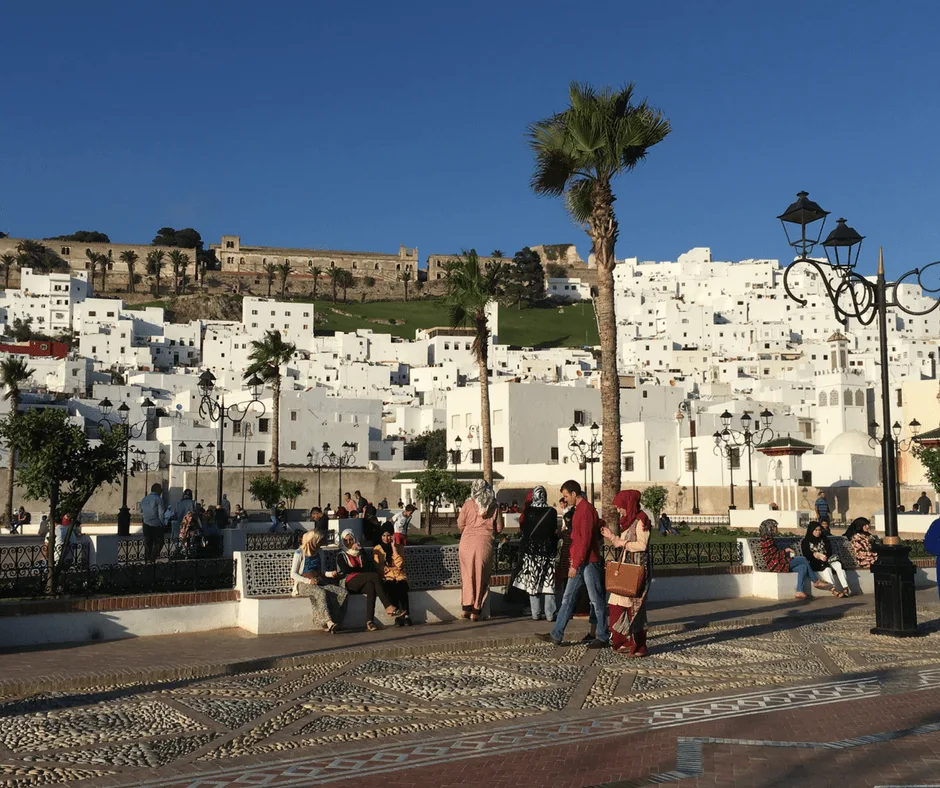 Located a few miles south of the Strait of Gibraltar, Tetouan is one of the two major Moroccan ports on the Mediterranean Sea. This charming city is a must-see for anyone looking to enjoy the beauty of traditional Moroccan architecture and culture. Not far away is one of the most popular Morocco beaches in Martil.
In Tetouan, the exquisite beauty of Moroccan culture can be seen around every corner. But for visitors who want to truly immerse themselves, a visit to the Archaeological Museum of Tetouan is definitely in order. You'll see pottery, prehistoric tools, and more, as well as an amazing library. Don't miss the Roman mosaic "The Three Graces" and be sure to take a language dictionary with you, as the exhibit labels are not in English.
If you want to see one of the most picturesque locations in Morocco, take a day trip to Chefchaouen. This holy city is home to around 20 mosques and sanctuaries and thousands of Muslims make a pilgrimage to Chefchaouen every year. In the medina, buildings are painted blue and white, and the beauty is simply indescribable. Be prepared if you visit, because this village is so charming, you may never want to leave again!
Read More: My Guide to Tetouan
Oujda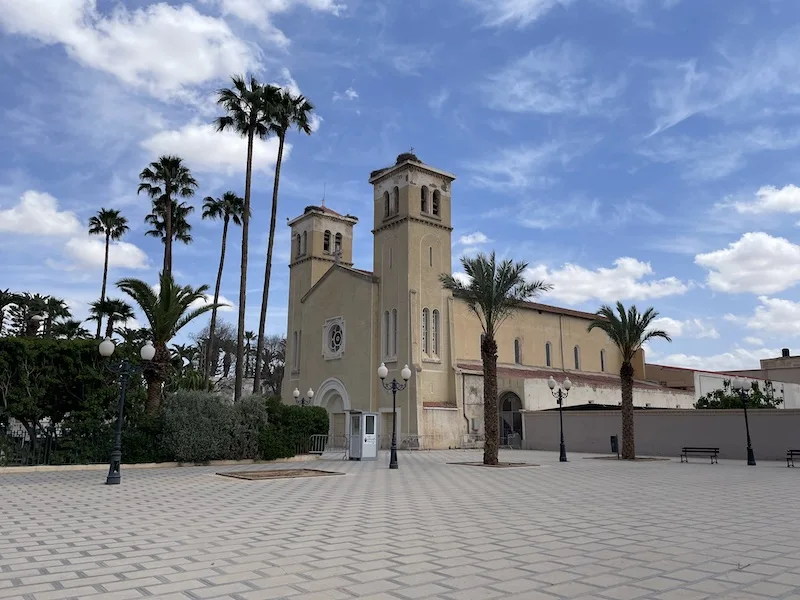 Oujda is the largest city in eastern Morocco and found near the border of Algeria. Once a popular location for tourists, it has fallen off tourist radar in recent years. But there is still much to enjoy about this ancient, yet modern, city.
Take a walk, play tennis, or go horseback riding in the beautiful Parc Lalla Aicha and enjoy the view of gorgeous fountains, trees, and colorful flowerbeds.
Although Oujda's Medina is not very big, it is an amazing place to visit. You'll find some of the most delicious food there, including the olives that Oujda is famous for, so be sure to come hungry!
Read More: All about Oujda Morocco
There is something truly magical about springtime in Morocco. So if you are looking to enjoy that North African sunshine while avoiding heavy tourist traffic, March might just be the ideal time to pay a visit to Morocco!
Other Big Questions People Often Ask
One Week in Morocco Itinerary Ideas
Things to Do in Morocco You Haven't Thought Of