This post may contain affiliate links for suggested items you can purchase. You are not charged any additional cost for purchasing via these links, however by utilizing them you help keep this site running!
Gift-giving is a tradition in Moroccan, and most Islamic cultures. You wouldn't show up at someone's home for dinner without a small gift for the hostess or children. For Eid-al-Fitr, and Eid-al-Adha gifts take on a more celebratory role. In Islamic countries the practice of gift giving during these holidays is largely based on giving children gifts. It makes the event feel festive.
For children who have fasted the entire month of Ramadan (after which we celebrate Eid-al-Fitr) this is a token, a reward for their hard work and sacrifices. I have to admit it's just in recent years that we've started to make the celebration of Eids more of a "big deal" by inviting family over and having small gifts for the kids. Since we are moving in two weeks, my sister has invited us (she's not Muslim by the way) to her house for Eid dinner.
Accessorize your loved one's hijab with unique and custom made hijab pins and sets by Afsana of PinsandPearls. Her designs fit every budget and the styles work with so many color schemes! Know someone who loves to travel? She also makes Hijab pin traveling tins
PearlAmourJewels sells some seriously pretty pieces! Described as simple, dainty, modern, everyday jewelry, you will find some incredibly affordable options in this shop! I personally love the leaf drop earrings – they can be dressed up or down depending on your mood.
As a writer, paper goods are always a favorite of mine to give as gifts. You can't go wrong with a beautiful new journal for anyone in your life! Stori Dori creates beautiful leather bound customer journals that are amazing quality. I have one that I love.
Simply looking for the perfect Eid card set? Aimee creates really lovely handmade cards that are simple and stylish. Choose from any of the items in stock or email her to create a custom order.
Snap up some of these cute Eid money holders for when it's time to distribute the money gifts. They come in 12 packs so make sure you get enough for everyone.
Amnah of Little Life of Mine has created these Prophetic Canvas' that make for a meaningful and modern touch for any home. I've seen them up close and personal and they're a great piece of wall art. You can choose multiple colors to match any home decor.
Perhaps one of my favorite art techniques in use, HartsHennaArtistry brings the elegance of henna to your home with products adorned in the intricate styling. Candles, mason jars, pillows and dishes to spruce up anyone's home. Know someone expecting!? Even adorable onesies are available.
Decals liven up any room without hassle. Fawzia of Simply Impressions has a collection of wall decals that will bring festivity to your Eid celebration or, should you opt, a more permanent change in wall decor in lieu of repainting.
Shaheda of shahedaoprints makes some seriously cool laser cut artwork out of wood. Her work is high quality and unique. I think anyone would like these pieces but especially if you have a hard to shop for man on your list. h
Customized paintings and mixed media artwork pieces are the specialty of InspireDeen. A variety of sizes are available for commissioned art pieces along with a gallery of already existing pieces. I adore these Arabic baby blankets which are perfect for new parents and their little one at Eid!
Zed&Q, a business based in Brisbane, owned by a husband and wife duo, sells inspirational Islamic products. Simple, modest and creative, your family is sure to love the decor (plaques, prints) and accessories (keyrings, magnets, etc) created by this team. I especially love the kids art!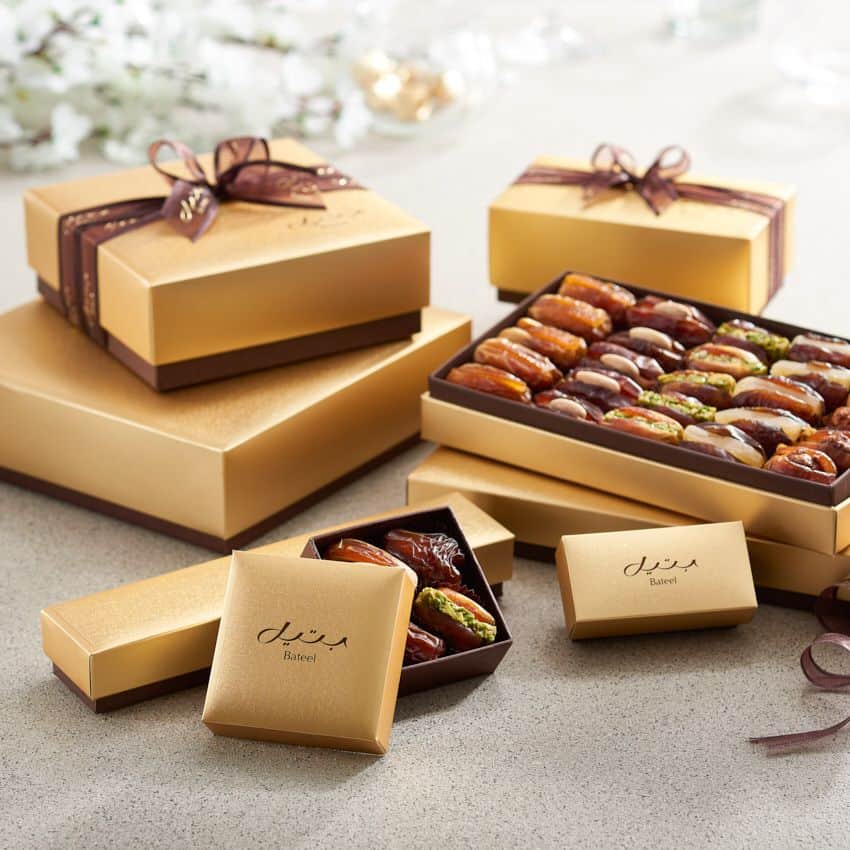 If you're looking for a slightly more traditional gift that comes ready to give consider one of the gift sets for Eid al Adha from Bateel. There are several different options but this date gift box comes in different sizes and offerings.
Treat your friends and relatives to artisan soaps, lip balms, lotions, oils and more. My friend Sobia of TheOliveTreeSoapCo creates these luxurious products without the use of harsh chemicals, additives or preservatives! Don't forget the Hair and Beard Wash, Beard Oil and the Alchemist Soaps for the men in your life.
Clothing Gifts
Maryum of Yarncoture has designed some of the most intricate yarn accessories and clothing I've seen. Fashionable, wearable and reasonably priced, you can find something for anyone on your list in her shop! I love the sport caps for men and the barefoot sandals for women – just gorgeous!
If you've got a young person in your life than these shirts make really cute gifts. I love the little design and they'll also be fun to wear after taking off all their nice Eid clothes! Jasmine and Marigold Eid Mubarak Sheep Cute Funny Gift T-Shirt
Haute Hijab has some of the best hijabs I've ever purchased and they make really great Eid gifts for women. If you've never ordered from them you can get $10 off your first order when you use this link. You'll want more than one!
Eid Gift Ideas for Kids
A fun way to get your kids involved in the holiday is with an activity box. This Eid Box from ilmKidsPlace is full of items to help kids celebrate, learn about Eid, prepare for the day and learn to give.
I can't leave books off the list of paper goods that make excellent gifts! The creative Emma Apple, author and illustrator, has a wonderful Children's First Questions series for the little ones on your list which includes the books How Big is Allah and How Does Allah Look.
Another great shop for little readers is Read Little Muslims. The collection is full of fun stories from around the world for children of all ages. I can relate to the story of Amira's Totally Chocolate World – taking place on Eid ul-Fitr, it's a book with an important lesson for all, and lots of chocolate!
I can't help but add one more children's book to this list – reading is such an important part of education! The story of Lailah's Lunchbox is a wonderful tale about living life in a new country while keeping family traditions alive.
My friend Amnah of, Little Life of Mine is kind of genius when it comes to her Eid gift bags. I wish she was my auntie! In this post she talks about some of the bags she has made for family members and her thought process as she puts them together.
Do community members at your masjid hand-out treats to the kids on the Eid? In some communities this is very common. It reminds me of large family gatherings in Morocco for Eid when everyone brings something for the children of the family. Saira at Confessions of a Muslim Momaholic helps her kids make their own bags before Eid. Then before the service they fill them with items that will keep them busy during prayers. Afterwards they have a bag to take home their goodies too!
Be a part of the MarocMama family!
Do you want access to all things MarocMama? Join our community of readers to get updates on new posts, inside information that won't go on the blog and so much more!
Sound good? Pop your email below and you're in!