Gift boxes are a lovely way to say, "I was thinking about you!" They also cover a little extra territory if you just aren't exactly sure what to get someone. Either way, who wouldn't love to get a box full of goodies! Gift boxes are also fun to make. Here are my Eid gift box ideas to give to the special people in your life. If you want even more Eid gift ideas I've got plenty.
As you're getting started, consider these three things first.
The Container
Notice I didn't say "gift basket" because these don't have to be presented in a basket, they can easily go in another type of container. The container can be a great part of the gift. Consider a lovely serving bowl for a foodie gift box or garden pot for a garden-themed gift box.
The Theme
You can absolutely put together a box of unrelated things you know your recipient will love. That approach works great for someone you know well. For those people you may not know quite as well you can use a theme, such as their hobby, current life stage or life needs to pull the box together.
The Scope
A gift box could be super-packed full or it can be a select few items arranged nicely. A good gift box has a balance of contents. A good rule of thumb is to have one large item, a few medium items and then several small items. You can put together a nice gift box for around $10-$15 for an acquaintance or child, but $25 to $70 is more likely for a friend, family or family member.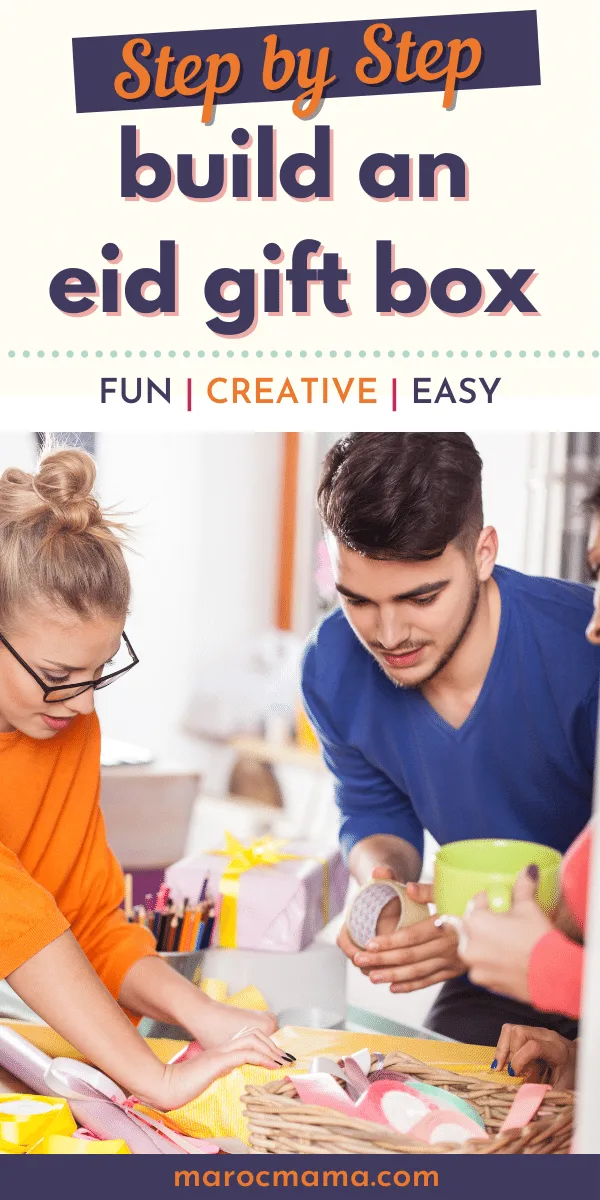 Here are a few themed gift boxes that would be nice for Eid. I wouldn't get all the things listed in each theme, but have included multiple suggestions to help inspire you to hand pick the best gift box items for your recipient.
Gift Box for a Creative Writer Friend
I have plenty of friends who are writers or wanna-bes, so this is the kind of thing I would do for one of them.
Great book on writing. Writing Down the Bones by Natalie Goldberg or On Writing by Stephen King are must-haves and will go nicely at the back of the "box." You could swap these titles for some other creativity theme, such as beautiful books on design, drawing, jewelry making, etc.

Some inspiration. A little book of writing prompts or exercises is perfect for writers' block. There are also games and other cute ways to get the juices flowing. Similarly, there are mini kits or how-to-books you could get for other arts and crafts.

Tools. I would get my friend a nice lined notebook and a set of good writing pens.
Here are some beautiful pens (like these, or these), irresistible to not use. And these have some extra motivation. Moleskins are truly the classic writer's journals. This lemon green one is so inviting. And their limited edition line always has something beautiful in it.
These Bismillah Journals from ModernEid are also adorable!
Cute stuff. This is the classic writer's threat cutely placed on a much-needed coffee mug. Or get your friend some sweet inspiration like this wall hanging or this t-shirt.

Snacks. What makes a gift box even better? I always make sure they have some sort of snack. Coffee and tea are writer's fuel. My writing friend will get one or the other depending on their caffeine preference. These single cup pour over coffees are a great option and this Numi tea variety pack is perfect for tea lovers.

Container. I'm in love with this Rose Gold desk organizer. It's perfect for keeping writing books, journals, notes, pens and other little bits. This Wooden organizer is also beautiful. For something simpler, this Document Storage box says to your friend, 'Put your manuscript here.'
Fun Family Gift Box
I've been thinking about what would be a great gift for a great family. This Family Gift Box is it and will make for lots of family fun.
Game Night. Family game night needs to be a thing for everyone. Here are some unique choices to encourage family-friendly play. Kids love darts, parents hate the flying sharp objects: fortunately, magnetic darts are now a thing. Beat That! – The Bonkers Battle of Wacky Challenges gives kids a fighting chance playing with adults. Kids Against Maturity is kind of like that similarly-named game, but you can actually play this one. Our absolute favorite family card game is Sushi Go – we started playing when the kids were around 6 so it's good for all ages!
Kitchen Fun. Great snacks are always needed on game nights and these are fun to make together too. Why not pop in a popcorn kit. Or go with a continuous gift like this vegan snack box that shows up monthly. Or this baking box where you get everything you need to make two Pinterest perfect desserts a month.
Container. For this gift box, I like the idea of bundling it all up in a traditional picnic blanket with the pretty print on the outside.
Ultimate Wellness Gift Box
I give lots of food as gifts. Currently, I have in mind a special foodie box to encourage someone to take better care of themself. Here's how I would do it.
Motivation. There are A LOT of books and tools to encourage better selfcare. Here are some of the best recommended and most enjoyable ones:
A Year of Positive Thinking: Daily Inspiration, Wisdom, and Courage
The Wellness Universe Guide to Complete Self-Care: 25 Tools for Stress Relief
The Feel Good Effect: Reclaim Your Wellness by Finding Small Shifts that Create Big Change
The Bounty of Allah: Daily Reflections from the Qur'an and Islamic Tradition is the only daily reflections book I have seen for Muslims and is great.
These card sets may be a more accessible way for busy people to squeeze in more wellness:
Everyday Peace Cards: 108 Mindfulness Meditations
Stress Less Cards – 50 Mindfulness & Meditation Exercises – Helps Relieve Stress and Anxiety
Yumminess. This is kind of a foodie gift box, so I'm going to include some healthy and health-inspiring items.
Hey Girl! Not just for girls, it's a lovely Immunity Boost tea.
The classic Yogi stress relief collection is also a yummy choice.
These Hydration Packets come in so handy.
Dark Chocolate is all about feeling good and being good to yourself. We have these Dark Chocolate Balls or these Dark Chocolate and Hemp bites to throw in the gift box. https://www.amazon.com/Luke-Healthy-Snacks-Packs-Balls/dp/B07N78VM2K/
Nuts are another important superfood and the Sahale snack line is a ridiculously good addiction to encourage.
Good Feelings. What kind of stuff can bring on good feelings for you? For me and this recipient…
Skin care! This is a cute assortment of masks to "Hydrate, Brighten, Soothe, Revitalize, Nourish, Purify Skin" – perfect trial, feel-good set.
Aromatherapy! There are so many options to choose from. Chesapeake Bay Candle has a big series of stress relief candles. I would likely go with the Peace and Tranquility or Joy and Laughter.
Anjou's four-fragrance gift pack is also lovely.
Is your friend too stressed to waste time soaking in the tub? Shower Steamers are almost as good as bath bombs.
These get mocked a bit, but are very effective and relaxing. Include an Aromatherapy Eye Pillow in your wellness gift box.
Container. I thought a lot about this one. What matches the idea of, "Please take good care of yourself"?
A Hot/Cold Pitcher to brew up all that tea and encourage hydration. Everything should fit in this one.
Or how about a sturdy tote or fabric picnic basket to encourage more time in nature. This can be used for other outings too, like yoga classes and going to farmers markets.