Gift-giving is a tradition in Moroccan, and most Islamic cultures. You wouldn't show up at someone's home for dinner without a small gift for the hostess or children.  For Eid-al-Fitr, and Eid-al-Adha gifts take on a more celebratory role.  In Islamic countries the practice of gift giving during these holidays is largely based on giving children gifts.  It makes the event feel festive.  For children who have fasted the entire month of Ramadan (after which we celebrate Eid-al-Fitr) this is a token, a reward for their hard work and sacrifices. I have to admit it's just in recent years that we've started to make the celebration of Eids more of a "big deal" by inviting family over and having small gifts for the kids. Since we are moving in two weeks, my sister has invited us (she's not Muslim by the way) to her house for Eid dinner.
Creative Eid Gift Ideas
If you're hoping to celebrate in a bigger way this year here are some ideas from other bloggers to pique your interest;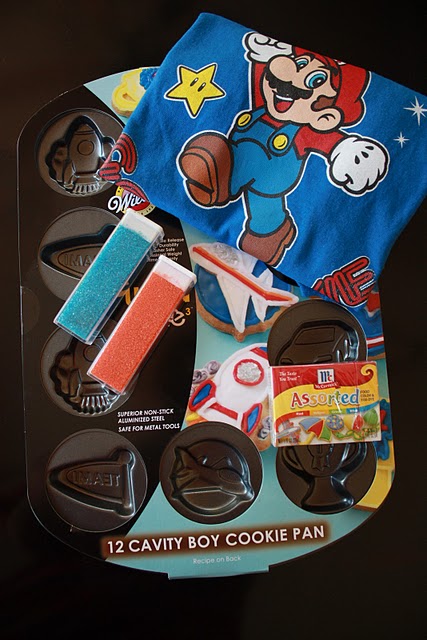 My friend Amnah of, Little Life of Mine is kind of genius when it comes to her Eid gift bags.  I wish she was my auntie!  In this post she talks about some of the bags she has made for family members and her thought process as she puts them together.
If you're like me then you could be at a complete loss as to what to get for older nieces and nephews that you have potentially spent quite a bit of time away from.  Amnah also faced this situation and opted for a sit down interview (ok not that serious!) with the kids to get a feel for what they like, and what they really weren't into.  When in doubt – ask!  I think this point is especially true for older kids with specific tastes.
Do community members at your masjid hand-out treats to the kids on the Eid?  In some communities this is very common.  It reminds me of large family gatherings in Morocco for Eid when everyone brings something for the children of the family. Saira at Confessions of a Muslim Momaholic helps her kids make their own bags before Eid.  Then before the service they fill them with items that will keep them busy during prayers.  Afterwards they have a bag to take home their goodies too!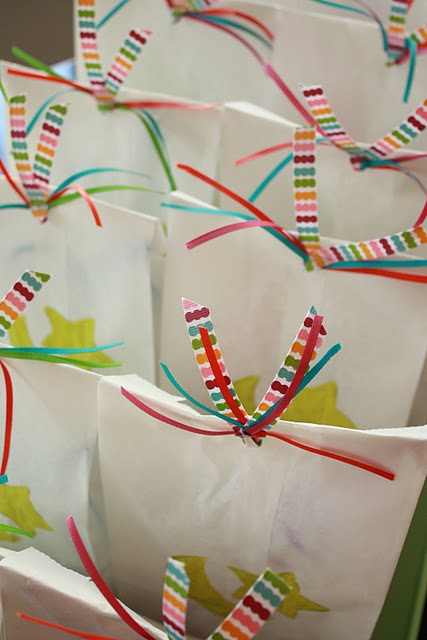 If your community doesn't hand out treats for the kids wouldn't that be a great tradition to start? Amnah has some really great, low-cost ideas to create gift bags en masse. You could tailor the contents for older kids and younger kids, but I'm sure that kids of any age would love to discover something special waiting for them on Eid.
It's a craft and a gift rolled into one!  Samantha at Life of a Mompreneur makes these fun chocolate lollipops and then wraps them in cello.  They can then be passed out as an Eid treat – just be sure to eat them first so they don't melt! These might be a little fussy for a very small child to make but a great project for a 8+ year old to try with guidance.
Eid can take on a flavor of commercialsim too – just like any other holiday.  But, there are many ways to have a sustainable and holisitic holiday. Priscilla of Salam Mama has so many great suggestions such as; having a Mealess Monday (or other day) throughout the year, using leftover dates in creative ways, extend the Ramadan spirit of giving throughout the year, opt for gifting "green" gifts and spreading the love.  Her post contains some really fabulous ideas for a green Eid!
A Crafty Arab shares these great printables for Eid decorations.  There are some that could be used for home decorating and others for specializing treat bags or table decorations.
Food Gift Ideas
Ma'amoul – These cookies are popular in Ramadan too, but especially during Eid. In the Middle East there are special molds used to make these cookies but you can use shaped petit four pans to create unique shapes and designs. Life of a Mompreneur shares her easy recipe to create ma'amoul in an American stocked kitchen.
Checkerboard Cookies are some of my favorite.  I just love multi-colored cookies. I think these are a fun addition to any cookie plate.  Chef in Disguise has this recipe on her website.
Want to have a special breakfast treat either at the masjid or to send home with kids?  What about a breakfast pizza?  Summer Eid's a great time to do this.  Simply bake the crusts and provide the frosting in a small container, and fruit in another.  This recipe from Chocolate Covered Katie will get you started.
Sheep Cake Pops.  Bakerella makes an adorable sheep cake pop.  You might want to save them for Eid al Adha but really is there any wrong time to make a sheep on a stick? No I didn't think so.
Gift Ideas for Adults
Sometimes it's all about the kids and adults get left out.  Especially for those of a "transitioning" age – say 17-22ish I think giving gifts is still applicable.  Really being generous to everyone is always appreciated.  Some ideas might include;
Hand painted tile coasters – awesome for a dorm or apartment. You can never have too many coasters.
Homemade Granola – Granola is so easy to make and almost everyone enjoys it.  You can inexpensively make a very large batch and divide it up.
Cookbooks!  For the new wife, or for someone who might be moving into their first apartment cookbooks can be a lifesaver.  I recently received a copy of Relish, by Daphne Oz. I was surprised with the layout of the book.  While it certainly has recipes (great recipes I might add!) it also has life sections. I really consider it a home ec course in a much more attractive and readable form.  She provides self-care tips, entertaining advice, and even some basic sewing tips.  I was really confused at first, but the more I looked at the book the more I realized this would be THE perfect book to give to a young adult, and/or newlywed bride.
I also want to highly recommend visiting the Creative Muslim Women site and searching through the products there. I'm so honored to belong to this collection of amazing and inspiring Muslim women and know you'll love the products listed.
Some more to consider:
How Big is Allah – a kids book from Emma Apple
Ilm Kids Place – this is an Islamic subscription box service for kids! You can order one box or get a longer subscription.
Zed & Q – Modern Islamic Prints – I really love this decor which fits my style!
Saleha – This art and design company has some seriously gorgeous paintings I would LOVE in my home.
Will you be gifting anything special this year?  Share your ideas in the comments below!  
Be a part of the MarocMama family!
Do you want the inside info? When you sign up I'll send you bi-weekly personal updates and information.
Get the info that won't be on the blog!