I'd be lying if I didn't tell you I am a little nervous posting this recipe. You see, until this weekend I never realized the level of reverence Moroccans have for couscous. It's the "national dish" of Morocco and in a recent Twitter conversation I was shocked to discover Moroccans take offense to the term "Israeli couscous".
To me it's semantics but apparently not so – the crux of the argument was that there is no such thing as any couscous other than the Moroccan version and anyone that says otherwise is trying to steal a part of Moroccan culture. I think this is a hard concept for an American whose culture is influenced by hundreds of different ethnic and cultural groups that call my country home.
So maybe you can see why I am a little nervous to share a breakfast couscous. I'll just disclaim this: This is not a traditional Moroccan couscous, nor something anyone in Morocco would probably make. Heck I didn't even steam the couscous I used the instant version. But guess what, it's good. It's really good. I've never liked breakfast preferring to eat a bowl of pasta before grabbing an egg or cereal. This was perfect for me.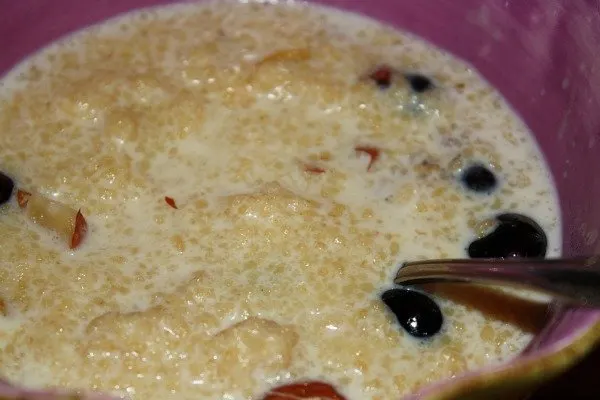 Ingredients
1c of quick cooking couscous
3-4 dates chopped
blueberries or other seasonal fruit
almonds chopped
1/2 c heavy cream
1/4c milk (whatever you have)
1 tsp brown sugar
Directions
Cook couscous according to package directions. When cooked, add the cream and milk slowly leaving the burner on low heat. Make sure to stir while adding the milk to separate the couscous grains. Once all of the milk is combined, add in the brown sugar, dates, almonds and blueberries. You can certainly add more or less of any of the items depending on your taste and wants. This is best eaten hot.