Want to kick your couscous game up a notch? Then you should make this couscous tfaya recipe! Tfaya is a mixture of slow cooked onions with raisins and some spices that creates a sweet/savory flavor to add to couscous.
There's no specific couscous that this goes with – you can make it for any type but I especially like it with lamb couscous. I feel like the flavors work together and lamb + something a bit sweet just works.
Sometimes people refer to this as Moroccan couscous with raisins which isn't inaccurate. While raisins are used you could substitute just about any dried fruit. Consider diced up dry apricots or prunes. The flavor will of course be a bit different but with the same effect.
Need a base couscous recipe to pair the tfaya with? Click the link to find all of my couscous recipes.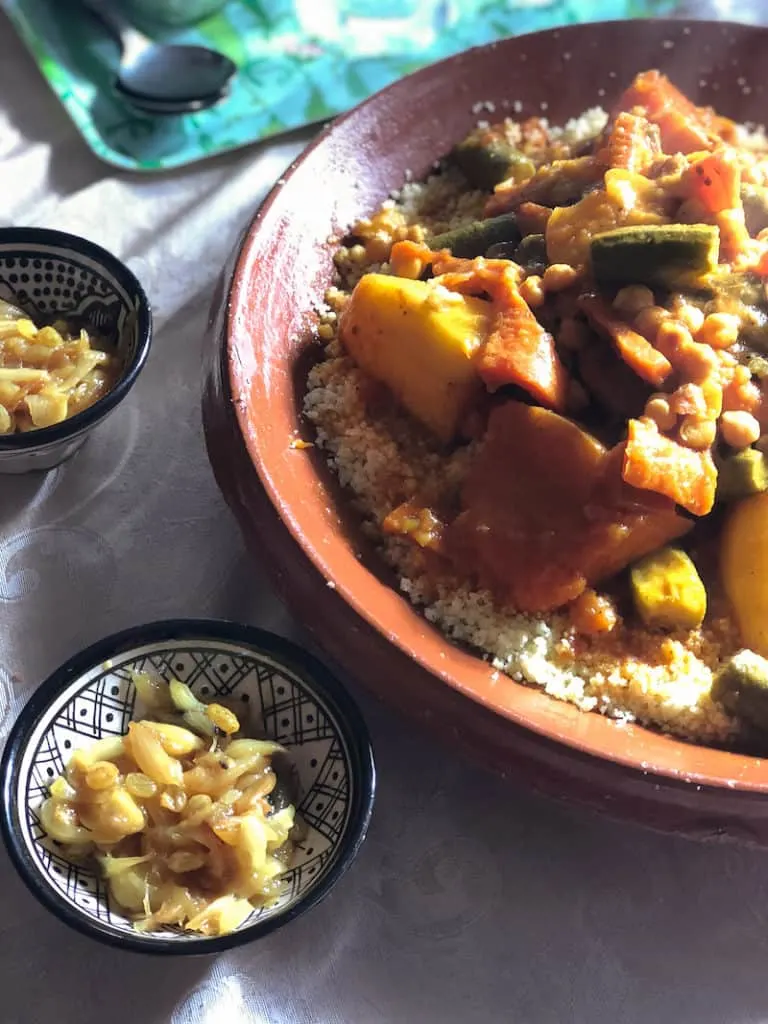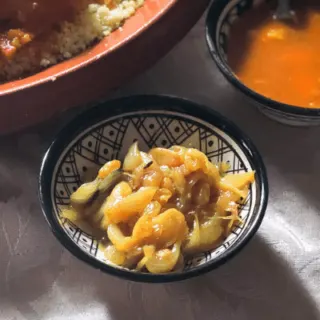 Yield:

4-6 servings
Tfaya Topping for Couscous
Cook Time:
45 minutes
30 seconds
Total Time:
55 minutes
30 seconds
A spiced onion and raisin topping for couscous. A little time and good ingredients is all you need to create this.
Ingredients
8-10 medium onions sliced thinly
1 cup raisins (yellow work best)
1 cinnamon stick broke into several pieces
1 tsp ginger
1/2 tsp turmeric
1/2 tsp salt
2 Tbsp sugar
4 Tbsp vegetable or unflavored oil
Instructions
Clean and slice onions into similar size strips. I cut the onion in half and then slice 1/2 circle slices.
In a non-stick pan heat the oil to medium and add the onions to begin cooking.
While the onions cook place the raisins in a bowl with just enough warm water to cover them to slightly rehydrate them.
When the onions have started to soften, reduce the heat and add the spices; salt, turmeric, ginger and cinnamon.
Continue cooking on low heat so that the onions get very soft and begin to caramelize slightly.
After 20 minutes add the sugar (it can be reduced based on personal tastes) and the raisins.
Cook an additional 10-15 minutes for the flavors to blend together and the raisins to soften as well.
Remove from the heat and serve either on top of the couscous or next to the couscous for guests to add as they would like.