Whenever I tell someone MarocBaba is Moroccan, the conversation almost always ends up on couscous. Even for people who have little knowledge about the country they know this dish.
It's one of my favorite dishes (especially vegetable couscous) too but not so for MarocBaba. He never really liked it growing up and since he has been diagnosed with celiac disease he couldn't eat it. I've seen a lot of swaps for the traditional grains. Large balls, sometimes called Israeli couscous, rice, corn grits and now there's one more option – rice couscous!
I thought it was too good to be true but Lundberg Farms has a rice couscous! (They really have a lot of different flavors but I'm partial to the straight no-flavor kind).
Most couscous sold in US supermarkets is marketed as instant. All you have to do is boil it in some water and let it steam for 5-10 minutes and voila you have couscous. This is not the Moroccan way. If you're in a bind, that way works but if you really want fluffy delicious couscous grains the traditional way is the only way.
I wasn't sure how this rice couscous was going to hold up to traditional steaming methods but I was very happy with the results! The best part – MarocBaba loved it AND he thought it was real couscous. He was so sure it was real couscous I had to show him the box to prove it was made from rice. There were very few leftovers from this meal.
Lamb and Vegetable Rice Couscous
Ingredients
1 box Rice Couscous
salt water (plenty)
1/2 - 1 lb of lamb - any cut works
1 zucchini
2 carrots
2 parsnips
1 tomato
1 serano pepper
1 potato
1 sweet potato
1 can of chickpeas
1/2 squash (your choice butternut or acorn work best)
1 medium onion diced finely
2 tsp cumin
1 tsp salt
1 tsp pepper
1 tsp ginger (fresh if you have it)
1 1/2 tsp garlic
small bunch of flat-leaf parsley, wrapped in twine
water or vegetable broth
Instructions
I use a couscousierre to make this dish. The directions will be written for this cooking method.
Peel and quarter all of your vegetables. You can leave the skin on the zucchini and squash if you like.
In the bottom of the couscousierre, add the lamb, potato, sweet potato, carrots, parsnips, tomato, serano pepper, squash and onion.
Add enough liquid (water or broth) to cover the vegetables.
Mix in all of the spices, and drop in the parsley bouquet.
Turn the stove on medium high heat until it boils, and then reduce the heat to medium-low.
Before steaming the couscous for the first time, spread the grains out in a large bowl and add 1/4 to 1/2 cup of salt water. Separate the grains with your fingers as much as possible. You may need to add more water, they really should be quite damp but not dripping liquid.
Transfer the couscous to the top of the couscousierre and turn the stove temperature to high. Cover the top of the pot with a lid and leave alone for about 20 minutes.
After 20 minutes, check the grains. If they feel dry then remove and pour back into the bowl you originally used. Add more of the salt water and continue the process the same way you did the first time, taking care to separate the grains as much as possible.
Just as with traditional couscous you will steam and wet the grains 3 times.
Before the third steaming, add the zucchini and chickpeas to the bottom. At this time check the liquid levels and add more if it is getting low.
When the final steaming is complete, remove the top of the couscousierre and dump the grains onto a large serving plate. Separate the grains as much as possible.
Use a large slotted spoon to remove the meat and vegetables and arrange on top of the couscous.
Pour 1/2 of the remaining liquid over the top of the dish.
Place the remaining liquid into smaller bowls so that those eating can add extra liquid to their liking.
Serve with large spoons for eating!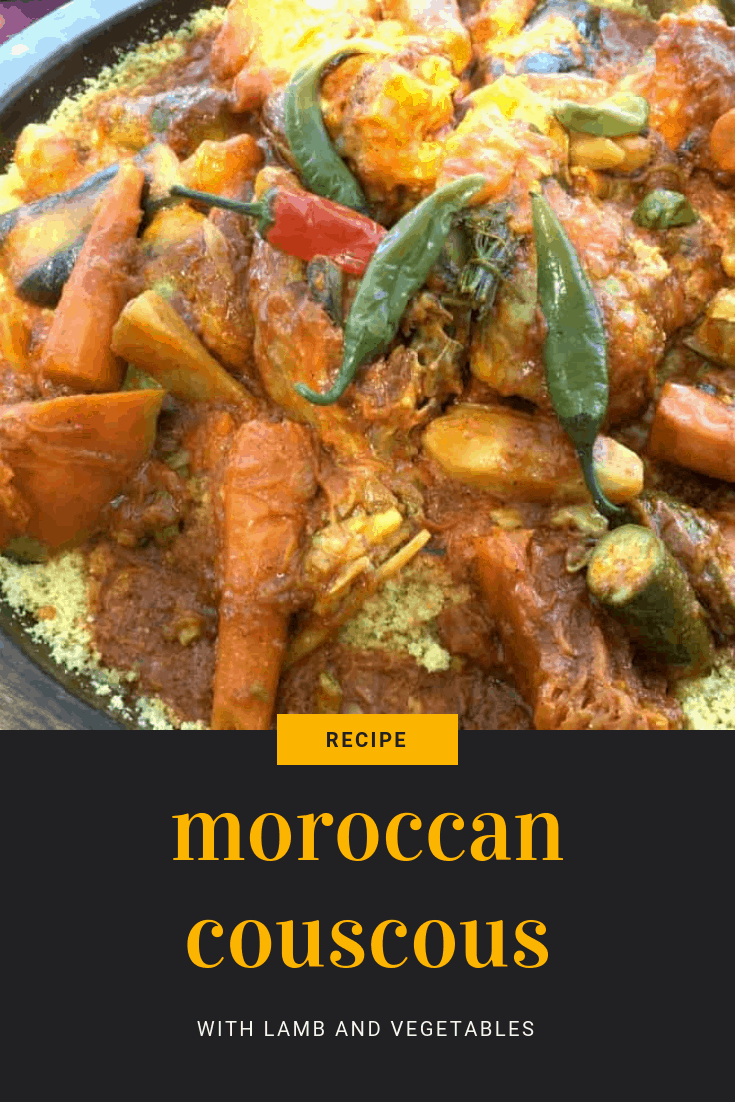 If you're interested in trying another couscous recipe I've got a page for that! Find more recipes as well as how to prepare it the Moroccan way.