A few weeks ago M and I had the opportunity to visit Dar Les Cigognes in Marrakech and do a private cooking class. We make and eat Moroccan food regularly but were very excited to choose our own menu, make it with the help of the very experienced Moroccan cooks, and of course eat it! Dar Les Cigognes offers private cooking classes for small to medium sized groups and everything is completely customizable – a great perk for those with food allergies during a visit to Marrakech. We met promptly at 10am, decided on our menu, and set off to visit the local bread oven, market, and spice shops.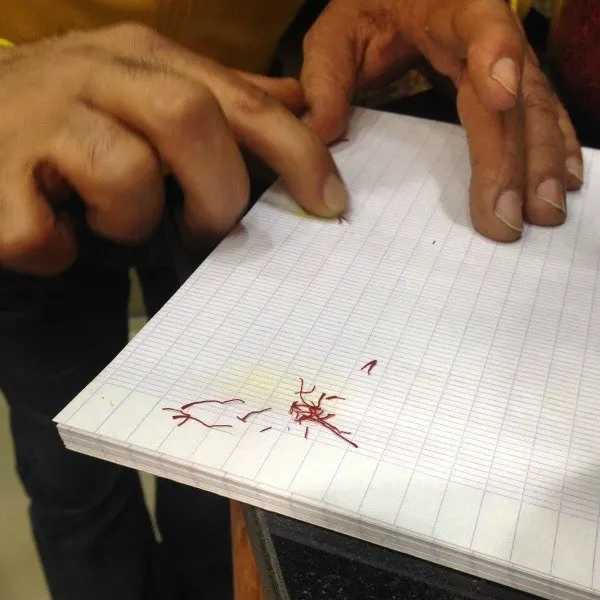 While this wasn't all new to us as we live in Marrakech and are a part of the daily way of life, we both commented that it would be a lot of fun for visitors to get to see all of these life basics that make our life here different than anywhere else. When we stopped at the spice market in the mellah, we learned a fun trick about saffron. Many places will try to pass off bad saffron as authentic but there's a way to tell. Rub a few threads into a piece of paper with a little bit of saliva. If it barely makes a color or just a light yellow (like above), it's not good. The color should be much brighter.
Once we made our way back it was time to start cooking! M was set up with one of the kitchen ladies to make cookies while I started on handmade couscous (from scratch!) and a chicken tajine.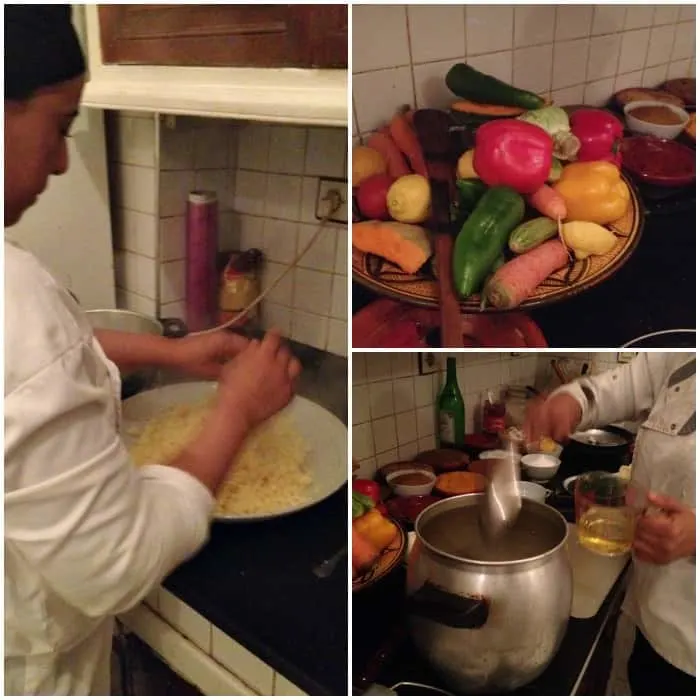 I have made couscous but I have never made the actual couscous grains from scratch. I always thought it was incredibly time consuming and difficult but I was proven wrong. To start we cut up all of the vegetables and began to prepare the broth. Then it was time to make the grains of couscous. How do you do it? I'll share the recipe at the end of this post! When you make couscous you need to meter when you add your vegetables. Hard, root vegetables go in first along with meat and then additional vegetables are added depending on how soft they are and how long they need to cook.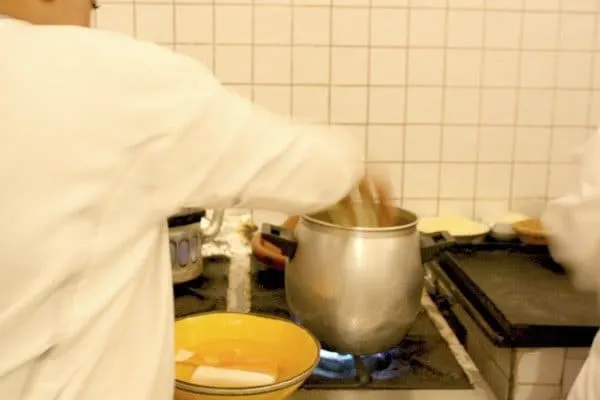 One of the things most people are amazed to find out is that Moroccan couscous does not take 10 minutes to make. A common misconception when the only relationship many people have with couscous is the instant variety. Dry, packaged couscous in Morocco can take up to 2 hours to make. The soft, homemade variety we made took about 45 minutes from start to finish. The result – I've never eaten better couscous and trust me I have eaten a lot of couscous!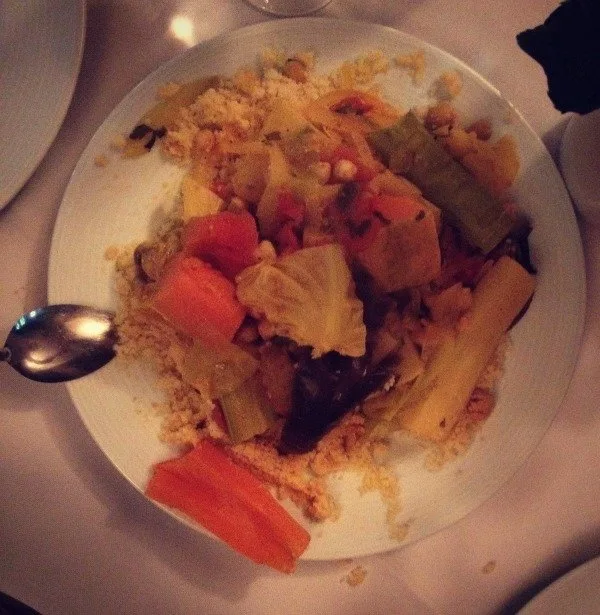 Homemade Couscous
**Note: To make Moroccan couscous you need a couscousier – it's really not possible to make it any other way. They can be purchased on Amazon or found in most Arabic grocery stores.
Couscous Grains
2 – 3 cups semolina flour
small bowl of flour
water
Couscous Toppings
mixture of vegetables; carrots, parsnips, turnips, cabbage, chickpeas, peas, squash, eggplant, zucchini (any vegetable works!) plus one tomato
1 onion chopped finely
small bunch of cilantro and Italian parsley mixed and tied together in a bundle
1/4 cup vegetable oil
1 teaspoon salt
1 teaspoon pepper
1 1/2 tsp ginger
1/2 tsp turmeric
1 pepper (anaheim or jalapeno) – optional
Directions
To make the couscous grains
Start with spreading out the semolina flour in a large, flat bowl. Add a small handful of flour and mix together. Slowly add a bit of water, start with 1/4 cup and use your hands to mix it into the grains. Rub your hands back and forth to combine everything but create small grains similar to sand. You may need to add a little more water. Continue to add water and flour while rubbing until you have a plate full of grains similar to very tiny pebbles. Set aside.
To make the broth and vegetables
Peel and prep vegetables before starting. Remove all exterior skin, and cut into similar size shapes, usually they are quartered. Add vegetable oil to the bottom of the couscousier along with the onions and cook until softened. Next, add 6 – 8 cups of hot water along with all spices. (Trick: Start a pot with boiling water while you prepare the vegetables. When it's time to add water you'll have water that's already hot instead of having to wait for it to warm up!)
Place the top of the couscousier on the pot and add the damp couscous into the top portion. While the vegetables and broth on the bottom are boiling, the couscous on top is cooking and will begin to dry. After 10-12 minutes when the grains are nearly dry, remove from the heat (but leave the vegetables cooking) and spread out onto the large bowl again. Slowly add more water and use your fingers, yes it will be hot, to separate the grains. Do this until the grains are saturated with water but not dripping wet.
Add medium hard vegetables to the broth, and the couscous back to the top. Steam another 10-12 minutes and repeat the process; adding the remaining soft vegetables to the pot and a final steaming.
It's best to serve immediately but if you need to keep the couscous warm, place the top onto the top steamer portion and set aside. To serve place the couscous on the bottom of a large, flat dish. Then arrange the vegetables. Usually this is done by alternating them in a circle around the couscous (carrot, parsnip, squash, carrot, parsnip, squash, etc.) but this can be done anyway you like.
To finish pour 1/2 the remaining broth over the top of the dish. The remaining broth can be added to a bowl and served on the side to be added as desired.
Eat immediately!
If you're visiting Marrakech soon, and are foodies like us, consider taking a cooking class with Dar Les Cigognes. Their classes are excellent for adults, accomplished cooks, beginners, and children. It might also be one of the best meals you eat while you're in Marrakech.
Contact:
Dar Les Cigognes
Rue de Berrima
Marrakech
[email protected]
http://www.lescigognes.com/