Argan Oil for Special Conditions
It is becoming widely popular to use argan oil for the hair. But did you know that argan oil is useful in many special conditions, especially those involving the skin? It's fantastic at giving you soft, silky skin, especially during the dry months. Learn how you can use Moroccan argan oil to enhance your skin's everyday beauty and health regimen.
What Is Argan Oil?
Moroccan argan oil is a plant-based oil derived from the kernels of the argan tree (or argania spinosa). This tree is specific to the southwest region of Morocco and is also very rare. Argan oil can be used for dipping bread into and enjoyed over couscous and pasta. But it's good for more than eating! It is also used as a cosmetic ingredient that holds many benefits. This means the benefits can be found in health and beauty both by consuming it and by applying it to the desired or affected areas directly on the hair or skin.
If you're going to use argan oil as part of your skin regime, it's important that you know how to do so safely and correctly. We're going to talk about some of the benefits now.
Want to know more about the basics of argan? Make sure you read our ultimate guide to argan oil.
Argan Oil Uses for Facial Care and Conditions
Did you know that Moroccan argan oil can be used in a wide variety of facial care treatments? It can also be used to treat certain conditions that affect the skin on the face. Many other products that you find over the counter are not safe for also using on the face. One of the best parts of natural argan oil is that it is safe to use all over the skin.
Many chemical skincare products only treat the epidermis or the outer layer of skin. One major advantage of using argan oil is that unlike those products, argan oil also treats the dermis, the lower level of your skin where the cells are actually made. This means that argan oil ends up being the longer-lasting and more effective treatment for many different skin disorders.
Is argan oil good for acne?
Yes! Argan oil heals the skin over time, which naturally decreases the likelihood and instances of acne breakouts. To use argan oil for acne, simply apply one or two drops of pure Moroccan argan oil to the face after a good cleanse. Massage into the face in a circular motion. Use the argan oil for face acne daily for the best results.
For many skin conditions, it is safe and wise to use argan oil. Rosacea is another condition you'll find this regimen works on. You can also use argan oil for wrinkles. Usage for these facial conditions is the same, so if you have more than one, simply do the same treatment. It will work and your skin should improve in time.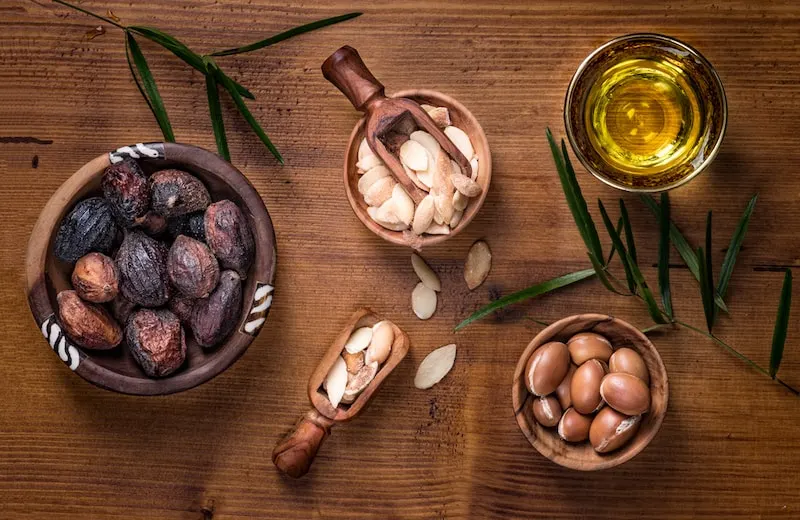 Argan Oil Uses for Skin Care and Conditions
Some skin conditions may affect more than just the face. You may be delighted to learn that even in these instances, you can still utilize the benefits of argan oil. Psoriasis is one of these skin conditions. You can also use argan oil for nails. Sufferers of frequent outbreaks may be pleased to learn about using argan oil for eczema.
If you need to make those pesky marks fade away, try using argan oil for scars. Along the same lines, sufferers can also use argan oil for stretch marks. Some may currently use olive oil for stretch marks. Argan oil has shown to be more effective in many instances. If your skin gets rough or scaly, consider using argan oil for dry skin instead. Some people find it helps them completely clear up their eczema.
Does the usage on dry skin mean you can't use argan oil for oily skin? Not at all! In fact, argan oil has powerful neutralizing capabilities. The antioxidants help nourish the sebum in the skin and restore it to its natural state, which helps decrease acne and other oily-related breakouts over time.
Vitamins and Other Special Benefits of Argan Oil
What are the other special benefits of argan oil? Vitamins and other nutrients found in Moroccan argan oil are a powerful combination that is good for many health and skin conditions. This is not limited to the face but is certainly very beneficial to this area of the body. Argan oil has essential fatty acids, which are important for the health of your cellular membranes. Healthy cellular membranes keep your skin firm and elastic, while improving your skin's ability to retain moisture.
Argan oil also contains Vitamin E. Also known as Tocopherol, Vitamin E is an antioxidant that battles free radicals, lowering your risk of skin cancer. Like fatty acids, it also helps improves your skin's ability to hold in moisture and heals damaged and dry skin. It's also known to improves the effectiveness of sunscreen. Olive oil is commonly known to contain Vitamin E, but argan oil contains over 200 percent more Vitamin E.
Another important compound in argan oil is the very rare D-7 Stigmasterol. It's one of the best treatments for skin diseases. D-7 is strong for healing wounds and other compromised skin tissue. This is great for those concerned with the possibility of facial wounds and scars, as it can act to counter those effects on the facial areas.
Argan oil also contains another rare antioxidant called ferulic acid, oleic and linoleic acids, polyphenols, squalene, triterpene alcohols, and other natural antioxidants. This means that it packs a powerful punch for the health of your skin.
What is the Best Pure Argan Oil to Use?
The hero ingredient in this bottle is the only ingredient in this bottle: pure, organic Argan Oil packed with vitamin E and omega-6 fatty acids. John Masters Organics' Argan Oil is a richly nourishing organic oil that works miracles on hair and skin: softens, tames unruly frizz, and treats pesky split ends; while intensely hydrating all types of skin for a healthy-looking glow that actually is healthy.
100% Pure Argan Oil is extracted from Argan trees which are native to Morocco. It contains a high amount of Vitamin E which helps to moisturize skin among other benefits for Hair, Skin and Nail Care. Helps to Strengthen brittle and frizzy hair.
Piping Rock's Argan Oil is cold-pressed from the nuts of the argan tree that thrives in the arid climate of southwestern Morocco. It supplies beneficial essential fatty acids in addition to vitamin E and nourishing age-defying antioxidants. It's no wonder argan oil has received a raving reputation for promoting glowing skin and lustrous hair! Discover for yourself why argan oil is called "liquid gold" in the beauty industry with Piping Rock's Argan Oil!
This oil eliminates frizz and provides thermal protection for the hair, delivering silky, smooth, and luxurious tresses. This extremely hydrating Argan oil can also be utilized in hair color processes and as a restorative treatment.
Agadir's argan oil hydrates and conditions, leaving your hair shiny, smooth, luxurious and healthy. It is ideal for all hair types and is alcohol free. It instantly penetrates, moisturizes and corrects frizzies. Another perk is it's humidity resistance.