Argan oil treatments for hair are a wonderful, natural way to handle hair care issues. There are a wide variety of products and uses available. If you're wondering what are some benefits of argan oil for hair be sure to visit the link to learn a little more.
Aside from using argan oil shampoo and argan oil conditioner what other products can you try?
Find out!
What are some of the hair treatments that use argan oil?
One of the very best hair treatments is pure argan oil applied directly to your hair. You can use argan oil just on the ends of your hair if you have split ends or issues with tangling. Simply add a few drop to the palm of your hands and gently smooth through your hair. Argan oil serum massaged into the skull can help reduce dandruff and itching.
An argan oil mask is another hair treatment to consider. This works particularly well for people who have thick, coarse and damaged hair. There are several different masks available but most require a few hours of leaving the mask in your hair – best to plan for a day at home. It is possible to use pure argan oil as a mask as well. Simply apply to the hair before showering (ideally at least an hour) and wrap up in a towel. Then shampoo and wash as normal. If your hair needs a little extra TLC you can apply and leave the oil in overnight.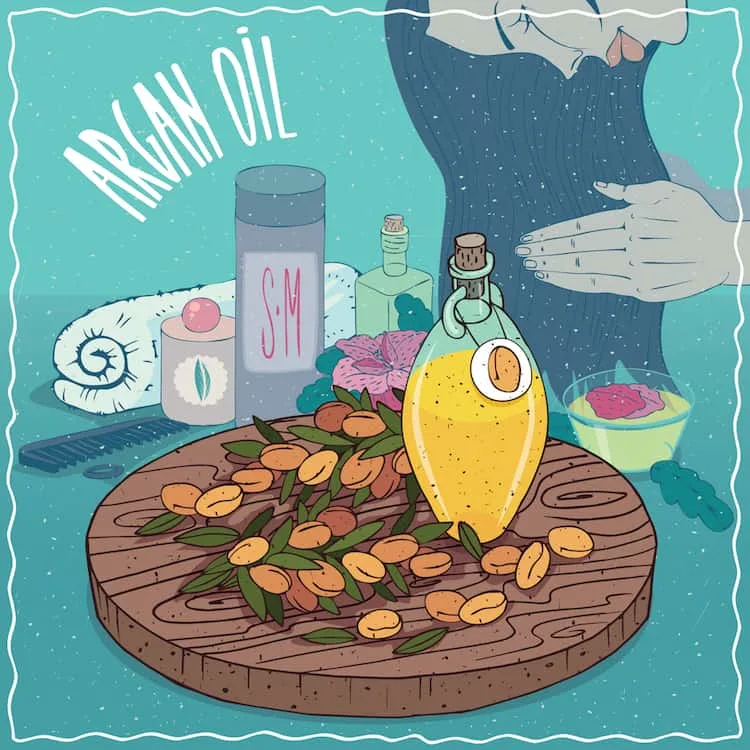 The Best Argan Oil Products and Treatments for Different Hair Types
It is always best to use either pure argan oil for hair or organic argan oil for hair – better yet if it's both! Be cautious as many argan oils sold from Morocco may be labeled as organic but do not meet the standards of being organically farmed.
Argan Oil for Curly Hair
Naturally, curly hair is beautiful but can be difficult to manage. Hair like this is often vulnerable to breakage and tangles easily. To apply argan oil on curly hair wash and rinse hair as normal. After towel drying the hair begin applying a light coat of oil throughout the hair. A little goes a long way! When you've done this, run a comb through the hair, adding a little extra oil in any spots you may have missed. Then dry and style your hair as usual.
Argan Oil for Dry Hair
Pure argan oil has natural properties that increase moisture and replenish hair. It can be applied to wet or dry hair and maybe worth experimenting on your own hair to see which works better for you. Smooth it over the top of dry hair to increase shine and moisture or use it when wet to restore hair.
Argan Oil for Natural Hair
Argan oil can be used as described above on natural hair as well. It can additionally be used in place of styling gels or creams when having twists or braids put into the hair. The natural properties of argan can be less damaging than chemical products as well as adding moisture and benefits to the hair instead of stripping them away.
Argan Oil for Hair Loss
While there is no guaranteed product to stop hair loss argan oil may be able to help. Remember argan oil is good for women AND men. The first step in treatment is to exfoliate the scalp. This releases any build-up of products and prepares the follicle. After this is completed you're ready for your argan oil massage! Apply argan oil a few drops at a time to your fingers/hands and work the oil into the scalp. Take your time to cover the entire scalp. Repeat this process 2-3x a week.
Argan Oil for Hair Growth
If you are applying argan oil to your scalp you may begin to notice additional hair growth over time. The natural fatty acids and Vitamin E in the oil has properties that can help with hair growth and fullness. There are no guarantees this will happen but many people report it as an added bonus.
What is the Best Pure Argan Oil to Use?
Argan oil is argan oil and the best one to use is the most natural. It shouldn't be cut with any other ingredients. One way that many companies reduce their cost per bottle is to mix argan oil with another oil like vegetable oil. How will you know? If you shake a bottle of pure argan oil it won't create bubbles at the top of the jar. If it does make bubbles you'll know it's been cut.
Here are a few suggestions for argan oils.
Virgin Organic Argan Oil for Hair & Face – 100% Pure Moroccan Argan Oil
This product is USDA organic certified and comes with a convenient pump to make use and application easy.
Moroccan Argan Oil – Organic Certified
USDA certified organic and with a handy dropper for easy application to the hands or scalp.
Certified Organic Cold Pressed Virgin Moroccan Argan Oil
If you're worried about fumbling with a dropper or pump this spray bottle makes application easy. A good choice if you'd also like to use it for skincare.
Josie Maran 100% Pure Argan Oil
This product is consistently at the top of beauty lists as a "must-have" tool for a beauty arsenal. It's the smallest container but is well tested and known to be organic and all-natural.