I don't often bake because I don't like to measure when I'm cooking and when I do bake there's all kinds of treats around that inevitably end up in my belly.
The only time of year when I bake regularly is during Ramadan because my kids like to have breads, muffins, or some sort of cake that they can snack on in the early morning before they start fasting.
Baking also gives us something to do together and a chance to come up with new ideas.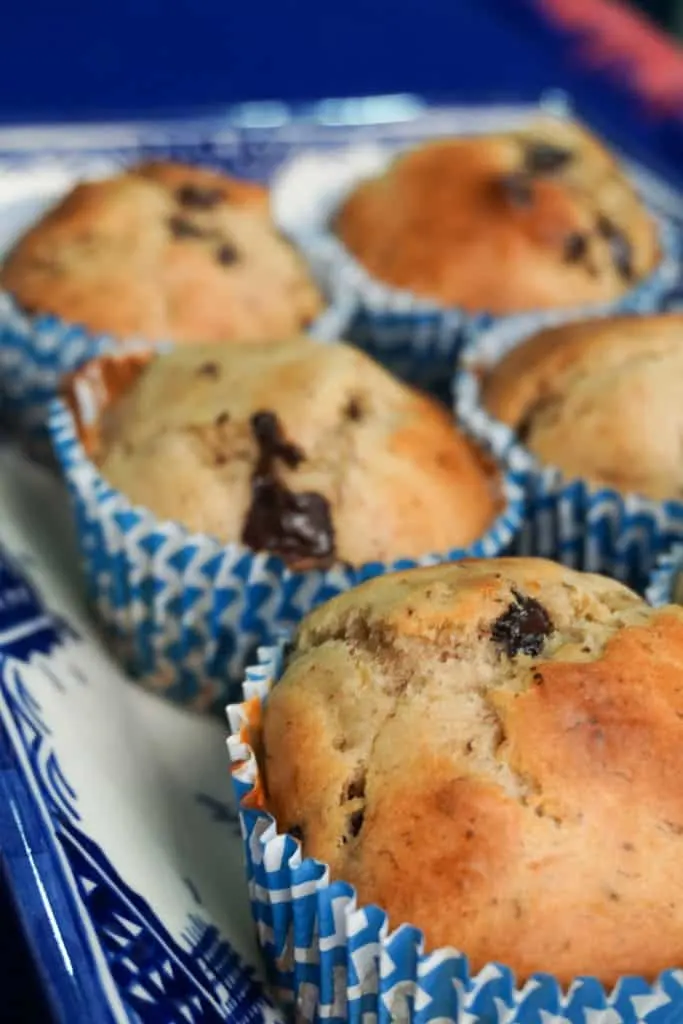 I like these muffins (that I actually first made almost 10 years ago when they were still little kids!) because they are not overly sweet – in fact I don't really think they are that sweet at all. The kids asked me to add chocolate chips this time and they're still tasty but certainly much sweeter. You've got both options – totally your call!
Do make sure to pay attention to these as they near the end of baking. Overcooking them will make them very dry. I would add a little more yogurt if you're worried about them getting too dry. Another addition you can make is to add a crumble to the top of these.
Simply mix flour, with some melted butter and sugar to create a grainy consistency. Then sprinkle on top of the muffins before baking.
Yield:

12 muffins
Argan Banana Muffins
Naturally sweetened with honey and the nutty flavor of argan oil these muffins are sure to be a quick favorite.
Ingredients
2 ripe bananas mashed
1 cup greek yogurt
1 egg
2 cups flour (either white or wheat works)
3 tbsp argan oil
3 tbsp honey
1 tsp baking soda
1 tsp baking powder
1/2 tsp salt
chocolate chips (optional)
Instructions
Preheat oven to 350F.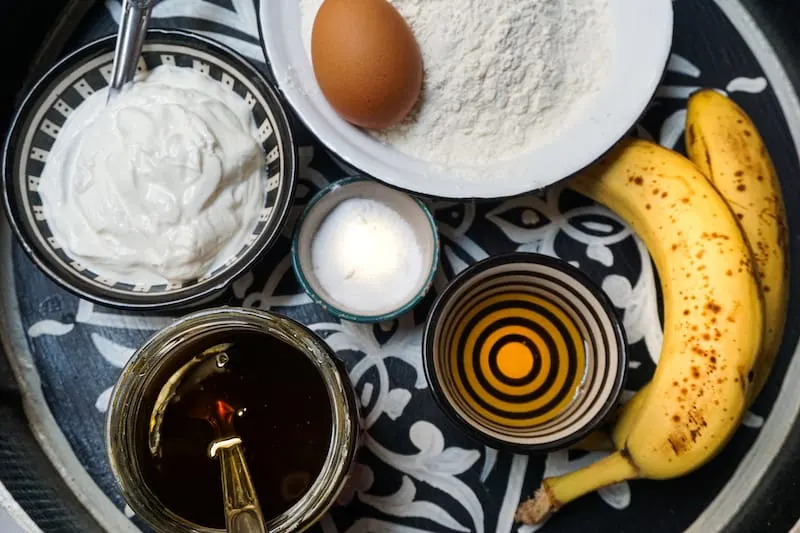 Mix banana, yogurt, egg and honey together. Mix flour, baking soda, baking powder and salt in a separate bowl.
Add the wet ingredients to the dry ingredients mixing well.
Drizzle the argan in and combine.
The muffin mix will be a little thicker than normal - it's ok.
Fill muffin tin (or liners) 3/4 of the way full and bake in a 350 preheated oven for 10-12 minutes until the tops are golden and the dough starts to pull from the edge of the liner/tin.
Notes
When I made these muffins I included chocolate chips because my kids begged for them. They're completely optional and if you do use them you will lose a lot of the argan flavor. Your choice!
Recommended Products
As an Amazon Associate and member of other affiliate programs, I earn from qualifying purchases.