Are you planning a trip to Morocco and looking for car rentals in Rabat?
With its many historical landmarks and natural beauty, it's easy to see why Rabat, Morocco is worth visiting. It is a city with a rich history and culture but is frequently disregarded by tourists who prefer to visit neighboring towns such as Casablanca and Marrakech.
If you want to explore this magnificent city on your own terms without worrying about transportation logistics or renting a car is one of your options.
Renting a car is the most convenient way to explore the city. You'll have more freedom and flexibility, and you'll be able to travel for as long or as little as you like.
Although hiring a car may appear to be expensive at first (especially if you're not used to renting vehicles on vacation), there are actually a variety of options depending on the type of vehicle you want (SUV vs. sedan).
One other item to consider is navigation and parking. If this is something that makes you anxious or you're not comfortable with you will want to seriously consider this before renting a car.
And this article will provide you with a list of Rabat car rentals to help you make the most of your vacation!
Where to Rent a Car in Rabat
Renting a car when visiting Rabat can be both exciting and intimidating. It's exciting because you get to drive around in a new car, but it may also be intimidating if you've never done it before.
It's like being a kid at Christmas—you know there'll be something wonderful inside that box, but how do you get there?
The good news is that Rabat car rentals are easier than it appears! In fact, we've put together this list of rental providers so that you may get the most out of your trip. Please note, that I am sharing these companies as a resource for what exists in Rabat. Doing your own research before deciding is important as no two situations are the same.
Rental Car Companies in Rabat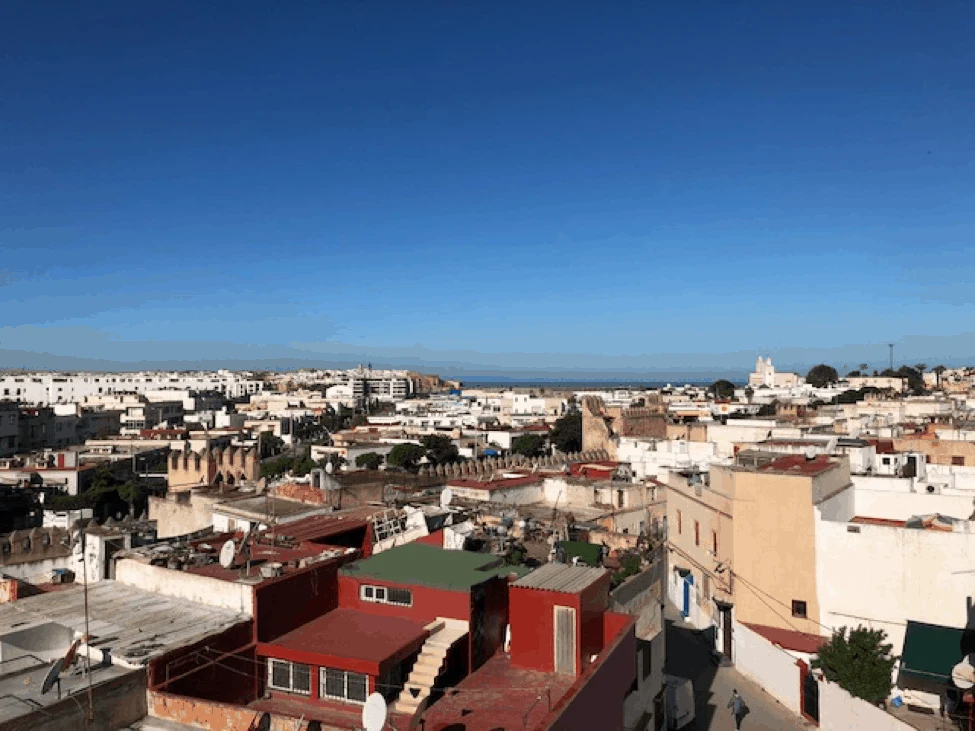 United Rent A Car in Rabat is a great place to rent a car. They have a wide variety of cars and vans, ranging from the small and practical to the large and luxurious.
Whether you're looking for something economical or something that's more than capable of handling your family's needs, they've got you covered.
Prices are comparable to those offered by other firms, starting at around $40 for a basic car and up to around $300 for a more expensive vehicle such as an SUV or convertible.
Surprice is a small but one of the Rabat car rentals that are most reliable. The company has been in operation since 2010, and it currently has a fleet of around 60 vehicles, including SUVs and sedans.
They offer discounts on rental rates for returning customers, as well as free drop-off at any location within Rabat city limits.
The company takes pride in its excellent customer service, including a 24-hour helpline and roadside assistance.
You can also rent a GPS from them to help you get around Morocco more easily.
You can also try out Rabat's Keddy vehicle rental firm!
Keddy is a car hire Rabat company which has been established in the year 2016 and has its branch in Rabat, Morocco. They provide cars for rent in Rabat at an affordable price with insurance on all models.
They have a wide variety of cars available for rent in Rabat at the best prices. Their fleet includes new and used vehicles from brands such as Toyota, Peugeot, Renault, Ford, Nissan, Audi, and many others.
You can choose from their wide range of options according to your budget and needs.
Avis is a car hire Rabat company in Morocco. It has been in business for more than 90 years and is one of the world's largest car rental firms. Avis rents out a variety of vehicles, including economy cars, luxury cars, vans, trucks, and many others.
Avis Rabat provides a fleet of around 1,300 automobiles spread out between two locations: Avenue Mohammed V and Avenue El Oqba.
The company also provides car rental services at the Rabat-Salé Train Station.
Thrifty is a car rental company in Rabat with branches in the main cities of Morocco, including Casablanca, Marrakech, and Fez.
The company has more than 1,000 cars available for rent at any given time. The Renault Clio and Peugeot 208 are among the sedans in their collection.
Thrifty has several locations in Rabat, spread out over the city, one of which is on Mohamed V.
Thrifty also offers discounted rates to drivers who rent their cars for a week or more than a month. These rates are only available at certain times during the year, so you should call ahead of time if you want to take advantage of them.
Dollar provides a wide choice of vehicles at reasonable pricing, making it ideal for tourists looking to reduce travel costs.
Standard cars, luxury cars, and SUVs are among the vehicles available. You can hire their cheap rental cars at rabat airport or from their downtown location.
The price of renting a vehicle varies depending on the type of vehicle and the number of days it is rented for (from one day up to one month).
Hertz is a well-known car rental company in Rabat. To rent a car from Hertz, you must book their cheap rental cars at rabat airport when you arrive or online.
The service is available 24 hours a day, seven days a week, and you can pick up your car at any Hertz location in Rabat.
Rentals come with a full gas tank and can be returned without incurring additional fees.
You can rent cars in all price ranges, including economy, intermediate, and luxury. Prices vary depending on the season, time of day, and pickup location.
With operations in over 90 countries, Europcar is at the heart of the rental car industry. They are known as one of the world's leading car rental companies, and they have been in Morocco since May 2012.
They provide low-cost car rental so you can enjoy your trip to Morocco.
Their fleet consists of over 15 different vehicle types, ranging from economy cars to luxury vehicles and even minivans. They also offer a variety of insurance options for your comfort and peace of mind while in Rabat.
If you need assistance booking your Europcar car rental in Rabat, visit their website!
Things to Consider When Driving in Rabat
If you intend to drive in Morocco and want to avoid any unnecessary problems, keep the following tips in mind:
To rent a car, you must be at least 21 years old. It is also possible to hire an additional driver if you are under the age of 21, but only if they are over the age of 25.
All rental customers must have an international driving license. If you do not already have an international driving license, you must obtain one from your home country's authorities before traveling abroad.
You also have to make sure that your passport is valid for at least six months after your stay in Morocco if you are planning to travel outside of Rabat.
You will also need to purchase Moroccan insurance for your car rental, which can be done at the car rental company. The cost varies based on the length of your rental and the amount of coverage you choose.
More Rabat Trip Planning Information
You can also use some of these articles' tips for your Rabat vacation!