Moroccan green salad is a light and refreshing dish that is perfect for summer. It is made with greens such as romaine, spinach, and mint, and is tossed in a zesty preserved lemon dressing. The salad is served cold, making it the perfect appetizer or side dish.
Most Moroccan salads are served at room temperature or warm. Rarely are fresh greens used to make a salad. But, if you want something a bit lighter this is a tasty salad that has a different flavor from your standard green salad.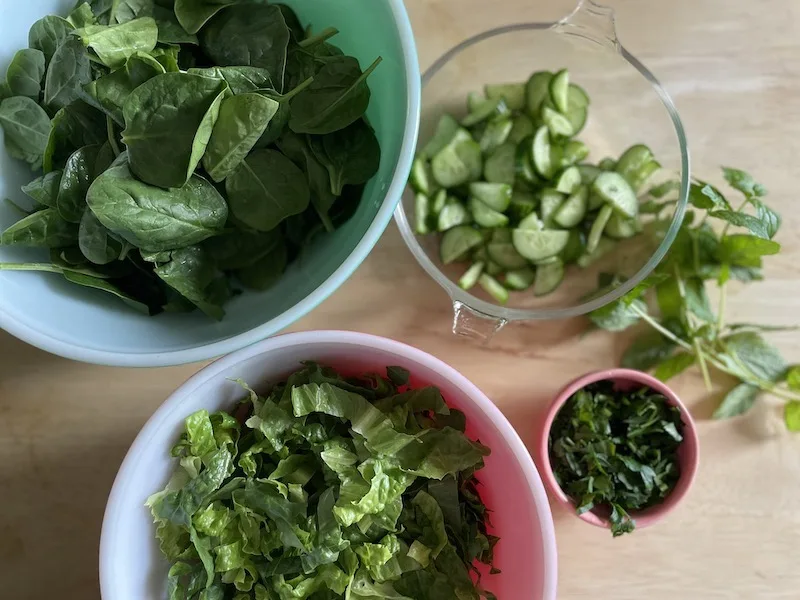 What other types of salad greens can be used?
arugula for a peppery punch
cabbage for a crunchier taste
celery leaves
mixed lettuce
parsley or cilantro
sorrel
iceberg lettuce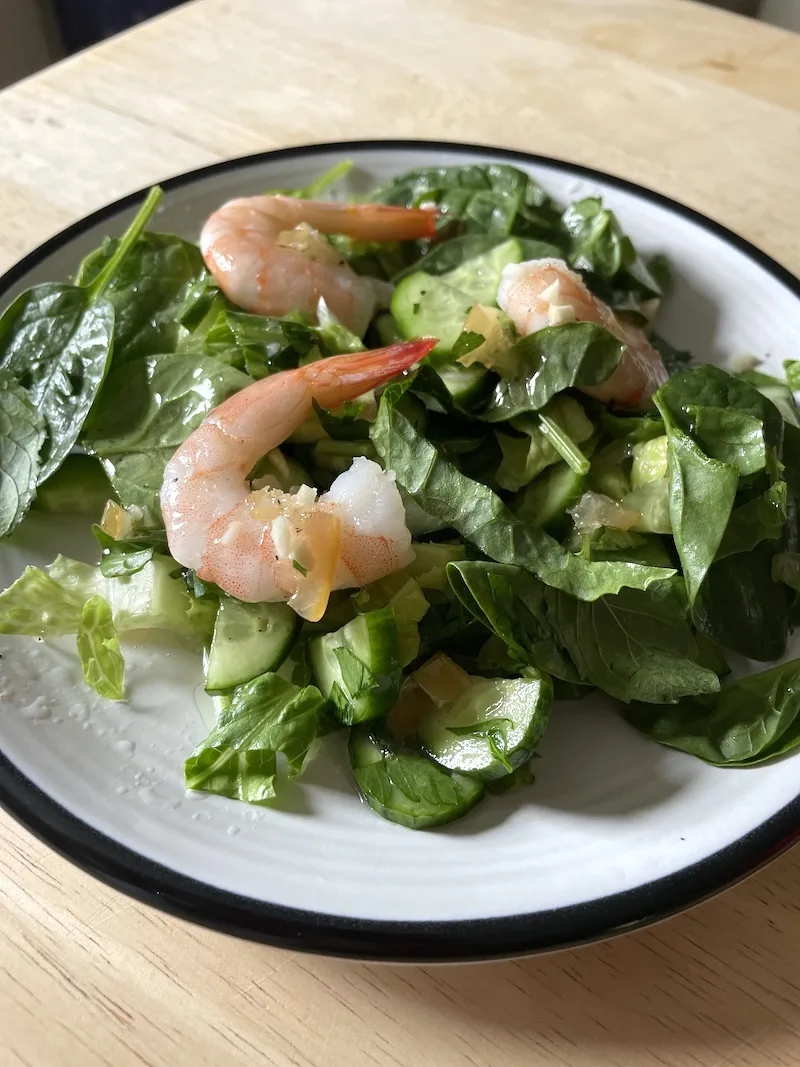 Make this Green Salad a Main Dish
Alone, this salad is great as a side dish. But, if you want to make it a little more substantial, add some protein. I tested it with some cold, cooked shrimp on top and LOVED it. The preserved lemon dressing works great with the shrimp.
You could also add grilled chicken with charmoula marinade, or simple grilled and plain with a little squirt of lemon.
Rinsing and Preparing Lettuce for This Salad
To clean the lettuces, fill a large bowl with cold water and submerge the greens. Swish them around a bit to loosen any dirt or grit, then lift them out of the water and place them in a colander. Let the water drain from the lettuces, then shake off any excess water.
To dry the lettuces, place them on a kitchen towel and roll them up. Twist the towel to wring out as much water as possible. Alternatively, you can put the lettuces in a salad spinner and spin them dry.
Preserved Lemon Dressing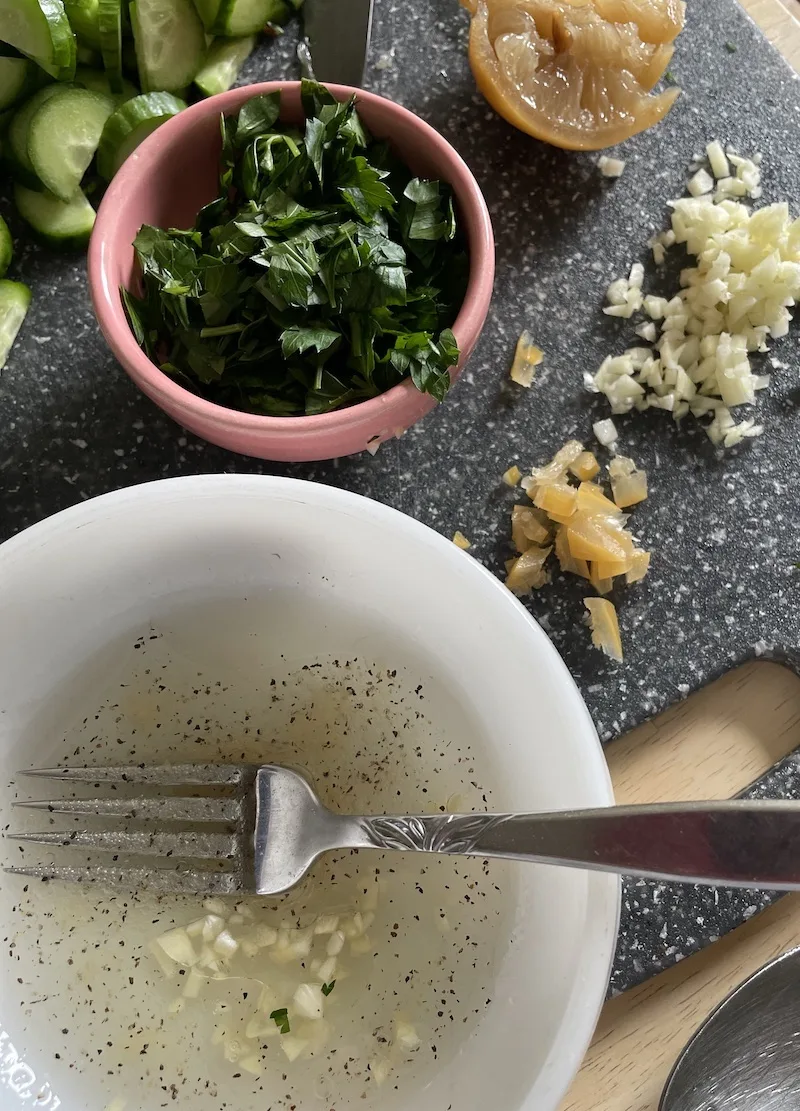 Preserved lemons are a staple ingredient in Moroccan cuisine. They are used to add a tart and salty flavor to dishes. Preserved lemons can be added to salads, stews, tagines, or couscous. They are easy to make and can be stored in the fridge for at least six months.
I love to use the liquid in things like marinades and salad dressings. It is salty so if you're on a low sodium diet this might not be the best option for you. Remember a little bit goes a long way! My basic ingredients for the salad dressing are;
liquid of preserved lemons
diced garlic
olive oil
lemon juice
salt and pepper
That's it! It's super simple! If you have time to let it sit overnight it will only enhance the flavor of the dressing.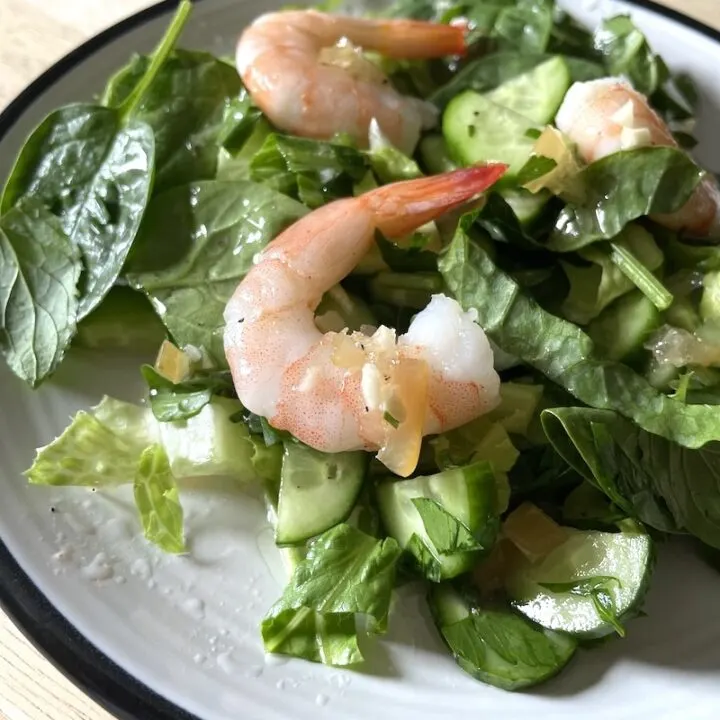 Yield:

4 servings
Moroccan Green Salad with Preserved Lemon Dressing
This very simple Moroccan green salad recipe is a great side dish or made a main with some added protein
Ingredients
Green Salad Ingredients
2 cups romaine lettuce
2 cups spinach
4-5 springs of mint
palmful of chopped parsley
1 small to medium cucumber sliced thinly
cold shrimp or grilled chicken (optional)
Preserved Lemon Dressing
4 Tbsp liquid of preserved lemon
1/2 clove diced garlic
3 Tbsp olive oil
Juice of 1/4 of a fresh lemon
small segment preserved lemon diced
parsley and cilantro to taste
black pepper to taste
Instructions
Wash and dry all of your lettuces.
Clean and slice up cucumber and add to lettuce.
Mix up the salad dressing by combining all ingredients and whisking together well
You may need to adjust the pepper and could use dry chili pepper flakes instead if you like a kick.
If you feel the dressing is too salty you can add a little bit of water, to make it less salty.
More Moroccan Salad Recipes to Try
Want to try some other Moroccan salad recipes? These are some others to consider.
Za'alook – a Moroccan Eggplant Salad