Visiting Morocco during the warmer months usually means there's a good chance you'll be hitting a swimming pool or the beach. Many women I know struggle with what clothing to wear when they're wandering the medina and are left with even more questions when it comes to what is or isn't acceptable to wear to the beach or a pool.

The good news is, most anything is fine. You don't want to wander around town in a bikini top and yes, the more revealing your swimsuit is, the more looks you're going to get. But, you're likely to see women wearing everything from full clothing to a bikini into the ocean.
Swimming pools are a little different as they are privately owned and may have different rules and requirements.

Even if you aren't planning to go swimming you may want to have a suit along for a visit to the hammam or if you just want to sunbathe on one of the many rooftops and lounges that are ubiquitous to Morocco.
It's also a great idea to have a cover-up that you can toss on top of a tank and jeans when it's too hot to wear something heavier but you still don't want all of your skin exposed.

What type of swimwear should I avoid?
These suggestions are purely based on my own observations and understanding of Morocco's cultural norms. The types of swimwear I would suggest avoiding are;
Thong bottom one-piece or bikini's
Very small string bikini's
Bikini or one-piece tops that expose most of the breast area (think deep cut one pieces or very small triangle tops)
It is not permitted to bathe topless at any of Morocco's beaches. This might be different in a private beach setting but I wouldn't count on it.

Can I wear a burkini in Morocco?
Burkini's or hijab-friendly swimsuits (sometimes called an Islamic bikini) are allowed in some places in Morocco. On the beaches they are 100% acceptable. However, not all swimming pools allow women to wear them.
This may seem like a contradiction in a Muslim majority country however it is sadly the truth. If you plan to wear a burkini you should check with the pool or waterpark beforehand so that you don't have any surprises and can plan accordingly.

15 Fun Swimsuits and Coverups for Morocco
To make things easy to match the suit you like just follow the numbers and the links!

15 Coverups for Morocco
I love coverups because they are so versatile and can be used on or off the beach or pool. Not all of these are appropriate for wandering the streets of Morocco but some certainly are! I'm all for packing items that can be used in different ways.

Happy Swimming!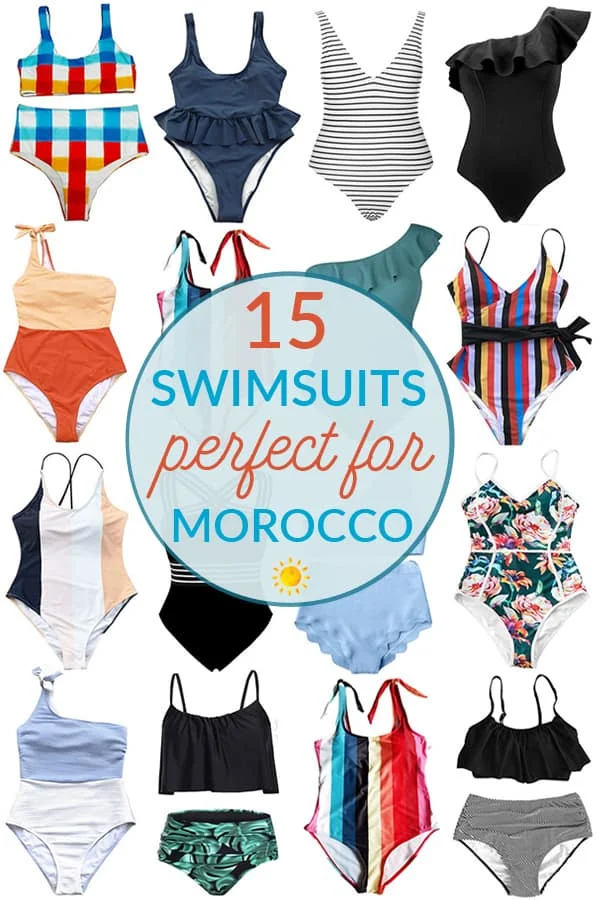 Related Posts You Might Want to Read Too: