Morocco is filled with delightful, charming places to stay and eat. In fact, one might even say that the bevy of choices are overwhelming! It is important to note that there are conflicting opinions as to what qualifies for responsible tourism.
However, with a global rise in the requests and interest for sustainable travel, Morocco is also on the move in the right direction towards environmentally friendly choices, one energy-saving light bulb at a time.
It is clear that each of the businesses below are committed to this change.
Here is our list of hotels, riads, resorts, restaurants and more to keep you on top of things regarding responsible tourism options.
Marrakech And Atlas Region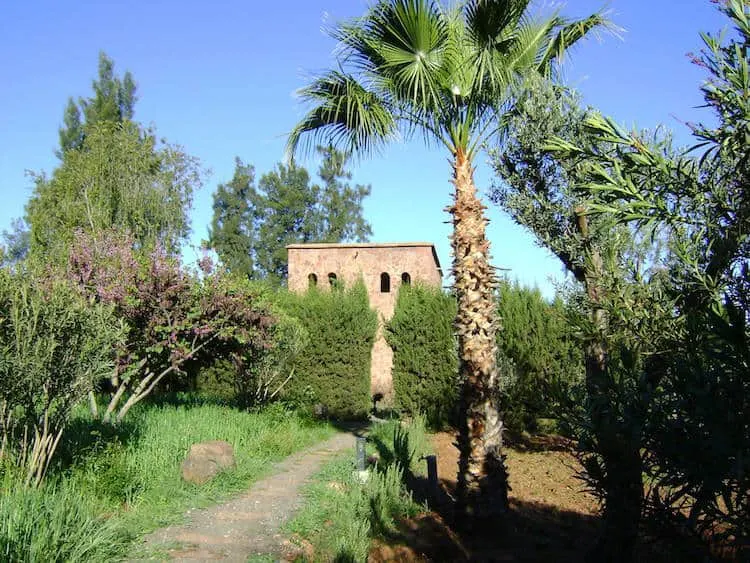 Bab Zouina
Bab Zouina is a tiny slice of heaven about 30 km southeast of Marrakech in the charming Ourika Valley. Karim, the founder and owner of Bab Zouina is particularly proud of his unique hotel because as he puts it, 'The local of Bab Zouina, at the base of the Atlas Mountains and just off a remote sand road, prevents civilization from encroaching.'
What They Do
From the locally made adobe structures of the hotel, Bab Zouina is the epitome of 'green' Morocco. The buildings of the hotel are either custom-made with bricks from a manual press or carefully created from local stone. Both are incredibly eco-friendly, naturally staying cool in the summer
and warm in the winter.

From the organic (no chemicals) gardens on the two-hectares of pristine land, to convincing the local neighbors to also introduce green farming methods, this is clearly a labor of love for Karim and his crew.
Karim even encourages a social dimension of this mission, training his local staff in grass roots recycling and environmentally-friendly traditional handicrafts.

Bab Zouina even welcomes service learning programs, particularly schools from abroad whose students seek community engagement, from improving the village school and nursery to basic waste recycling projects to language
exchanges.

Bab Zouina has a huge array of wellness activities by a trained staff-you can enjoy yoga, shiatsu, dance lessons, leadership coaching, and even calligraphy.
A win-win for tourists and a rewarding initiative for
Morocco.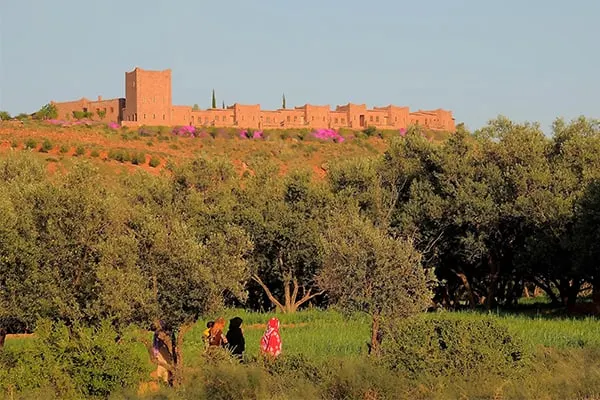 Kasbah Angour

Welcoming responsible tourism since 2011, the lovely Kasbah Angour is the ingenious concept of British national Paul Foulsham.

What They Do:
The mission of this striking hotel is 'comfort with a conscience'. Winning a TripAdvisor award for excellence in 2017, Kasbah Angour strives to show guests the best of Morocco while continuing to care for the unique local biodiversity. The hotel prides itself on encouraging mindful tourism in the area, as well as environmentally friendly outdoor activities-hiking, walking, zip lining, bird-watching, astronomy, yoga and more.
The grounds on which the striking kasbah was constructed were built carefully by skilled artisanal craftsmen; with incredible panoramic views from the top of the hill. Solar paneling provides hot water and floor heating for the entire facility. Water at Kasbah Angour, is understandably revered, therefore the hotel meticulously uses a sustainable drip-irrigation system for the gardens.
The restaurant at the hotel encourages local recipes and mostly seasonal produce, and the staff is largely local. Recycling is an important factor of life at the kasbah and plastics, glass and cans are transported to a recycling facility in Marrakech. Lastly, Kasbah Angour promotes local Moroccan artisans by showcasing their art.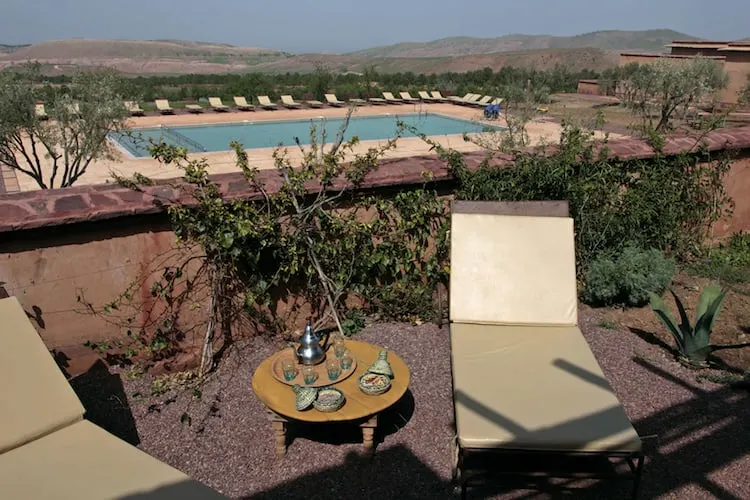 Terres D'Amanar

35 minutes away from the colorful flurry of Marrakech, this stunning sanctuary sits at the base of the famed Toubkal forest reserve and on the plateau of 120 hectares overlooking the lovely High Atlas Mountains.

What They Do:
This 'green' sanctuary is a mecca for outdoor activities and sports. You name, it, they have it! The lodge also recycles carefully and encourages a no-waste policy that helps to let this pristine land thrive. The buildings were constructed in loyalty to traditional Berber architecture, using local sustainable (pressed bricks) materials.
The food at Terres D'Amanar is prepared by local Berber women from the next-door villages. 150 local families benefit from long-term employment as well as environmental awareness initiatives. Respect for the Berber land and people are top priority for the unique Terres D'Amanar and this is clearly evident from the moment one steps foot on the property.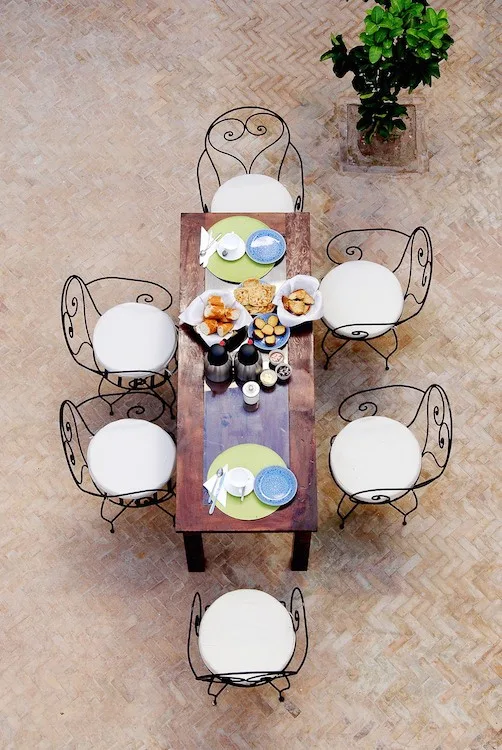 Riad Porte Royale

This beautiful traditional riad, owned by well-known English architect and writer, Philip Brebner, is located in the heart of Marrakech's old city and UNESCO heritage site, Zaouia El Abbessia.

What They Do
Riad Porte Royale uses gorgeously reclaimed furniture as part of their lovely décor, as well as maintaining the thickness of the original walls to naturally heat and cool the hotel when appropriate. The riad uses LED
lighting to reduce electrical waste and they also have an innovative water filtering system that eliminates using plastic water bottles.
Riad Porte Royale also has been a proud longtime supporter of the Moroccan Children's Trust; a registered UK charity which looks to empower disadvantaged children and their families in Morocco.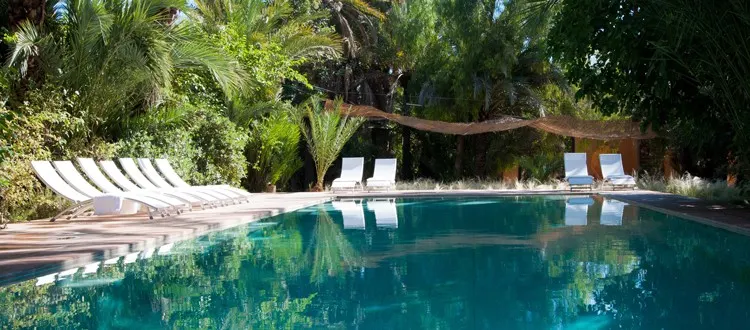 Jnane Tamsna

If you are looking for luxury, peace and sustainable tourism, then Jnane Tamsa is for you. Parisian lawyer-turned-hotelier Meryanne Loum-Martin and her ethnobotanist husband Gary Martin, are the owners of this nine-acre sanctuary, nestled in a bevy of dates palms near Marrakech.
What They Do:
The mission of this unique location is one of appreciation of the beauty and culture of the land and people. Staff reuses and recycle as much as possible and the ground's lovely extensive gardens have an effective composting system.
Jnane Tamsna also has an innovative wastewater system for the entire property, which ensures that all water is recycled. Water bottles are wisely reused as pots to grow starting vegetables for the gardens. All glass bottles are efficiently recycled as containers for olive oil, of which the hotel proudly presses 1,000 liters a year.
Self-sufficient with the organic veggies from the hotel's thriving farm, the hotel's restaurant focuses on healthy eating, no processed foods and a focus on Moroccan and Mediterranean cuisine. Their next project is a cold room to store the abundant vegetables and fruits from the farm. They are also planning to open a garden café and onsite shop, where fresh produce, sweet breads, locally roasted coffee and herbal infusion teas will be offered.
A water filter system successfully reduces plastics, and the hotel has low-energy consuming water heaters on the premise. The lovely salt water pool is outfitted with an energy-saving pump and Jnane Tamsna also uses LED lighting throughout its grounds.
98% of their staff is local and they offer long-term employees contracts with social security and benefits, considered best practice in the hotel industry in Morocco.
Lastly, Gary's unique non-profit, Global Diversity Foundation, was founded in 2000 and seeks to empower local people as well as protecting the natural environment. And if that isn't enough to peak your interest, Jnane Tamsna offers cooking classes, calligraphy, and an array of outdoor adventures are also offered.
Ourika Organic Kitchen and Jereca Farm

This unique spot is a working organic farm and a delightful four-bedroom farmhouse where Amanda has a four-hectare olive grove.

What They Do:
Amanda grows organic fruits, veggies and aromatic herbs as well for the organic markets and restaurants in nearby Marrakech. Don't miss out on trying her organic herbal tea infusions. She also runs a fabulous
cooking school and restaurant on the property.
Call at least 48 hours in advance for cooking classes, or email
[email protected]
http://jerecafarm.com
tel. +212 613-691461

Agafay Desert, Marrakech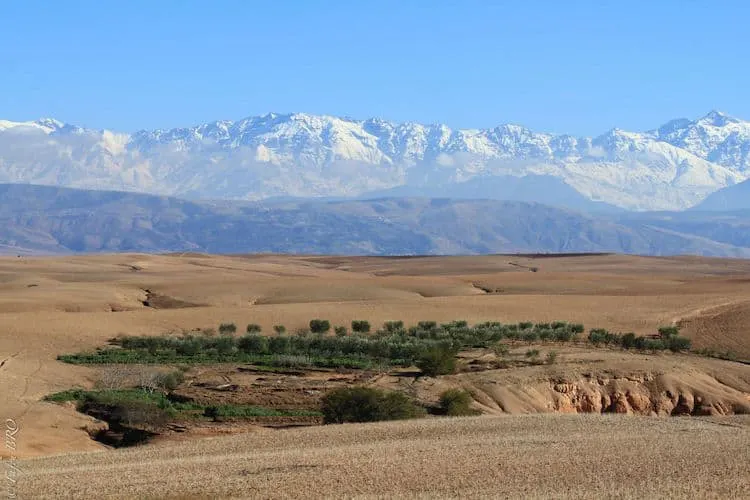 Terres Des Etoiles
If you are seeking desert solitude as well as responsible travel, the hidden gem of the Agafay Desert is for you. The stunning Terres Des Etoiles hotel in the heart of this peaceful land is your perfect getaway with heart.
Pierre Yves Marais, the friendly, innovative owner of Terres Des Etoiles, is committed to a goal of sustainability and eco-tourism in his passion for wildlife and the gorgeous landscape of the Moroccan desert.

What They Do:
Pierre Yve's mission from day one has been to showcase the beauty of the Moroccan desert without changing its pristine loveliness. Pierre's goal is to not only sustain guests from the unique land's biodiversity but to help the environment thrive and expand in a meaningful way.
The luxury 'camp' is entirely crafted by local labor with Spanish architecture and Italian interior design. The entire structure is sustained by solar panels for its lighting. All cleaning products and laundry facilities are eco-friendly. The use of plastic bottles is limited due to an on-site treatment system. The stunning pool is untreated and the water is even recycled for watering the gardens and farm.
You can take a relaxed stroll through these delightful landscapes and peruse amongst the seasonal treats. The camp even boasts a skilled in-house astronomer to help you take advantage of the striking evening skies and their boundless stars.
Or, you can partake in a Moroccan cooking class, which uses the fresh herbs and produce from Terre Des Etoile's thriving gardens and farm; of which the staff is committed to soil regeneration. Last but not least, the hotel is the site of the Fellah Forum, a conference on sustainable development that this year will be held in November. The theme for 2019 is agriculture, crafts, and tourism in a sustainable environment.
Ourzazate Region
Sawadi, Skoura
Deep in the fertile palm grove oasis of the Draa Valley and on the haunting outskirts of the Sahara Desert, you will find Sawadi. Sawadi, meaning hello, is a haven of quiet and beauty nestled in the sandy banks of this fertile landscape.

Sawadi owners Catherine and Philippe are dedicated to responsible tourism, especially since their hotel sits at the edge of the massive Sahara desert, where water is precious.

What They Do:
The dedicated team at Sawadi have developed innovative means to irrigate their produce gardens in a sustainable manner.

All of the buildings on the property are built respecting the local Berber architecture of mud brick and straw, used for centuries. This savvy method is naturally environmentally friendly.
All staff is sourced locally and trained on-site; many of them having loyally been with Sawadi for years. These local men and women proudly take regular classes in organic cultivation and farming, hygiene, waste management, languages, and more.

The hotel is gradually working towards solar electricity on which to run as well as recycling throughout the premises. Currently, the restaurant and rooms run on solar paneling.

Catherine and Philippe have also committed to helping the local community learn about waste management; installing 40 bins throughout the douar (small village).

Sawadi's restaurant has found enormous success offering seasonal fruits and vegetables from their no-pesticide gardens and farm. They also use no chemicals for cleaning, only white vinegar. The lovely pool on the property is cleaned through an electrolysis system; zero chlorine is used. The bathrooms and toilets at the hotel have water-saving knobs. Lastly, the owners are making a commitment to learn the local language.
Les Jardins De Skoura

Also perched in the sandy oasis of enchanting Skoura in southeast Morocco, Les Jardins De Skoura is yet another gorgeous option for responsible travelers seeking sustainable tourism in this beautiful country.
Skoura is a small town where time seems to have stood still over the
centuries. Enjoy a stroll through the hotel's picturesque almond, apricot, pomegranate, fig, and olive groves. Caroline and her savvy team will most certainly care for you.

What They Do:
From sustainable plants growing in their large organic garden, to training staff about conserving water, lighting and electricity, this quaint haven makes an effort to combat climate change and pollution.
There is also a grass roots recycling initiative at the hotel where they work closely with local producers to cut down on waste; recycling plastic, crushing and recycling glass (which is sent to a recycling facility), and green waste is either composted or fed to the animals. There is a septic tank that reuses water for the garden, which in turn is home to native Moroccan plants that can survive with little water.
'Les Jardins' has a goal to install solar panels by next year, and currently, they use LED lamps and electricity-saving cards in the rooms. Last but certainly not least, local donkeys provide natural fertilizer!

Agadir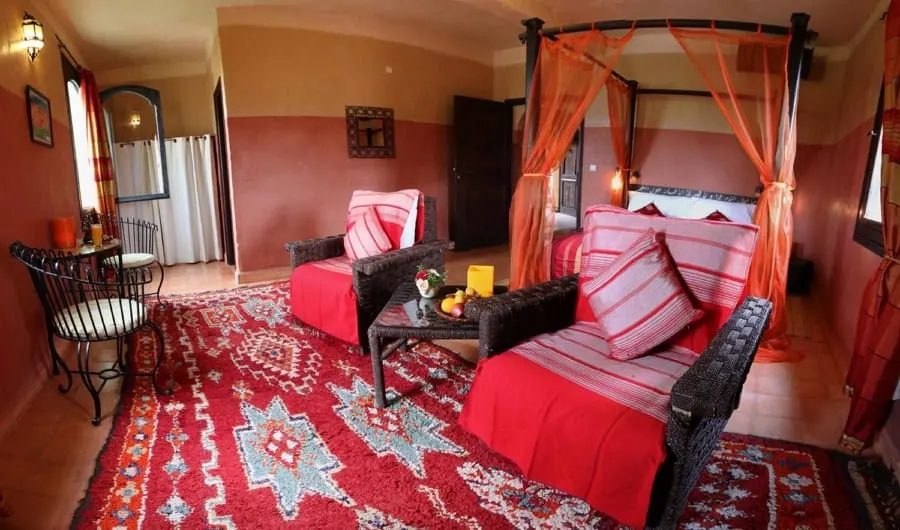 Atlas Kasbah Ecolodge
Tucked just 20 minutes away from the center of the beach haven of Agadir is the ecologically constructed Atlas Kasbah.

Owners Hassan and Hélène both have higher degrees in sustainable tourism and sustainable development; making the retreat a true labor of love for this compassionate couple.

What They Do:
This gorgeous kasbah is a recent Gold Winner of the International Responsible Tourism Award; the first in North Africa to have earned this prestigious award.

Atlas Kasbah proudly showcases traditional Berber architecture techniques and the loyal staff is sourced locally from nearby villages. The pristine hotel has a strict recycling policy and staff is regularly trained to understand the
importance of waste management.
Chemical-free cleaning products are a must at this unique oasis in the middle of the picturesque Atlas Mountains. Solar heated water and electricity make this resort the perfect destination for the conscious traveler. The organic gardens provide herbs, vegetables and fruit fresh to the restaurant's tables.
Yoga retreats in the setting of the untouched Unesco Argan Biosphere Reserve are a must for those who enjoy wellness. The salt pool with stunning views is reason enough to visit the Kasbah Ecolodge!

Essaouira
Océan Vagabond

Known as the first responsible watersport club in Morocco, Océan Vagabond is the brainchild of Jean Sébastien Deflandre, open proudly since 1996.

What They Do:
With a property in Essaouira as well as further south in windy Dahkla, Océan Vagabond, these super relaxed oases are a mecca for sun, traditional body surfing, wind and kite surfing, as well as fresh fish and seafood.
The mission of this bohemian resort is no plastic; therefore treated water is
served in carafes and you may buy reusable water bottles at the surf shop. Glass bottles of water are available for purchase at the bar, if you so choose.
The hotel (as well as the Dahkla property) has a fabulous organic garden, which supplies the restaurant with seasonal delights and the head chef prides himself on creating spontaneous menus; nothing is fixed, adding to the unique unprompted atmosphere.
Regular beach clean-ups with both staff and neighbors, and hotel guests are encouraged to respect the pristine surrounding beauty of the region.
Lalla Mira
Who They Are: This lovely riad, restaurant and hammam are conveniently located in the relaxed, bohemian getaway of Essaouira.
What They Do:
Don't miss out on the fabulous solar-powered hammam at Lalla Mira. In addition, the restaurant is stocked from riad's organic gardens as well as the organic dairy farm. Trained staff follows a strict recycling policy and are proudly from the local neighborhoods of Essaouira.
Fish lovers will be delighted with the fresh fish menu and vegetarians will also be pleased with Lalla Mira's innovative veggie cuisine.

Casablanca

Sofitel Casablanca Tour Blanche
Located across the street from the famed Hassan II mosque in the heart of the center of the city center, this luxury 24-floor hotel is a lovely escape from the hustle and bustle of Casablanca.

What They Do:
The trained team takes recycling seriously and careful water and heating consumption are a mission of the property.

Customers are asked to reuse towels and the rooms have the card system, designed to reduce electricity usage. Eco-certified cleaning products are used as well.

Rabat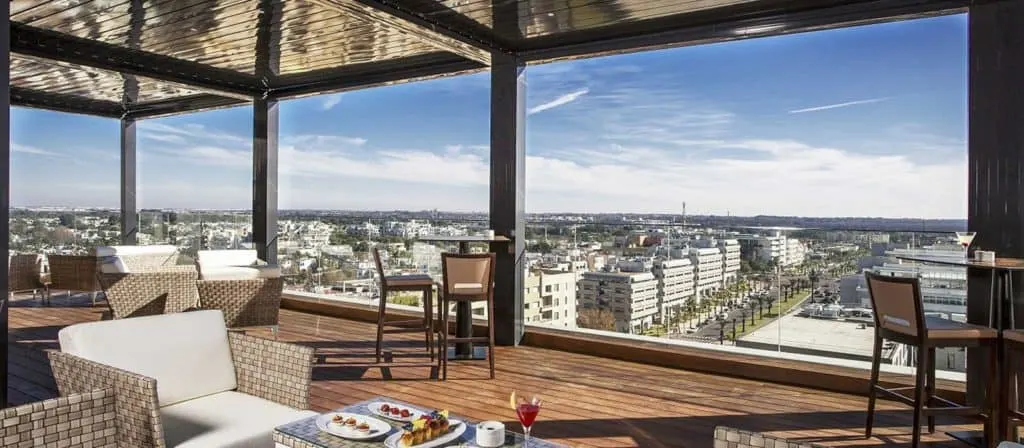 The View Hotel

The View Hotel is located in the up and coming neighborhood of Hay Riad, Rabat, bustling headquarters to the European Union mission to Morocco.

What They Do:
The View is a proud member of the Green Key, an international program that encourage businesses to be responsible consumers and to contribute to the prevention of climate change by awarding participating facilities with positive environmental initiatives.
The View's staff is trained regularly on recycling and minimal waste initiatives and the hotel actively contracts a recycling facility for their plastics, cans and paper.

Chefchaouen, Northern Morocco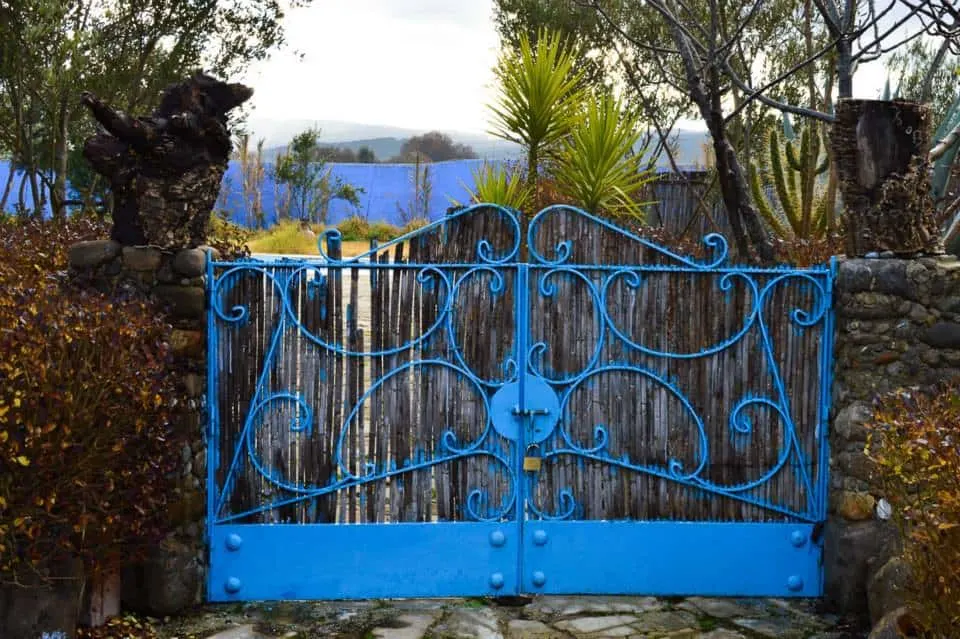 Auberge Dardara

Chefchaouen, or 'Chaouen', is the ideal unassuming getaway for the responsible traveler. This unassuming guesthouse is just 10 minutes from the quiet center of town.

What They Do
With a passion for sustainability, nature, and local fare, this special spot offers simple, yet delicious organic dishes in their lovely restaurant. The friendly staff and peaceful setting are what makes loyal guests continue to
come back.

Asilah, Northern Morocco

Berbari Country Home
Nestled off a tiny dirt road just seven km south of idyllic Asilah, this lovely guesthouse owned by Rachida Youdra, prides itself on being eco-friendly and authentic.
What They Do
Farm animals wander close by and the famed local storks use the guesthouse roof as a nesting ground. Berbari's well-known restaurant serves up delicious, organic food dishes with traditional Moroccan
flair.
Be sure to try their delicious organic yogurt with walnuts and honey; simple, yet divine. Don't miss out on seeing the lovely beaches of nearby Asilah, where pristine nature prevails.

Tetouan, Northern Morocco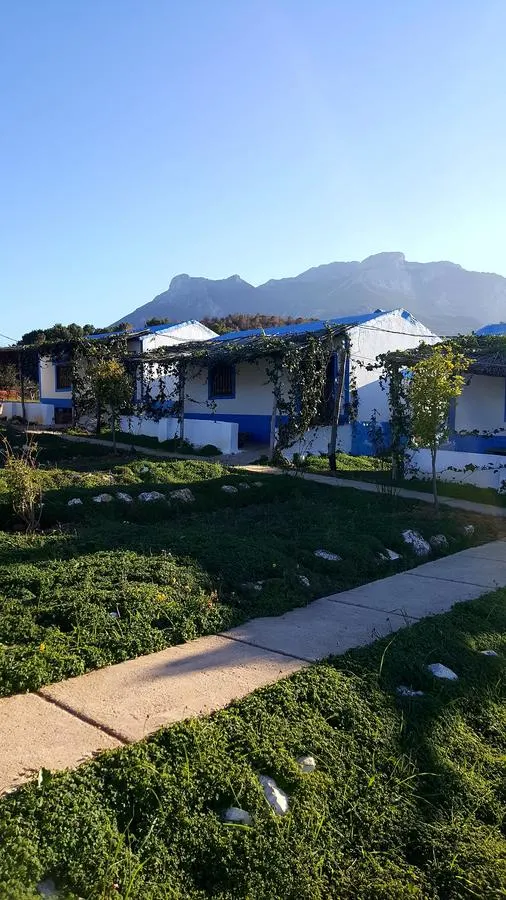 Ferma Jebala Ecolodge
This simple, yet pleasant hotel sits on a tranquil location amongst the rolling green hills of the picturesque Tetouan region.

What They Do
The site is perfect for the outdoor adventurer with a conscience. Outdoor activities are bountiful in this rugged region. The farm's organic garden produces and supplies seasonal treats for the on-location restaurant.
Fresh juices, traditional and vegetarian dishes, as well as a lovely view of
the town of Tetouan below makes Ferme Jebala an unpretentious, yet unique getaway.