When we visited Morocco I always remember in the late afternoons' tea and coffee would be served along with a few small pastries or breads. At the time I thought this was because we were visiting and so it was something special, just because.
When we moved here, and into the family home, I quickly learned this was an everyday thing. Typically when the kids are coming home from school the table will be set with coffee, tea, bread, jam, and possibly a few other pastries. It's snack time!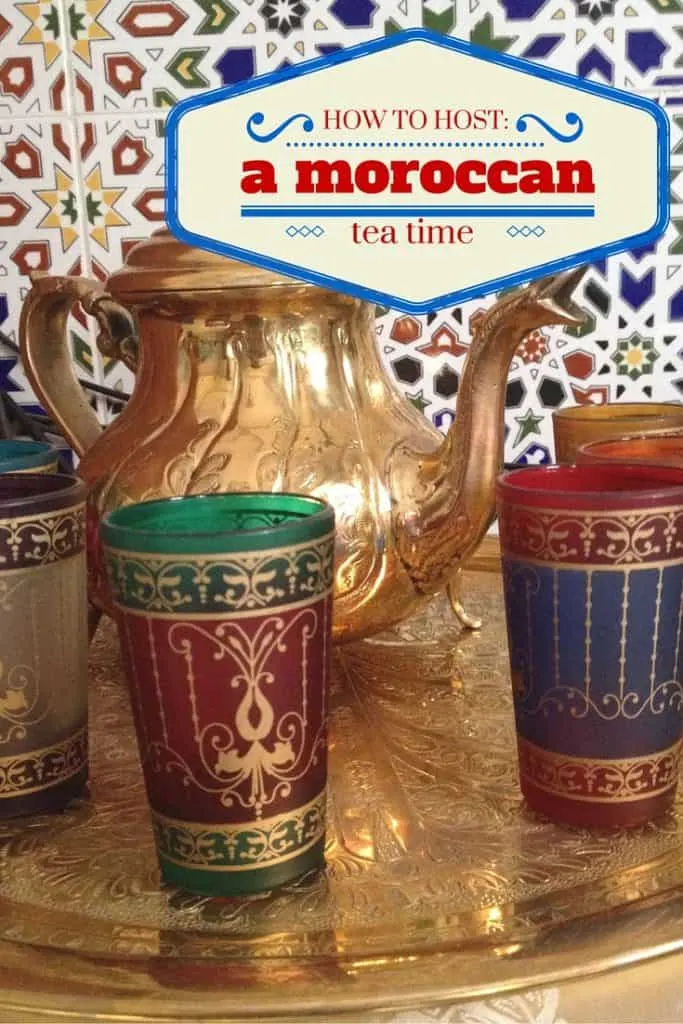 My kids don't get home from school until around 6pm and I'm a stickler for early bedtimes so we don't often participate in coffee-time, I let them have something small and then dinner around 7:30. It's not uncommon for people to have dinner at 10pm or later in Morocco, long after we've gone to sleep. But on weekends we indulge. I admit when I'm traveling this is one of the things I do miss, and every late afternoon I start to think about a coffee and snack!
It's easy to put together your own Moroccan-inspired afternoon coffee/tea party. Here's how.
The Drinks
This is the most important component – everything else is flexible! Tea and coffee are almost always served, though coffee is typically the go-to drink.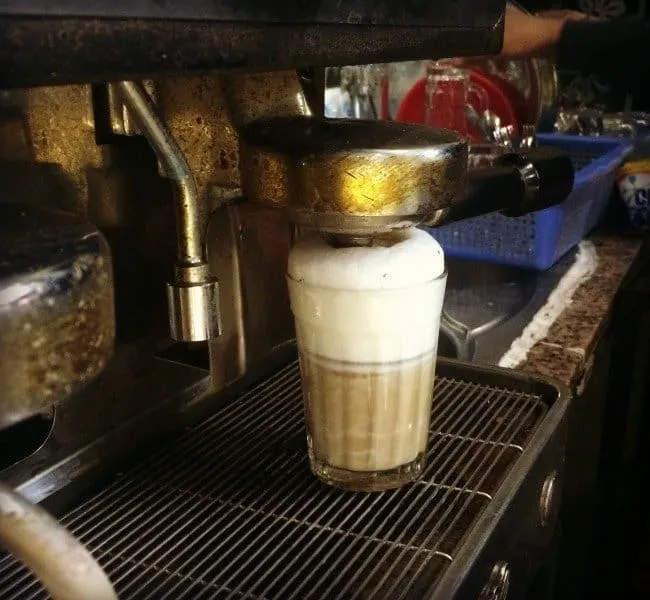 The coffee – while some drink black espresso the choice in the afternoon is often nus-nus or warmed milk with a bit of coffee splashed in. At home, it's usually a simple pour but in coffee shops, the milk is frothed. Either way, it's good!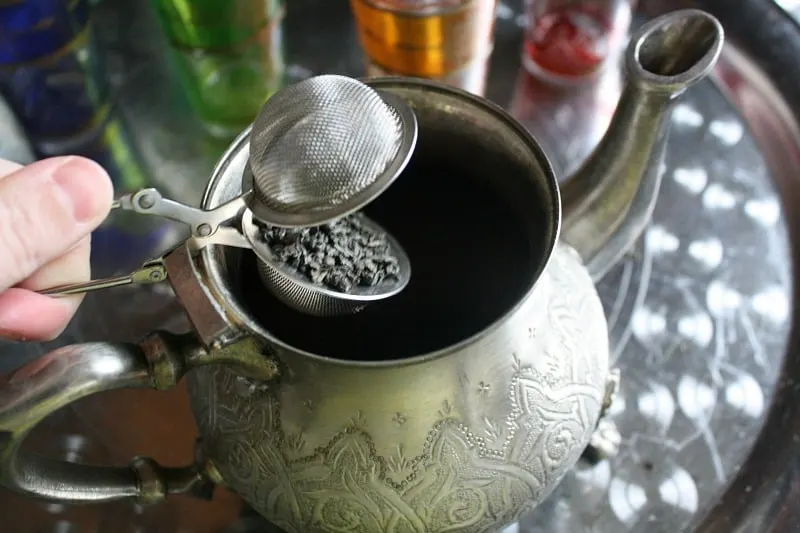 If you don't fancy coffee then Moroccan tea is always a good idea. Made the traditional way is best but even steeping a sachet of mint tea in hot water works. Be sure to serve with some pretty glasses so that you get the full effect of having something special to drink.
If you'd rather not go the warm drink route then I think it's perfectly acceptable to offer a cold drink. Milk and fruit based drinks are really popular in Morocco. You can find them in little pastry shops in every city but you'll probably never be served this if you're a guest for "coffee time". The fruit is usually what is in season with the exception of the illustrious avocado milk which seems to be a year round treat.
The Snacks
The most important part in my world – the food! The sky is the limit here but don't be surprised to find a table laden with loads of carbohydrates. Pastries and breads make up a bulk of the typical sweets. This makes it hard for anyone with a gluten allergy to partake. Some of the traditional items served include.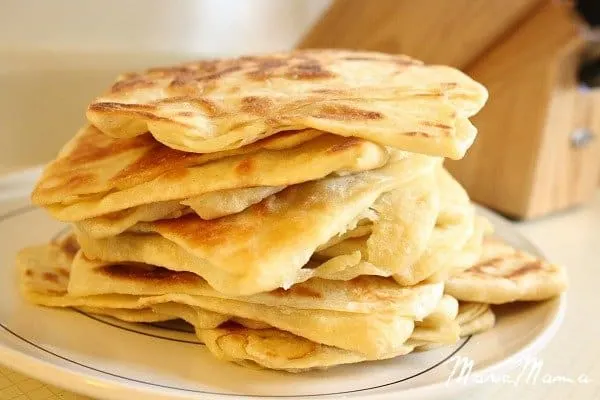 Msemmen are a favorite snack for kids and adults alike. They're usually offered at breakfast or in the late afternoon for snacks. They can be served sweet with honey and butter or made savory and stuffed with onions and spices. Both are common, though I prefer the savory choice in the afternoon.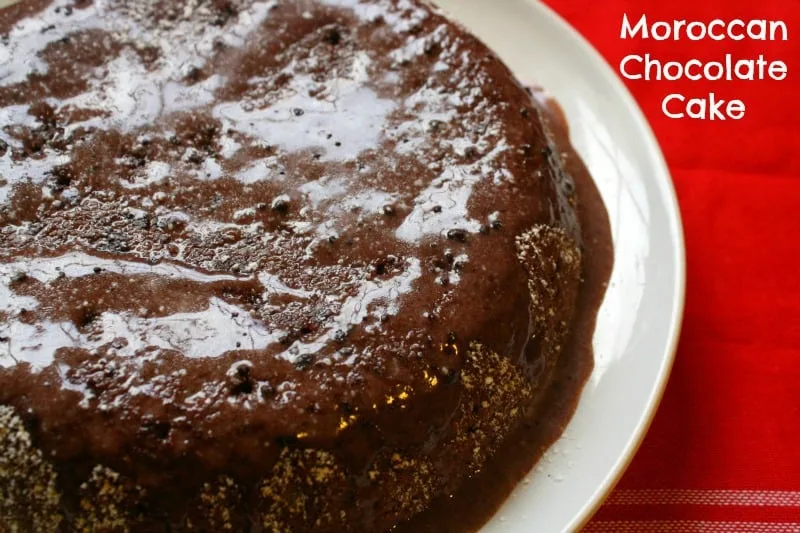 Cakes are often presented on the table during coffee time. There is a wide variety and depending on where you are in the country, the time of year, and the family you'll find a mixture of things.
I love this chocolate cake because it's an adaptation of a cake my sister in law makes – it's gluten-free! Honestly I think it tastes better than the original. Moroccan cakes are often simple and use oil instead of butter, but I always use butter instead and find my in-laws think it tastes better…because it does!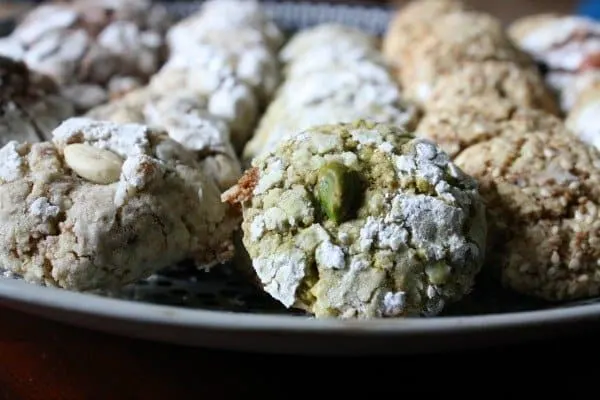 One more thing you'll see is a plate of Moroccan cookies. Those beautiful little bite-size morsels are usually reserved for special occasions – we don't eat them every day. If you're a guest and want to do something special than this is a good idea. I've got a few different recipes for Moroccan cookies, take your pick (a few are gluten free) and surprise your guests!
I like to have a variety of sweet and savory items because I think each person has different tastes. But it's completely up to you! If you're hosting your own tea time use this excuse to get out the good dishes and serving wear. Use cloth napkins and buy some fresh flowers.
Make it special – you deserve it!! If you'd like to add more of a Moroccan feel then check out this post I put together with Morocco-inspired gift ideas – nothing wrong with gifts for yourself!
If you've been invited to someone's home then dress nicely. Most things in Morocco don't happen at a precise time, and the timing usually correlates to prayer times so after dhuhr or after maghrib prayer. Don't except to arrive at a specific time nor for things to be ready when you get there.
Unlike the highly scheduled American life I'm used to this is an exercise in slowing down and just enjoying time. Plan accordingly and accept the invitation only if you don't have other appointments to run to immediately. There is no expectation of a gift however it is nice to bring something. Cookies are an easy and simple choice. If there are children you might bring something for them like pudding (the American type) or yogurts – I know this sounds really strange but it's normal.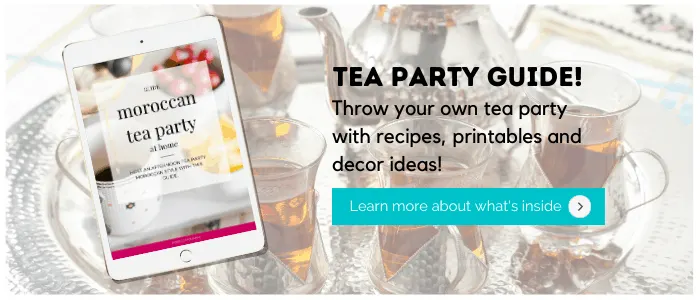 Ready to take it up a notch? Grab my Moroccan tea party guide. It's got all the recipes, party decorations and printables you need to create a special experience at home.
Want to Know More? Try these Tea Party posts