There's something about a fresh cup of mint tea served in Morocco. It's not just a cup of tea, it's a full experience. One thing that you'll discover whether sitting in a tiny hole in the wall shop or the fanciest restaurant is the distinctive Moroccan tea pot that your tea arrives in.
You can tell a Moroccan tea pot by its round middle and curved handle. Usually they also have a decorative top with a hinge.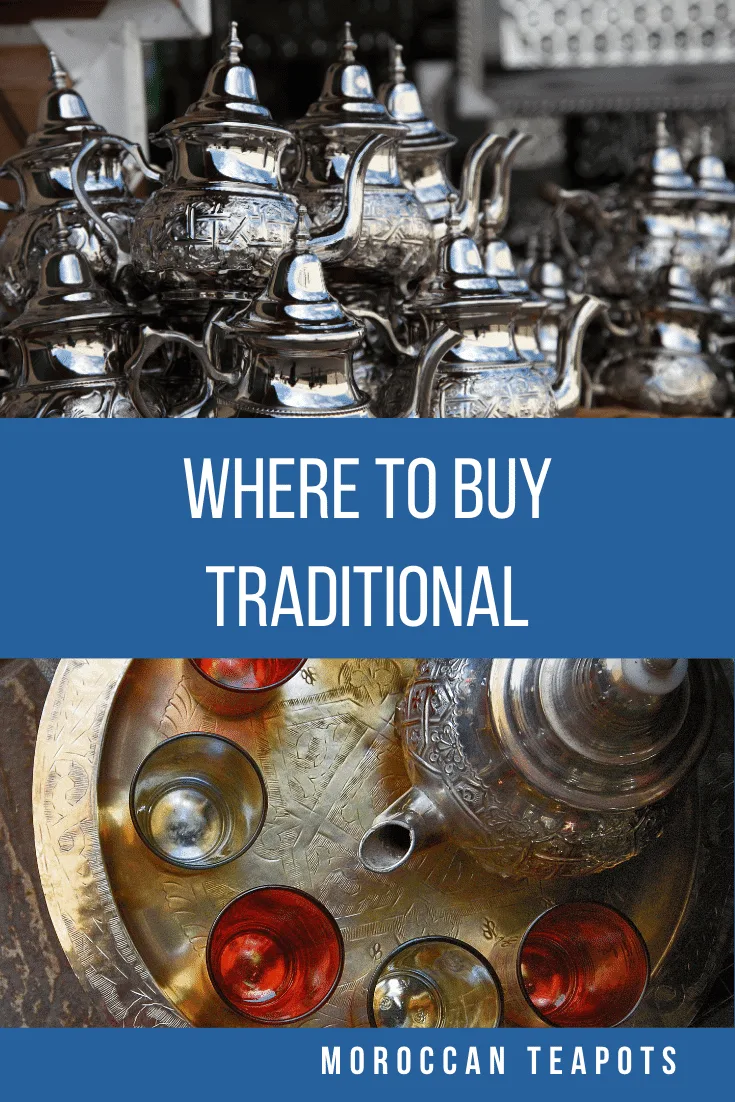 Styles of Moroccan Teapots
There are a few different types of tea pots that make an appearance. The first is reserved for more special occasions like a party or when guests are over. This style of tea pot is usually hammered metal and can have any number of different geometric designs.
Sometimes these tea pots have metal handles or heat resistant handles. They can have 4 legs or they can be flat bottomed. They are made from brass most often but plated in silver and are by and large food safe. You should always hand wash this type of tea pot.
The second is a more simple pot. It is smooth on the outside and can have a metal or heat resistant handle. These types of pots are everyday tea pots found in nearly every home and shop in the country.
It's worth mentioning that you can make Moroccan tea in any tea pot. There isn't anything special about a specific style.
This is a traditional style tea pot with 4 legs. It comes in multiple sizes so you can get the tea pot that fits your needs. Between 8oz to 134oz in size! These tea pots shouldn't be placed directly on the heat, but boiling water poured into them to make the tea.
An 18oz smooth sided tea pot with a heat resistant handle. These tea pots can be place directly on the heat (avoid contact with the handle) for short periods of time.
In need of a larger part but a similar style? Try these;
This small pot will make about 3 cups of tea – perfect for a single serving or if you decide to share. The tea pot can be placed on the heat but to preserve the piece I would recommend doing this sparingly.
This tea pot is etched but doesn't have the metal legs as seen above – it has a flat bottom. The tea pot is silver plated but made of brass. A good choice if you're looking for a simple yet elegant tea pot.
Antique Moroccan Tea Pots
If you are in the market for an antique tea pot there are quite a few that can be sourced and purchased. Because they are an every day item they are not really hard to come by but you will find varying degrees of quality and craftsmanship.
One of the pluses of buying an antique item is that it is more likely the design will have been etched by hand. In newer models there are presses as well as manufacturers that produce tea pots for the mass market.
You should take care when purchasing an antique tea pot as to whether it is still food safe. Especially with older pots there is a far greater likelihood that lead was used in the metal mixture to create the pot. When in doubt, these pieces are best used for decoration.
Moroccan Tea Pot Accessories
This is a great tool to have in your arsenal if you're a tea fanatic. Instead of waiting for water to boil on the stove, this electric hot water kettle boils water in a snap. This kettle, while a bit more expensive comes with multiple temperature settings for tea and also has a keep warm feature.
I have had this kettle and used it for many, many years. It's a very simple and basic kettle but if you don't own one, or are looking for something new, it's worth a shot! The tea pot fits 2 quarts of water and is made of stainless steel.
What's Moroccan mint tea without sugar? This etched sugar bowl is ideal to accompany your tea pot and can be set on the table or paired with an etched tea plate to create a full tea set.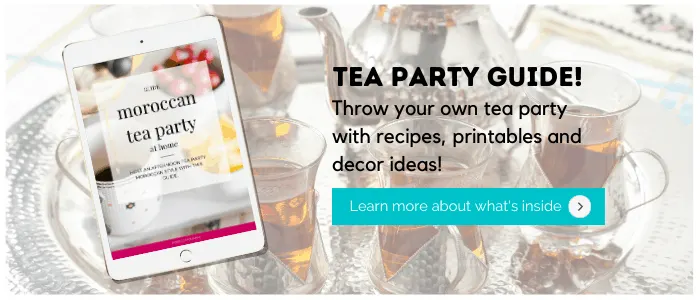 Now that you've chosen the perfect teapot why not plan a Moroccan tea party? This guide tells you everything you need to plan and execute a fun get together with friends or for your family. Recipes, printables and more inside. Get your copy today!