If you're a fan of Mediterranean cuisine, you've likely tasted pita bread before. Pita is a type of flatbread that is constantly enjoyed in many Middle Eastern and Mediterranean countries, and it's perfect for dipping into hummus, tzatziki, or other flavorful dips.
But did you know that you can make your own pita bread at home? It is a fun and rewarding baking project, and this homemade pita bread recipe tastes much better than store-bought. Plus, you'll impress your friends and family with your culinary skills. Pair this with one of these easy Arabic recipes for a full meal.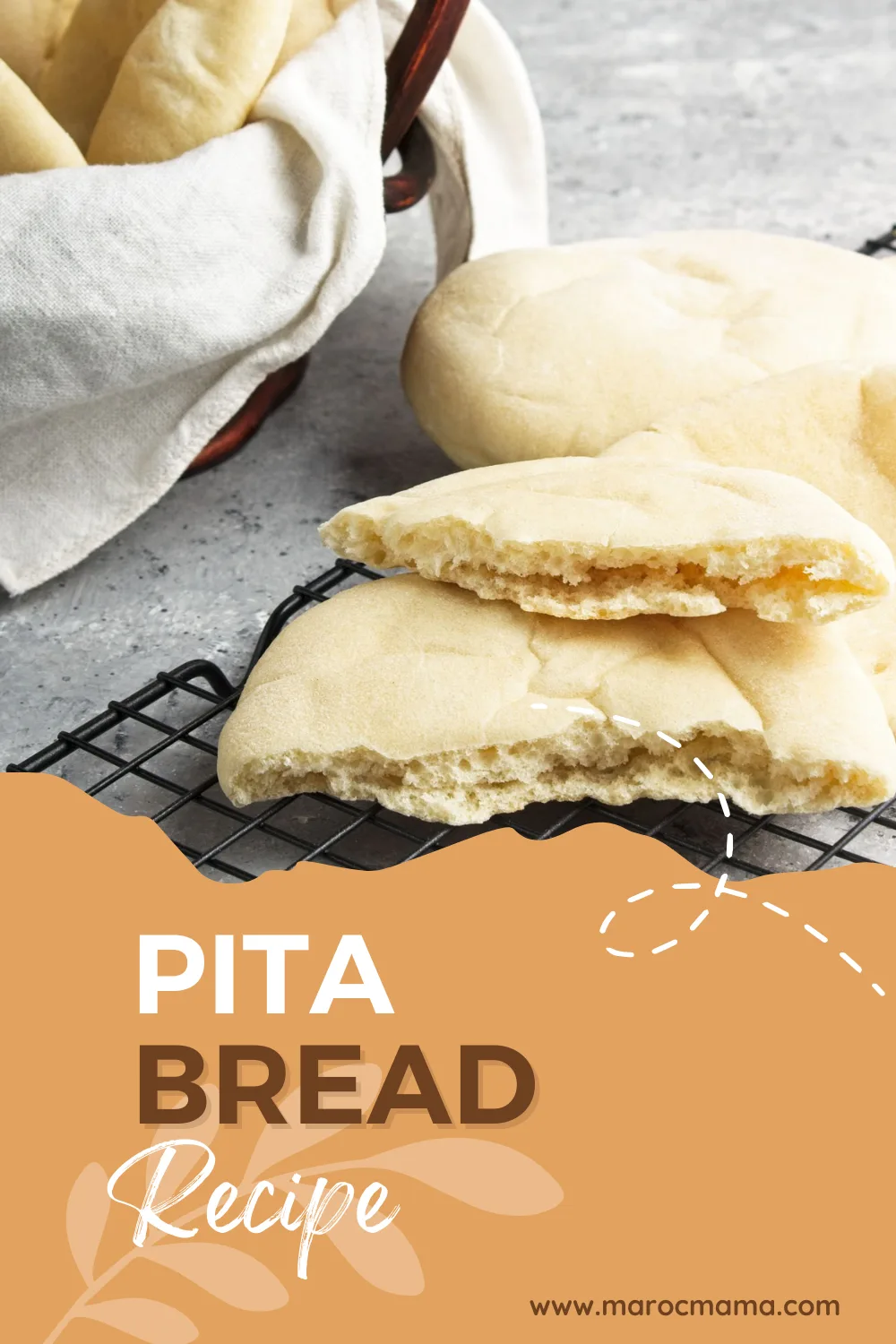 In this blog post, we'll share a simple yet delicious pita bread recipe you can make in your kitchen. You'll need some flour, yeast, salt, water, and a hot oven. We'll walk you through the steps of making the dough, letting it rise, shaping the pitas, and baking them to perfection.
What is the Best Flour to Use for Pita Bread?
The best flour to use for pita bread is a high-protein bread flour, which will help to create the chewy texture and strong structure needed to hold the pocket shape. You can also use all-purpose flour, but you may need to adjust the recipe slightly to achieve the same texture. Whole wheat flour can also be used for a healthier option, but it will result in a denser and slightly chewier bread.
How can I get my pita bread to puff up?
To get pita bread to puff up, you need to create steam inside the bread. This can be achieved by preheating your oven and baking the pita bread on a preheated baking stone or baking sheet. The high heat will cause the moisture in the dough to turn into steam, causing the bread to puff up.
It's also important to make sure your dough is well-rested before baking, as this will help the bread to puff up more easily. Finally, be sure to handle the pita bread gently to avoid deflating it before it has a chance to puff up in the oven.
How do I roll out the dough to the right thickness for pita bread?
To roll out the dough to the right thickness for pita bread, you can use a rolling pin to create even circles of dough. Aim for a thickness of about 1/4 inch (6 mm) or less. It's important not to overwork the dough and to keep it well-floured to prevent sticking. If you have trouble getting the circles perfectly round, you can use a round cookie cutter or a bowl to trim the edges.
How do I store leftover pita bread?
To store leftover pita bread, allow it to cool completely and then place it in an airtight container or plastic bag. You can store it at room temperature for up to 2 days or in the refrigerator for up to 1 week. If you want to keep it for longer, you can freeze it for up to 3 months. To thaw frozen pita bread, simply leave it at room temperature for a few hours or reheat it in the oven or toaster oven for a few minutes.
Can I freeze pita bread?
Yes, you can freeze pita bread. Wrap the bread tightly in plastic wrap or aluminum foil, then place in an airtight container or freezer bag. Pita bread can be frozen for up to 3 months. When you're ready to use it, simply thaw the bread at room temperature and reheat in the oven or toaster oven for a few minutes to refresh it.
Whether you're a skilled baker or a beginner, this recipe is easy to follow and creates excellent results. So grab your apron, preheat your oven, and make some fresh, homemade pita bread!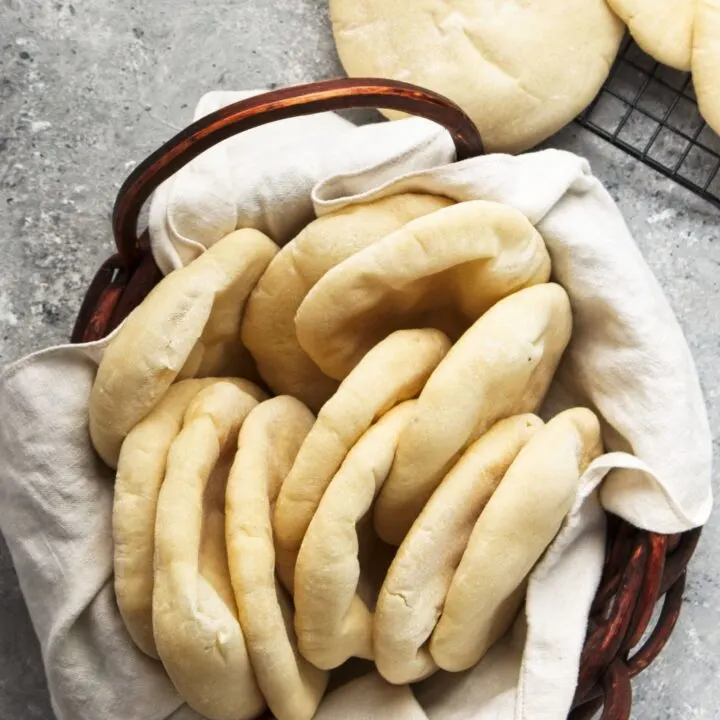 Yield:

15 pieces
Pita Bread Recipe
Prep Time:
2 hours
10 minutes
Additional Time:
5 minutes
Total Time:
2 hours
25 minutes
Soft and pillowy pita bread is perfect for stuffing with your favorite fillings. This homemade recipe yields fluffy, fresh bread with a slightly chewy texture, and is great for sandwiches, or dips.
Ingredients
3 ¼ cup/390g all-purpose flour
2 ¼ tsp/7g active dry yeast
1 tsp/6g coarse salt
2 tbsp/30ml olive oil
1 ¼ cup/295ml warm water
Instructions
In a large bowl, combine warm water (about body temperature, no more than 110°F/43 C) with ¼ cup/30g flour. Stir to dissolve.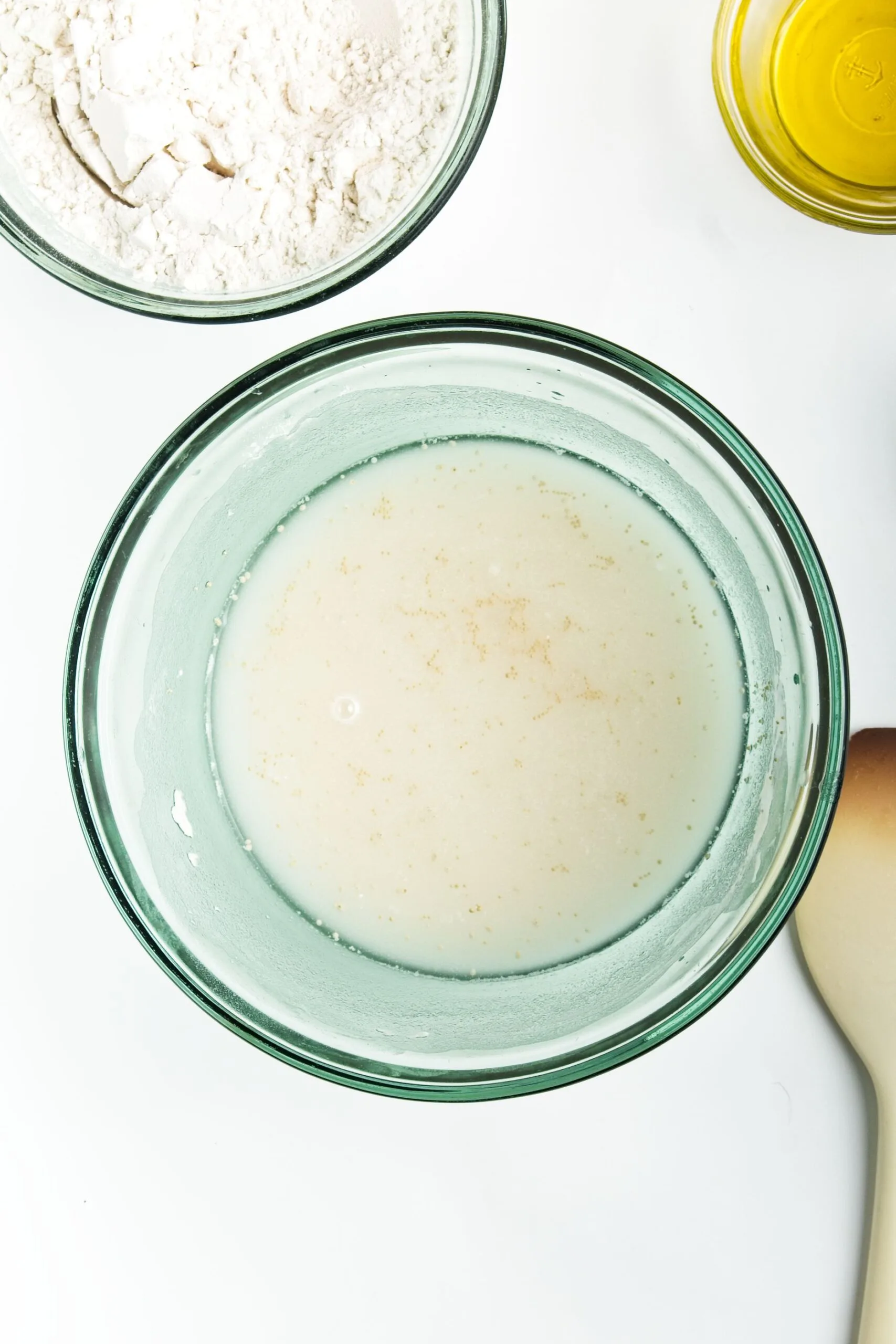 Sprinkle the yeast on top and set aside for about 10 minutes until foamy.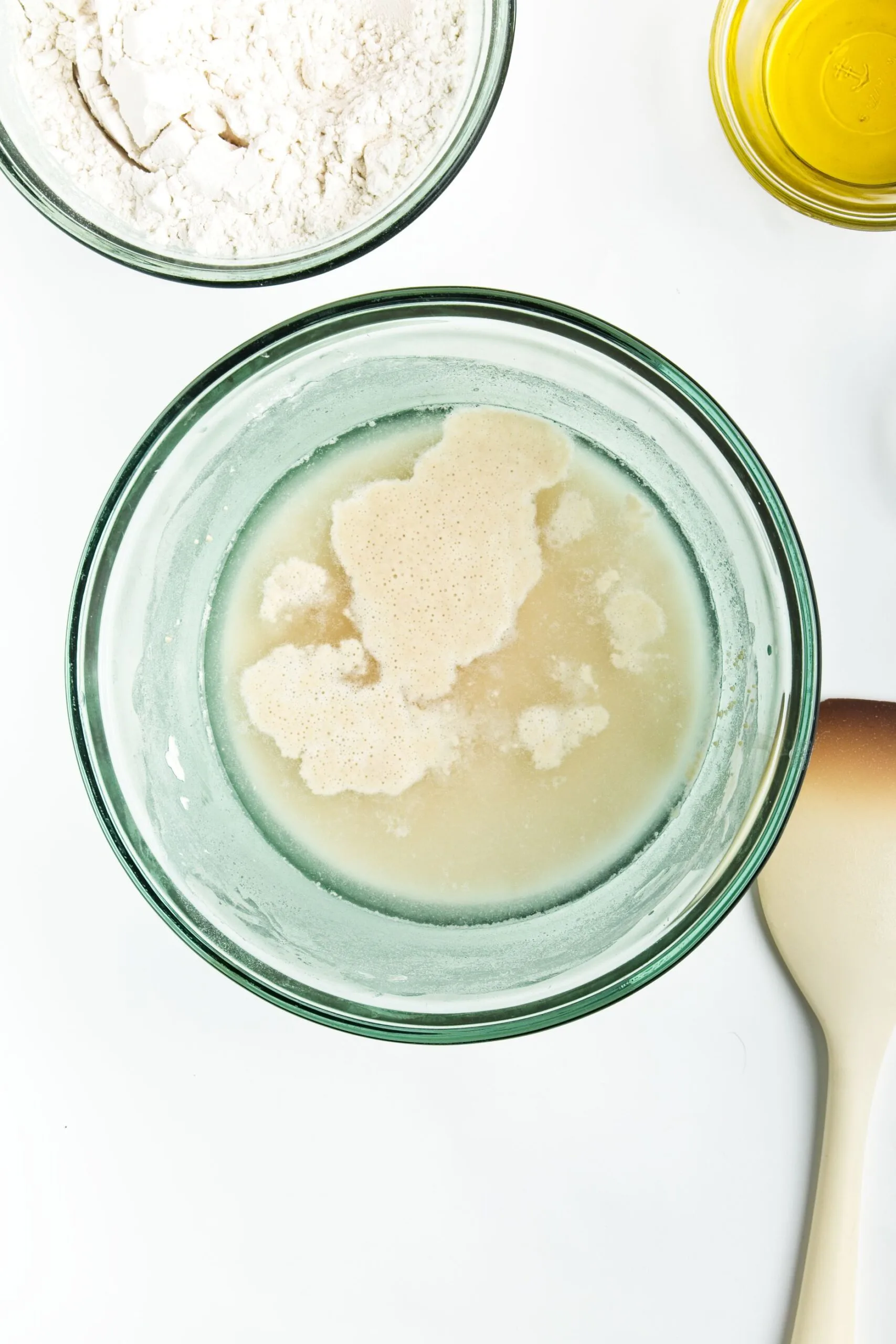 Add the remaining flour, salt, and olive oil. Stir until everything comes together in a sticky dough.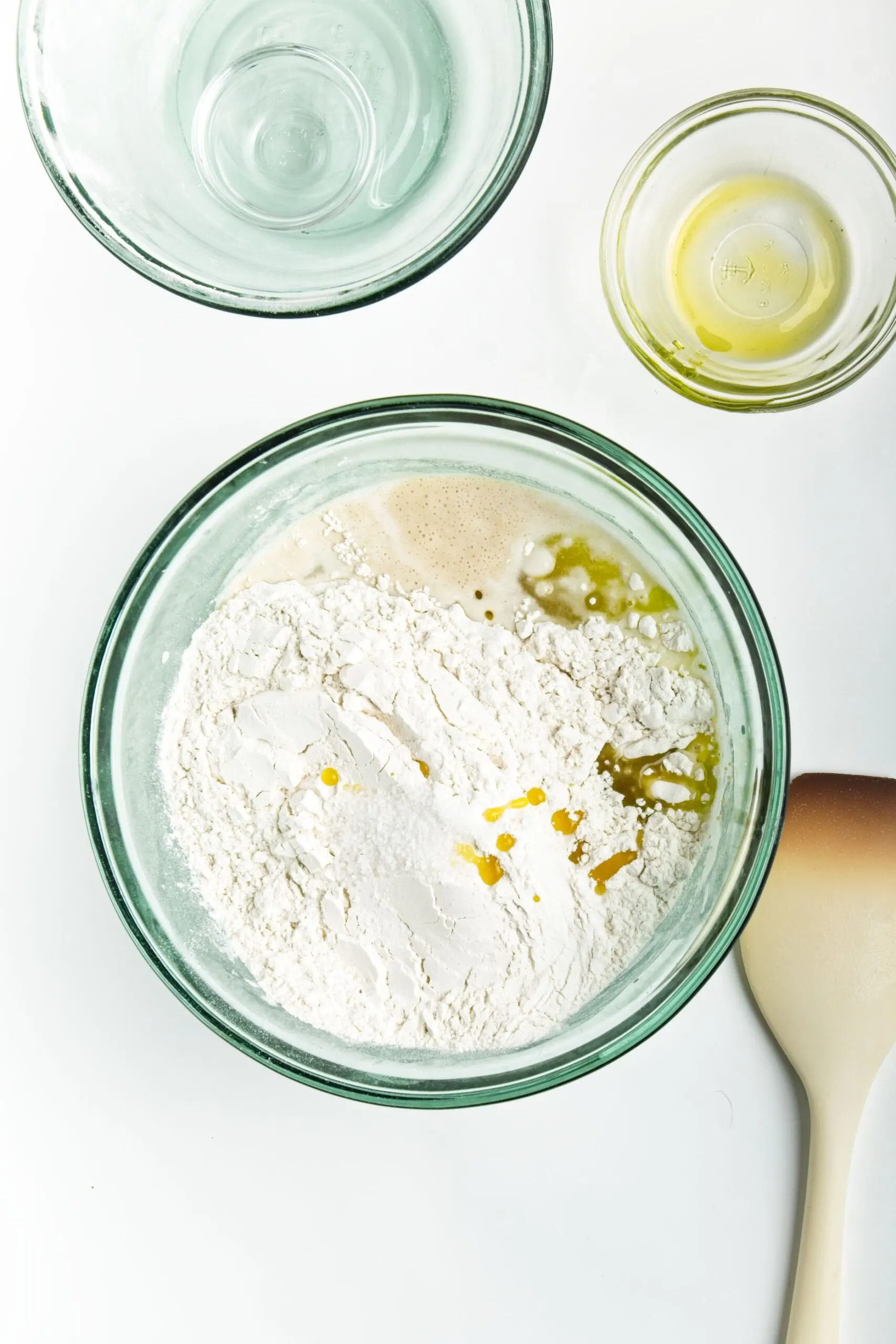 Turn out on a floured surface and knead for 7-10 minutes until smooth and soft. If the dough is still sticking to your hands more than itself, add a bit more flour a tbsp/7g at a time.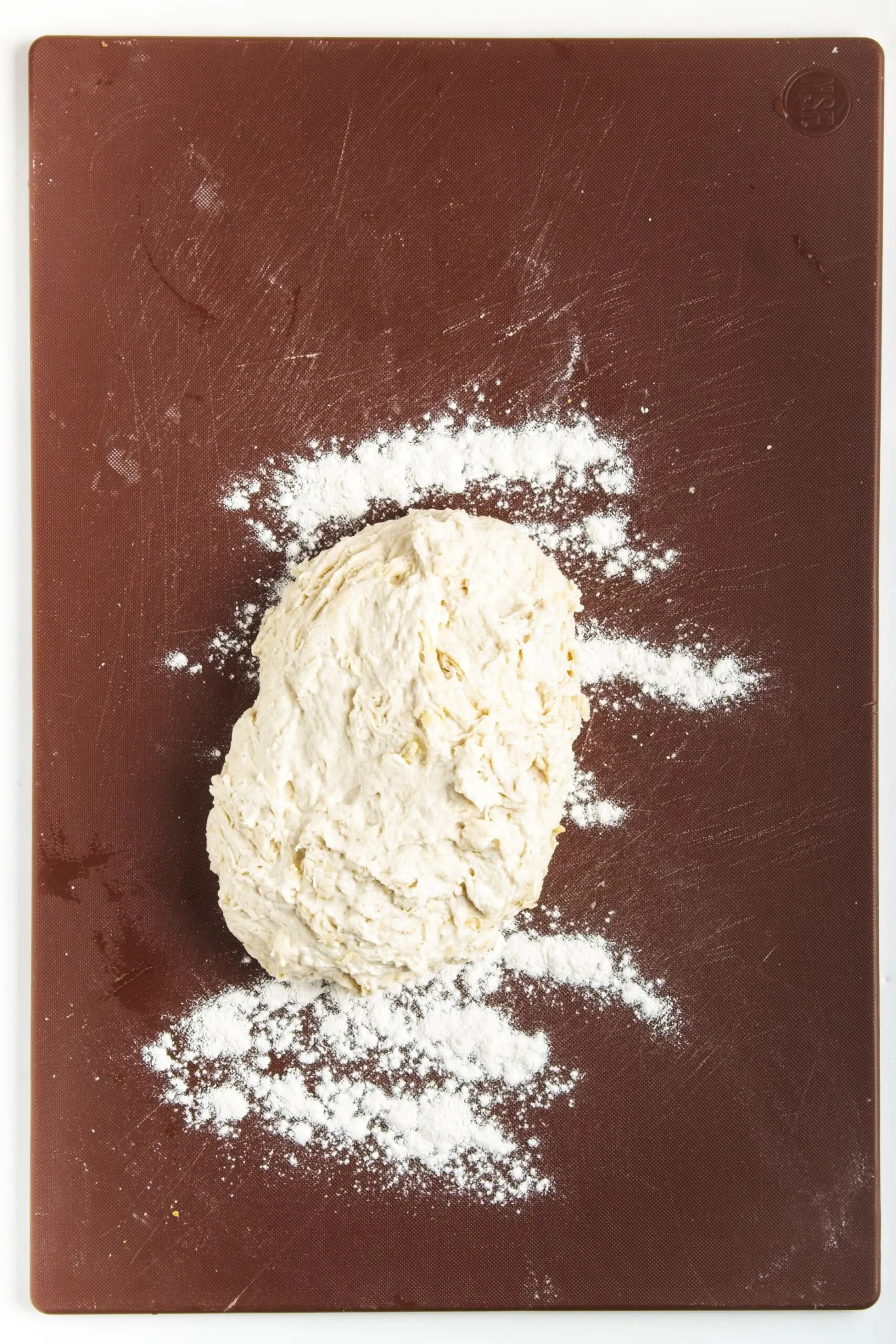 Place dough into a greased bowl and cover it with plastic wrap or a damp cloth.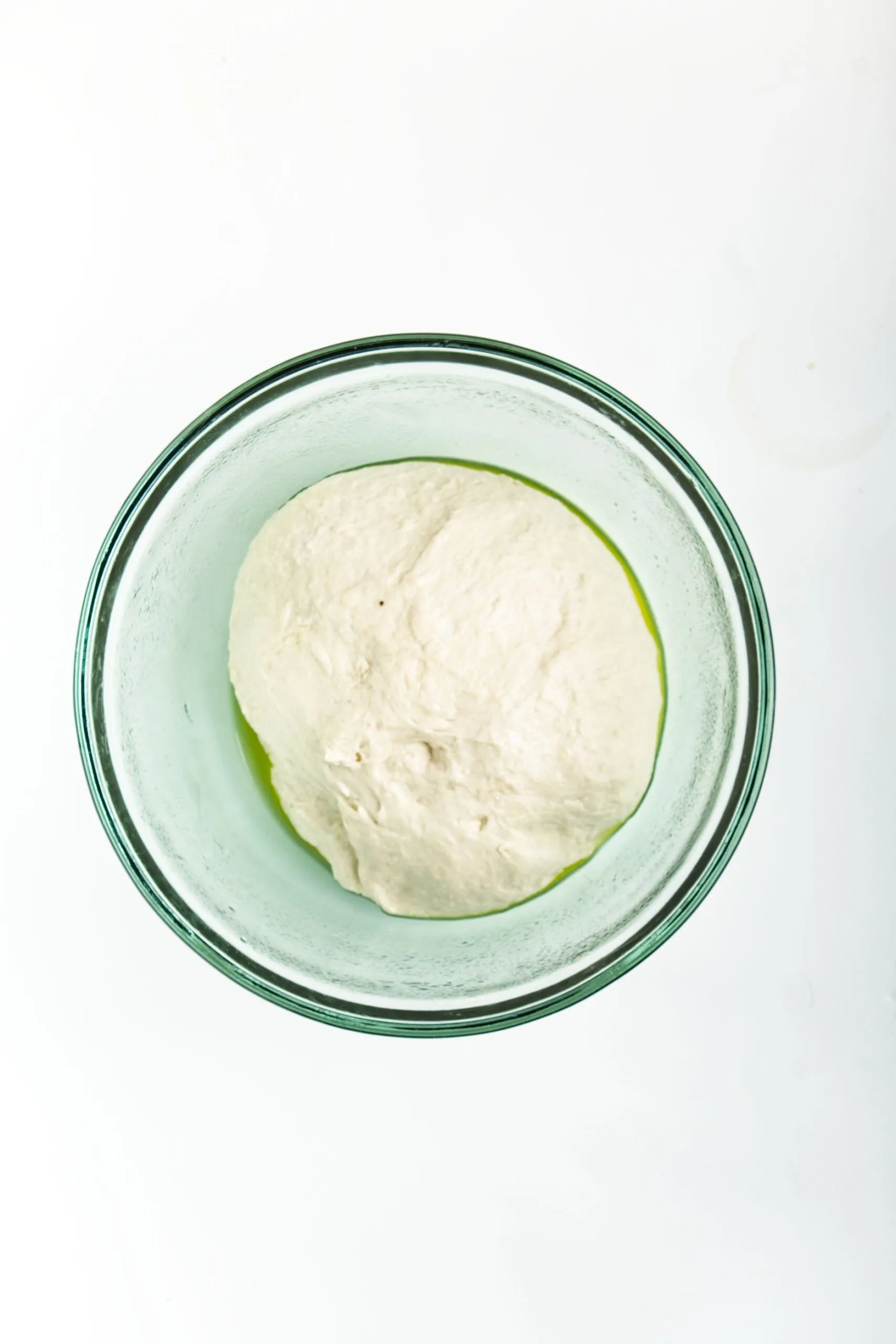 Place in a warm location and allow rising until 2.5-3x the size, about 1 hour, depending on the ambient temperature.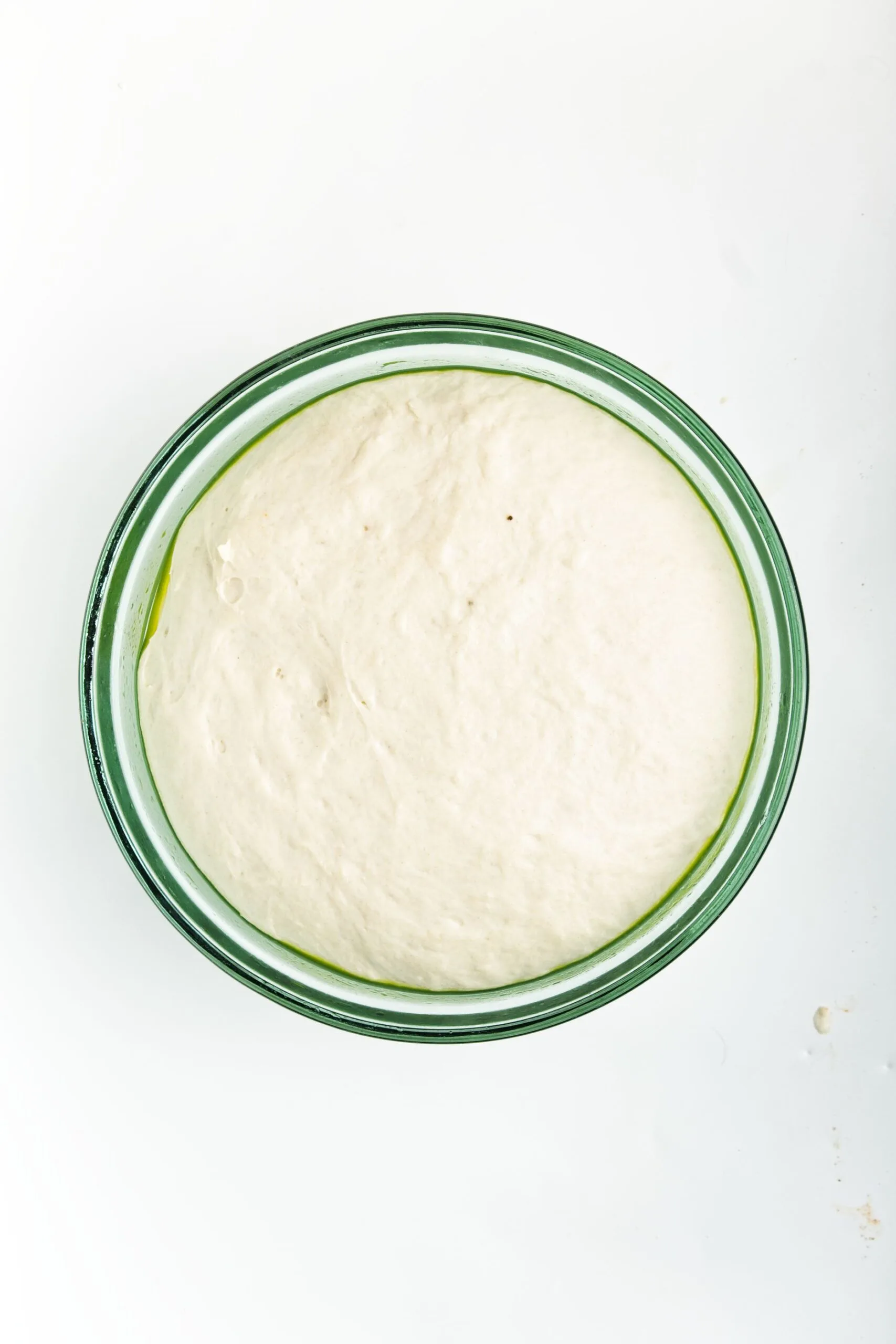 Preheat oven to 475°F/250 C. Place a heavy baking sheet in the oven to heat as well.
Turn out on the lightly floured surface and cut into 15 equal pieces.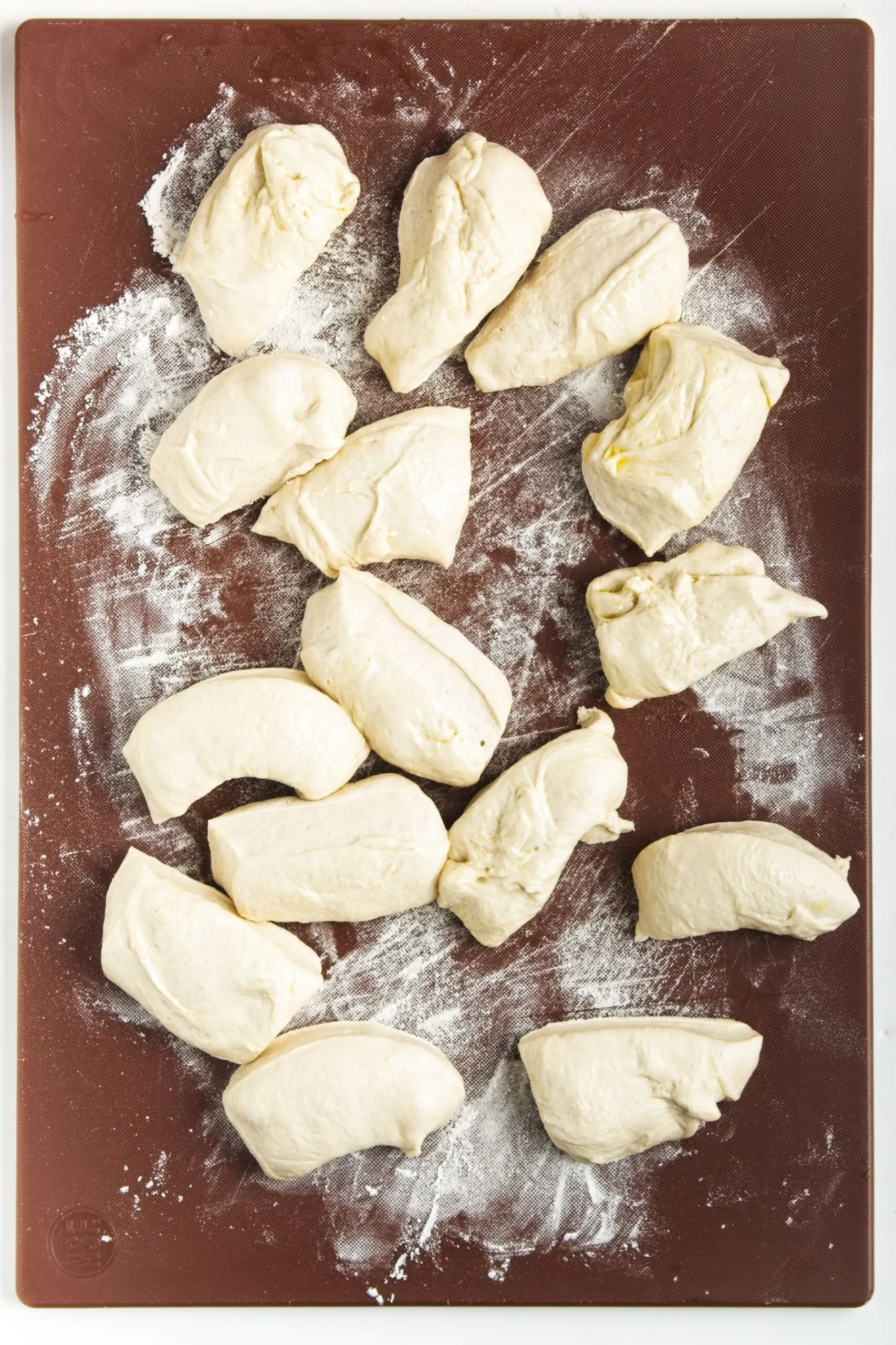 With each piece, fold the edges into the center and roll between your palms to form a ball. Set aside to rest for 5-7 minutes, covered with a cloth so the gluten relaxes.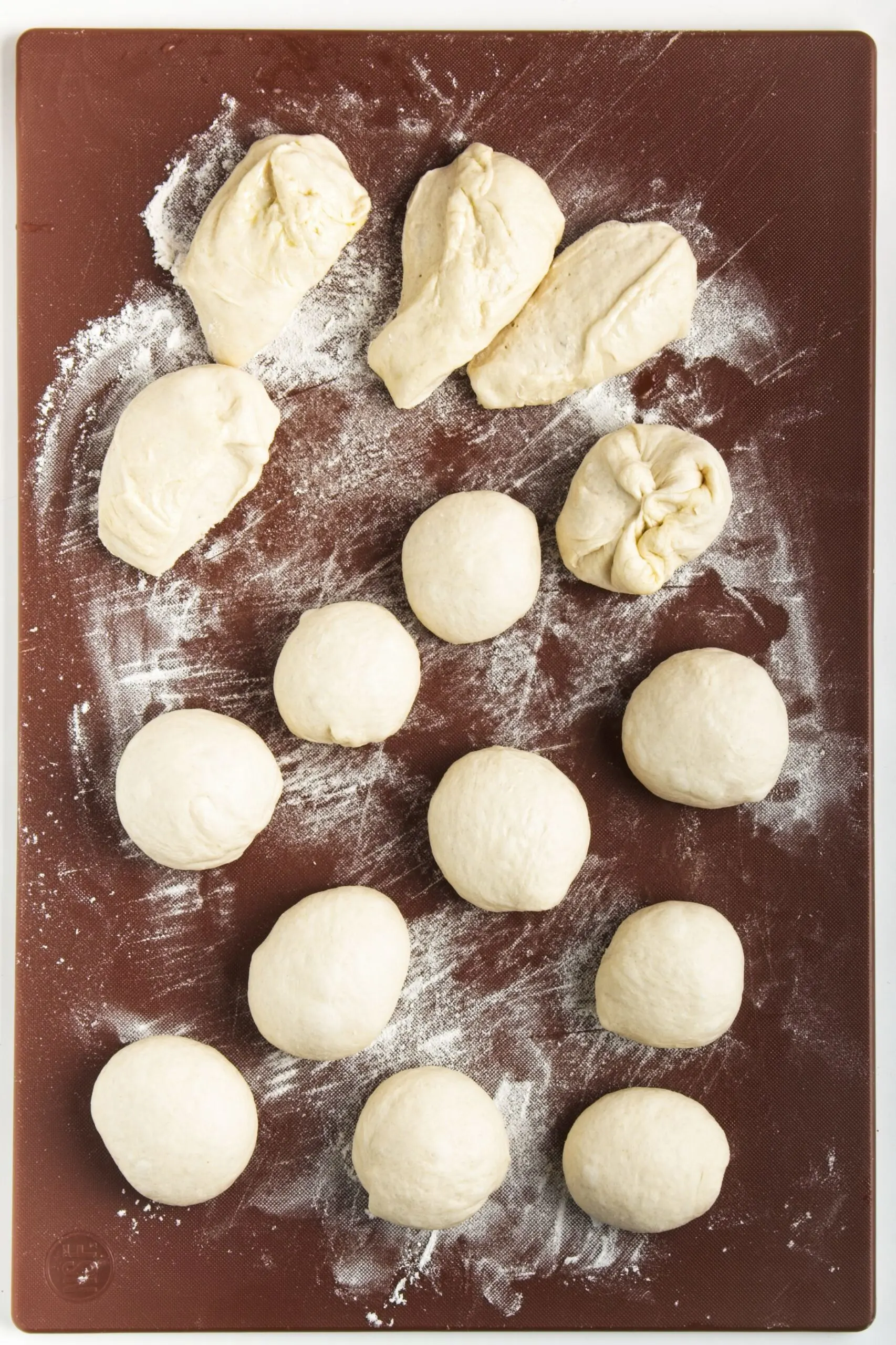 On a well-floured surface, use a rolling pin to roll each piece into a 5"/12.5cm circle slightly more than ¼"/6mm thick.
Rest the formed pitas for 15 minutes.
Bake 3-5 pitas at a time by placing them on the preheated baking sheet. Bake for 2-3 minutes until well puffed (but not turning brown). Remove immediately and place a new batch in the oven. Once removed from the oven, the pitas will collapse but will still have the pocket inside when cut open.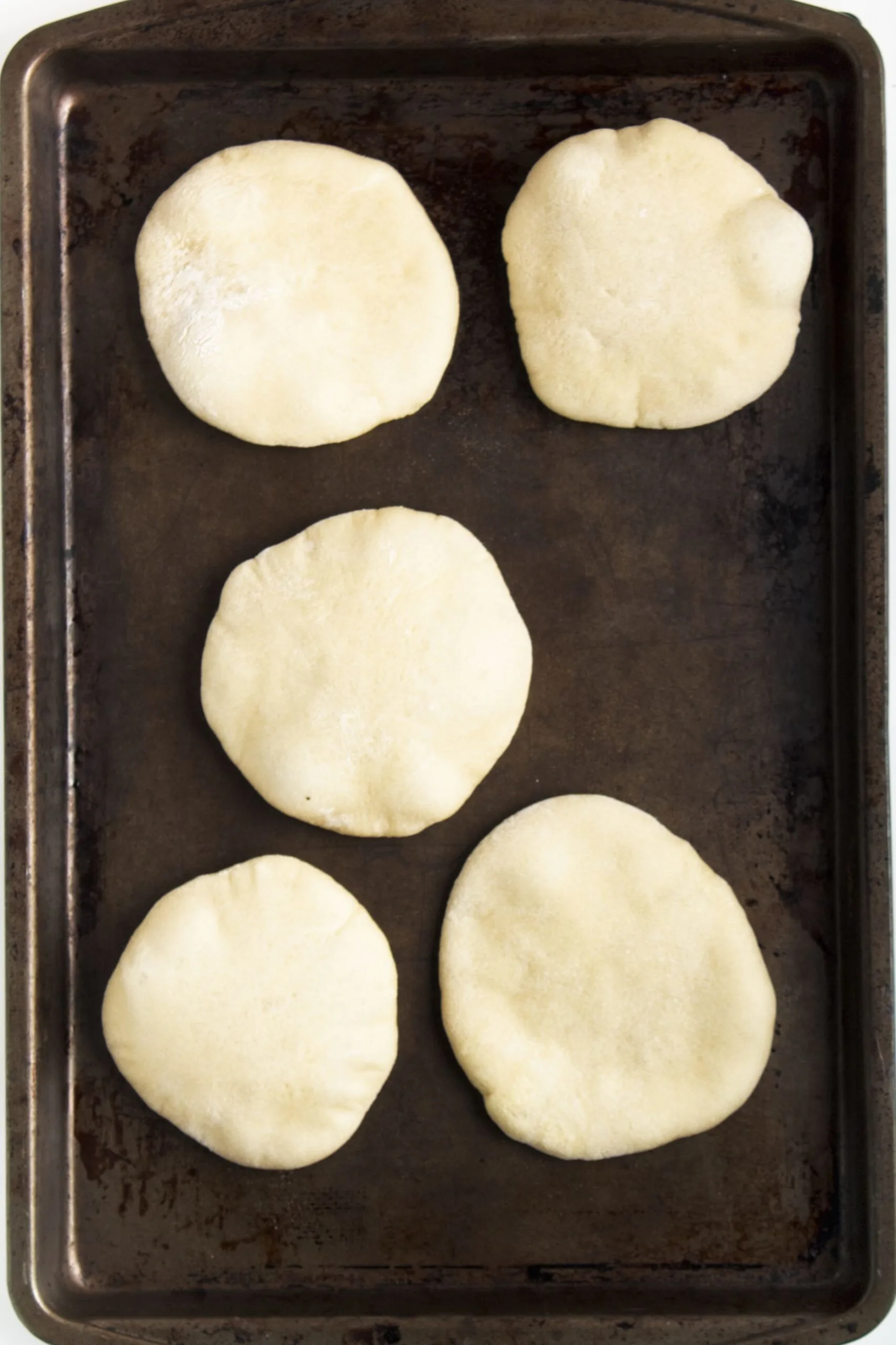 Serve immediately or store in an airtight container in the fridge for up to 3 days.
Notes
Here are some do's and don'ts for storing pita bread:
Do:
Store pita bread in an airtight container or plastic bag to keep it fresh and prevent moisture from getting in.
Store pita bread in a cool, dry place, away from direct sunlight and heat.
Freeze pita bread if you don't plan on using it within a few days. Wrap it tightly in plastic wrap or aluminum foil before placing it in the freezer.
Toast or warm pita bread before serving to enhance its flavor and texture.
Don't:
Don't store pita bread in the refrigerator; it can dry out and become stale.
Don't store pita bread in a damp or humid environment, which can cause mold growth and spoilage.
Don't store pita bread in an open container or bag, as this can cause it to dry out quickly.
Refrain from microwaving pita bread to warm it up, as it can make it soggy and less appetizing. Use an oven or toaster instead.
Making pita bread at home is simple and rewarding. This recipe has proven that anyone can make fluffy and delicious pita bread from scratch with a few ingredients and some basic equipment. It's a great option for those who want to avoid store-bought bread or want to try their hand at baking.
The key is to follow the instructions carefully and let the dough rise properly. With practice, you can even experiment with different flours or add herbs and spices to customize the flavor of your pita bread. Whether you serve it with hummus, falafel, or your favorite sandwich fillings, homemade pita bread will impress your family and friends.
So why not try it and enjoy the taste of freshly baked bread straight from your oven!
Serving Ideas for Pita Bread
There's no wrong way to eat pita but if you want some more ideas of what to stuff or dip your bread with, here are some great recipes.
Super Easy Goat Cheese Board with Za'atar