We're going, to be honest with you— with all the choices you can find in Morocco and on the internet right now, it's hard to find the best red Moroccan rugs for your home or office.
It can be challenging to know where to begin, whether you're looking for your first Moroccan rug or simply want to add it to your collection.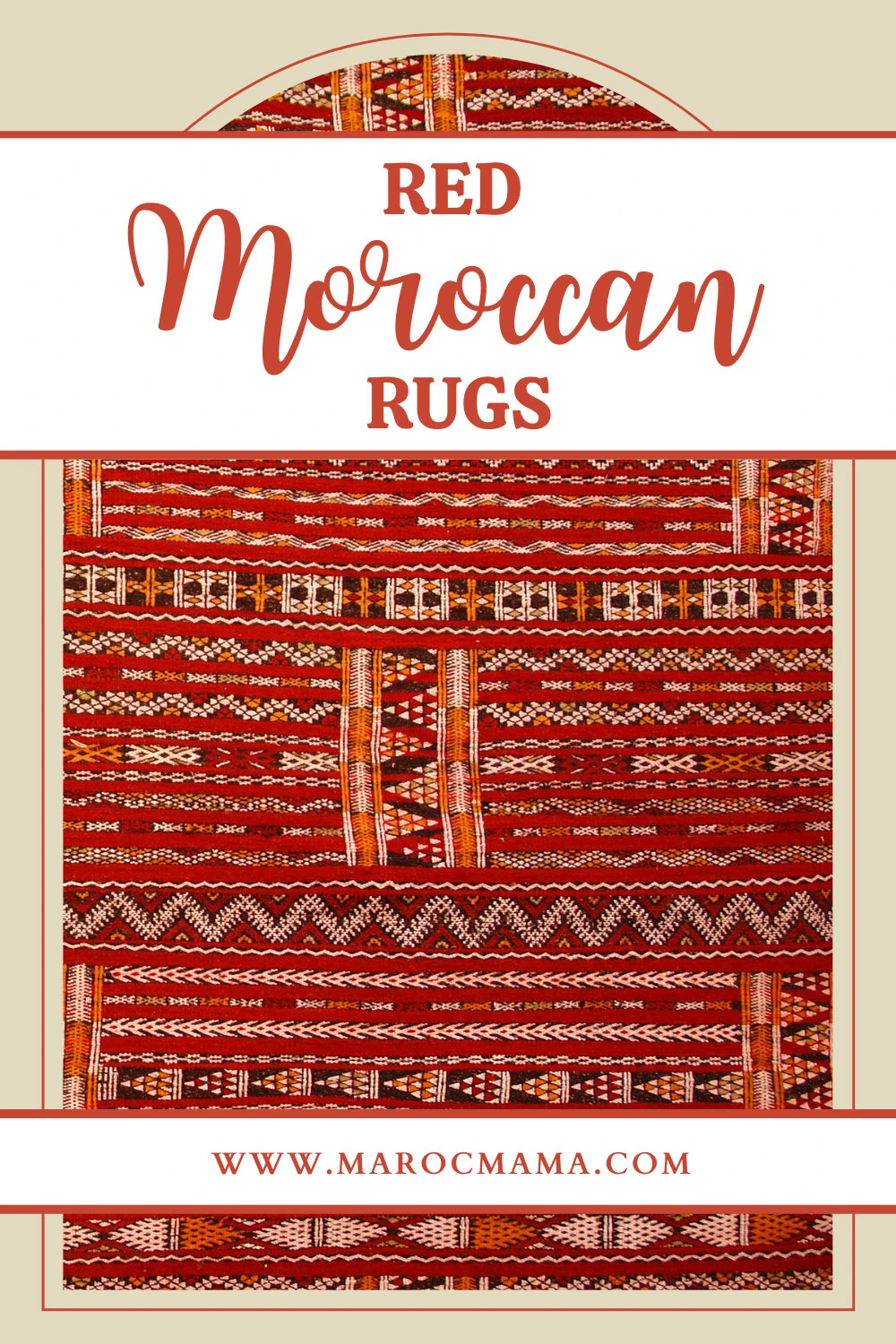 If you're shopping in Morocco, read my post on shopping for a rug in Marrakech or my post on the different styles of Moroccan rugs you might like.
How do you choose a high-quality rug?
When buying products online it can be a gamble to know if you are getting something good or not. Here are three tips to help you when you're shopping for Moroccan rugs online.
Look out for detailed product descriptions: High-quality Moroccan rugs are often handmade and come with detailed descriptions of materials, manufacturers, and techniques used to make the rug. Avoid buying from sellers who don't provide such information.
Ask questions: If there is something you don't understand about a particular product, do not hesitate to ask the seller for more information. A good seller will always be willing to help and can provide answers to your questions.
Check customer reviews: Before making any purchase, take some time to read what other customers have said about the product or seller. This can give you an insight into the quality of the rug and whether it is worth investing in.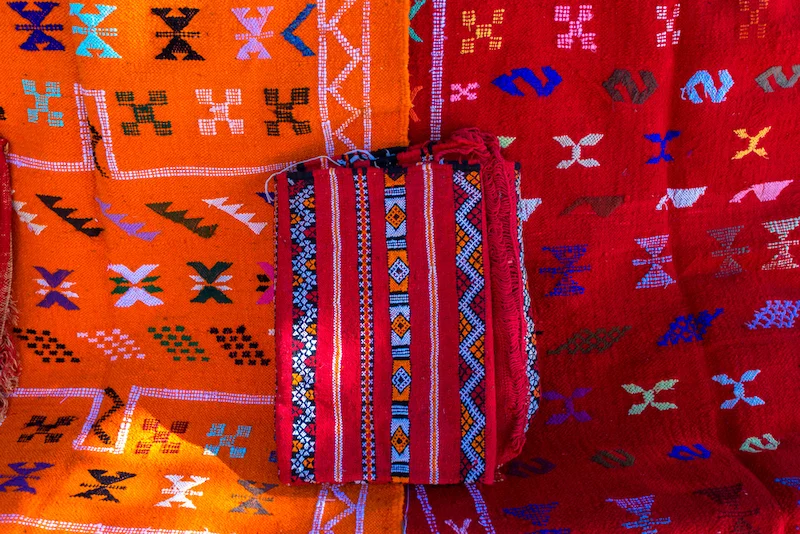 How do you make sure that when you buy a red Moroccan rug it won't bleed?
When it comes to keeping your red rug looking vibrant and avoiding the dreaded "bleed" effect, a few simple steps can go a long way. First off, you should be sure to blot away any accidental spills immediately with a clean, dry cloth. Using a mild dish soap will generally be safe however using stronger detergents can cause the rug to bleed.
For extra protection against staining, be sure to vacuum the rug on a regular basis, removing any dirt or debris that could work its way into the fibers while wet and cause colors to bleed out. If possible, consider setting up an entry mat or alternative barrier just outside whatever area of your home the rug covers – this can help minimize the amount of dirt and moisture that would normally be tracked onto it from day-to-day visits.
If you are placing your rug on white or light-colored carpeting, I recommend putting a rug pad between the two. This way if there is a spill, the color won't bleed through to your fixed carpet. This is a really nice quality pad that comes in different sizes, you can also cut it to fit your rug.
Finally, when cleaning the rug itself, it's always best to spot clean. But if your entire rug needs to be cleaned, consider hiring a professional. They will be able to best assess how to clean your rug. Generally, there is some degree of bleed with bright colors like red but it shouldn't wash out.
We've put together this list so you can be confident your upcoming purchase will be a good one.
7 Beautiful Red Moroccan Rugs
These rugs are available to purchase online if you don't have a trip planned to Morocco in your sights. Make sure to double-check the dimensions so that you know they'll fit in your space.
Vintage Red Rug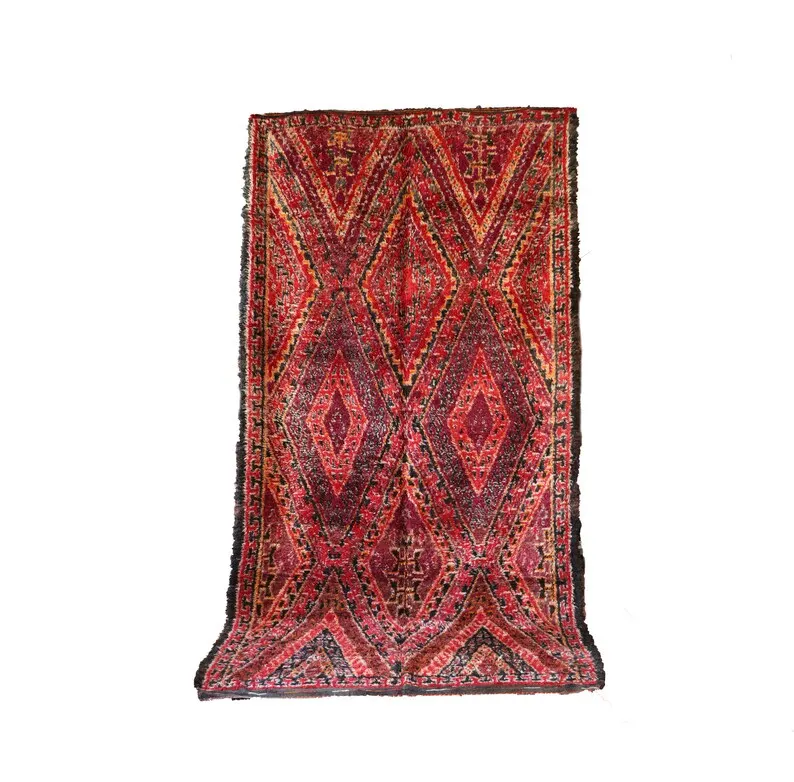 This handmade Moroccan Berber vintage red shag area rug is ideal for the art enthusiast's home decor. Any room in your house will benefit from this vintage red shag area rug's vibrant color and plush texture!
The 5×7 size of this Moroccan shag rug makes it ideal for any room, from the guest bedroom to the living room and even your master suite. It's also an excellent choice for college apartments or dorm rooms. It's made of 100% wool and hand-knotted by skilled Moroccan artisans.
This vintage red shag area rug is made from 100% wool.
Moroccan Pattern Rug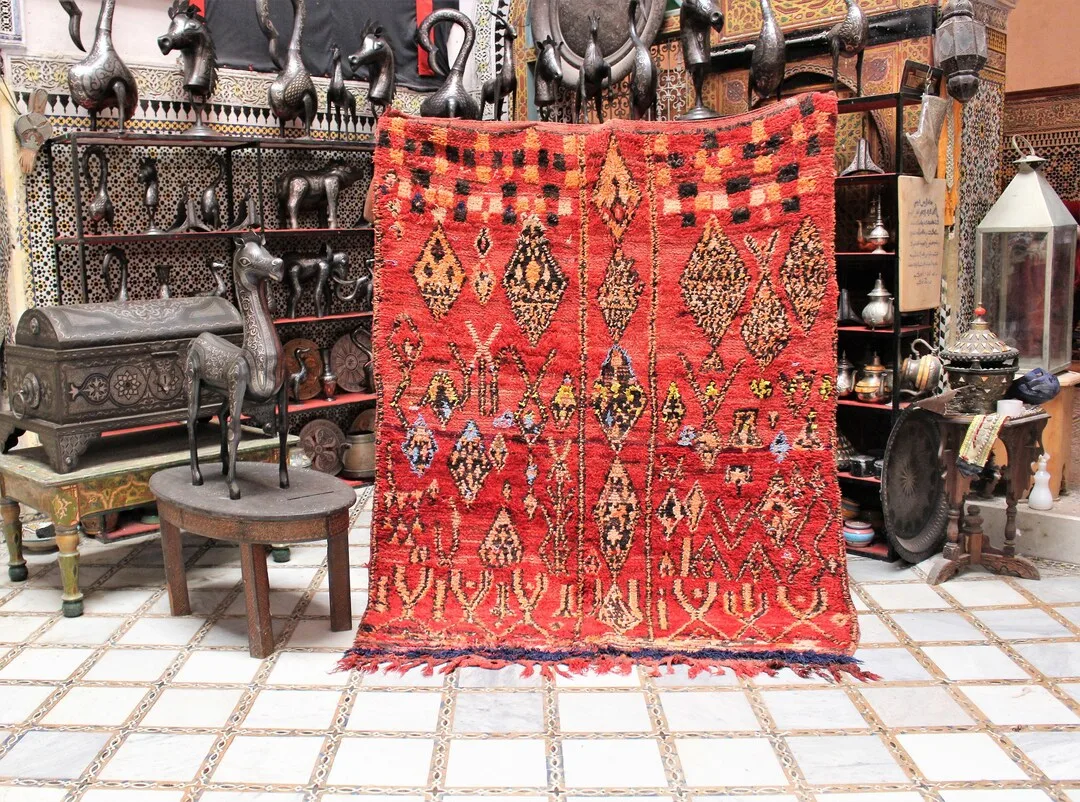 Add these lovely large rectangular red rugs with a Moroccan pattern to your list of red Moroccan rugs. Its beautiful design and soft feel make it an ideal addition to any room.
The red color is eye-catching and will add a splash of color to any room. The intricate pattern on the rug adds interest while remaining subtle enough to blend in with other decors.
Handwoven Vintage Moroccan Rug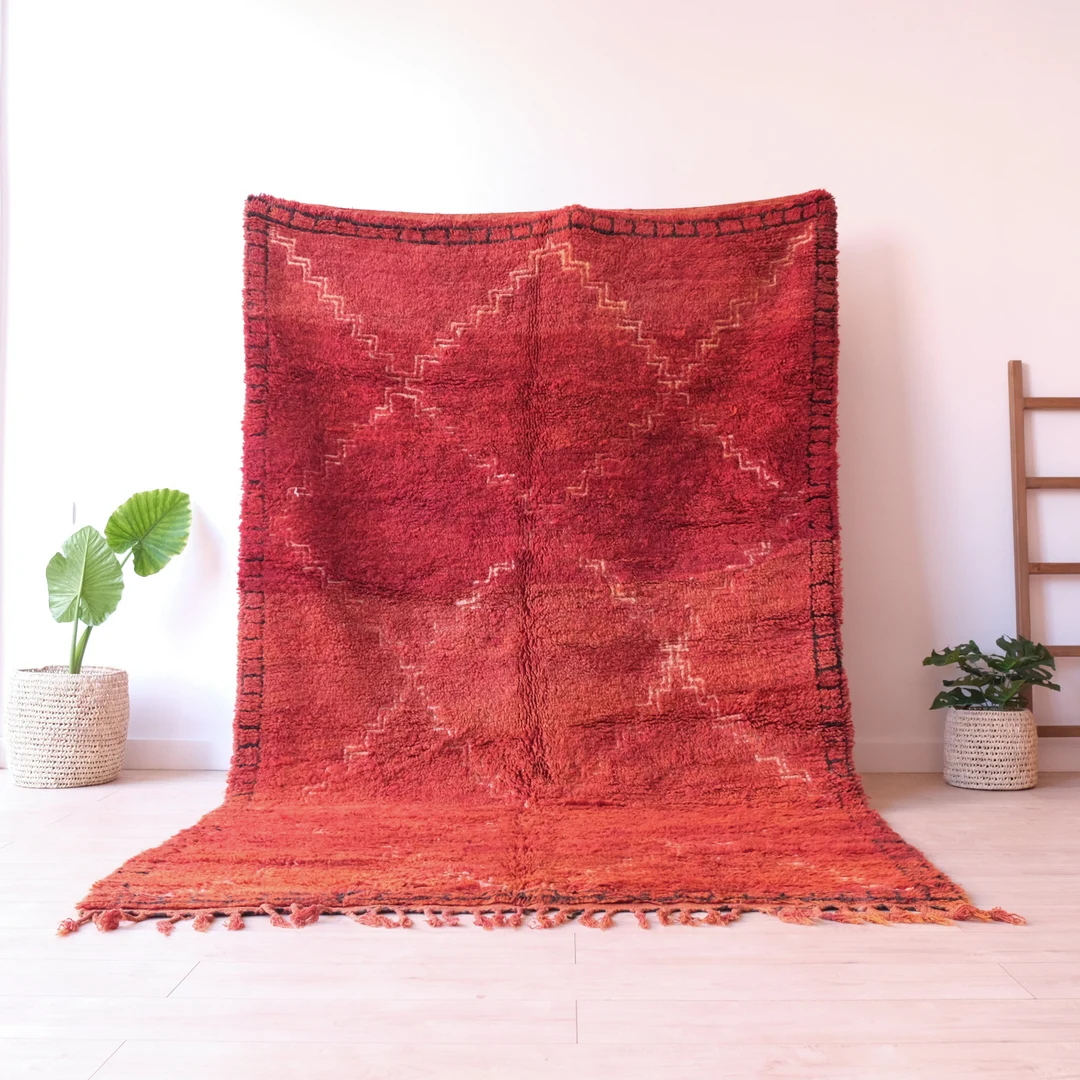 This gorgeous Moroccan rug was made by local artisans in Morocco. These traditional rugs are made of 100% wool and have a classic vintage design that will add an elegant touch to any room.
This rug is handwoven using traditional weaving techniques and features a vibrant red color that complements any color scheme. It is a newly made rug meaning you won't have to worry about nay signs of aging. It's ideal for any room in your home or office!
You'll love how this rug adds warmth and beauty to any space, whether you use it as an accent piece or as a centerpiece.
Boujaad Antique Rug
The vintage Moroccan red rug is a hand-woven antique rug made of a wool and cotton blend. This Moroccan rug is handcrafted and has an intricate design on both sides.
The quality of this antique rug can be seen in its design, which features geometric patterns woven together to create an overall modern and classic look! This makes it suitable for any room in your home or office, whether traditional or modern in style.
The red color of this rug will add warmth and vibrancy to any room in your home, while also providing an elegant look that will impress visitors.
You can be confident that this item was handcrafted by skilled artisans using traditional methods passed down through generations—so you'll always know you're getting genuine quality.
Solid Shag Style Rug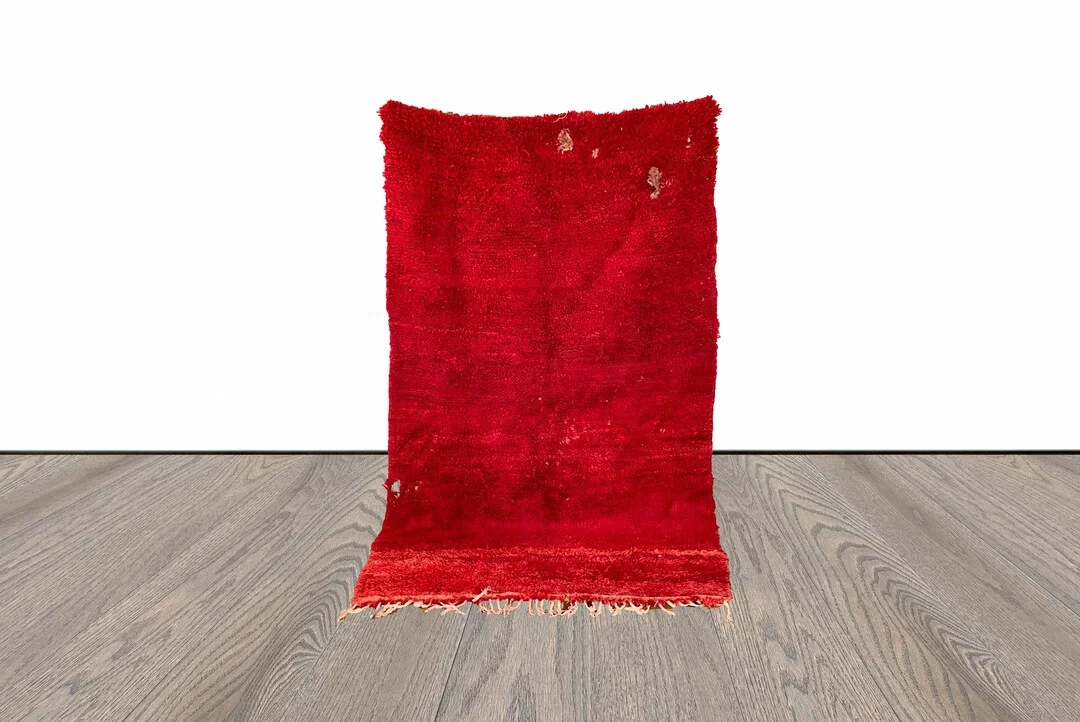 This is the rug to have if you want to make your living room stand out.
This Moroccan red solid shaggy rug is ideal for any space in need of a little something extra. It's 4×7 feet in size, so it'll fit in almost any room in your house, and it's intended to be used as an area rug, so you can place it on the floor or on a platform.
Because this rug is made of wool, it has a super-cozy feel and texture: it's soft and plush, like walking on mounds of pillows! It has a lovely shimmery appearance, and you'll love how the light catches it.

The edges are finished with hand-stitched leather strips. This makes the rug long-lasting and simple to clean (you can just wipe off any spills). It is also very durable, so you will not have to worry about wear and tear.
Moroccan Kilim Carpet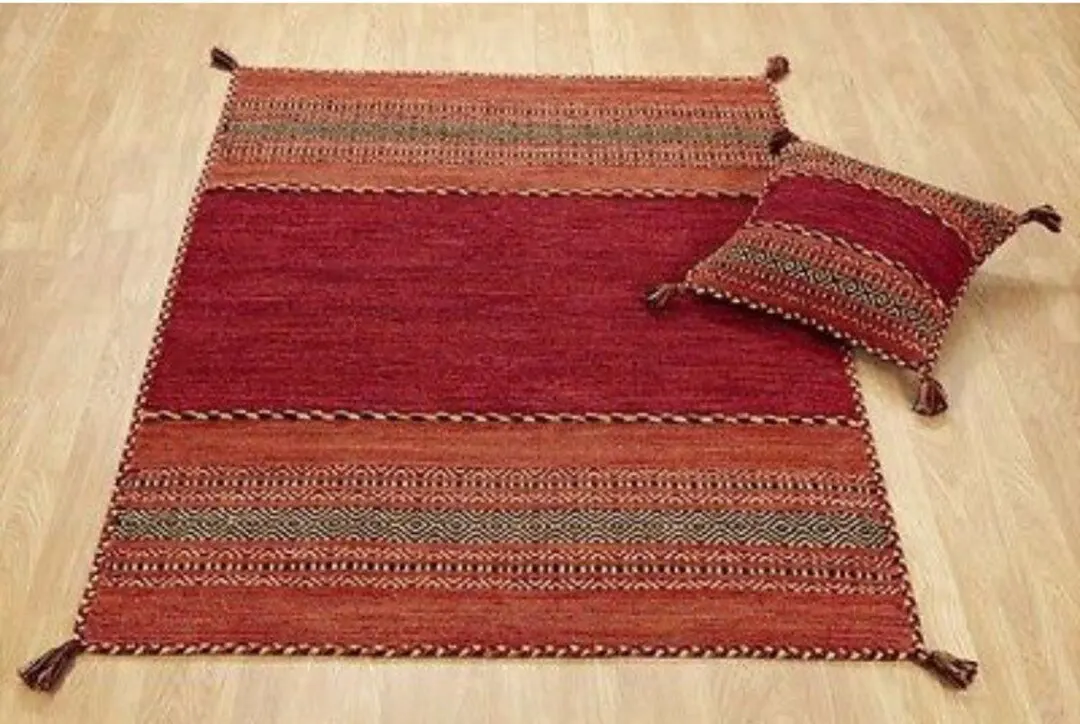 The traditional Moroccan kilim has been given a fresh, contemporary spin in this rug. The combination of red, black, and orange gives this rug a bold appearance that will add elegance to any room!
This rug, handcrafted by NorthAfricanWeavers in Morocco from a blend of Chenille and cotton, is ideal for your home or office.
It's perfect for decorating areas where you want to add a pop of color or style without making a big statement—its muted tones will blend in with your existing decor.
You can really appreciate all the detail that went into the rug because it was made using traditional weaving methods. Because the rugs are handwoven, no two are exactly alike!
Pale Red and Orange Star Rug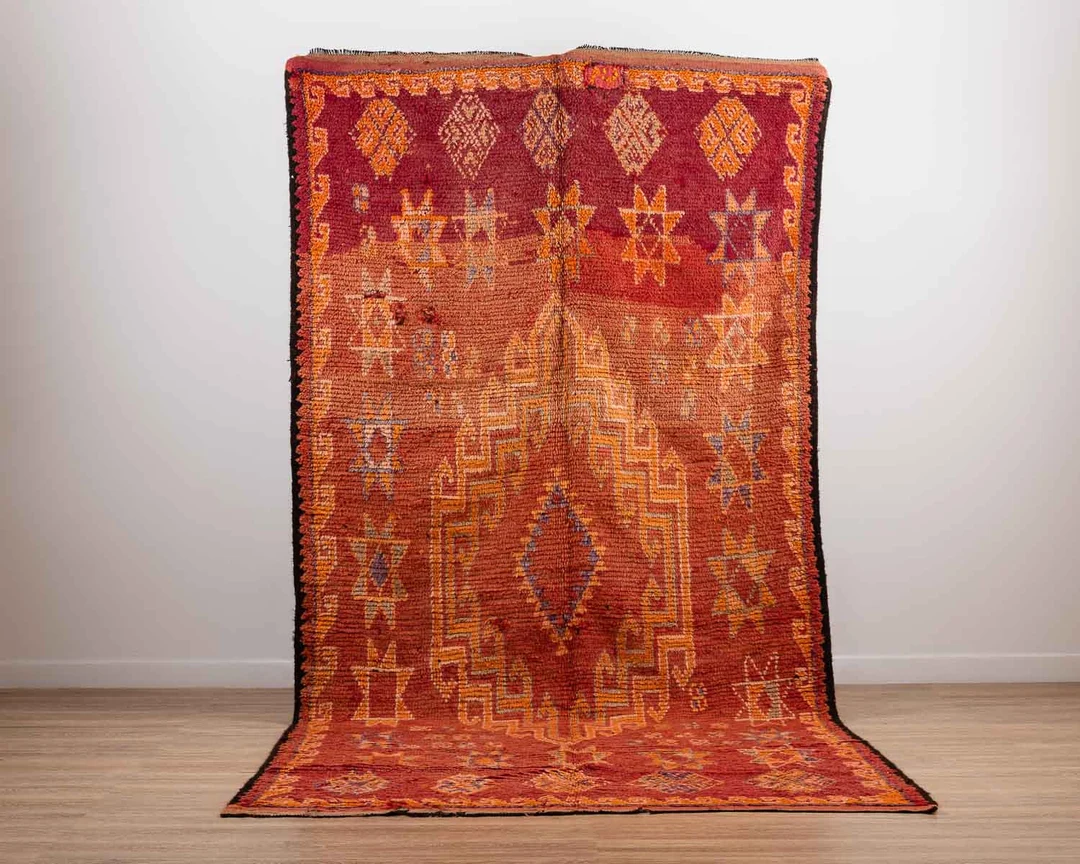 This stunning Moroccan Rug is an absolute must-have for any Moroccan-themed home. It's the perfect color to bring out the red in your furniture, and it goes great with our other Moroccan-style products.
This rug is one of our favorites because it can be used in various ways, depending on the available space. You can use it as a centerpiece or an accent piece. It looks great in traditional, modern, and even Scandinavian homes!
This rug is made of wool and has a vintage appearance that will never go out of style!
A red Moroccan rug is a great way to add a touch of luxury and style to your home. They come in different styles and colors, so you can choose the one that matches your decor. The rug will bring a touch of class to any room and make it look more elegant.
More Moroccan Rug Styles to Choose From