Are you looking for the perfect starter for any meal? This Goat Cheese Board with Za'atar is just what you need. Not only is it fast and easy, but it's also full of amazing flavors.
The added za'atar gives the dish a spice flavoring that is nutty and rich. This is one of my favorite recipes that use za'atar, and I think you'll also love it.
The best part about making this goat cheese board is that it's quick and easy. It'll taste like it took a long time to put together, but that'll be your little secret!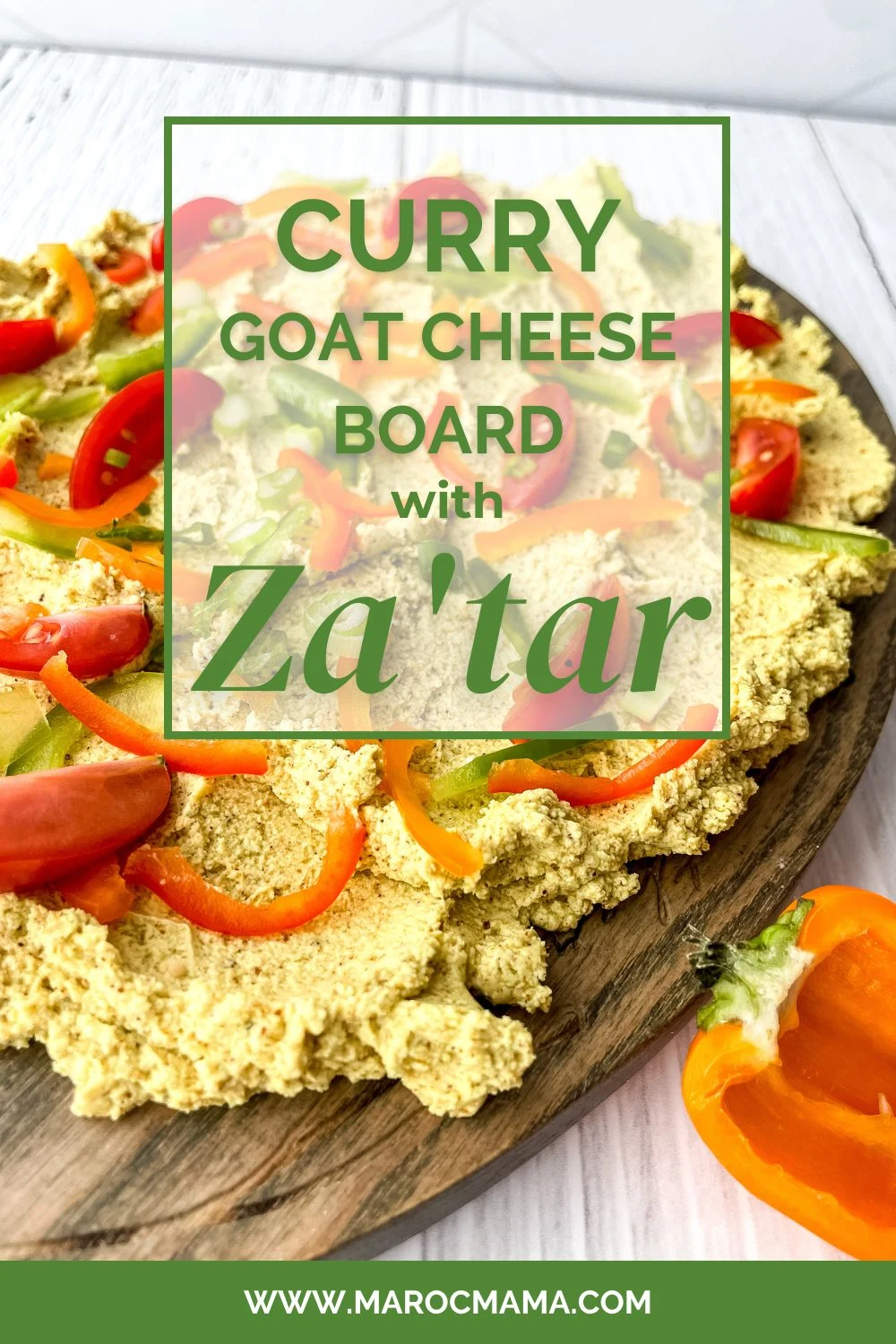 Curry Goat Cheese Board with Za'atar
The next time that you need a recipe that will treat your tastebuds and take them on a flavorful journey, keep this simple curry recipe in mind.
It's excellent to fill your belly with comfort food and also simple enough to make and feed a crowd. This would be a wonderful addition to any meal or family gathering.
Why You'll Love this Goat Cheese Board Recipe
The curry flavor is insanely good.
The richness of the goat cheese pairs perfectly with the added za'atar.
It's a simple recipe that can easily be made in no time at all.
Curry Goat Cheese Board Ingredients
I mentioned that this recipe was easy, right? Just gather the list of ingredients below, and you're well on your way to being done.
Be sure to scroll to the printable recipe card at the bottom to get the exact measurements needed.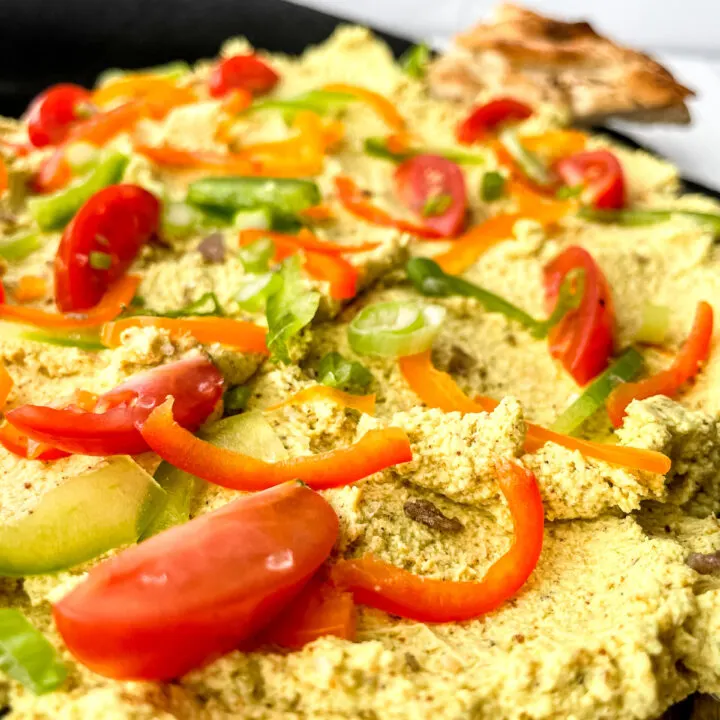 Curry Goat Cheese Board with Za'atar
Additional Time:
10 minutes
Ingredients
2 Pieces of Naan bread
1 Tablespoon olive oil
1 Tablespoon Za'tar
4 Ounce log of goat cheese, room temperature
2 Tablespoons olive oil
1 Tablespoon curry powder
1/4 Cup thinly sliced bell peppers (assorted colors)
2 Tablespoon grape tomatoes, cut into wedges
Instructions
How to make Curry Goat Cheese Board with Za'atar
1. Preheat oven to 425 degrees.
2. Place Naan Bread on a sheet pan; brush each piece of Naan with ½ tablespoon olive oil and sprinkle each piece with ½ tablespoon of Za'atar.
3. Bake for 8 minutes; cut into wedges and set aside for dipping.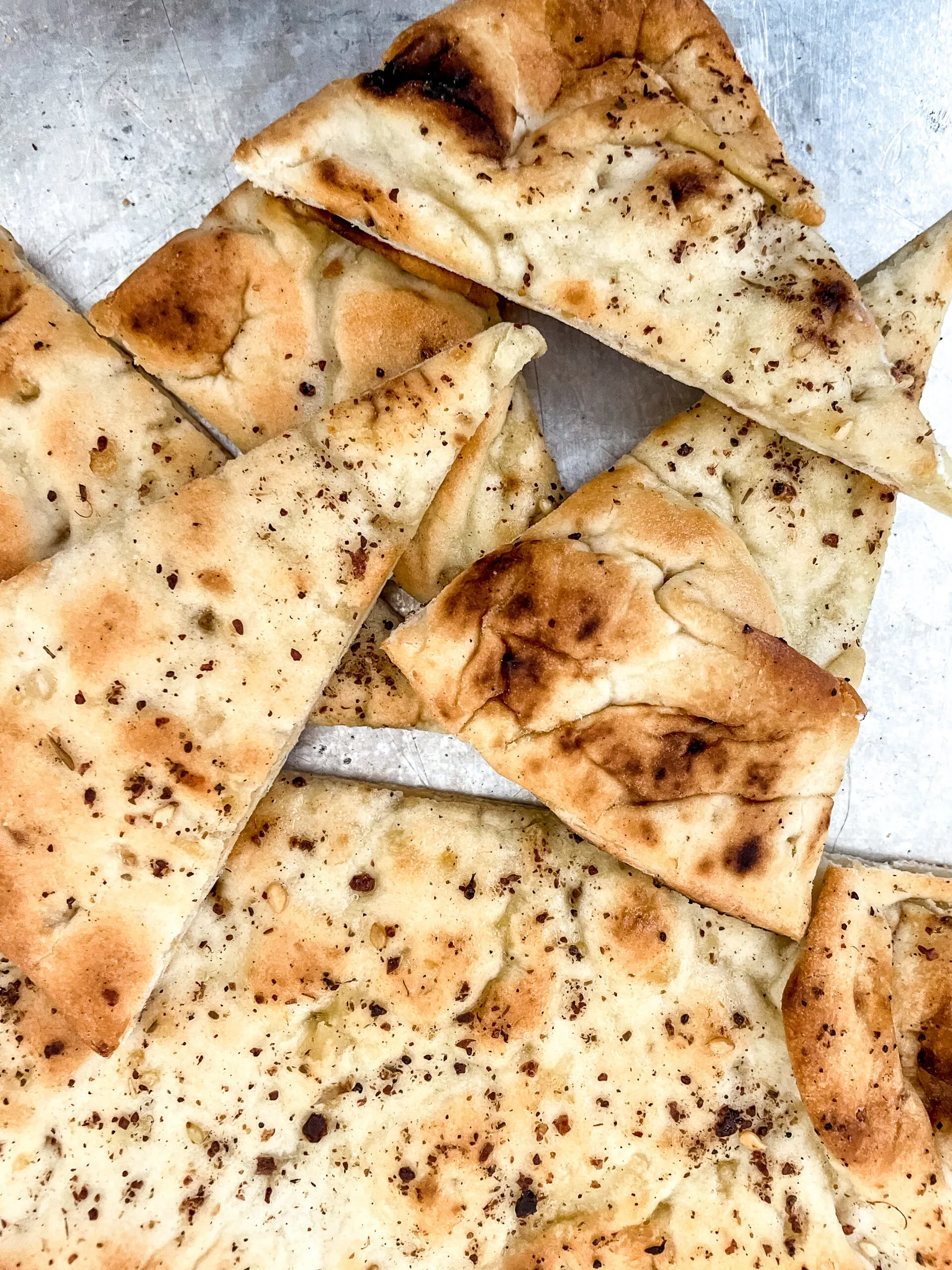 4. Put two tablespoons of Olive. Oil in Sauté pan with one tablespoon of curry powder. Cook over medium heat for only about 3-4 minutes. You will start to smell the very fragrant warm spice. Once you start to smell the spice, it is ready.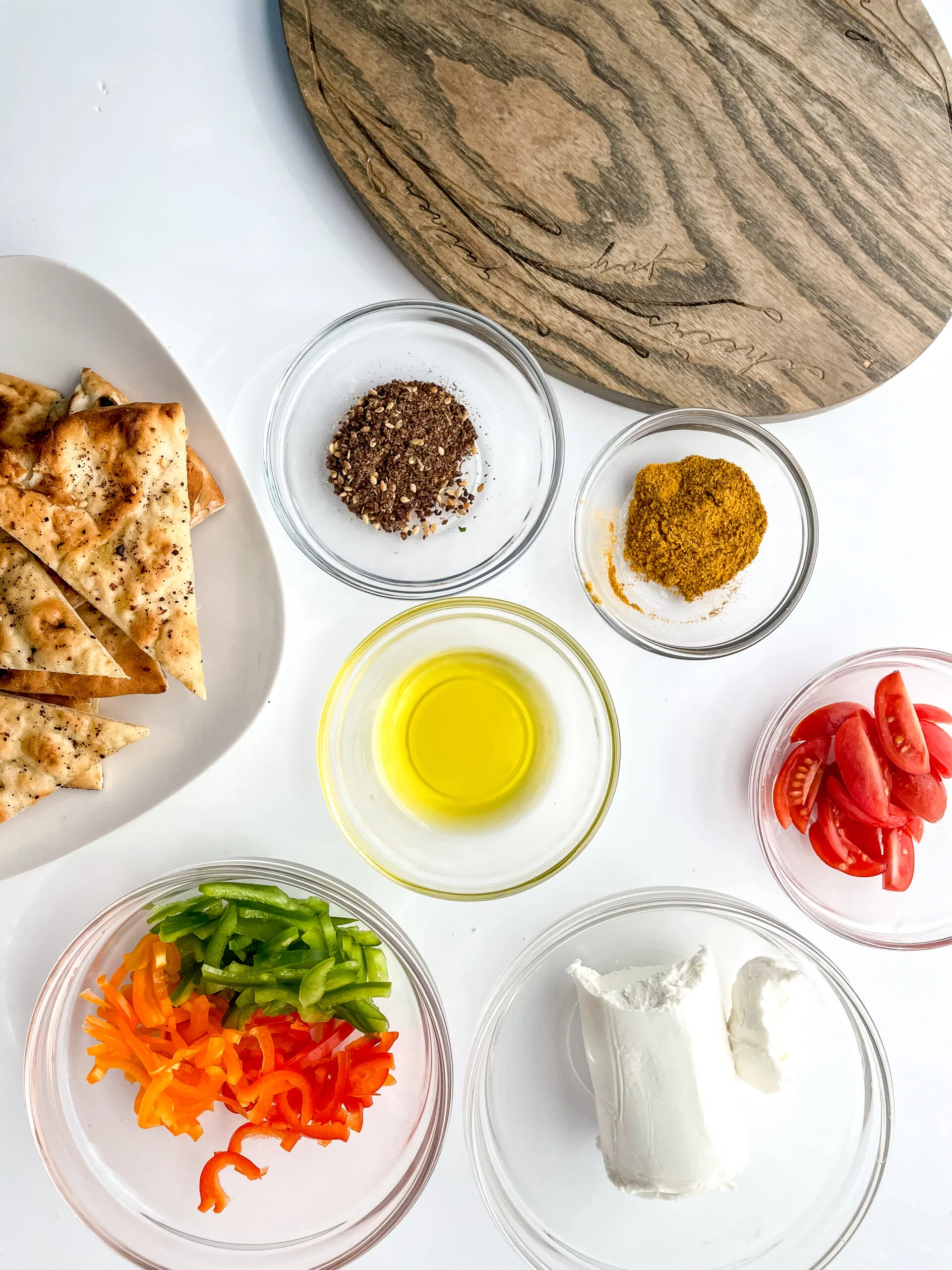 5. Stir the curry oil mixture into the goat cheese. The warmth of the mixture, along with the oil, will help to soften the goat cheese and make it easier to spread.
6. Use quick swiping motions to spread the goat cheese onto your board to give it texture.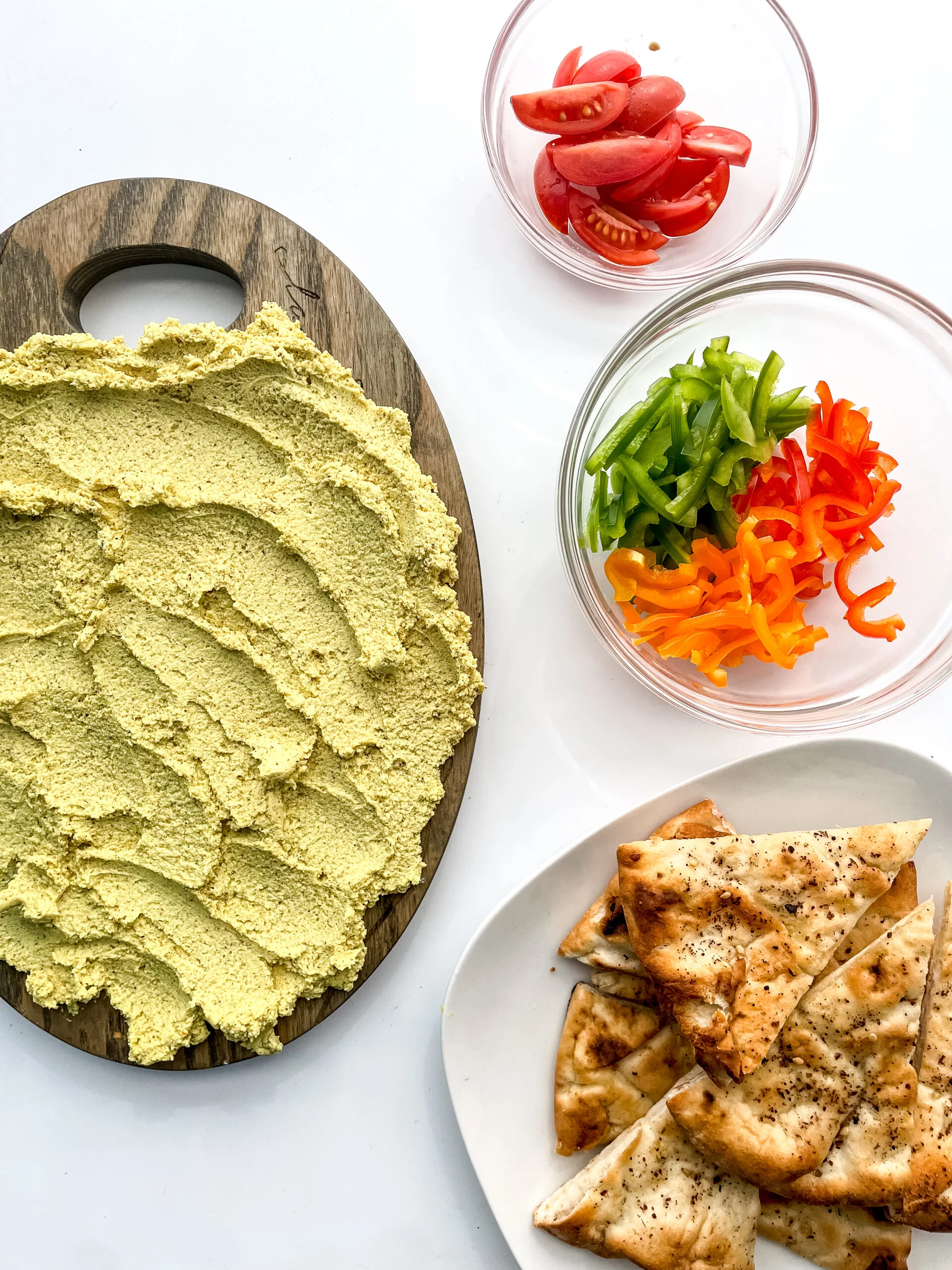 7. Sprinkle on your thinly sliced peppers and tomato wedges.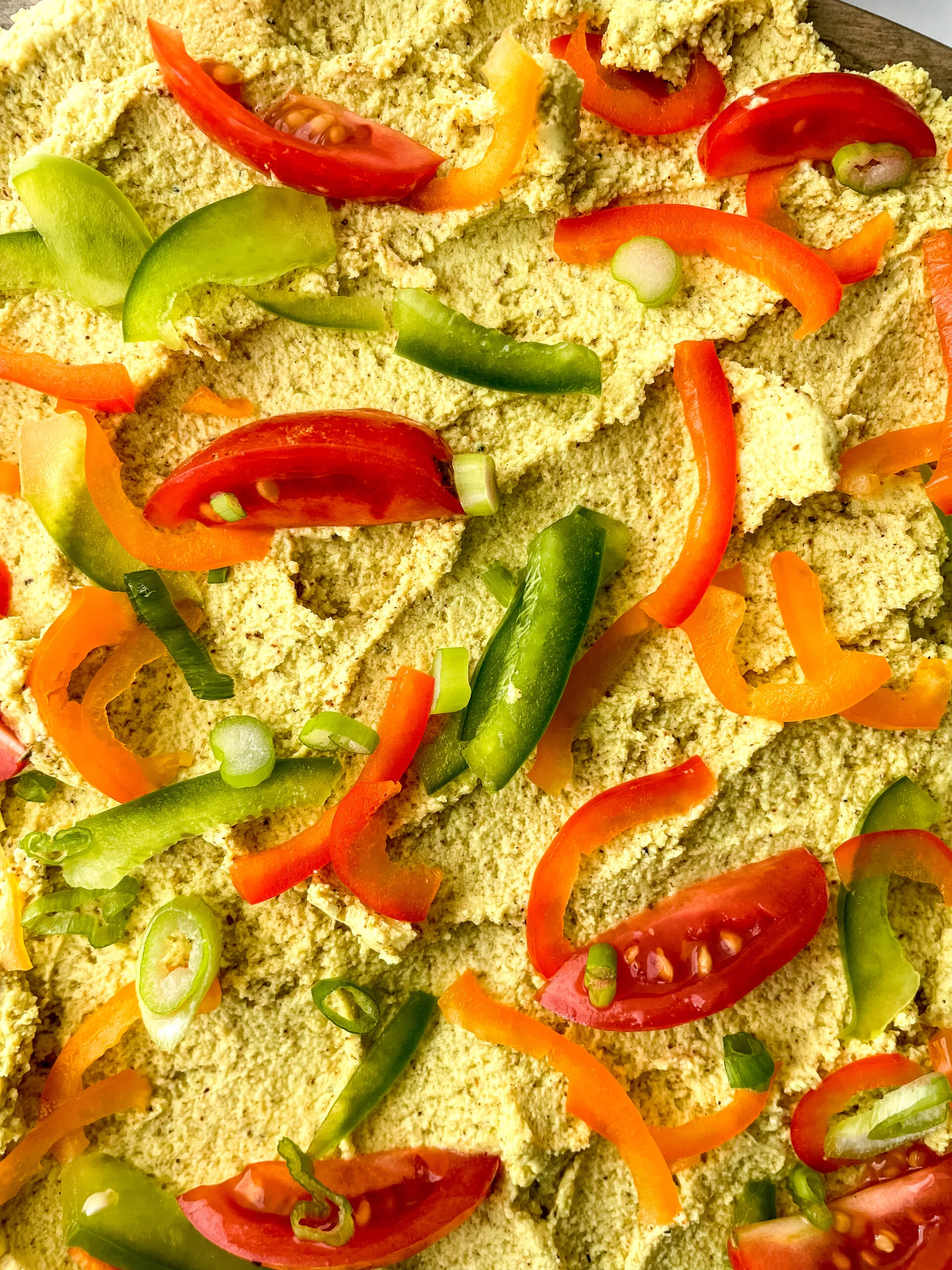 8. Serve with the wedges of Naan with the Za'atar.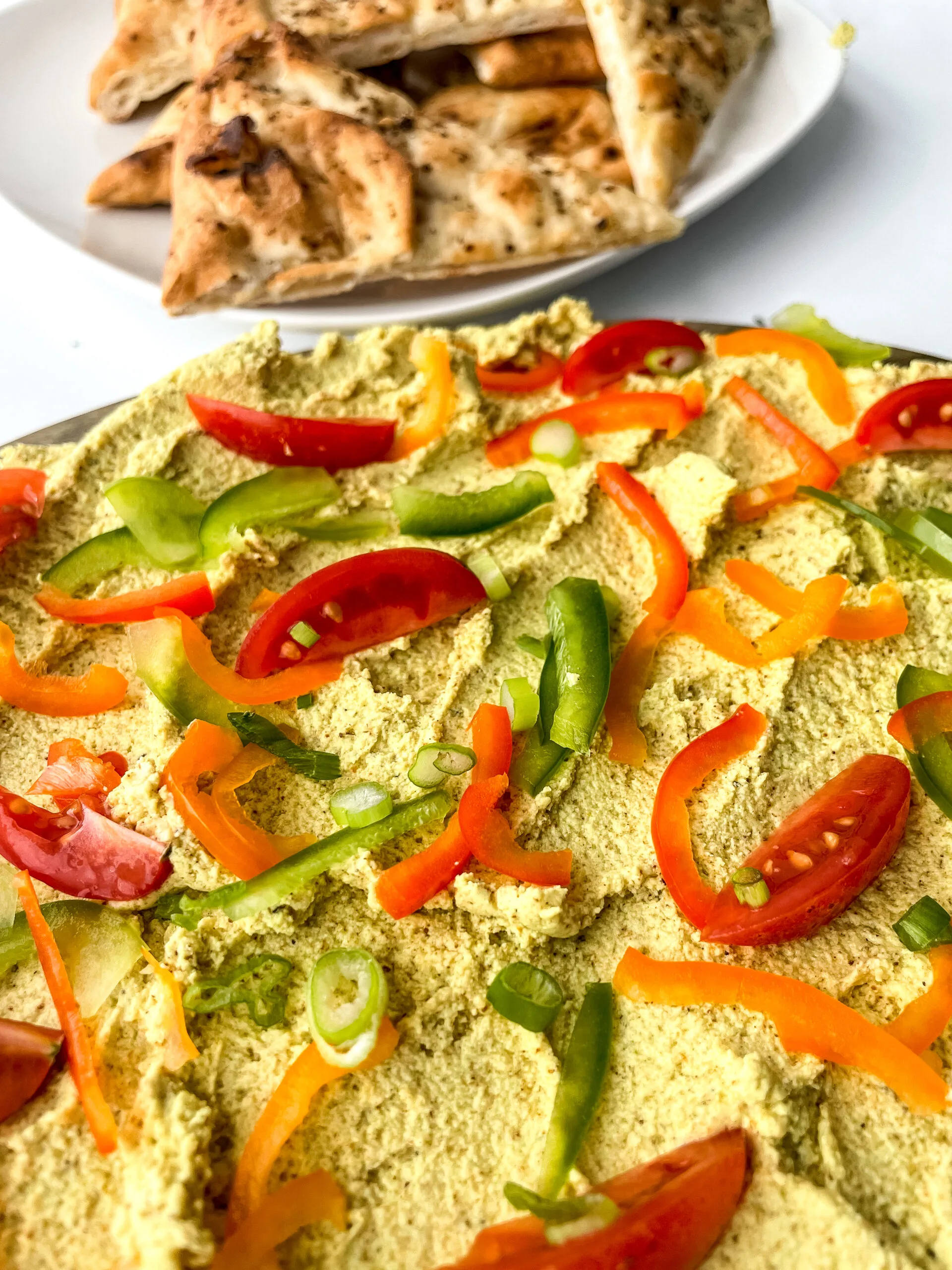 Notes
If you're unfamiliar, za'atar is a blend of dried thyme, oregano, marjoram, sumac, toasted
sesame seeds, and salt. Like any spice blend, there are many variations.
If you cannot find Za'atar and would prefer to skip that step, feel free to just brush the Naan with oil and sprinkle with your favorite warm spice and toast.
Helpful Tips
Make sure that you have fresh goat cheese. It's the best for the best flavor!
You can try to make this with another type of cheese if you prefer. Branch out and let me know what you think of the results!
How to Store
I'm a huge fan of making this fresh and eating it fresh. There's nothing like the fresh flavors that take over the dish.
If you do make it ahead of time, be sure to keep it stored in the fridge, covered, or in an airtight container with a lid.
It needs to be kept chilled until it's time to eat.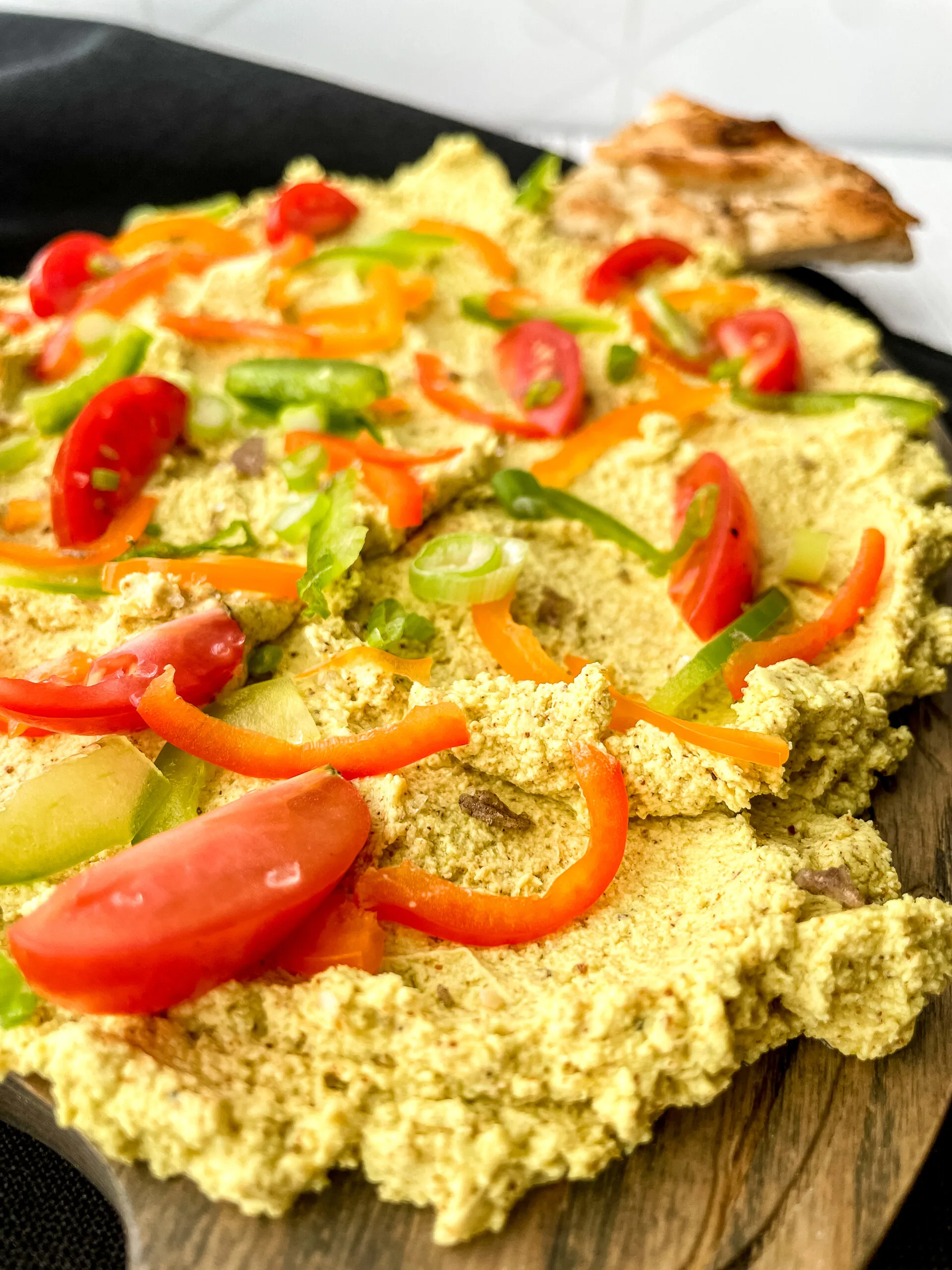 What goes well with goat cheese on a charcuterie board?
Creating a cheese board (which many people call a charcuterie board) gives plenty of amazing options. Goat cheese is actually quite flexible and can be paired with so many different things.
Crackers, chips, berries, and veggies are all great options. If you're a fan of sweets, drizzling some honey can add a rich flavor and taste, too.
How early can I cut cheese for a charcuterie board?
Doing a little bit of prep work can be a time saver when it comes down to it. If you want to cut the cheese and prepare it, you can do so, but no more than a few hours in advance.
If you cut the cheese and prep the ingredients too early, there's a chance that they might dry out and lose some of their texture.
What do you drink with a goat cheese board?
You can drink anything that you like. Wine and champagne are always a good idea, but sparking soda water is a great beverage to drink, too.
Anything that is bubbly or has a carbonation effect to it will pair really well with the flavors. Pour your drink in a glass – and cheers! It's always fun to combine good food with a good drink! More Recipes Using Goat Cheese
More Recipes Using Goat Cheese