It was after a long morning on the beach of Essaouira that we stumbled into the medina to find something for lunch. Well equipped with a list of requests from the rest of the family we found a "snak" stand to place a very large order.
It was during this last visit to Morocco that I danced with the idea of vegetarianism having had my fill and then some of meat and chicken. When we went out to eat I was constantly opting for an option without meat. So as we stood placing order after order I glanced into the display case to see what I thought were falafel. My eyes lit up. But when I asked I found out they were not falafel..they were ma'akouda or potato pancakes.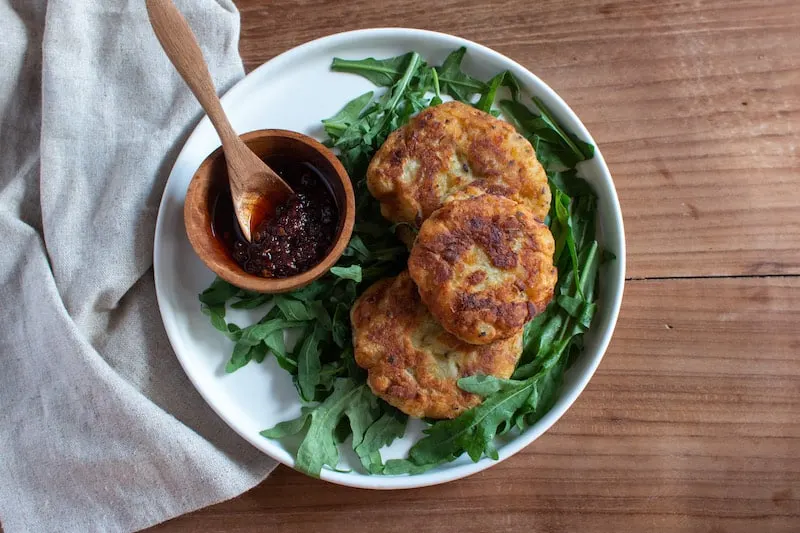 I had never had ma'akouda, nor had I seen them before this visit. I am sure that they can be found in snack shops around the country but for me they will always be synonymous with Essaouira. They were everywhere! Now I have no way of know if this is true but they reminded me a lot of potato latkes, the famous Jewish potato pancake.
During the 19th century Essaouira's Jewish population was about 40% of the total population. There has been a Jewish population in Morocco for the past 2,000 years, reaching 250,000+ people at one point. Israel has a population that is about 15% claiming Moroccan Jewish ancestry. It could certainly be that this was a dish influenced by the Jews of Essaouira.
These potato fritters can be eaten alone or as they are most often, made into a sandwich. They are incredibly easy to make and are sure to please your family. I chose to make this a gluten-free recipe but you can easily make it with regular all-purpose flour.
Yield:

4 sandwiches
Ma'akouda - Moroccan Potato Patties
Moroccan spiced potato patties that are often tucked into sandwiches and sold in cities like Essaouira.
Ingredients
1 and 1/2 lb Yukon Gold or another soft potato
1 Tbsp cumin
1/2 Tbsp black pepper
1/2 tsp onion powder or 1/4 of a chopped onion
1 tsp minced garlic or garlic powder
1/2 tsp salt
1 egg
1/2 cup regular or gluten-free flour
vegetable oil for frying
1 cup regular or gluten free flour for dusting
frying pan
Instructions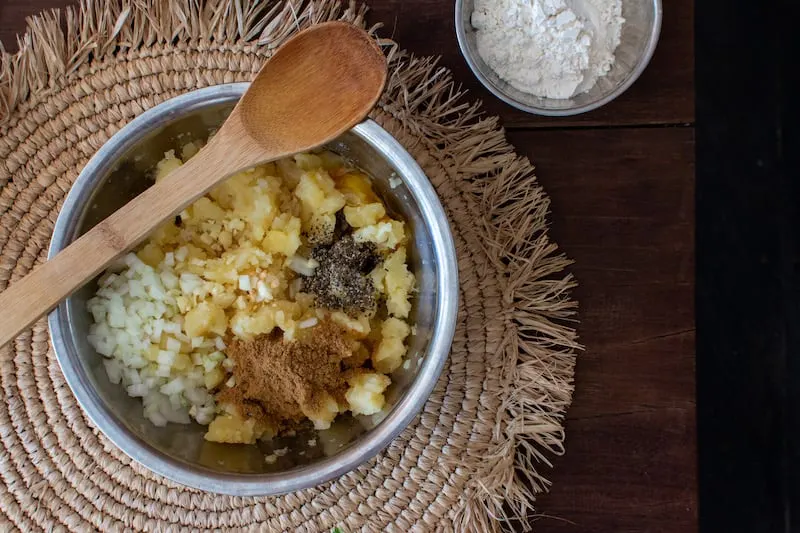 I like to use a soft skin potato so that I can keep the skin on (that's where all the nutrients are!). Scrub them well and then place in a pan. Boil the potatoes until soft, remove from heat and allow to cool. Mash.
Add the spices and egg, mixing well.
Begin to add the flour slowly, mixing while you go. The dough should be slightly sticky but should not stick to your hands. You may need to add more than the 1/2 cup of flour.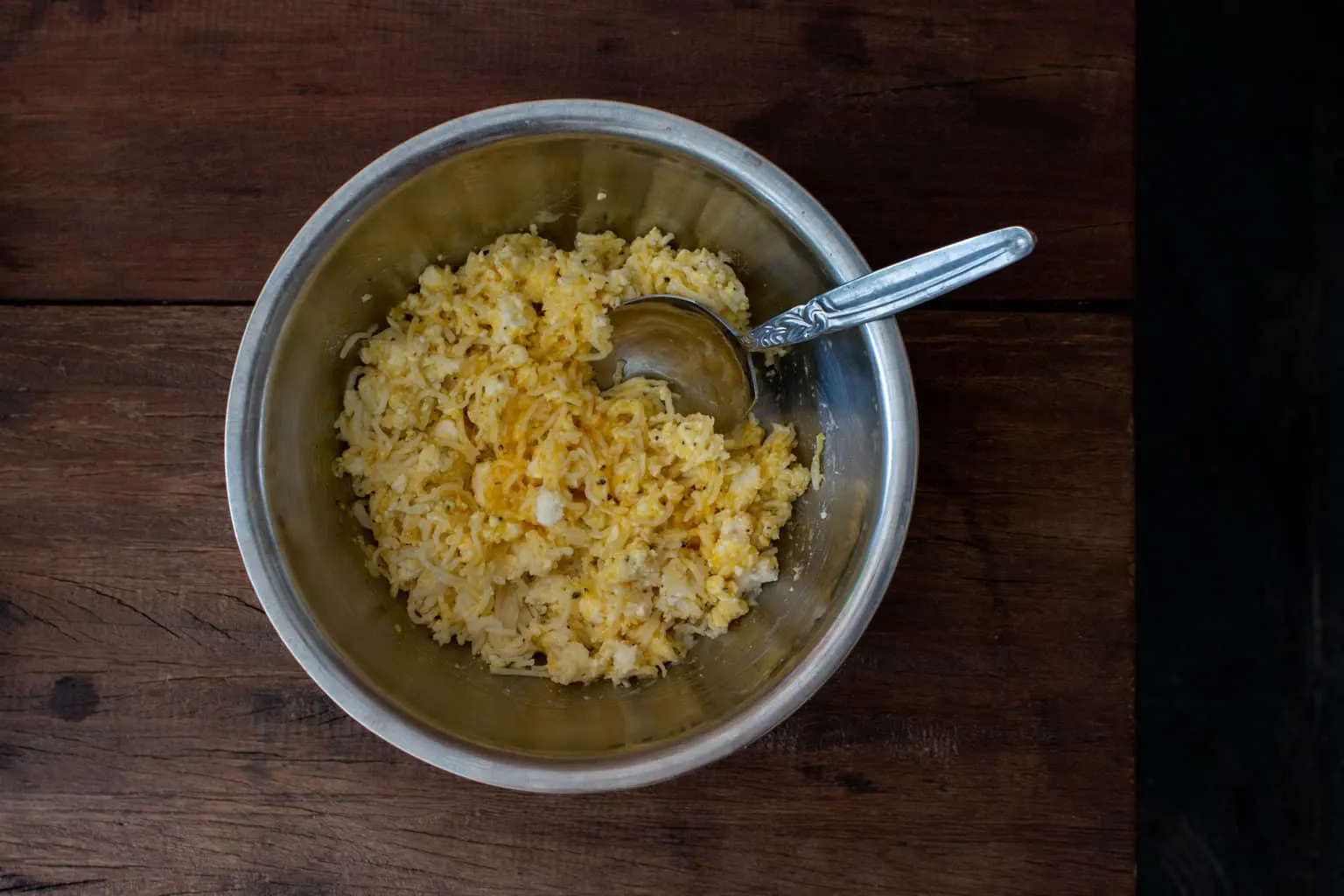 Heat the oil to medium.
Begin making small balls with the potato mixture. The size is really up to you.
Flatten each ball and dust with flour.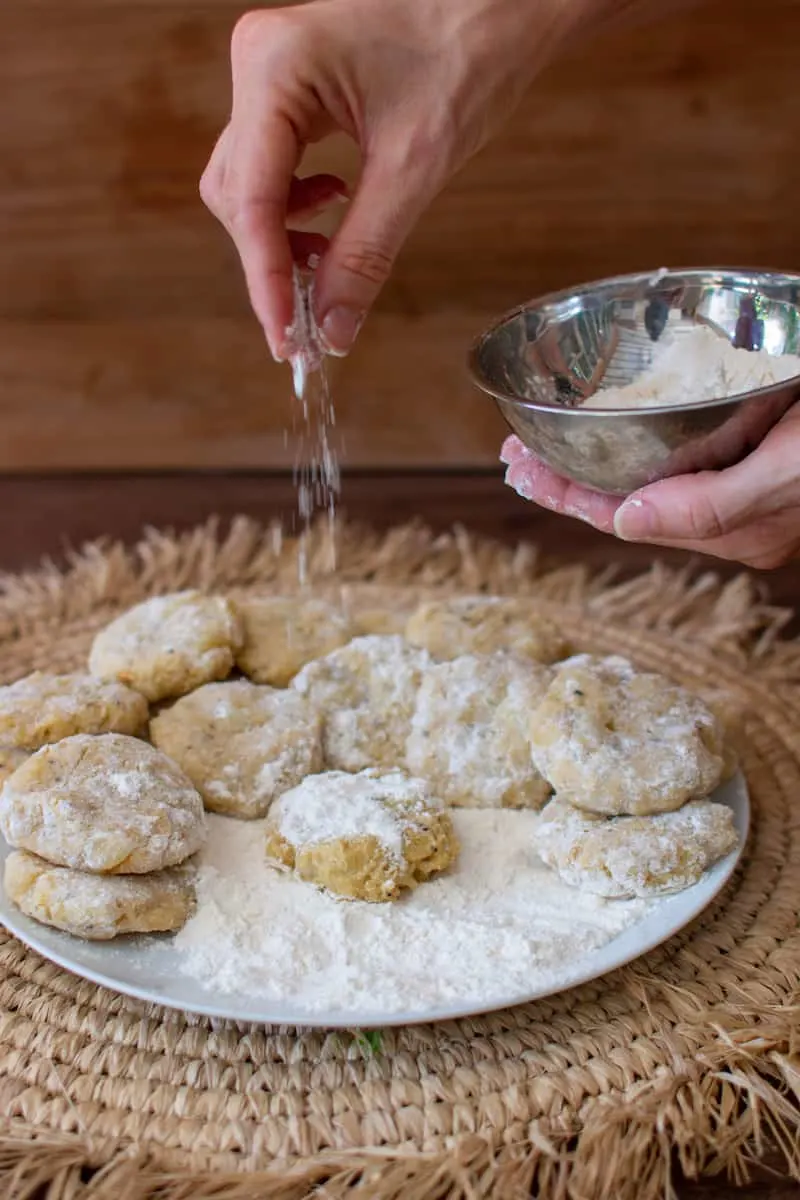 Add the patties to the oil, making sure not to crowd the pan. Brown on both sides, remove from oil and drain on a paper towel.
Eat warm with your favorite condiment (harissa is tasty!) or make into a sandwich. Traditionally the ma'akouda sandwich is made on a baguette stuffed with lettuce, tomatoes, onions, olives, spicy Moroccan mustard and mayo.
Notes
You can easily use regular flour in this recipe. Use slightly less to begin with as regular flour tends to bind easier than gluten free flour.