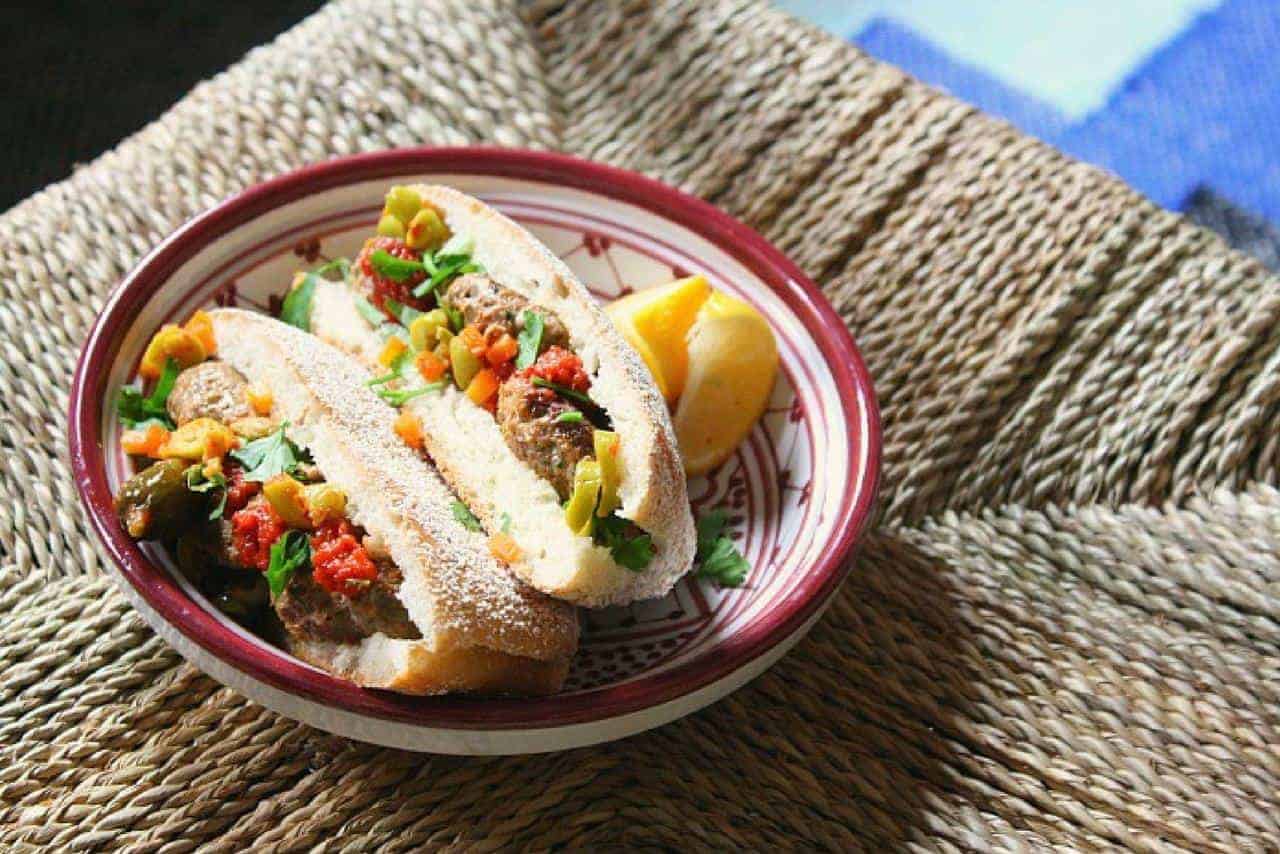 When people think of Moroccan food this fish sandwich is not something that comes to mind. It's why we so enjoy stopping at a local shop that sells these grilled sardine sandwiches during our food tour. I readily admit I was hesitant.
No way anyone would like this, but MarocBaba was insistent.
He loved this sandwich and swore it didn't get any more authentic and local than this. I gave in and time and time again am surprised at the reaction the majority of people have. So many so that I've been asked countless times to share the recipe.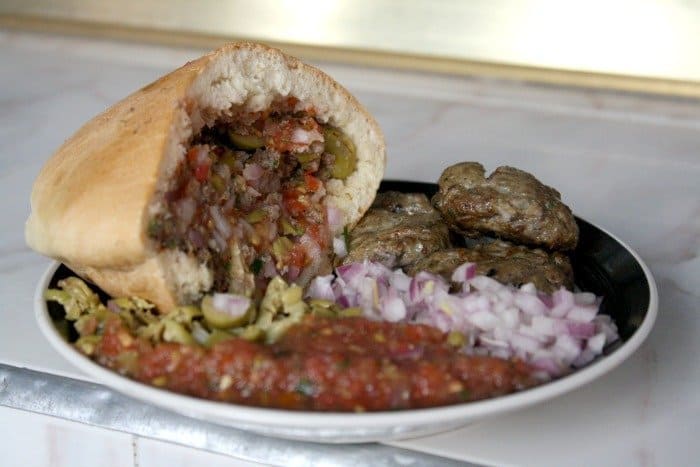 This is the original thing. Sure it's not so pretty to look at but you'll be surprised by the flavor! Typically it's served just as the sandwich piece. Or, you can order it without the bread and you'll get the fish balls and toppings on a plate. Order half (shown) or a whole (this plus another half). Coke is the only drink offered, besides what goes better a grilled fish ball sandwich than a Coke?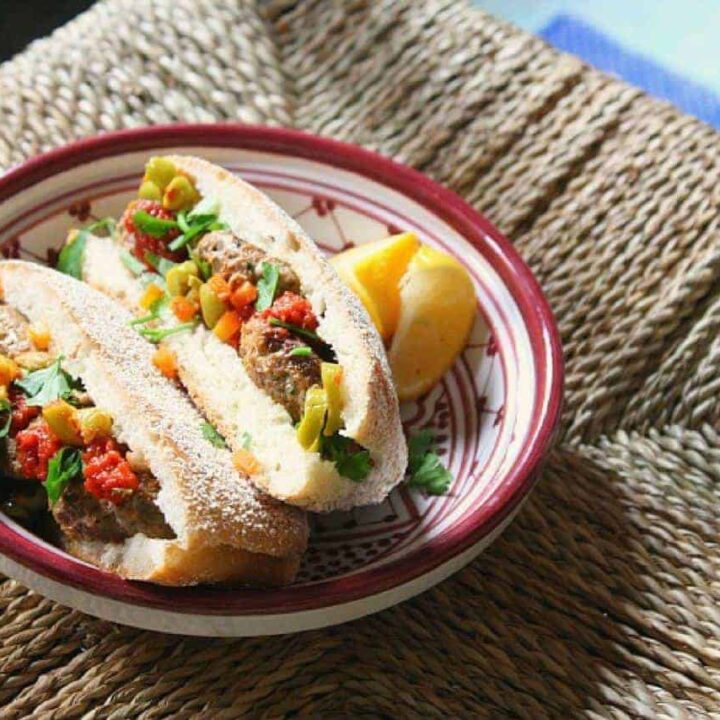 Moroccan Fish Sandwiches: Hout Quari
If you think you don't like sardines think again. This recipe should be made with fresh sardines to get the best taste. It's a favorite on our food tour in Marrakech.
Ingredients
1/4 kg sardine flesh cleaned and removed from bones
10-15 grams ras al hanout (add more or less to your liking)
10-15 grams smen (moroccan butter) can use Indian ghee or salted butter at room temperature - just enough to hold together
small handful chopped cilantro
** You'll also need bread to add the patties and filling too. A pocket bread like pita bread works well but a sturdy roll like a Portuguese roll would also work well..**
Instructions
Combine everything and blend by pulsing in a food processor until the mixture is similar to a thick paste.
Shape into balls and put into a grill press.
Grill 5 minutes on each side or until fish is cooked through.
You can also cook in a grill pan or simply fry in a pan.
Toppings :

- chopped raw onions

- raw tomato sauce (flesh of a tomato grated with some cilantro, salt and pepper blitzed in)

- harissa

- sliced green olives

- smen
Notes
Assemble your sandwich by adding the toppings you like. Some may seem odd but they all work together really well, try them all first then adjust based on your tastes.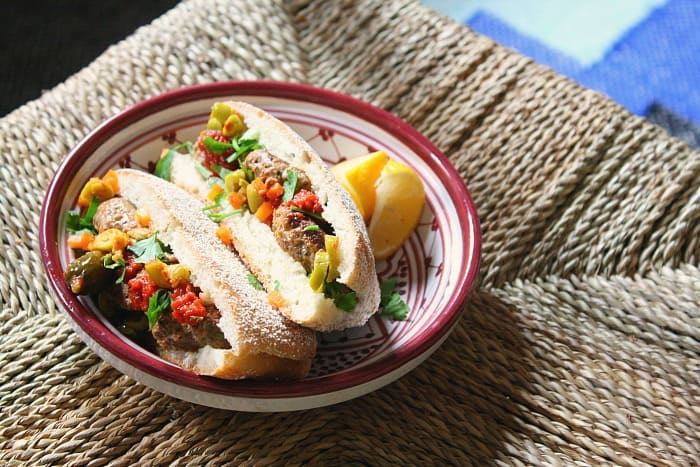 But if you prefer the more dressed up version of this street food, Heidi of Aromasnsabores and I have jazzed it up a little. My photo isn't nearly as good as hers are for our upcoming e-cookbook but it's a sneak peek. That's right we're working on putting together a beautiful book of classic Moroccan recipes, some you may know and others that are not typically found in restaurants or known outside of family homes! That's why we think our book will be so special. We're bringing you into the heart of a Marrakechi kitchen. The book will be released before Ramadan, we're just working on finalizing everything.
If you want to find out exactly when it will be released be sure to subscribe to my newsletter as I'll be sharing with that list first!
Until then, enjoy the classic version of this dish and let me know what you think!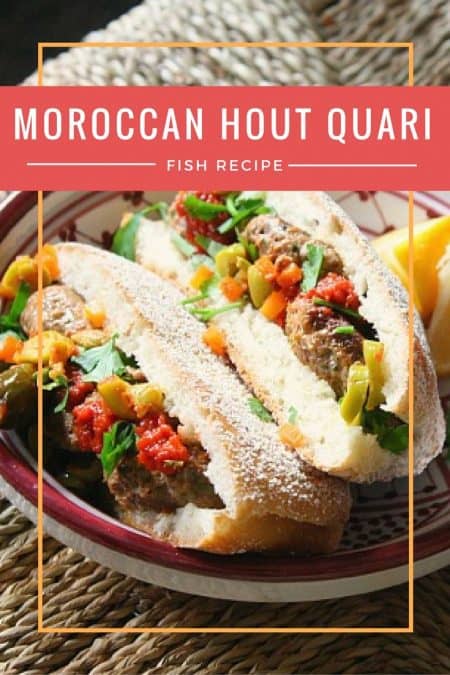 Snag your FREE Moroccan Couscous Recipe!
If you love food and want to know more about MarocMama's food related content, products, and promotions sign up now! You'll get a FREE downloadable recipe for traditional Moroccan couscous from my new cookbook to preview!