One of my favorite foods and also one of my favorite easy Arabic recipes is falafel. These crispy balls of chickpeas are a major weakness.
Falafel isn't something we have in Morocco, just like shawarma and hummus isn't a thing here. These are foods from the levant that never became a part of the food culture of Morocco. I find many people are disappointed when they discover this on arrival.
I have had my fair share of falafel over the years, though it wasn't something I ever tasted until I was an adult. There are two falafel memories that stick out as being the best I've ever had.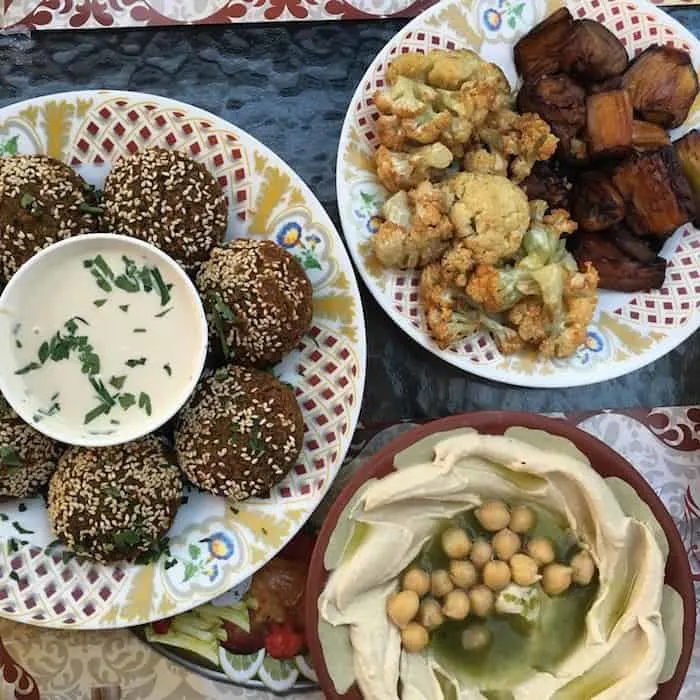 The first was when I was in Dubai and on my friend Arva's food tour. We pulled up to this tiny shop where there was a man behind the counter frying fresh falafel that were stuffed with a chili paste. They came out hot and were perfectly moist and delicious inside. I still dream of these and every time I'm in Dubai I have to go there.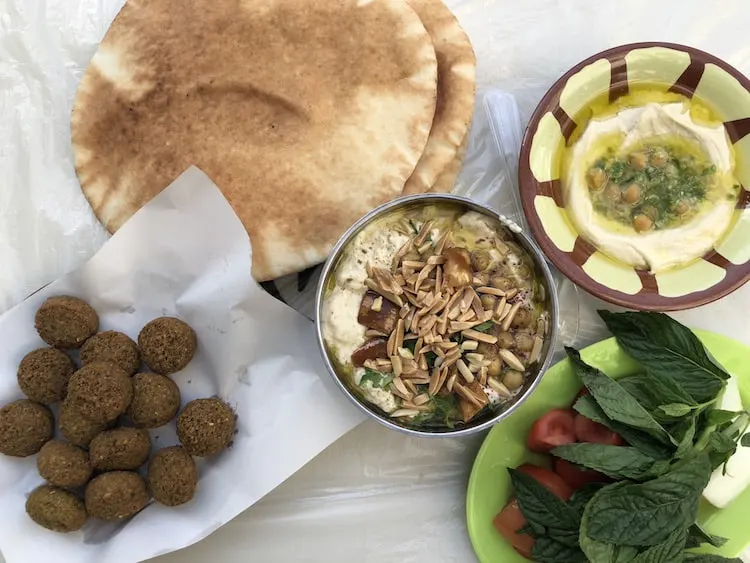 The second time I fell in love with falafel was in Amman, Jordan where there are falafel everywhere. I feel like if you threw a stone you'd hit a falafel spot. For the record I am 100% ok with this. I usually am not a fan of touristy spots and arguably the most famous spot to get falafel in Amman is at Hashem restaurant. Let me just state for the record the falafel are delicious (everything is) and you should go there.
But back in Marrakech where my falafel options are limited what was I to do? I realized I had to figure out how to make them. The good news is they're way easier to make than I thought but you do have to prepare a little in advance.
You can not use canned chickpeas to make falafel. The texture and consistency will just really be off. Soaked dry chickpeas are a must. I recommend soaking them overnight. This is also a very economical recipe as dry chickpeas are pretty affordable.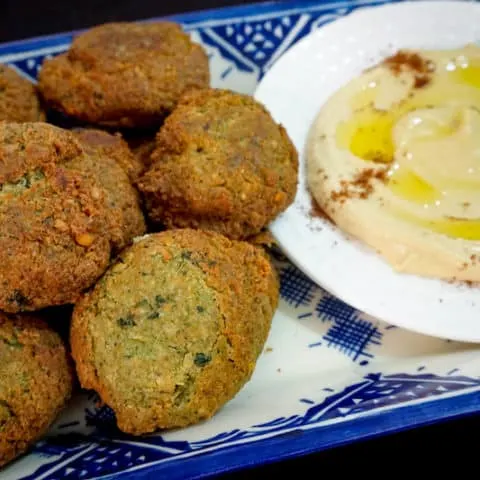 Middle Eastern Falafel Recipe
Total Time:
8 hours
40 minutes
I LOVE falafel. Some of the best I've ever had are from a small shop in Dubai and they're so good I think of them almost weekly. For this recipe you really need to use dry chickpeas. Canned chickpeas will not work well and the texture and consistency will be off.
Ingredients
2 c soaked chickpeas
5 garlic cloves
Small onion
Handful chopped parsley
Handful chopped spinach
1 tsp cumin
1 tsp salt
½ tsp pepper
½ tsp coriander
¼ tsp sumac (optional)
1 Tbsp flour
Olive oil
Vegetable oil for frying
Instructions
Soak your chickpeas in water overnight (8-12 hours) to get them soft. I choose not to peel my chickpeas but you can remove all the skins if you'd like.
Remove the skin and roughly cut your onion. Remove the peel from the garlic cloves.
Toss everything - except oil- into a blender.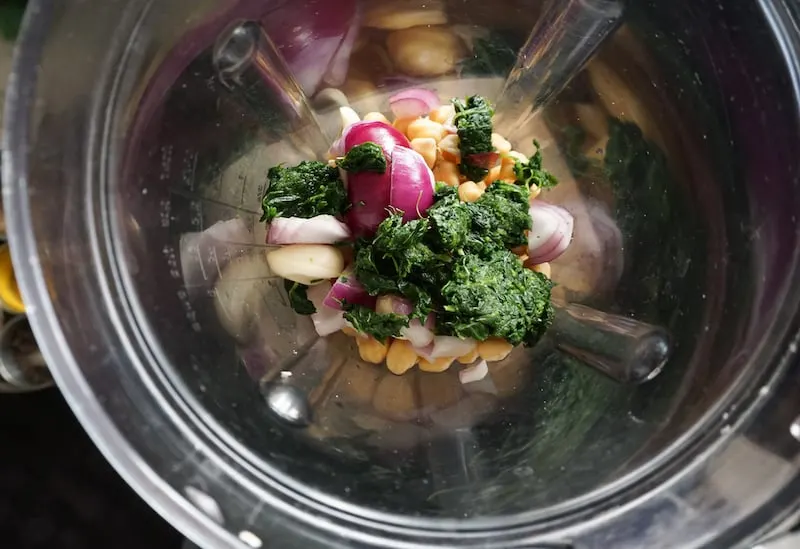 Turn to low speed and begin to blend. Drizzle in a little olive oil as you go. The final consistency should stick together but not be too wet so it doesn't crumble when cooking.
Transfer from a blender to a bowl for frying.
Heat oil in a skillet, approximately 1 inch deep to cover falafel. If you can submerge them completely they'll cook more uniformly however you may not want to use that much oil. Either way is fine.
There are special tools for shaping falafel but you can do it in your hand as well. Imagine you are making a small hamburger patty. Try to keep them all about the same size so that they cook evenly.
Your heat should be set to medium so that they crisp up but also cook all the way through. Don't crowd the pan and cook a few at a time.
Remove from heat and drain on a paper tower to remove excess oil. They're best eaten hot!
Notes
I've made this without the flour as well and it works however I found the flour really helps everything stay together. You can omit it and make these gluten free, just know they may be a bit more crumbly.
These are delicious on their own but even better when you tuck them into bread with some hot sauce (harissa works), pickled radishes or pickled turnips, sliced tomatoes and lettuce. Hummus is almost always served along side as well.
Whatever you do – eat them hot and fresh because that's when they truly taste the best!