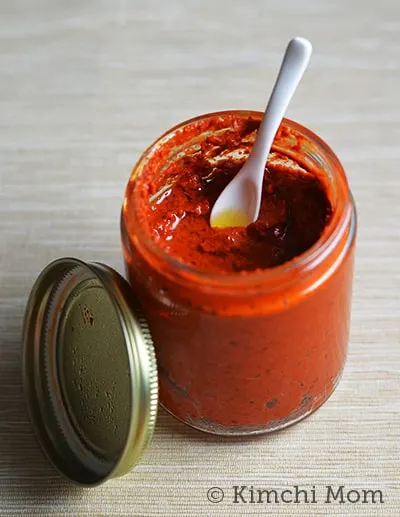 I had the fortune of meeting Amanda through #SundaySupper and immediately started following her when I learned that most of her recipes were Moroccan! I love trying dishes that combine somewhat common (if you can get it at Whole Foods then it's common) spices into something that is characteristic and unique to one cuisine.
I have been on a homemade hot sauce kick this year. Recently, I made homemade sriracha sauce and am developing a recipe for gluten-free kochujang (Korean red pepper paste). I have tried harissa a handful of times and figured now would be a great time to make my own.
I had no idea what harissa was until I attempted a recipe for leblebi, a Tunisian breakfast soup, which also included a recipe for homemade harissa. Instead of making harissa from scratch, I picked up a jar from the market just to get an idea of what harissa actually tasted like.
To my surprise, the pepper base tasted similar to the more familiar Korean pepper pastes that I use, but the additional spices added more dimension and complexity to the smoky pepper flavor. Ever since I've made my own harissa, I've been adding it to my breakfast eggs, bowls of noodles, and whatever else needs a bit of heat.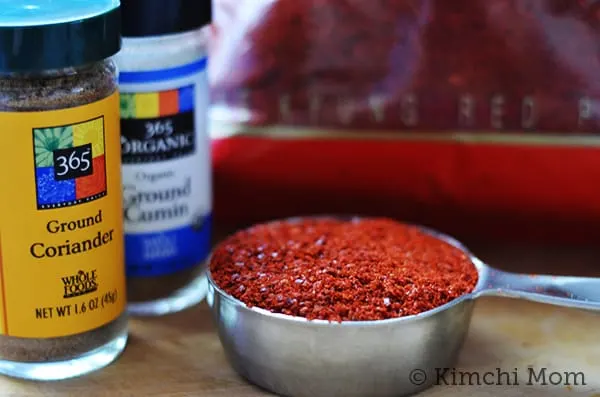 I also like to take as many shortcuts as possible when I am short on time which seems to be always with two little kids! Instead of using whole dried peppers, and soaking and cleaning them, I dipped into my 5 pound bag of kochugaru or Korean red pepper powder. Despite the red color, it is mild in terms of heat, not unlike the harissa that I've tried. You can buy this powder on Amazon.com or at Hmart.com. And, yes, they do come in packages that are less than 5 pounds.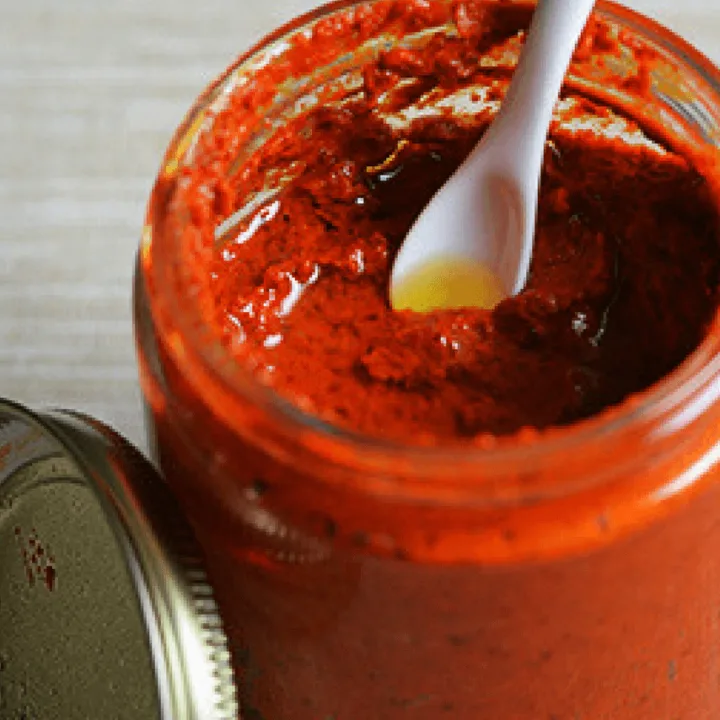 Yield:

1/2 cup
Homemade Harissa
Let's embark on a culinary journey to Morocco with this fiery, aromatic paste that's a staple in North African cuisine.
Ingredients
½ cup kochugaru (Korean red pepper powder)
Water
2 garlic cloves, chopped
1 teaspoon cumin
½ teaspoon coriander
½ teaspoon kosher salt
3 Tablespoons olive oil
Instructions
In a blender jar or food processor add the kochugaru and about ½ to ¾ cup of water and stir. You don't want it too dry and pasty.
Add the garlic, cumin, and coriander. Add a couple of tablespoons of water if necessary. Puree and slowly pour the olive oil to thicken the mixture.
Season with salt to taste. Store in a clean jar. Pour a thin film of oil on top. Keep refrigerated and use within a few weeks.
Recommended Products
As an Amazon Associate and member of other affiliate programs, I earn from qualifying purchases.
Thank you so much for sharing Amy!
Today is a big day for us! It's moving day! We will be spending nearly all day and night in planes and airports until we finally arrive in Marrakech early Wednesday morning. Today Amy of Kimchi Mom is sharing a recipe for homemade harissa. Amy is a lot like me, except she writes about cooking Korean food. Both of our adventures in the kitchen and subsequent blogging happened around the illustrious economic collapse of 2008. I guess there might be a silver lining in everything right? I've made several of Amy's recipes for my family and introduced my husband to Korean food through her! Thank you Amy for sharing this guest post while I'm 30,000 feet up! You can follow Amy on her blog Kimchi Mom, Facebook, Twitter, and Pinterest.
Have you ever tried to make your own harissa (or other condiments)? I've started doing this a lot recently and it's not nearly as difficult as I thought!