Amman and Jordan in general is somewhere that has been on my radar to visit for quite awhile. I needed to go and eat all the things! It also happens to be where my online (and now in real life) friend Amnah of Little Life of Mine lives. So, when I had the chance to include a short stop in the city en route to Dubai of course I added it.
I am SO glad I did!
A lot of people think that food across the Middle East and North Africa is the same.
This couldn't be further from the truth.
The number of people that ask me where to eat hummus or smoke hookah in Morocco is a testament to this. (For the record, hummus isn't eaten and hookah isn't the big deal it is in the Levant.) I'm no stranger to traditional Middle Eastern food but was a willing guinea pig to try things I hadn't had and reacquaint myself with foods I love.
Even though I went alone this trip, I do plan to go back with the family. If you're going with kids check out this post for some kid-friendly Jordan suggestions.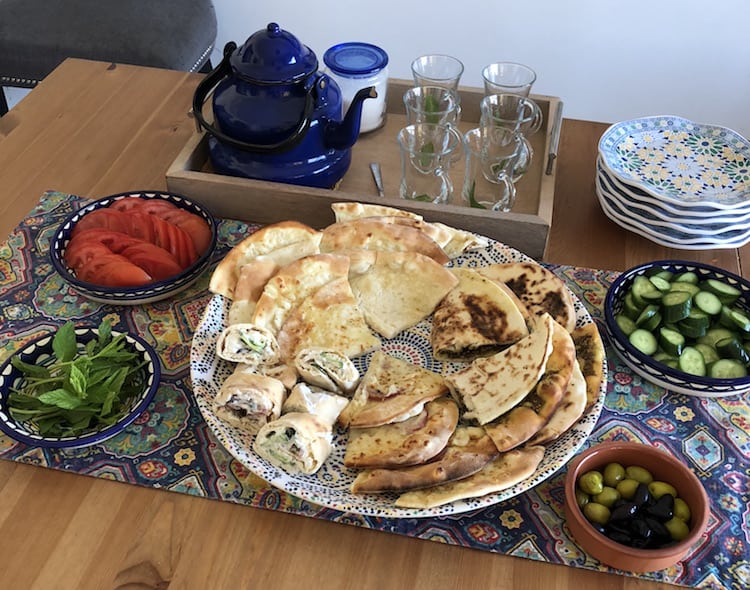 One thing to keep in mind when planning. This is not a cheap destination – even if you're a backpacker.
Jordan is an "expensive" country.
The visa to enter is about $75US and most everything else after that will also add up. I was a little surprised by this. That doesn't mean there aren't deals to be found but do keep this in mind as you plan.
One other important note your visa is a single entry. I learned this the hard way as I connected on to Dubai and returned to Amman for a second flight. I had checked my luggage in Dubai but needed to retrieve it to check in for my 2nd leg of the flight. I had to pay for the visa again to pick up my bag and check back in. (GRRRRRR). Their own website says a 24 hour transit visa is possible but the immigration officials told me unapologetically "you come 5 minutes, you pay again."
This might not be the case for a land crossing so if you plan to go to Palestine or visit Jerusalem while you're in Jordan you may not need to get this visa again BUT don't be surprised if you do.
Eating in Amman
Now to the most important part of this trip – the food!
Of all the foods I love, breakfast is what I loved the most. I think it's because I've never been a fan of sweet breakfast foods and the overwhelming amount of savory breakfast items in Jordan makes me giddy. Many of these items can easily be eaten all day too and that's pretty much what I did!
Hashem Restaurant – downtown Amman
This is probably one of the most famous spots in Amman and it's for a good reason. When we stopped in for breakfast there were both locals and a handful of tourists sitting down for breakfast.
We ordered hummus, fettet hummus, and falafel. It also comes with bread, a plate of mint (to eat or put in your tea), fresh tomatoes and raw onions. You're going to see a theme and that is hummus. Jordan has the best hummus I've had in my life. I love the olive oil and chopped peppers added to the top.
Not familiar with fettet hummus? Let me acquaint you. The base of the dish is fried pita bread that is then topped with chickpea broth, a tahini/chickpea sauce and yogurt. Cumin, parsley and lemon juice punch up the flavors and pine nuts and toasted bread top it. It's really so delicious and can be eaten by scooping it up with more bread or with a spoon.
Hashem – King Faisal Street Amman – open 24hrs a day
Jameeda Kanum
This restaurant and their balcony was a really great place to have a meal. The one difficulty is that the menu is all in Arabic so there was a bit of guess work involved in our order. It totally reminded me of a hipster cafe/coffee shop and I'm ok with that especially because the food was great. If you're in a hurry I might not go here, service was slow but if you're looking to take your time go for it!
We ordered;
halloumi (it's fried and delicious)
mouttabal (roasted eggplants with pomegranate)
tahini wa dibs (tahini with date molasses)
galayet bandora (tomato and peppers)
There you go now you have 4 things in Arabic you can order! They also have hummus and their staff did speak some English so you will be ok! If you are into warm or cold drinks there were a lot of different coffees, teas and juices on the menu too – the drink menu was as long as the food menu!
Prince Mohamed Street (website here)
Sabaho Bakery
I don't want to tell you about this place, I really don't because it's just so good. But if I didn't share what kind of human would I be??
This bakery makes manakish also known as one of the most delicious foods ever. Call it the Levantine pizza if you want (but it's better). It's simple dough that's got just a bit of puff to it with different toppings. My favorite is cheese and za'atar and I'm committed to making these myself when I go home.
This bakery is totally non-descript and it's not in downtown so it will take some effort to find it but IT IS SO GOOD. It was worth that second visa stamp just to go eat this one last time.
Sabaho Bakery – Al Ryyalat Complex, Abd Al Rahim Al Hajj Mohammad St 69, Amman, Jordan
Abu Jbara
This is another pretty famous restaurant in Amman and there were a lot of locals eating here which is always a good sign. That being said just about everywhere we ate I was the only "tourist" so I don't know if that's a testament to the places we went or that there weren't that many tourists in Amman.
But, on to the food. This restaurant has a limited menu and an amazing falafel sandwich to-go order counter that puts Subway to shame. Why don't we have this in Morocco?!?!?
We ordered falafel, musabaha (hummus with whole chickpeas and a to die for pepper sauce on top), hummus ful and the requisite veggie plate. Hummus ful is a mixture of hummus and fava bean puree. Delicious. All of this is amazing and I just want my breakfasts to be like they are in Jordan forever!
This is a chain of restaurants and you'll find several across Amman.
The Kanefeh Challenge – My unofficial ranking of 3 Amman shops
This is by far one of my very favorite desserts. I first ate it in Istanbul several years ago and now I seek it out whenever I'm somewhere that I might find it. Amnah knows how much I love it and so she promised to feed me kanefeh at least once daily. Challenge accepted.
Here's how I ranked the three that I tried – and to be fair they were all very good and I would never turn down any of them.
Nafeesa
This shop is near Amnah's house so it was a bit of a "stop on a whim' when we went out to pick up dinner one evening. But, it was my very favorite. The top was crunchy, the cheese extremely stringy and the syrup just right. They also put lots of nuts on top which just adds to the different textures. I was truly sad when I had eaten all of this.
Habibah
This is probably the most famous restaurant for kanefeh. It's in this tiny shop in downtown Amman. There's a little kiosk between two buildings and you go to the window and pay, then go inside to pick up your order. I would say if you don't speak Arabic this is the easiest to navigate and get your food. It is extremely popular so you should expect a lot of people in line and outside eating.
Al Sahel Al Akhdar Sweets
My first kanefeh stop also in downtown Amman across from the Coliseum. It wasn't bad and as my first bites I was very happy (it was less than 2 hours off the plane when I had this little morsel in my mouth). But after I had the others, this one just wasn't quite as good. However, I think if I would have eaten it right after its was made and it was super fresh it would have been better.
Things to do in downtown Amman
I was honestly a little surprised as to what downtown Amman would be like. I guess I imagined it would be a lot like Morocco but that was completely wrong. The streets are lined with a lot of shops that sell Jordanian and Palestinian traditional clothes and crafts. We popped into a rug/antique shop and looked around and also a fruit and vegetable market. I bought a new abaya in one of the clothing shops.
I do recommend walking up the Kalha stairs from downtown (go up the street at King Hussein Street at the intersection of Sha'aban 9 St) to see some cool street art murals and visit a Zaizafoun Cafe. They have some gorgeous artwork and the mint lemonade is delicious!
We stumbled into a place here called Jadal for Knowledge and Culture that was a cross cultural cafe. There wasn't much happening when we stopped but they had quite a few events listed for the future.
You may also want to visit the "umbrella steps" for the requisite selfie. Amnah tells me they change out the umbrellas annually as they break down from the weather throughout the year. It's also right off King Hussein Street.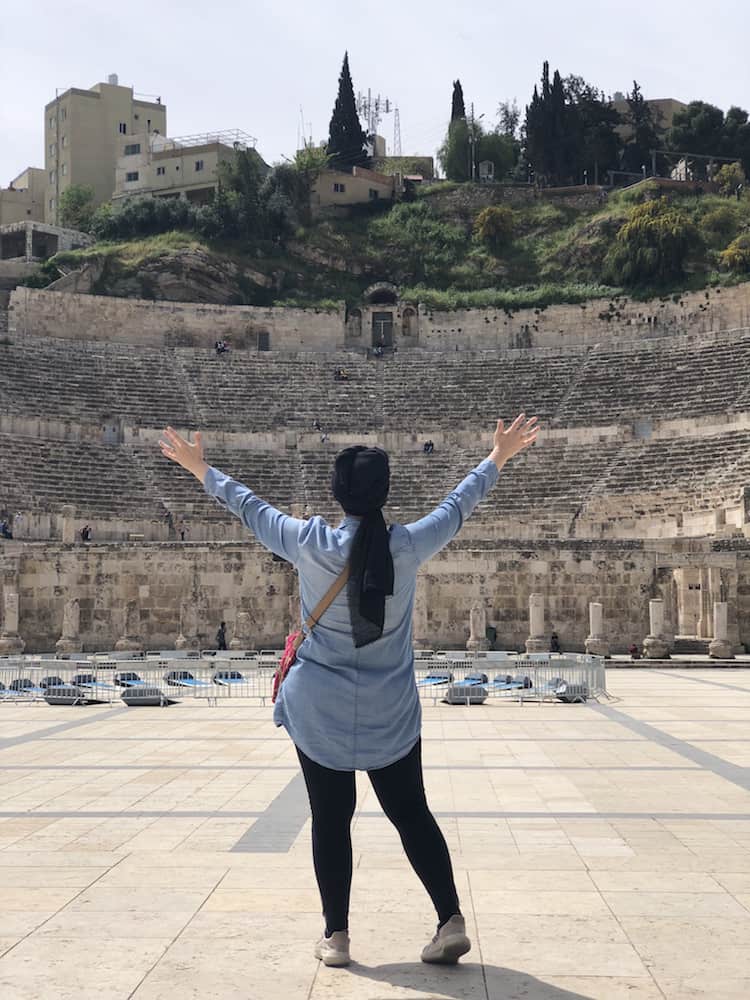 If history is more your thing than you should visit the Roman Coliseum that is smack in the middle of downtown. If I'm being honest I didn't climb it. After staying awake all night thanks to a delayed flight into Amman I had all I could do to walk around and climbing in the hot sun just wasn't going to happen. But you can!
Other Things to See and Do
So what else did I do beside eat?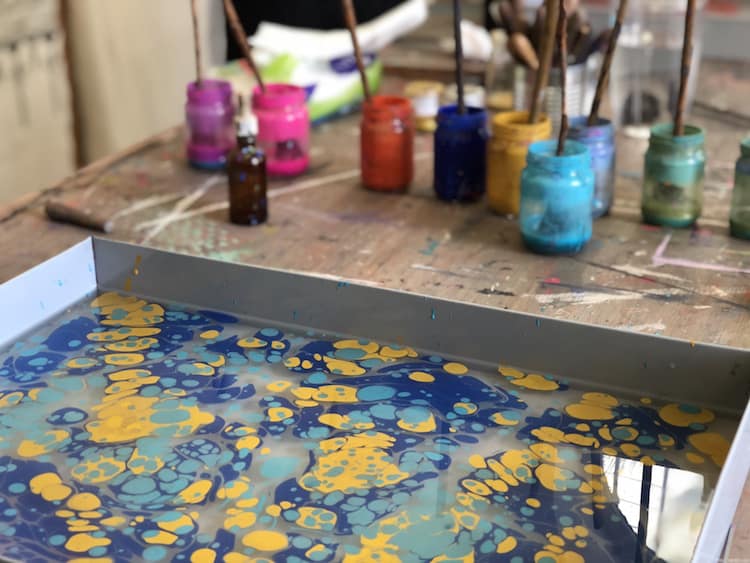 Not a lot to be honest, but Sunday morning we did visit Sawsan at A Table for 10 who does really cool art classes. She offers a LOT of options and does speak English so you're covered there. I did the traditional water marbling and it was really fun! There are so many other classes though. The easiest way to see what's on or get in touch is through Instagram or Facebook.
Nearby you'll find Namliyah a company that makes artisan jams and other food products. Their products are fantastic! They also do some day trips and other experiences that I'm sure are amazing and I'd recommend if you're going to be there when they're running them. (For example they've recently advertised a hike/forage/prep trip outside Amman where you make your own salad and picnic!)
I didn't get the chance to do this (they were closed because of Orthodox Easter) but Beit Setti is a restaurant that also offers cooking classes. Each week is a little different and aside from traditional favorites they also offer classes on specialty dishes around various holidays. Next time, I'll for sure be doing this!
Day Trips from Amman
Jerash
A simple day trip that you can easily take is to Jerash. The city has been continually inhabited for over 6,500 years! It's considered one of the best preserved Roman towns in the world and there are a lot of ruins to explore.
Keep in mind the area is mostly unshaded. So sun protection is a MUST. Even though I was there in late April (and I'm used to the heat) it was still incredibly hot. While there is some local transportation to get you here, I would suggest hiring a driver and guide. It will make the experience more meaningful and stress free. I was with Amnah but this half-day tour to Jerash looks like a perfect option for travelers without a local friend.
The Dead Sea
Visiting the Dead Sea is another very easy day trip – it's only about 50km from Amman. If you'd rather have a day of relaxation check out this private day trip to the Dead Sea Spa where you can sunbathe, float in the Dead Sea and enjoy the mud baths.
Petra
We didn't make it to Petra because there was really only one extra day for a trip. It's a long trip (about 3 hours from Amman each way) so having a driver is highly advisable. Also the sun will again be an issue so be prepared.
But if you're only going to be in Jordan once and you know this is something you REALLY want to do than go for it! For under $60 per person you can hire a driver from Viator to get you there and back. Which sounds a bit pricy but keep in mind Jordan is one of the most expensive countries in the region.
I had a great time in Amman and I am pretty sure it is somewhere I wouldn't have been pushed to visit were it not for Amnah! I probably would have just gone to the more touristy sites. (PS check out her site here – Little Life of Mine). I am so grateful she took the time to not only welcome me into her home but show me around her adopted city.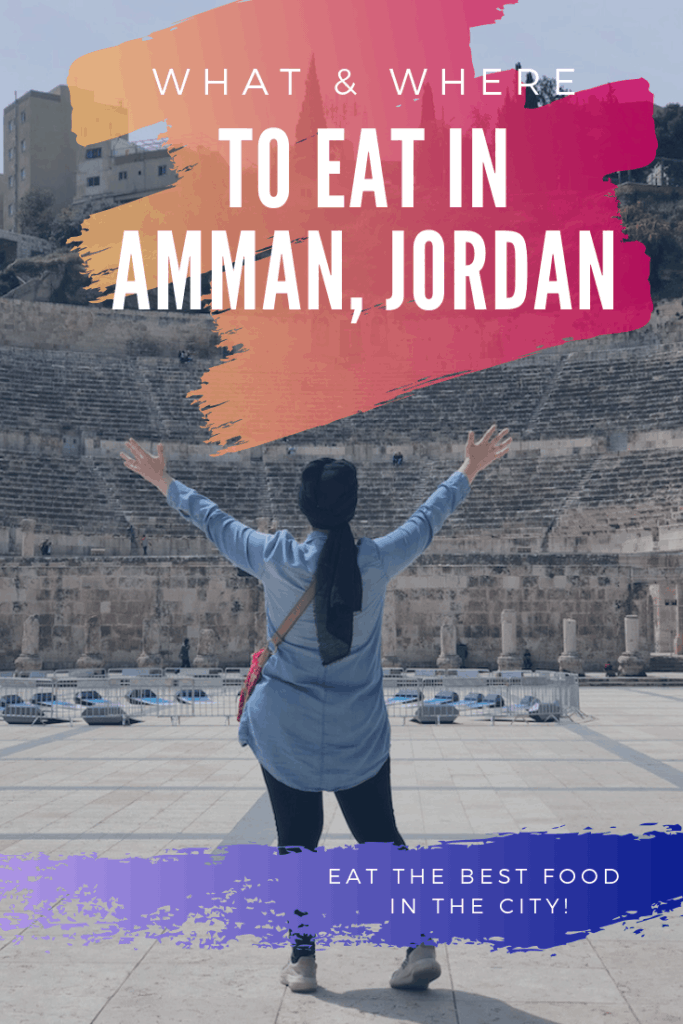 Be a part of the MarocMama family!
Do you want access to all things MarocMama? Join our community of readers to get updates on new posts, inside information that won't go on the blog and so much more!
Sound good? Pop your email below and you're in!