I can remember thinking when I was a kid how amazing it would to be an adult and get to eat whatever I wanted whenever I wanted. Cake for breakfast was one of the few treats I can remember REALLY loving.
"I'm going to eat cake for breakfast everyday!" is something I am sure I uttered on more than one ocassion.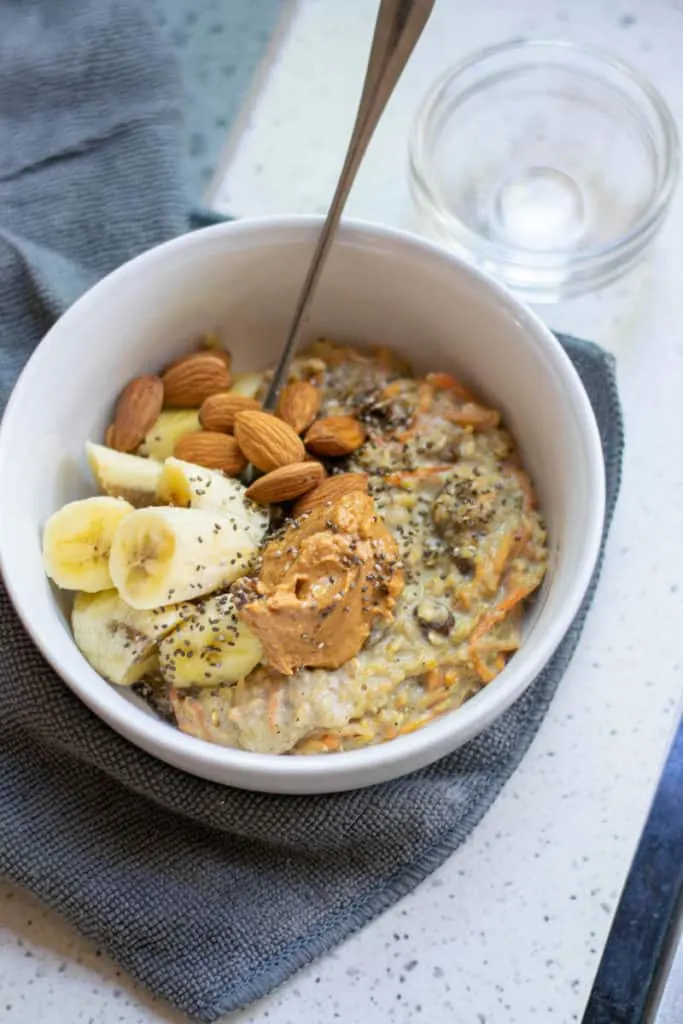 Of course when I became an adult I realized that was not really sustainable nor was it something that I really wanted to do. After a few breakfast cakes , I knew the game was up. But, the breakfast quest was still one I had to fight.
Instead of eating an actual cake for breakfast why not try this breakfast idea instead? It takes all the components of carrot cake, minus the sugar and flour to make a yummy bowl of carrot cake oats.
This recipe can be made vegan by switching out the milk for your favorite non-dairy variety. You can also make the oatmeal in advance and store in the refrigerator for up to 2 days.
Yield:

2 servings
Carrot Cake Oatmeal
You can have cake for breakfast with this delicious oatmeal that captures the flavors of carrot cake without the flour and sugar.
Ingredients
1 cup carrot, shredded
1 3/4 cups milk (regular or dairy free)
3/4 cups quick-cooking oats
1 tablespoon butter
2 tablespoon honey or agave syrup
1/4 teaspoon cinnamon powder
1/4 teaspoon nutmeg powder
1/4 teaspoon cardamon powder
pinch of clove powder
For Toppings:
Banana, peanut butter, raisins, and almonds
Instructions
1. In a medium non stick pot, add butter. Let it melt then add carrot. Cook for about 30 seconds then add spices and oats. Mix and cook until carrot is tender.
2. Pour milk and agave syrup. Stir until a thick consistency. Remove from heat and transfer in 2 serving bowls.
3. Top oats with almonds, raisins, peanut butter and banana before serving.
Notes
If you have nut allergies you could substitute for a different non-nut butter like sunflower butter. Use shredded coconut instead of almonds for topping or leave it off completely.
Carrot cake not your think or are you looking for more breakfast bowl ideas? Check out my orange banana smoothie bowl recipe!
Another more savory breakfast idea we love is this Moroccan tajine with meatballs and eggs – it's the ultimate brunch option.