The first time I visited Dubai I had only a few days to see the city. It was so overwhelming (and a little bit confusing) that I attended the meetings I was there for, stayed in my hotel, spent an afternoon with a local friend, and left. This year I west back and with a lot more travel experience under my wings, and more comfort with the city I knew seeing the other side of Dubai was a must.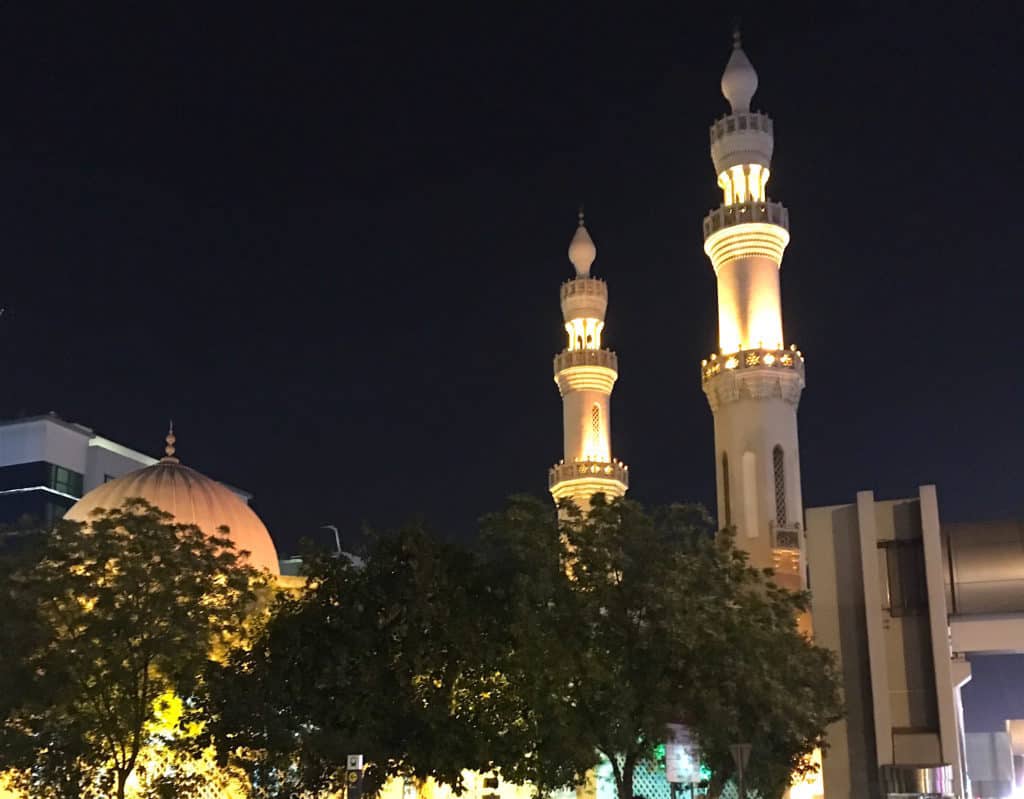 Why was Dubai confusing to me? Frankly, it's the most peculiar place I've ever been. It's the Middle East, hot and humid to be certain. But everyone speaks English. There are giant billboards advertising gold bars as a prize for winning a contest. At the mall I saw women buying boxes stacked 3 and 4 high of Louboutin heels. In Deira, one of the more "authentic" neighborhoods, things were as I knew other places in the region to be. But hop back on the metro system and the contrasts hit as hard as the air conditioning.
I left scratching my head trying to explain what Dubai was, or wasn't. I often failed miserably.
So, for the second round the first thing I did was book a food tour with Frying Pan Adventures. I had heard good things, readers know I love food tours, and I figured if the food tour was as good as people claimed I would get to know the side of Dubai that I was missing.
There are great Dubai restaurants but I wanted something else. I wanted traditional food. Trust me when I say finding authentic Emirati food in Dubai is TOUGH! So I chose the Middle Eastern Food Pilgrimage. Frying Pan Adventures offers several tours but this one fit my schedule and wants the best. My stomach completely approved of this choice.
All of the stops were great but the first and second were really my favorite. Here we ate some of the best Palestinian food I've ever had in my life. These falafels are magic balls of goodness. They're made fresh, served hot, crunchy on the outside and perfectly smooth on the inside with loads of flavor. Get the additional fried eggplant and cauliflower and magic garlic sauce to create the ULTIMATE vegetarian sandwich. They're so good I've really considered going back to Dubai just to eat at this place again. Seriously!
Here we also had masakhan and fatayer. Both were good but I was too busy dreaming about these falafels. I knew there was more to come and even though I really wanted to eat more, I stopped myself.
Next it was on to something sweet. We went into the kitchen where they were making my very favorite Middle Eastern dessert – konnafa. I don't even have many good pictures because I was THAT excited to eat it. If you've never had konnafa then that's reason enough to take this tour. It was literally made in front of us so that everyone could see the start to finish process and we ate it on the spot. I'm sure everyone else on the tour thought I was a freak because I was that excited to eat this. Talk about a behind the scenes treat.
To balance all the food a coffee break was in order to Arva, our guide and company owner gave us a history of Arabic coffee and how to drink it along with maybe one or two more cookies. We couldn't have the coffee be lonely could we?
There were two more stops left though I was tiring out and had a really early morning flight so wasn't sure I'd make the rest of the evening. The second to the last stop however was a restaurant that promised REAL Emirati food, or at least as real as it gets if you're not at someone's home. I couldn't wait and had no idea what to expect!
There were three main things that we had, while being served and eating traditionally, sitting on cushions on the floor. First was a lentil soup that was very good. Second was rice with a goat stew and a fish stew. Not surprisingly seafood does play a role in traditional Emirati cuisine. The dishes are eaten communally with rice that is dalloped with yogurt as the utensil. It's a bit like how some people eat couscous in Morocco by rolling a ball with their hands.
We each had our own plate so if you're worried about this – don't be! While I really loved the experience I can't say it was my favorite stop – but I learned a lot and am really glad to have tried it!
The final stop of the night was for an Iranian ice cream but sadly I had to leave the group to get back to my hotel, pack and catch my 2am flight. But, I am sure the next time I go to Dubai I'll do another tour!
Overall, if you're in Dubai I think this is something you really should do. The food was excellent, the tour is well planned and informative. It offers a much deeper look into the culture here and of course the food scene as well.
The tour is on the expensive side, at 419 Emirati dirham (a little over $110) per person. It would have been hard for me to justify taking the tour if I would have had the kids with. But, I think if you're someone that really loves food and wants to know a bit of a different side of Dubai it's well worth it.
Until next time Dubai!