​​If you're anything like me, finding time to plan and cook Ramadan meals can be a struggle. With the long hours of fasting and late night iftars, this mama needs something quick and easy! That's where freezeable Ramadan soup recipes come in to play.
To help make your iftar planning just a little bit easier this year, I gathered some AH-MAZING recipes for soup that you can prepare ahead of time and freeze until you need it. Not only do they taste delicious but they are perfect for busy families trying to balance their workloads while still making sure everyone has yummy food on the table.
These easy Ramadan recipes will make your iftars a breeze this year!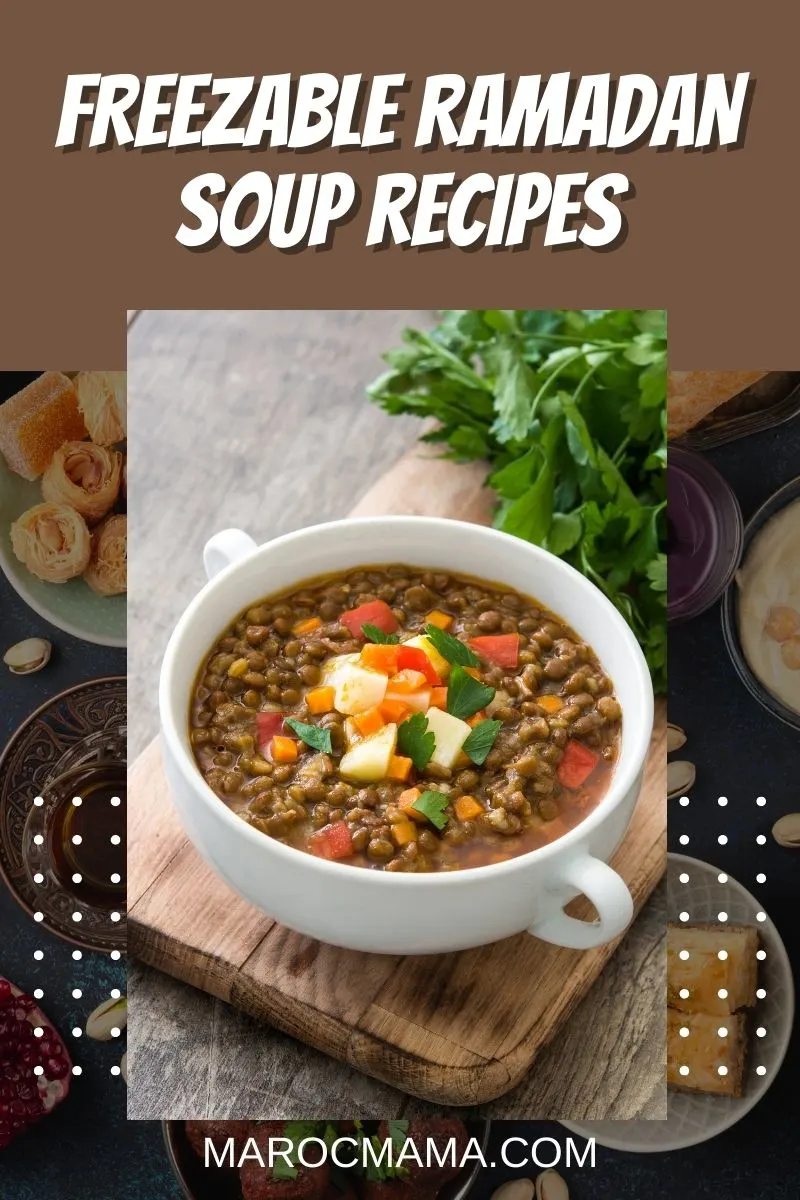 Ensure your family will enjoy the yummy taste of homemade food during Ramadan! Read on to see which freezer-friendly soups are right for you during this holy month.
Is Soup Typically Served During Iftar?
Soup is a popular staple during Iftar, the meal that breaks the fast at the end of each day during Ramadan. Soups can be light and refreshing or hearty and comforting, offering sustenance and nourishment after a long day of fasting.
Popular choices include lentil, tomato, or vegetable soups with fresh herbs. Some people also like to add noodles or serve soup with bread.
It's important to choose soups you will enjoy as it is both an act of worship and an important part of sustaining energy throughout the holy month.
Are there health benefits to eating soup after fasting?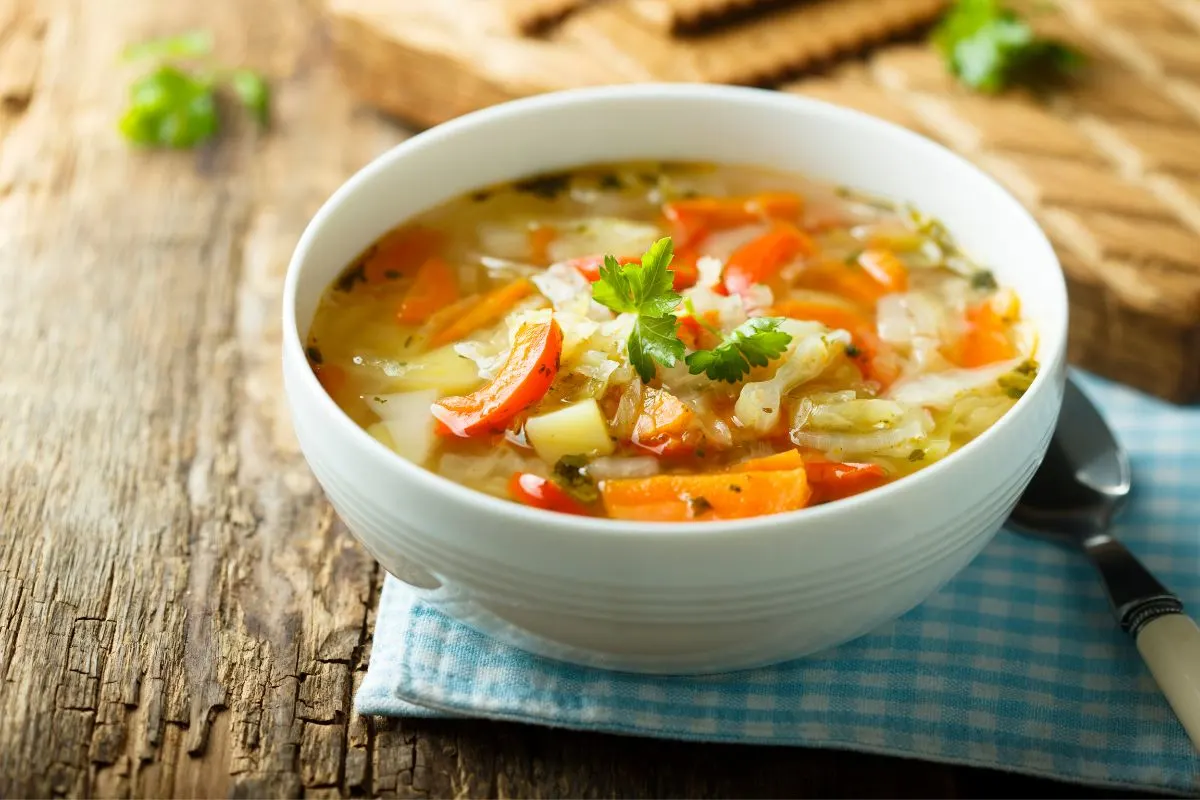 Soup can be an incredibly comforting and nourishing dish to enjoy after a long day of fasting during Ramadan. It's easy to digest, allows for the absorption of nutrients, and provides energy for the body. Soups are also packed with vitamins and minerals that help restore electrolytes from dehydration, replenish the body's energy stores, and support digestion.
Does homemade soup freeze well?
Yes! Soup is a great dish to freeze ahead of time and enjoy later. Freezing homemade soup is a great way to enjoy a nutritious meal while cutting down on prep time, especially during Ramadan.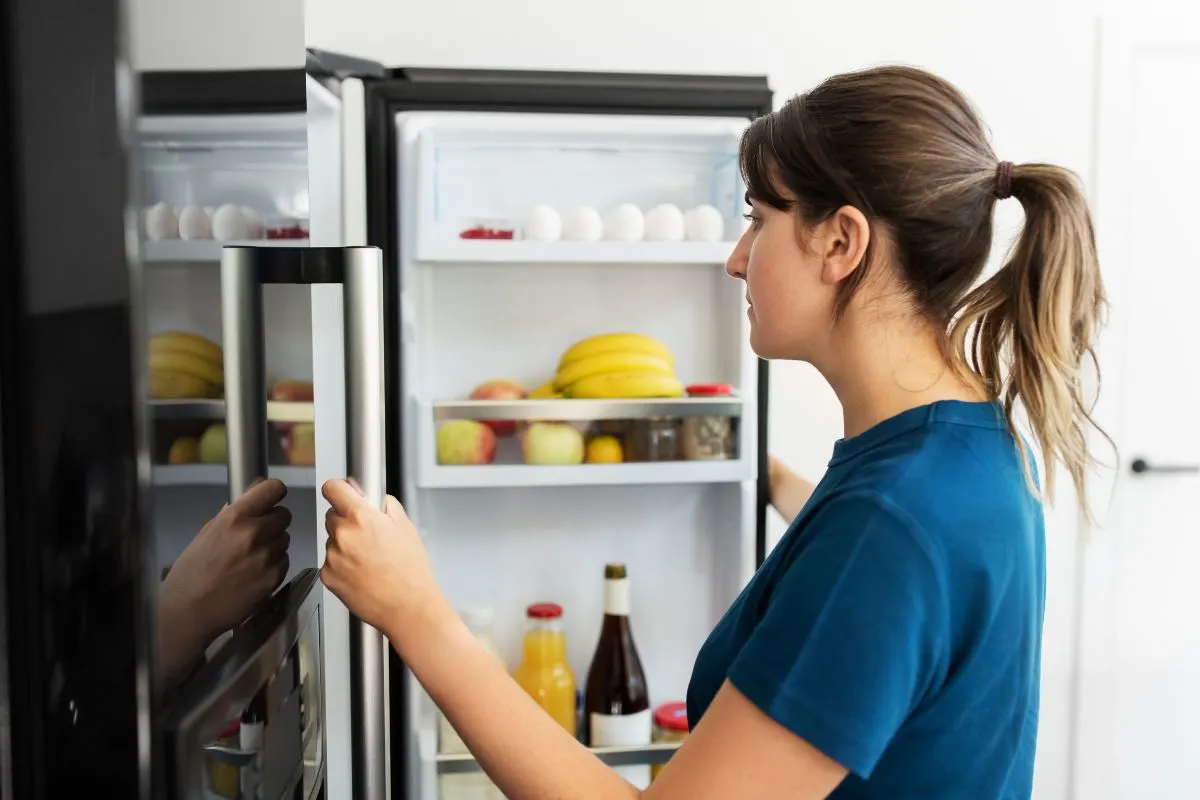 Keep in mind, certain ingredients are not recommended to freeze in soups. Dairy products, such as milk and cream, can form crystals when frozen which causes them to separate from the broth in the soup. Additionally, pasta cannot be frozen as it will become very soggy once thawed. To avoid issues in both flavor and consistency when freezing soup, it's best to only use ingredients that can handle it well and to add certain ingredients on the day you serve.
Once frozen, soups can last up to 3 months and can easily be reheated in a pot or microwave for a quick and hearty meal. Not only does freezing homemade soup taste great but it also offers convenience and cost savings for busy families.
11 Freezable Ramadan Soup Recipes
Lebanese Shorbat Adas (Lentil Soup)
A common household dish to break the fast at the end of the day in Lebanon is shorbat adas – lentil soup. This soup is often the first course of iftar when eaten at home and it is delicious. It's pretty filling, so you only need a little as a first course.
Packed with veggies, this recipe is creamy and luxurious without the addition of cream, making it excellent for freezing. It also is loaded with flavor when the secret ingredient (basil pesto) is added.
Investing in a food mill is a great way to eliminate tomato seeds from tomato based soups and sauces for a smoother texture. I especially like this one: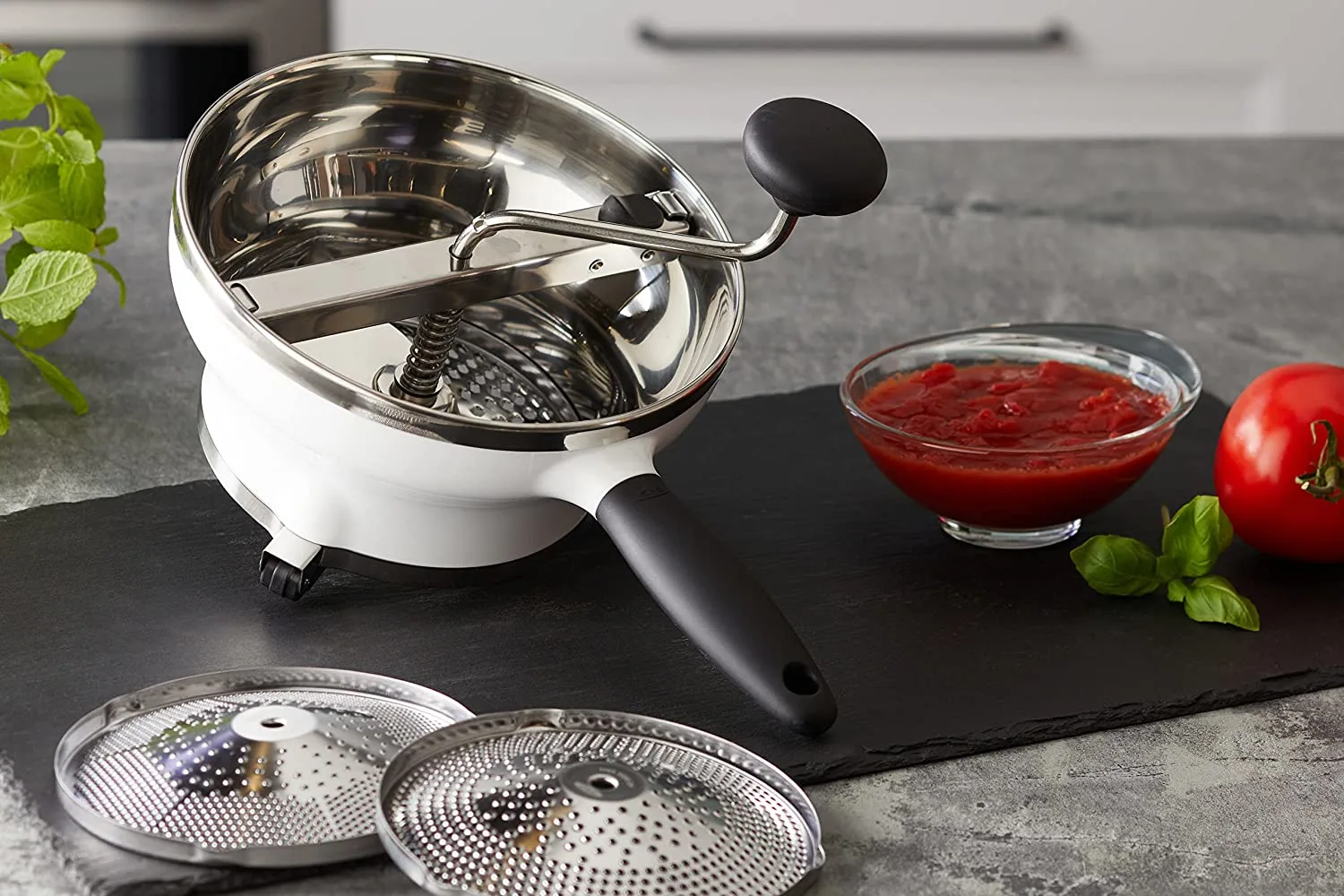 If you love sweet potatoes, chickpeas and turkey, this is a cozy soup that serves up a lovely blend of Moroccan flavors and nutritious ingredients. You could certainly sub the ground turkey for ground chicken or even ground beef depending on your preference.
This flavorful soup is loaded with veggies, beans and meat for a hearty, satisfying end to your fast. It's easy to double or triple and it freezes beautifully.
This dreamy, rich soup is perfect for those who love caramelized onions. The longest part of the prep is the onions themselves, so preparing ahead of time and freezing saves you loads of time on the day you serve – and your guests won't know the difference!
Broil your baguette and cheese topping on the day you serve!
This hearty recipe is perfect for freezing and for feeding a crowd! Feel free to play around with the recipe according to your family's preferences by adding more tomato sauce, diced tomatoes or other diced veggies. We typically add a full can of tomato sauce, an extra ½ cup of water and a full can of diced tomatoes in addition to what the recipe calls for.
If your family likes noodles in chili, you'll want to cook those the day you serve.
Ash Reshteh – Persian Bean and Noodle Thick Soup
This recipe is perhaps one of the most famous soup recipes from Iran. It's hearty and nutritious – filled with chickpeas, beans, lentils and veggies.
Plan to cook your noodles separately on the day you serve the soup.
Harira is a staple soup made during Ramadan in Morocco. My version is gluten free, vegetarian and ready in an hour! Don't add the rice to this recipe until you are ready to serve as rice won't freeze well.
This soup is hearty and satisfying after a day of fasting. There is an endless list of vegetables you can use in this recipe. Take advantage of whatever produce is local and in season for you. The rice or noodles will need to be cooked separately on the day you serve this soup to keep the texture al-dente.
Vegetarian Lentil Tortilla Soup
This soup is loaded with beans and vegetables, perfect for nourishing your body after a day of fasting. It also can be dressed up with a variety of fun toppings.
If you prefer to add a little meat, shredded chicken would make a good addition to this soup.
Wait to add the cream until the day you serve, as the cream won't freeze well.
This vegan curry lentil soup gives you the best of both worlds – it's the ultimate comfort food and is loaded with healthy ingredients. It's a wonderful blend of ingredients and pairs well with fresh bread, especially pita.
Leave out the coconut milk and add it when you re-heat on the day you serve.
Best Containers for Freezing Soup for Ramadan
Once you decide on your holiday soup menu, it's time to prep and freeze!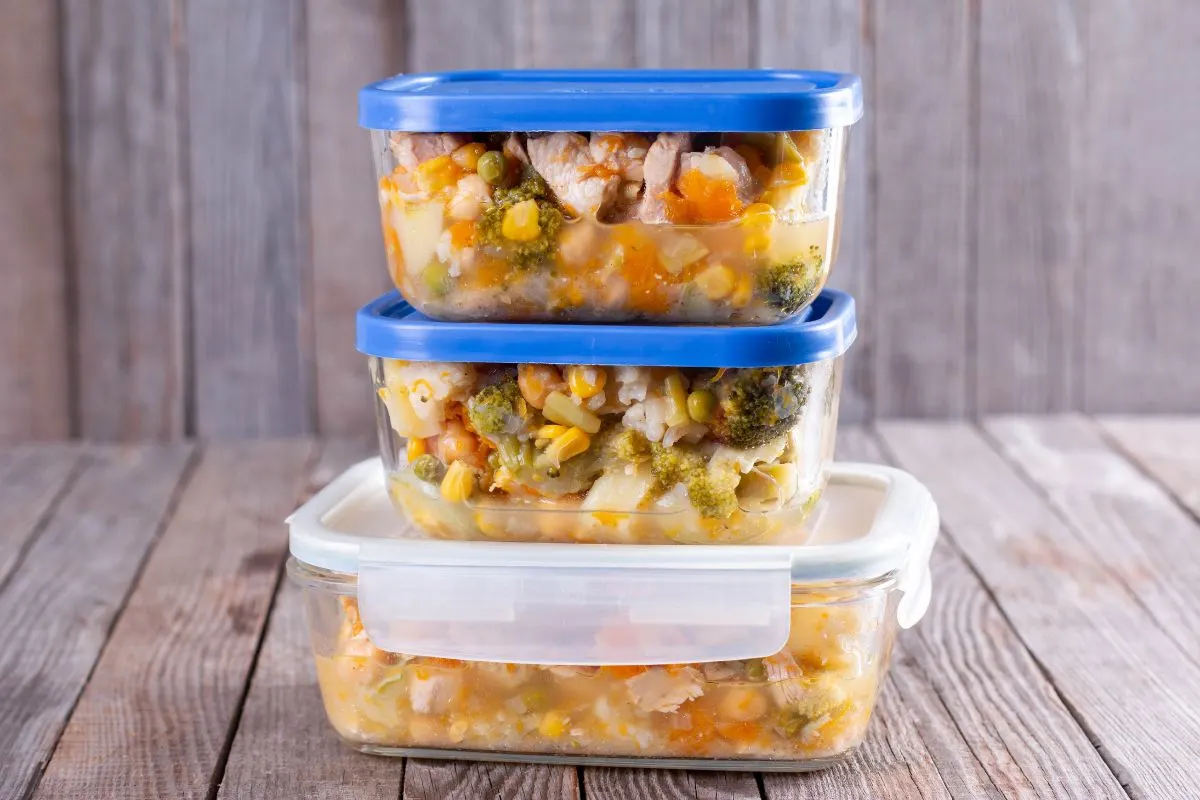 Things to consider in a soup storage container:
Soup should be frozen in an airtight container to preserve its flavor and texture.
Use a container with a strong seal to keep out moisture and to prevent leaking.
Consider the space you have available in your freezer – do you want the containers to stack on top of each other, to lay as flat as possible, etc?
Pick something that is see-through so you can easily see what's inside
When freezing soup, it's important to cool the soup completely before storing in your airtight container. Be sure to leave at least an inch of space at the top of the container for expansion during freezing.
Here are some of our favorite containers, specific for freezing soups:
OXO Good Grips 4 Cup Smart Seal Leakproof Glass Round Airtight Food Storage Container
When storing soup, a leak proof container is key. These OXO Good Grips containers have four locking tabs, ensuring a tight seal. They also come in a variety of sizes, so you can decide if you want to store 1 cup, 1 quart or even 2 quarts of soup at a time.
DuraHome Food Storage Deli Containers With Lids (32oz)
These are a great budget option and the quart size works perfectly for storing soups and stews. The lids form a secure seal and the containers are dishwasher and microwave safe. At just under $1 per container, they are an amazing bargain!
Rezip Gallon Freezer Safe Reusable BPA-Free Food Grade Storage Bag
If you prefer to stock your freezer with soups that can lay flat, instead of using traditional Ziplock freezer bags, consider investing in reusable, BPA free storage bags. They zip at the top for closure, are dishwasher safe, can be used hundreds of times and cost under $7 per bag. I love that they come in the traditional gallon size too – perfect for freezing soup.
These delicious and freezable Ramadan soup recipes are perfect for Iftar. Not only will they break your fast in the most traditional way, but they offer a host of health benefits that are especially needed after a long day of fasting. And, since these soups can be made ahead of time and frozen, they're perfect for those busy Ramadan nights when you just don't have time to cook.
So go ahead and make a big batch of your favorite soup – your future self will thank you!
More Ramadan Recipe Ideas
If you are in need of more easy Ramadan recipe ideas, we've got suggestions for you to check out!
Easy Freezer Recipes To Prep For Ramadan
Ramadan Food Ideas For Busy Nights
Ramadan Breakfast Ideas For Suhoor