Chicken is an easily overlooked menu item during Ramadan, with everyone wanting favorite and specialty foods. But in my opinion, it's the most important protein source of the fasting month. Chicken is a healthier option, versatile and even more affordable than red meats.
Chicken is always my go-to protein when I need to make something fast that I know most everyone will eat. The recipes shared here go beyond the typical Middle Eastern/Asian dishes commonly associated with Ramadan meals.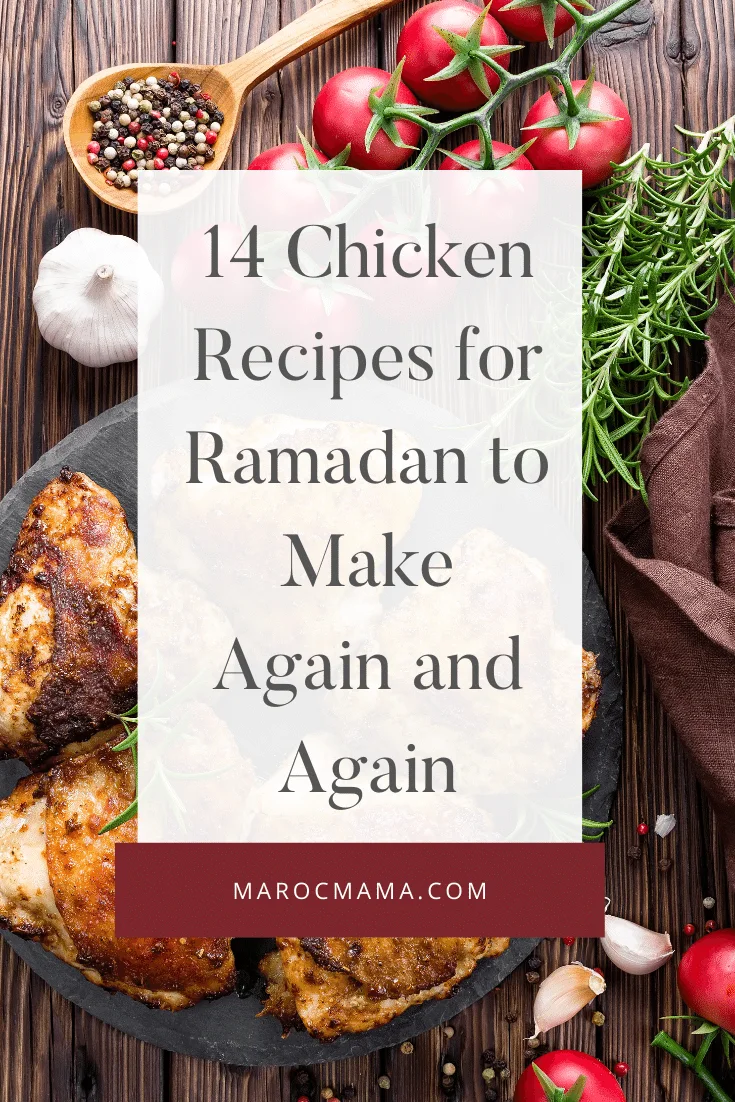 Here are a few of my favorite Ramadan chicken recipes for main dishes, finger foods, using ground chicken or pre-shredded chicken, and a few fried treats.
14 Chicken Recipes for Ramadan to Make Again and Again
Chicken prepared in multiple ways for all different palates - dig into these delicious dishes.
Chicken Main Dishes
Here are some ideas for chicken main dishes that will be greatly appreciated on your iftar table, and hopefully aren't too time-consuming to make.
Photo Credit: www.tasteofhome.com
Roasted chicken is such a satisfying main dish for families. This recipe is nicely flavored and perfect for roasting two or three chickens at once so you have leftovers to shred or chop for time-saving when making other dishes. Make some soup with the leftovers; it's the best way to start your iftar.
Photo Credit: www.delish.com
One-pan is abandoned in the oven for an hour and then voila a favorite dish emerges for the iftar table - that's an ideal Ramadan dish for me. Here are 15 easy and flavorful chicken casseroles to choose from.
Photo Credit: www.indianhealthyrecipes.com
I love Indian food, but find the creamy sauces are too rich for Ramadan. Tandoori chicken satisfies my need for a flavorful Indian dish, without the heavy sauce.
Photo Credit: www.tasteofhome.com
If you've never had chicken adobo, it's a Filipino tangy favorite dish. Sort of like lemon chicken, but more flavorful with soy sauce and vinegar. There are many, many versions of it, this one being quite simple. Some people love drumsticks for their adobo, though thighs or even cubed chicken can be used in this recipe.
Photo Credit: www.tasteofhome.com
A traditional buttery crust is how most Americans think of chicken pot pie. But you know what? Pastry dough makes it a little fancier and with less work.
Shredded Chicken Recipes
Make batches of shredded chicken ahead of time (use the above roasted chicken recipe or slow cooker recipe below) and then you can quickly pull off these flavorful and impressive recipes.
This dish is made even easier because it's prepared in the slow cooker saving you time and hassle. An ideal dish if you're out of the house all day during Ramadan.
Photo Credit: www.tasteofhome.com
This is the easiest way for me to have ready to go chicken on hand for future recipes or to get a jump start on iftar earlier in the day. For future recipes, I let the chicken cool then shred or cube it.
Photo Credit: www.myrecipes.com
Converts may recall the incredible flavor and satisfaction of pulled (pork) sandwiches. This recipe packs the same punch with chicken! You can have it traditional style in a sandwich or served over a grain, like rice or quinoa. If you've already prepped some shredded chicken, this recipe will come together in just a few minutes.
Photo Credit: www.tasteofhome.com
Here we are going to cheat and bake the egg rolls, satisfying that need for a crispy treat with a less-greasy option. This recipe calls for diced chicken, but again, if you have that pre-shredded chicken ready to go, they will be even faster to make. You can also use ground chicken.
Ground Chicken Recipes
I find ground (aka minced) chicken even more versatile than ground beef. It's lighter and takes on flavor better. Ground turkey is an even lighter option. Here is a collection of recipes using ground chicken.
Photo Credit: beckykeepshouse.com
Finger food appetizers are fun enough, but these are super flavorful and have a dipping sauce too. Plus they are baked instead of fried. Perfect for a special iftar for the family or guests.
Photo Credit: kelleynan.com
Buffets are a Ramadan standard for American iftars. A burger bar is a fun buffet for the kids or guests, and chicken burgers will be a much wiser option to digest during Ramadan. Grill or cook your chicken burgers stove top, then let fasters go wild with all these ideas to include in your burger bar. Get the kids to help with the prepping toppings and arranging condiments on the buffet.
Fried Chicken Recipes
There's no way we're going to make it through the month without some fried treats. Chicken-based dishes will still be a bit lighter than ground beef.
Photo Credit: tasty.co
Kids love mozzarella sticks and with some shredded chicken added they have an even better protein content, making them a great way to break the fast.
Photo Credit: www.dontgobaconmyheart.co.uk
Popcorn chicken is yummy and especially nice in Ramadan because you can distribute just a few pops to everyone. It's not as heavy as eating a bunch of fried strips or whole chicken pieces. I fully agree with this recipe, you have to use buttermilk. It makes them so tender and flavorful.
Photo Credit: www.indianhealthyrecipes.com
Pakora are flavorful South Asian style fritters that use chickpea flour, making them yummy, high in protein and gluten free. This recipe adds a little rice flour to make them even lighter, but you can use full basan/garam (chickpea flour).