As with the rest of the Northern Hemisphere, winter is the coldest season of the year in Morocco. But temperatures begin to warm up a bit in February, making Morocco a great destination for a winter vacation. February is also one of the cheapest times to travel to Morocco.
If your heart is set on seeing the Sahara dessert, February may be your last best chance to do so as the weather is quite temperate. Even if you're just looking to escape the winter snow at home, the sunny beaches of Morocco are waiting to welcome you.
Two advantages to visiting are that Morocco's weather in February is very temperate and it is still a slow season for tourists. Prices for flights, hotels, hostels, and riads may be quite a bit less expensive than during the summer, and you'll have a better chance of booking the accommodations you are dreaming of. If you take a tour, you'll likely get a lot more time to talk one-to-one with your tour guide.
It is important to remember that, while the daytime temperatures can be quite warm, temperatures drop fast once that sun goes down. Morocco is sometimes referred to as the "cold country with the hot sun" and there is no time that this is more true than in the winter. But as long as you're prepared for the temperature fluctuations, February is a great time to visit Morocco.
If you're looking to book a romantic getaway for Valentine's Day (like Marrakech in February!), a sunny vacation in Morocco might just be your dream come true!
Morocco Weather in February
Winter slowly begins to release its hold on Morocco in February. Temperatures go up slightly, averaging 10°C to 22°C or more, depending on the area of the country you are in. There is a bit less rain fall in February, too, with 3 to 4 rainy days bringing up to 1.5 inches in precipitation.
Sunny days will feel quite warm and pleasant, but once the sun goes down, things will still get very cold, reminding you that it is still winter. The coastlines and dessert areas are warmest, while mountain temperatures may still be 8°C or lower, with snow as a very real possibility, as well.
Be prepared with these ideas of what to pack when visiting Morocco in winter.
What to Wear in Morocco in February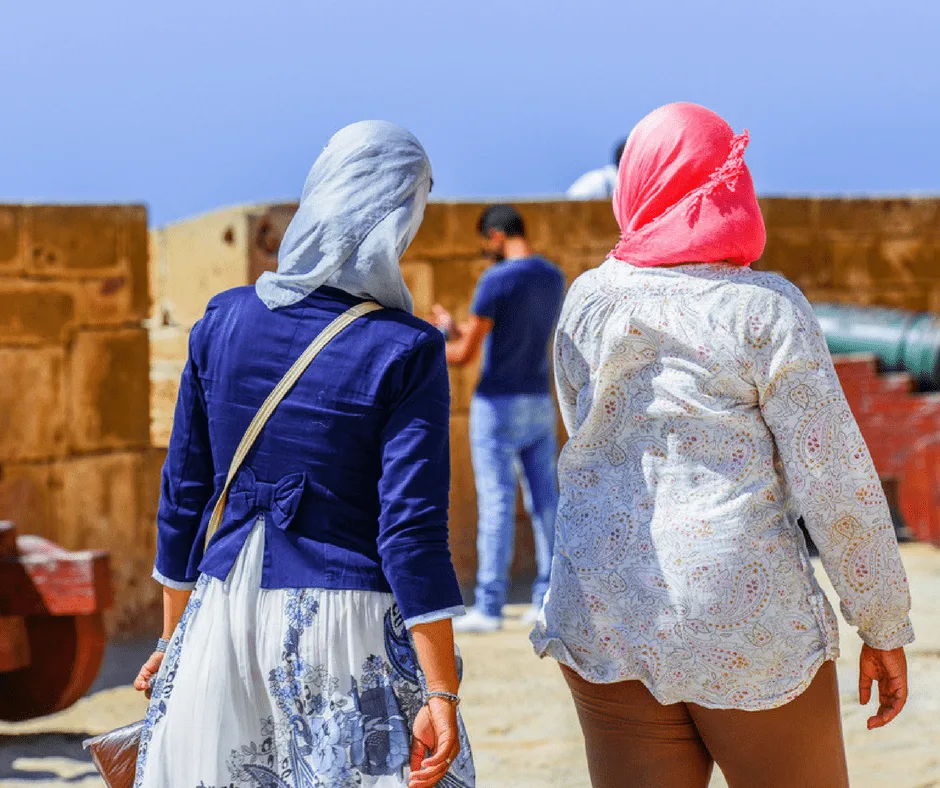 The temperature can fluctuate a great deal in Morocco in the winter. If you decide that February is the best time to take that sunny winter vacation you've been dreaming of, just remember to pack a variety of clothing that will allow you to dress in layers.
During the day when the sun is out, days may be warm enough to allow for short sleeves and light slacks. You may even find it hot enough along the coast to wear a bathing suit at your hotel swimming pool.
But if you do any sightseeing, having the ability to add or remove clothing to accommodate the temperature changes is invaluable. And remember that after the sun goes down, it is still likely to get quite cold.
When packing, remember to take shirts in lightweight material, and heavier material, too. Slacks and longer skirts are great when you want to dress up a bit when going out for the evening.
Long johns and thermals will help you stay warm, no matter what else you are wearing. And if you are going to be out for long in the evening, you should also consider a hoodie or heavy jacket and hats, scarves, and gloves, too.
If you are going to be staying somewhere without heating, which can be quite common, warm sleepwear is great to have on hand, as well. This time of year the weather really varies depending on where you will be so keep this in mind with your planning and packing.
Festivals and Celebrations in Morocco in February
Second Week of February – Approximately 250 kilometers from Agadir, is the beautiful and secluded oasis of Tafraoute. During the second week of February, Tafraoute celebrates its annual Almond Blossom Festival. Enjoy amazing and delicious traditional Amazigh (Berber) food and live music and dance performances every night of the festival, while taking in the beauty of the blossoming almond trees. If you are in the region, it is not to be missed. And if you are even nearby, it is well worth the trip!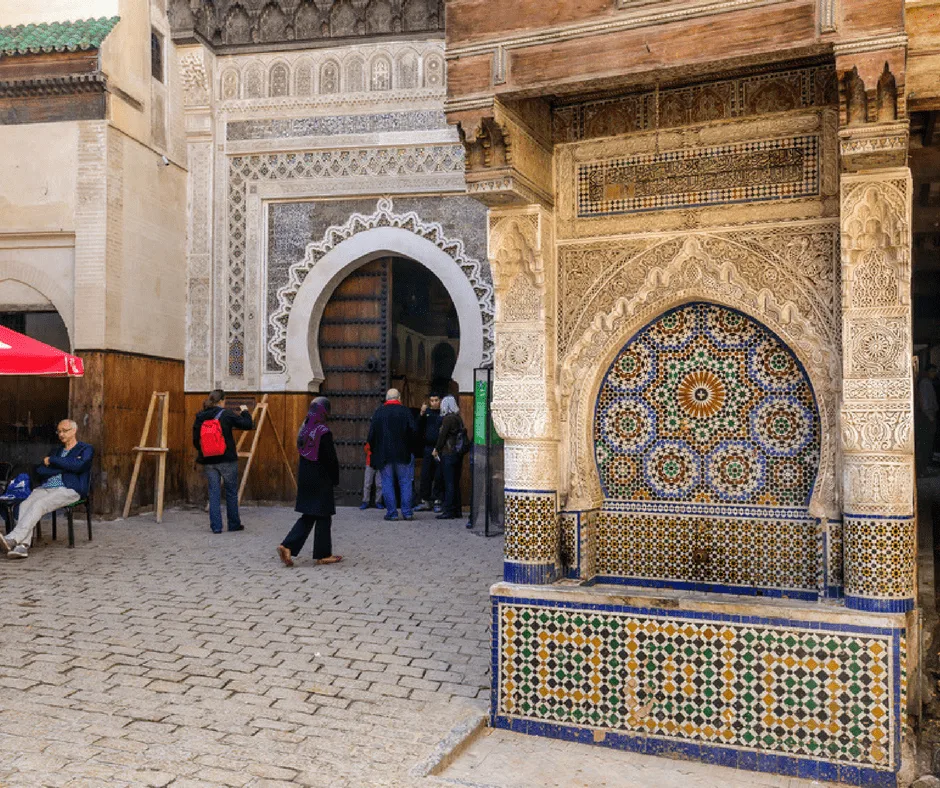 What to Do in Morocco in February
As temperatures begin to warm slightly in February, exploring the beautiful country of Morocco just gets better and better. Days tend to be moderately warm and sunny, while evenings still retain that winter chill. Dress in layers to stay warm and have fun!
If you love the beach, the Atlantic coastline offers much to enjoy and explore. Moderate temperatures and ocean breezes make the days quite pleasant. It's a bit warmer on the Atlantic than Mediterranean weather in February. There are many wonderful places to explore inland, as well.
The Marrakesh market is not to be missed, and you should plan a whole day to really drink in all the sights, sounds, amazing artwork, and delicious food available there. If you've ever dreamed of skiing in Morocco, February is likely your last chance to do so before next winter.
February is also one of the best times to see the beautiful Sahara desert. There is nothing more enchanting than the beauty of all that golden sand as seen from the back of a camel and in February, you won't have to risk heat stroke to see it.
Morocco is a beautiful country filled with friendly people. Remember to dress in layers and get plenty of rest and your February vacation in Morocco will be a dream-come-true.
Best Places to Visit in Morocco in February
Tafraoute

The oasis of Tafraoute is approximately 250 kilometers outside of Agadir, and you'll have to drive a lot of winding (and often dirt) roads to get there. But if you are in Morocco in February, the trip to Tafraoute is well worth the effort. Come during the second week of February to enjoy the Almond Blossom Festival. Stay for the many other treasures this region has to offer.
If you're looking for a breath-taking adventure, rent bikes, hire a guide, and take a bike ride from Tafraoute to Tiznit where you can see some of the most beautiful and astonishing views you've ever imagined. Be sure to keep on the lookout for Les Roches Bleues, the "Blue Rocks", which were painted in 1984 by Belgian artist Jean Verame.
If your adventures help you to work up an appetite, the La Kasbah is a popular restaurant in Tafraoute. The traditional rugs and lanterns are beautiful, and the traditional Moroccan cuisine will tantalize your taste buds. And if you're looking for something a bit more casual, be sure and check out some of the local snack kiosks and patisseries you'll find in the area.
Agadir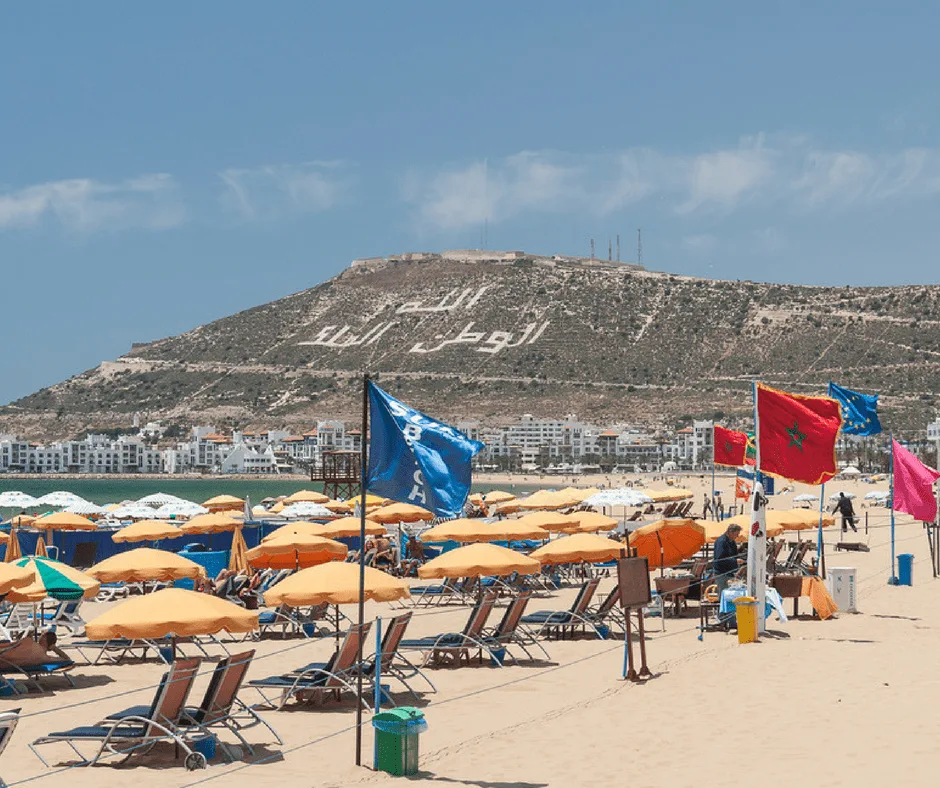 Agadir is bustling, and busy. Considered the capital of the south of Morocco, Agadir is the principal fishing port in that region. It is also known for beautiful clean beaches and weather very similar to San Diego. Though don't be too fooled. The Agadir temperatures in February can still be cool, especially at night.
History buffs should be sure to take a tour of the Municipal Amazigh Museum and enjoy their beautiful collection of pottery, Amazigh wood, and weaving from local regions around Agadir. There are also some delicious places to eat around the museum, after all that history works up your appetite!
The corniche is a very popular area of Agadir, especially in summer months. This means in February you might find many shops and restaurants closed or operating on reduced hours.
However, it remains a place to go. You may also want to head to the medina of Agadir. The entire city was leveled in an earthquake in 1960 so the city is almost entirely rebuilt – including the medina.
Essaouira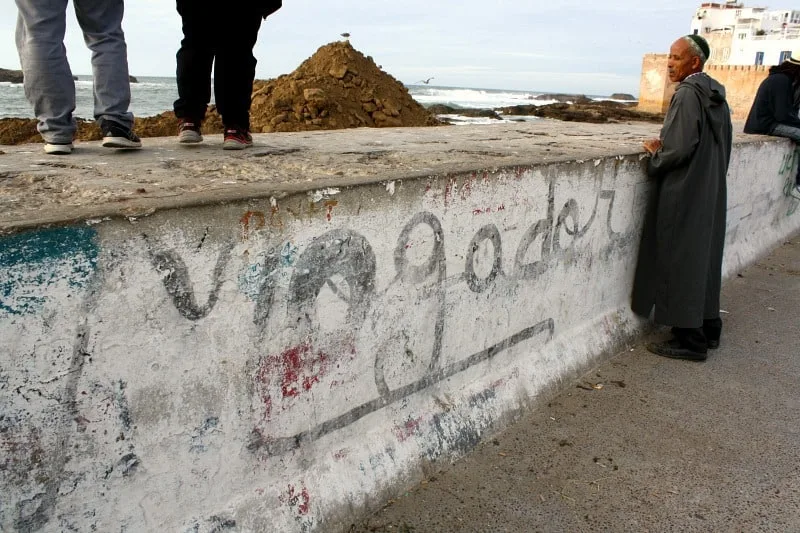 Essaouira is a popular destination for artists and hippies alike. From the busy beach to the beautiful old Medina, the many charms of Essaouira are just waiting to be discovered!
After exploring the many wonderful sights in the medina, history lovers should head to the Sidi Mohamed Ben Abdallah Museum to see the amazing collection of jewelry, weapons, pottery, and tools from the prehistoric era all the way up through the Roman period.
And for those looking to learn more about the local food, Khadija's Kuzina offers cooking classes, giving you the wonderful opportunity to learn how to make your own delicious tajine lunch! You'll take a trip to a local souk, learn all about purchasing vegetables, meats, and everything else you will need to make an amazing meal!
Essaouira's weather in February can be really lovely though not quite warm enough to head into the water without a wetsuit.
What to Wear in Morocco in Winter
Ouarzazate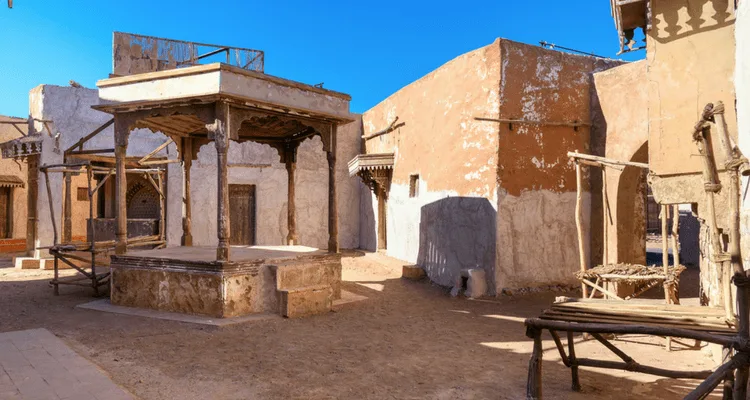 There are those that say that no trip to Morocco is complete without a visit to a desert oasis. Ouarzazate serves as the gateway to many of the most wonderful places in the desert. This exciting town is also home to film studios, earning it the nickname, the "Hollywood of Morocco"!
If you are interested in learning all about how Ouarzazate became the Hollywood of Morocco, the Cinema Museum of Ouarzazate is a great place to start. You'll learn about the filming of "Lawrence of Arabia" and how the movie industry has progressed through the years into the present . . . and the future!
If you want a more hands on movie experience, be sure to visit Atlas Film Studios for a tour. You'll see sets from movies such as "Gladiator" and "Cleopatra" and have the chance to explore many other sets, like the set of "old Tangier" which has been used for many "medina shots" in movies over the years.
February is a great time to visit Morocco. Spend sunny days exploring the many outdoor sights, and head inside to one of the many restaurants, shops, or galleries when temperatures drop in the evening. In February, winter is slipping by, and spring is just on the horizon.