Featuring impressive Catalan Modernist buildings, a sheer medieval fortress, and a wealth of tapas bars, Melilla is one of two independent Spanish cities located in North Africa. The exclave sits nestled on the Mediterranean coast, sharing a border with Morocco.
With the city's Spanish roots and the eclectic mix of Moroccan flair, there is a world of things to do and see in Melilla. Visit secret beaches, explore hidden caves and tunnels, and learn about the fascinating history that made this city what it is today.
Psst…Traveling between Morocco and Spain? Take a look at this guide to using ferries between these two countries.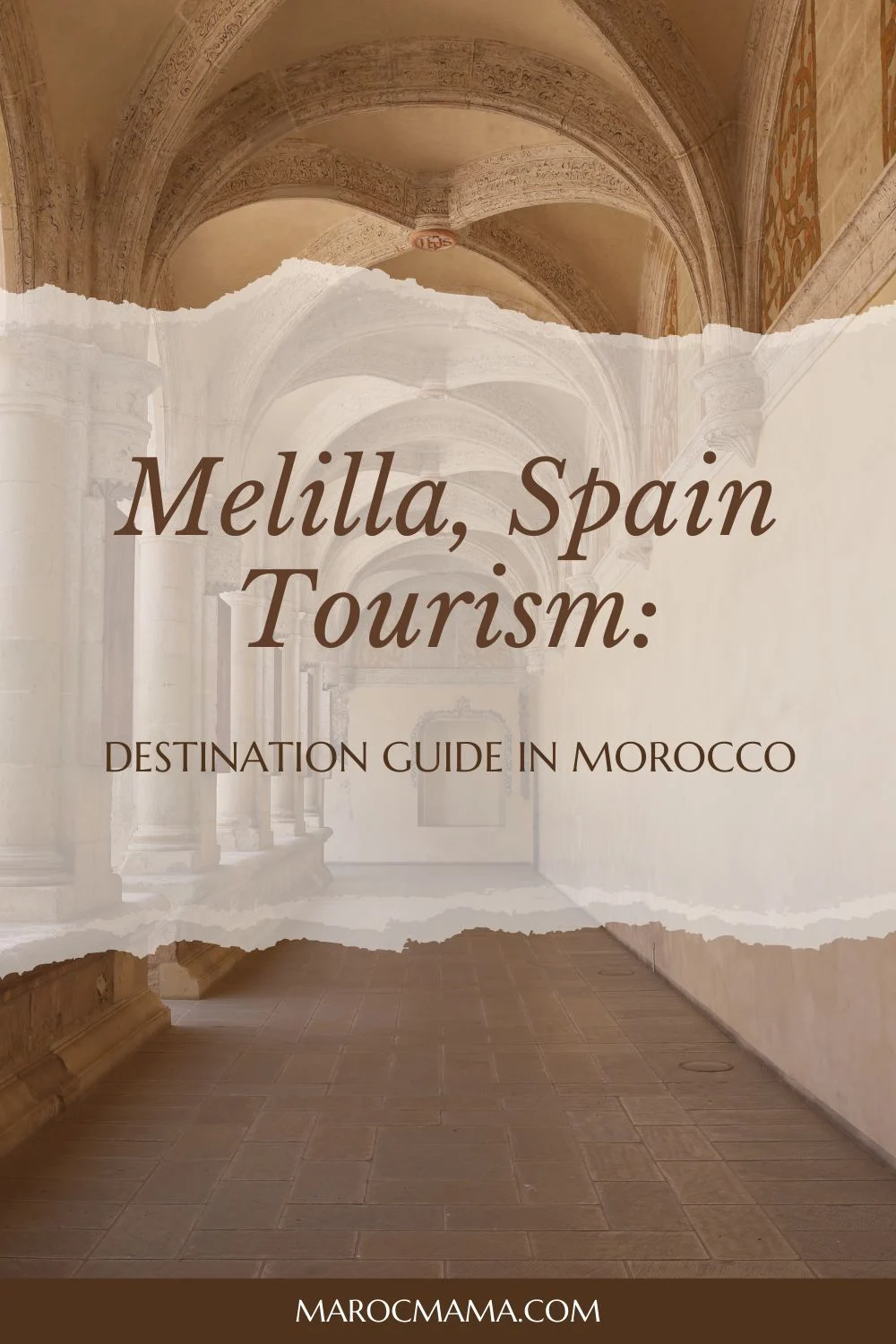 All About Melilla
Attracted by its position on the Mediterranean, the Phoenicians established themselves in Rusadir, what is today Melilla, in the 7th century. The growing city thrived as a trading port. Centuries later, it became a Roman colony and an important communications center. During Arab rule, it was a trading and defensive city until 1497, when it was passed under Spanish command and became an important military establishment.
Melilla is completely surrounded by either Moroccan territory and the Mediterranean sea. The city has been a port center since the Phoenician times and under Spanish control since 1496. Today, many outpost inhabitants are Spanish military troops.
Melilla people are Spanish speaking; however, because you're also in North Africa, French and Tarifit (a variety of Berber) are also widely spoken languages.
Where is Melilla: Spain or Morocco?
Melilla, Spain is a Spanish enclave located in North Africa on the Mediterranean coast in Morocco. The city is located between Al-Hoceima and Oujda and is one of two permanently inhabited Spanish cities in Morocco, the other being Ceuta, Spain. So while visually it appears to be in Morocco, it is considered a part of Spain.
What to Do in Melilla?
Melilla, Spain, boasts an array of fascinating museums, a fortress, spectacular parks, and some hidden beaches. So, without further ado, let's take a look at these top things to do in Melilla.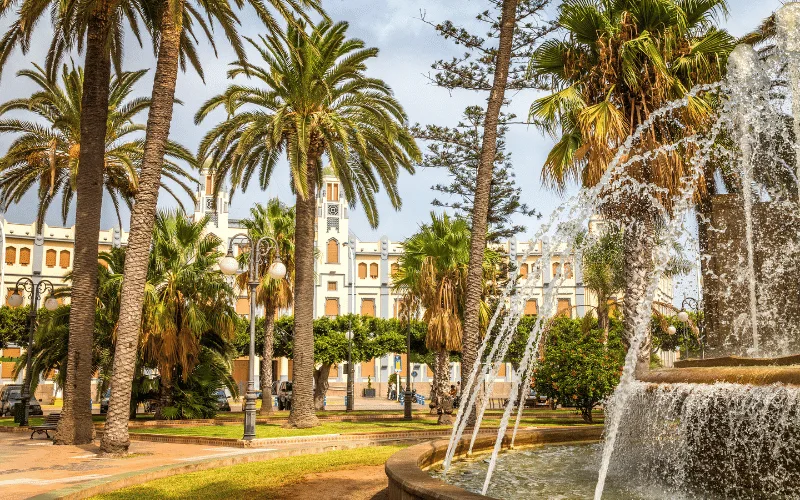 Plaza de España
Plaza de España (Spanish Square) is the city's beating heart and consists of the modernist new town and the fortress.
At the center of the square, there's a fountain and an art deco military monument. Here you'll also find other famous buildings such as the Casino Militar, Palacio de Asamblea, and the Banco de España (Spanish Bank).
Palacio de la Asamblea
Melilla is home to the second-highest collection of Catalan Modernist buildings in Spain, the first belongs to Barcelona, of course. Many of these architectural marvels were designed by Enrique Nieto, one of Antoni Gaudi's brilliant disciples.
One of Nieto's most notable works in Melilla is the Palacio de Asamblea. Dating back to 1950, it's a city hall located in Melilla's Plaza de Espana. It consists of an Art Deco facade depicting a ducal crown with heavy geometric influences and twin watchtowers. Some must-see places in the hall include Salon Dorado and the Sala de Plenos.
Cuevas del Conventico
The Cuevas del Conventico forms part of the Historic-Artistic Complex located in la Vieja in Melilla. This vast network of caves and tunnels has been of great importance to Melilla's defenses since Phoenician times.
They consist of a large open cavity that has been reinforced by stone and brick and forms three interconnected levels. The first level consists of two aisles and was used as a church. The second level has a set of connected rooms with windows to the outside. And the third level provided smaller rooms.
These caves were first used as a refuge, shelter, and food storage during sieges. Religious services were also held in the tunnels during times of war.
Melilla la Vieja
Playing an integral role in the Spanish territory's defensive efforts, Melilla la Vieja (Old Melilla) is a must-visit. The large monumental fortress was built perched on a hilltop overlooking the sea during the 16th and 17th centuries.
Today, the fortress houses several museums, including the Church of Conception, an archaeological museum, a military museum, and a series of caves and tunnels used in the Phoenician times.
If you're visiting Melilla la Vieja, follow the path from the Puerta de la Mariana to the fort's highest peak for spectacular views of the sea and the city below.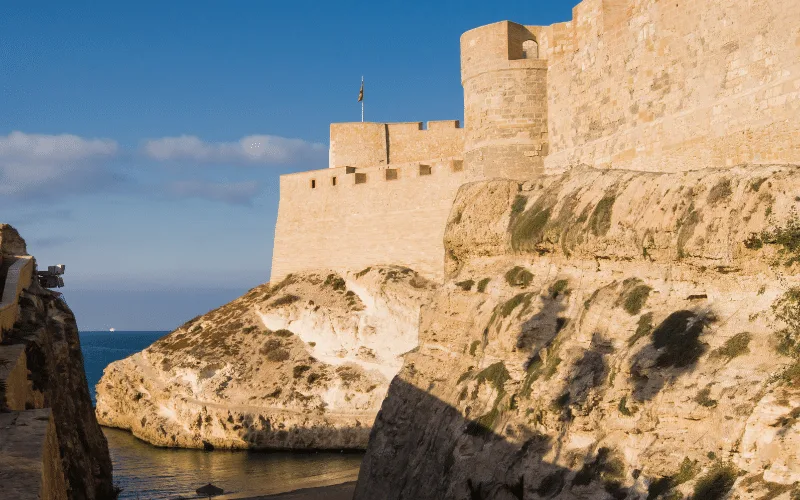 Playa de la Ensenada de los Galápagos
One of Melilla's best kept secrets is Playa de la Ensenada de los Galápagos. The shore is hidden by the medieval walls of the fortress and its sheer cliffs, and the only way to get there is to follow the tunnel under its steeped walls.
Although the bustling city center is minutes away, you'll be totally secluded, boasting golden sands and glorious blue waters. Pack a picnic basket, your beach towel, and some snacks, and spend the day at this beautiful Melilla beach.
Parque Hernández
After a whirlwind of a day exploring some of Melilla's incredible sites, take some time to stroll through the palm-lined Parque Hernández (park) on the central boulevard. The park is located in the Plaza of Spain, in Eixample Modernista.
Stopover at one of the cafe's for a cold beer or pop into one of the monuments hugging the greenery. Zigzag through the network of blue and white ceramic pathways or bring along your favorite book and lounge on one of the benches.
Museo Ibáñez de Melilla
An 18th-century building within the fortress walls inside Torre de la Vela is one of Melilla's best galleries. The museum was named after Almeria artist Andrés García Ibáñez, who donated much of his work to the city.
The Ibáñez Museum of Melilla (Museo Ibáñez de Melilla) takes visitors through a two-hundred-year journey through contemporary and modern Spanish art. Take some time to explore the six showrooms consisting of a collection of modern and contemporary sculptures, engravings, paintings, and a documentary photo exhibit.
Museo de Arqueología e Historia
Learn about Melilla's fascinating past in the Museum of Archaeology and History (Museo de Arqueología e Historia). The building is located within the walls of the fortress in the Vela Tower, built in the 16th century.
Today, it's home to two fascinating museums. One dedicated to the history of Gitana (Roma), Amazigh (Berber), and Sephardic (Jewish) cultures in Melilla. And the other on the top level is a collection of temporary displays of prehistoric Melilla.
Museo Militar
Opened in 1997, the Museo Histórico Militar displays a collection of over 500 artifacts relating to the city's rich military history.
There are two halls filled with exhibits from the Spanish military in Melilla. The collection ranges from weapons and medals to flags and old photos. Its centerpiece is a scaled model of the city center that was made in the 19th century.
Tetería Nazarí
When you're in Melilla, there's one thing you certainly should do before leaving, sip on some steamy beverages in a teahouse. Tetería Nazarí is a Moroccan-style tea house owned by a Spaniard.
The teahouse boasts over 100 different teas. There are also sweet snacks like Moroccan cookies and crêpes or savory dishes like hummus and falafel to go with your beverages. The gorgeous restaurant is tastefully decorated with lights, funky cushions, and a waft of incense in the air.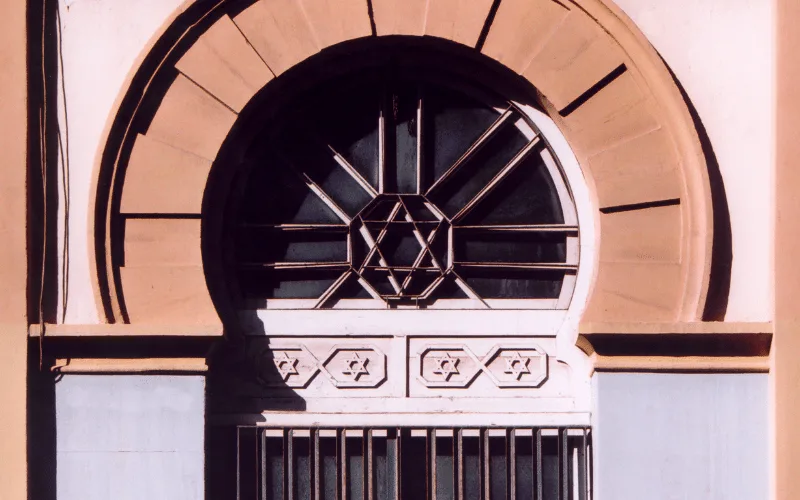 Where to Stay in Melilla?
Melilla is brimming with excellent places to stay, from budget-friendly accommodations to opulent hotels, with all the luxuries and amenities you'd want. Take a look at some fabulous places to stay during your Melilla vacation.
Parador de Melilla
If you're looking for budget-friendly accommodation boasting sweeping views of the city and nearby beaches, then Parador de Melilla is the perfect place. Here, guests are provided with all the luxury comforts of home at an affordable price, from WiFi and TV to a fabulous breakfast.
If you've come during the balmy summer season, you'll find the swimming pool an absolute delight. Head to the sunny terrace nestled in the garden for an afternoon cup of tea. Enjoy delicious traditional Andalusian cuisine as you peer out to sweeping views of the ocean and city below.
The hotel is near Lobera Park and the Fuerte de la Victoria, making it a great destination for anyone looking to explore more of the city.
Hotel Anfora
Located in the city center, Hotel Anfora is tucked away in the midst of many top attractions and boasts extensive city views.
What's more, there is a delightful cafe on the top floor offering plenty of delicious foods and beverages. Enjoy a meal as you peer out to views of the old town, the port, and the Plaza de las Cinco Culturas below. There is also a restaurant serving delicious Mediterranean, Andalusian and Moroccan-style meals.
Sit out on your private balcony and sip on some wine as you watch the sunset. Each room has air conditioning and full heating. There's also WiFi access throughout the hotel.
If you're keen on exploring outside, you'll be within walking distance to Melilla's Modernist route, including many buildings by Enrique Nieto.
Tryp Melilla Puerto Hotel
If you're looking for oh-la-luxury, Tryp Melilla Puerto Hotel provides its guests with that and more. Located near Melilla's marina, the hotel boasts stunning views overlooking the Mediterranean.
Here you'll be spoiled with all your heart's content, from tastefully decorated, air-conditioned rooms to free WiFi and lounge areas. Before embarking on your next adventure, enjoy a gourmet breakfast at the restaurant's outdoor terrace or sip on something a little stronger come dusk.
The city center, beach, and promenade are a stone's throw away, perfect for anyone looking to explore the city. There's also an information desk if you're looking to find the best places and tours in the city.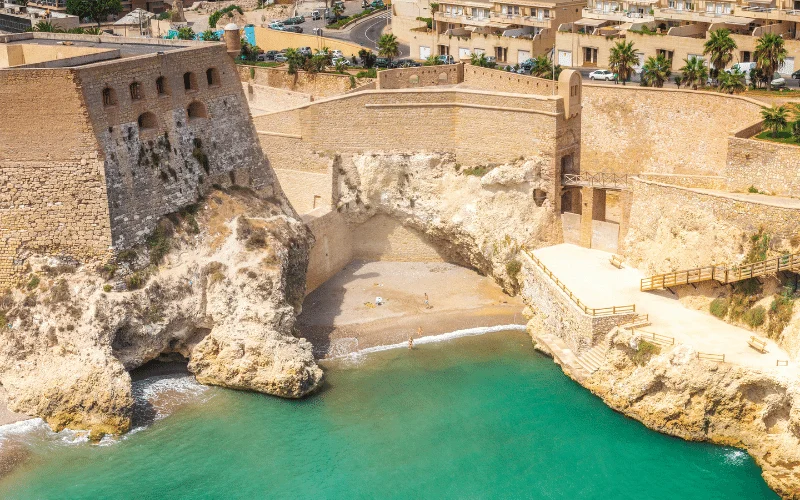 When to Visit Melilla
There's really no bad time to visit thanks to a comfortable year-round temperature. The average temperature sits between 65F and 85F or 18C to 29C. Winter is the coldest and rainiest time of year and you may not be able to like on the beach year-round but you will most likely enjoy sunshine any time of year.